NEWS & STATS
Roadrunners pocket a point in 4-3 OT loss to Texas
By: Alexander Kinkopf
November 02, 2016 9:56 PM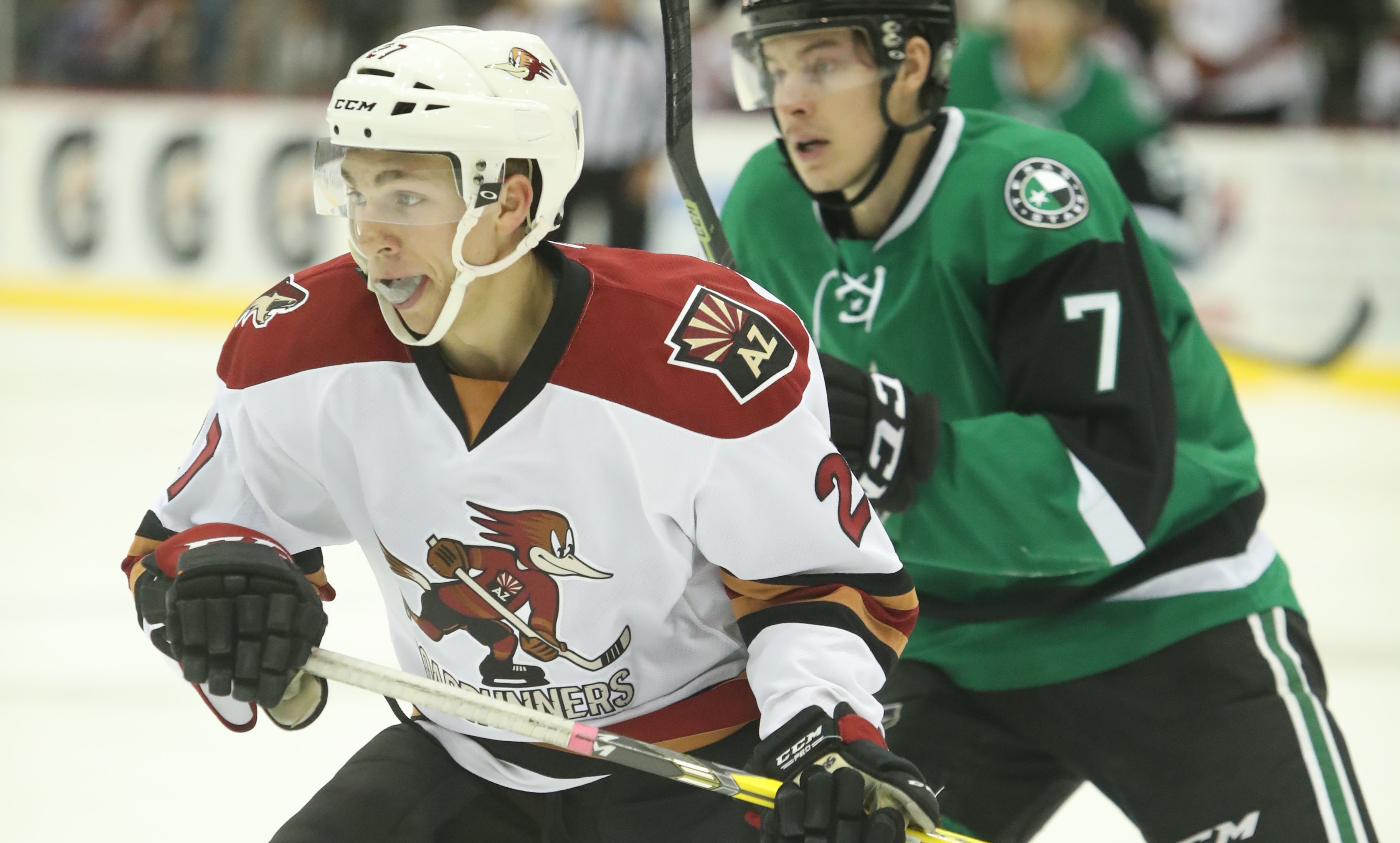 Overtime was needed to bear a result Wednesday night, one that didn't fall in the Roadrunners' favor, the club falling 4-3 to the Texas Stars at Tucson Arena when Jason Dickinson netted the game-winner with 1:09 left in the extra frame.
The Roadrunners, though, earned a standings point in the loss; they have earned points in five consecutive games. Tucson's record dropped to 4-1-1-0, but they still sit atop the Pacific Division.
Michael Bunting got the Roadrunners on the board 8:49 into the first period, giving Tucson an early 1-0 lead when he redirected a Christian Fischer shot past Texas' Philippe Desrosiers to score his second goal of the season and his second in as many games.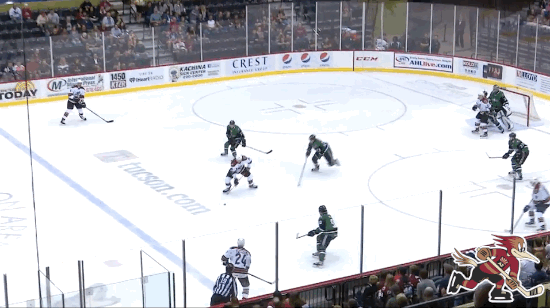 Texas answered quickly, and in rapid succession, scoring a pair of goals in a 12 second span, the first coming just 1:11 minutes after Bunting's opening marker.
"After goals are scored, its really about focus," Mark Lamb said of the team surrendering goals in consecutive shifts. "You have to go out there and have a really good shift after, it's a mental thing, a momentum thing that we have to clean up. "
In the second, Jamie McBain received a drop pass from Chris Mueller and wristed home the Roadrunners' second goal of the evening, tying the score 2-2 seven minutes into the middle frame.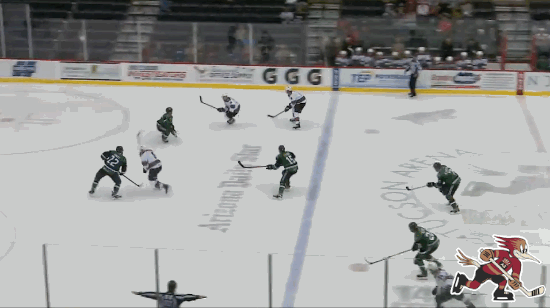 Tucson earned their second lead of the evening when Chris Mueller tipped a Kyle Wood shot past Desrosiers with 1:03 left in the second period.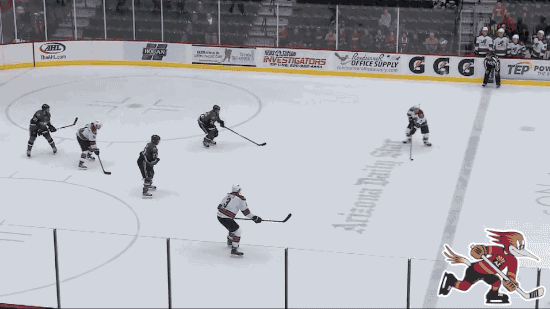 Texas, such as they did in the first period, responded quickly; Mike McMurtry tying the game 3-3 only 25 seconds after Mueller's go-ahead goal.
Neither team scored in the third; the Roadrunners were outshot 12-8 in the final regulation frame, and survived to extend the game to overtime thanks a couple of brilliant saves from goaltender Adin Hill.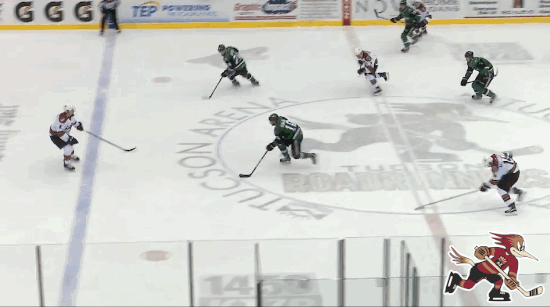 In overtime, the second of which the Roadrunners have played in this season, Texas' Jason Dickinson used Anthony DeAngelo as a screen and beat Adin Hill to give the Stars a 3-2 victory.
"I thought we gave up a lot of chances in that first period, you're happy with [Bunting's] goal there, and you're happy not to fall behind right away," Lamb said of the team's overall performance. "We did some things where we deserved to get scored on, and then we kind of turned it into a crazy game again, and that's turning into a habit. We're happy to get the point."
For the Roadrunners, it was the team's first loss on home ice this season, and their first loss in overtime.
Goaltender Adin Hill made 32 saves in the loss.
Forward Chris Mueller led all Roadrunners players in points scored with two (1G, 1A), and defenseman Kyle Wood extended his personal point streak to six games with his assist on Mueller's third period goal.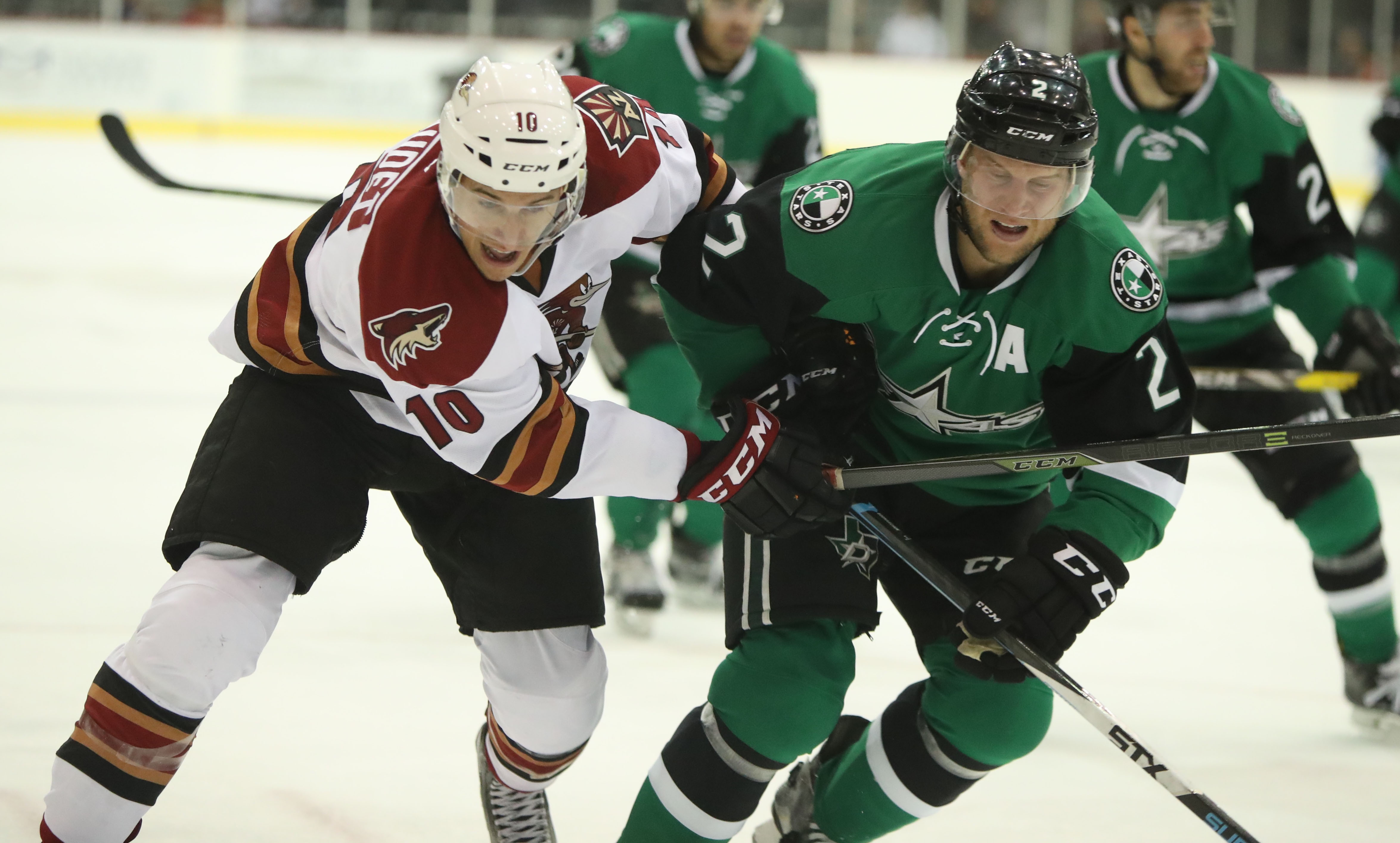 *Photos taken by Chris Hook