NEWS & STATS
Tucson grounded late in lopsided loss to Colorado
By: Alexander Kinkopf
November 03, 2018 8:42 PM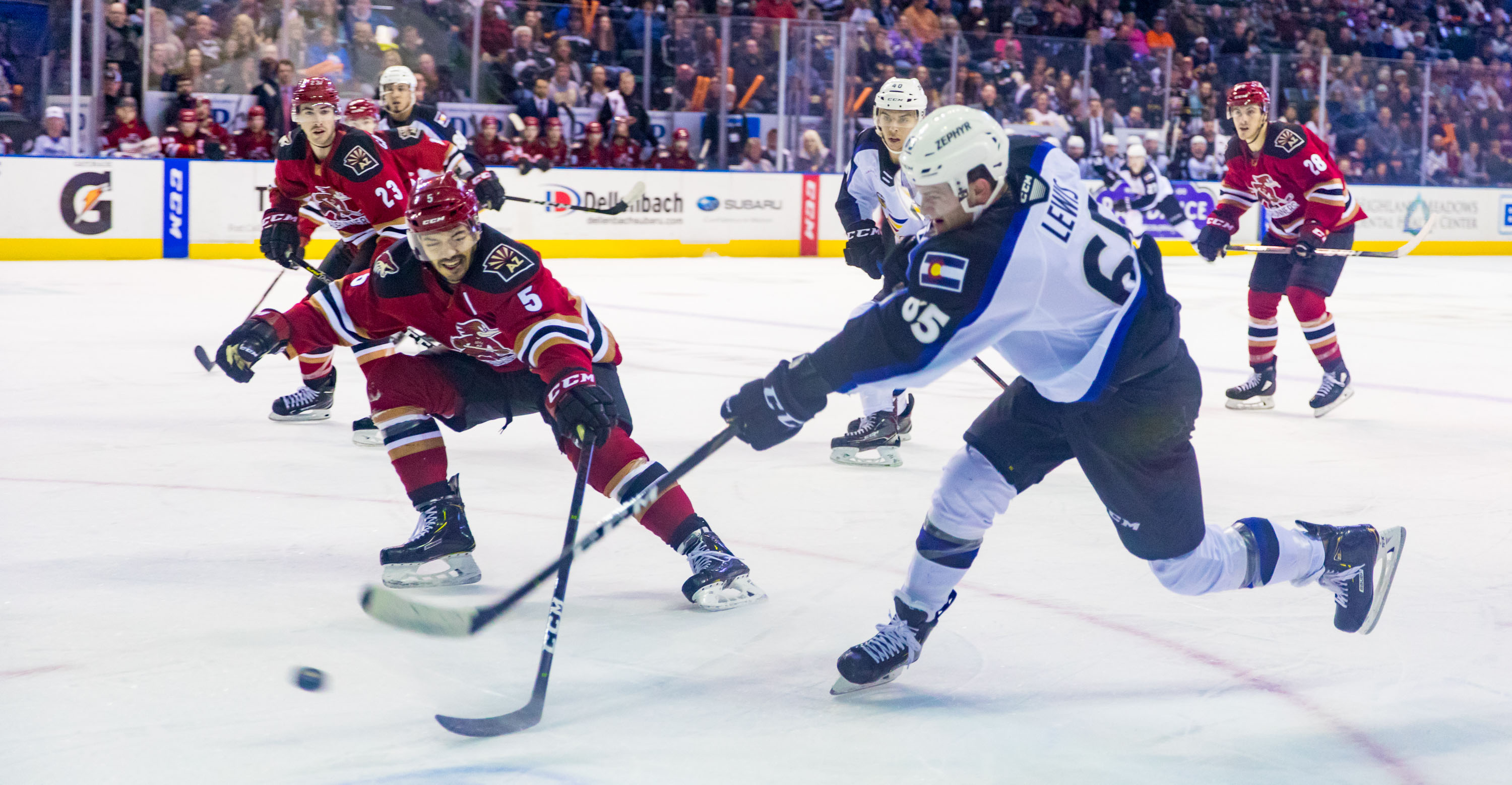 Finding themselves shorthanded early and often in a penalty-ridden first period, the Roadrunners struggled to find their footing in Saturday night's 5-1 loss to the Colorado Eagles at the Budweiser Events Center.
Colorado's A.J. Greer, assigned to the Eagles earlier in the day from the NHL's Avalanche, beat Hunter Miska to give the home team a 1-0 lead with 4:31 to play in the opening frame.
"In the first period we had some penalty trouble and that's a tough way to start, when you're chasing the game like that," Dakota Mermis said following the loss. "[The Eagles] really seemed like they had a lot of jump tonight, and at times we were able to match that, but just not consistently enough."
Striking back, the Roadrunners tied the game 1-1 with 12:06 left to play in the second period when Brayden Burke beat Colorado's Pavel Francouz through the five-hole to score his first pro goal upon transitioning with speed after forcing a neutral zone turnover.
Burke, playing in his 10th professional game, got a stick on a Laurent Dauphin pass while streaking to the net on a two-on-one sequence.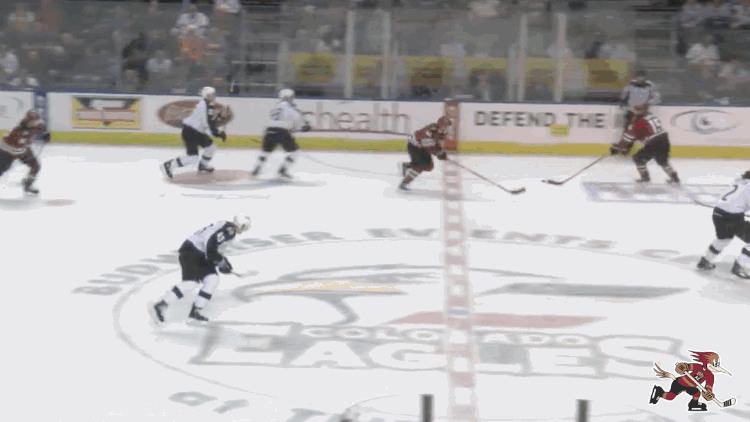 The Eagles erupted in the third period, potting three goals in a 5:16 span to take a commanding 4-1 lead. Miska was pulled thereafter for Merrick Madsen, who in relief, made his American Hockey League debut.
Madsen, after making a rather impressive save on his first AHL shot faced, was beat as the Eagles buried their fifth and final goal of the evening. He stopped four of five shots faced in 7:21 of action. Hunter Miska turned away 25-of-29 in 51:14, suffering his third loss of the season.
"You obviously want a different outcome when you come in here for two games," Mermis added. "You can't have panic, good teams don't panic, they just look forward to the next opportunity to get better."
As for the Roadrunners, that next opportunity to get better will come at home, as the team returns to begin a string of three consecutive games at Tucson Arena on Wednesday night.
"I think it's important for us," Mermis said of the team's return to Southern Arizona. "We've spent a lot of time on the road here to start the year. To go home, spend time with family, and be in your own bed, I think that'll be big for us right now."
The Roadrunners' record now stands at 6-3-0-1; they are currently situated at third-place in the Pacific Division. They'll host the San Diego Gulls on Wednesday night at Tucson Arena, where the puck is scheduled to drop just after 7:05 PM.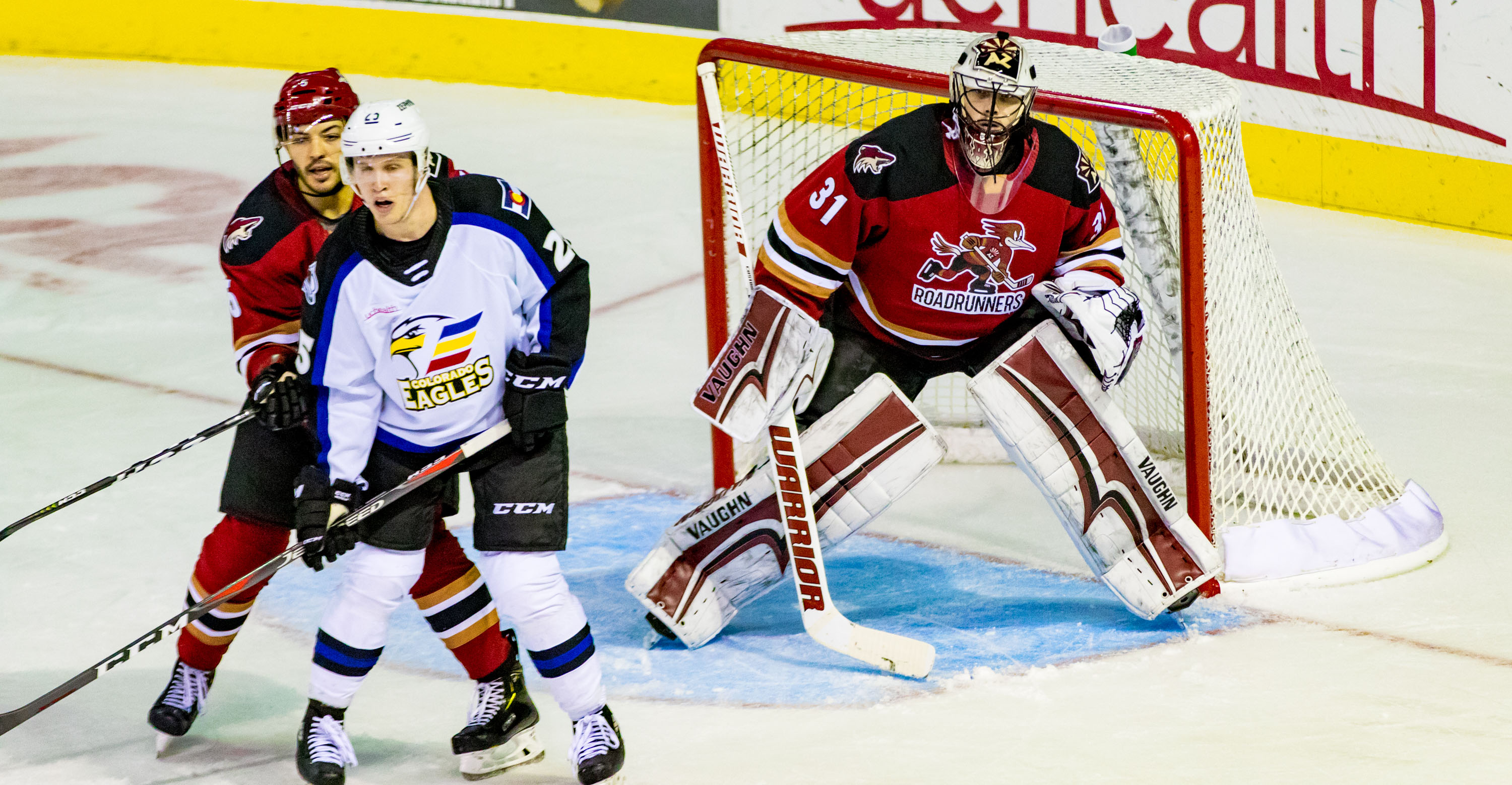 Photos courtesy: Colorado Eagles