NEWS & STATS
GAME #10: Tucson at Bakersfield
By: Alexander Kinkopf
November 12, 2016 4:50 PM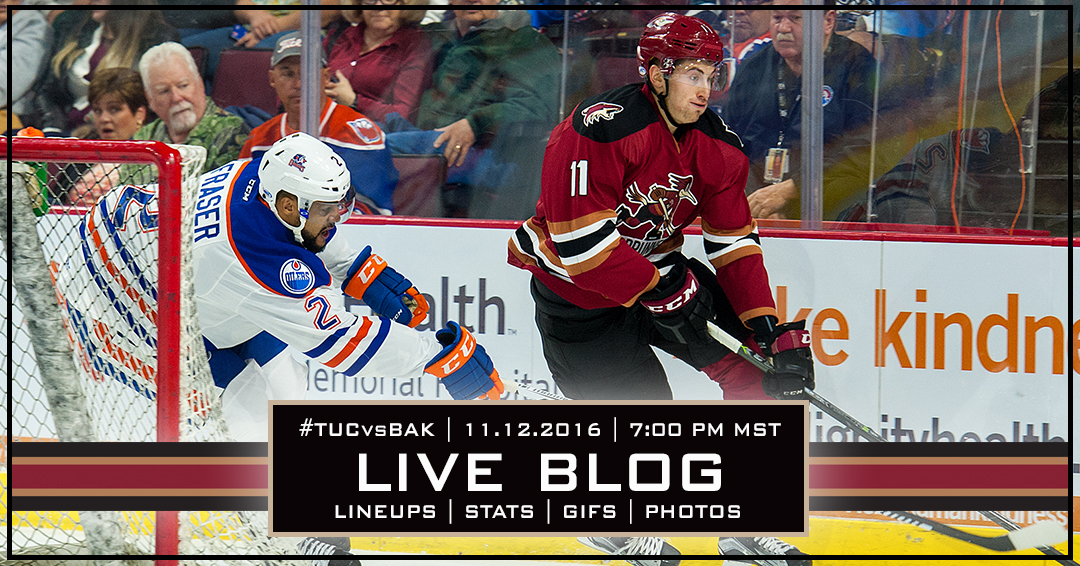 TUCSON ROADRUNNERS 2, BAKERSFIELD CONDORS 3
Overtime | Final
Tucson (7-1-1-0) at Bakersfield (4-5-0-0)
Saturday, November 12, 2016, 7:00 p.m. MST
Rabobank Arena, Bakersfield, California
Referees: #88 Chris Waterstradt, #43 Tom Chmielewski
Linesmen: #96 Michael McBain, #24 J.M. McNulty
AHL Live, iHeart Radio
TUCSON: G Adin Hill, LW Michael Bunting, C Tyler Gaudet, RW Henrik Samuelsson, D Dakota Mermis, D Jamie McBain
BAKERSFIELD: G Laurent Brossoit, LW Josh Curry, C Mitch Moroz, RW Braden Christoffer, D David Musil, D Joey LaLeggia
---
SOG - TUC 35; BAK 19
PP – TUC 0/5; BAK 1/3
FIRST PERIOD:
1) BAK - Taylor Beck (4) (Joey LaLeggia, Frankie Simonelli) 15:26
2) BAK PPG - Taylor Beck (5) (Kris Newbury, Joey LaLeggia) 19:29
SECOND PERIOD:
No Scoring
Third Period:
3) TUC - Brendan Perlini (6) (Chris Mueller, Craig Cunningham) 8:36
4) TUC - Chris Mueller (3) (Craig Cunningham, Tyler Gaudet) 19:45
Overtime:
5) BAK - Josh Currie (2) (Taylor Beck) 2:31
---
NOTES
Pregame:
- Adin Hill leads the team out for warm-ups, he is making his eighth consecutive start; he brings a a 6-0-1 record with a 2.67 GAA and a .923 SV% into the night. He is 2-0-0-0 against the Condors this season, stopping 48 of a combined 49 shots faced.
- There are no changes to the lineup the team used Friday night.
- Forward Hunter Fejes and Defenseman Justin Hache are tonight's healthy scratches. Forward Christian Fischer is out (undisclosed).
- Roadrunners donning their white uniforms for the seventh straight game; Bakersfield wearing orange alternates again
First Period:
- Brandon Burlon called for a holding penalty five minutes in. Roadrunners successfully kill it off, allow only one shot.
- Roadrunners record four shots on their first power play of the evening. Chris Mueller fires a puck past Brossoit off the cross-bar.
- Taylor Beck, who was assigned to the Condors by the Edmonton Oilers early Saturday, nets both of Bakersfield's first period goals.
- The Roadrunners outshoot the Condors 11-9.
Second Period:
- Roadrunners outshooting Bakersfield 11-2 through the midway point of the second.
- Perlini, Mueller, Cunningham line SWARMING. No dice, though.
- Dakota Mermis takes a high-stick behind Adin Hill's net, looks to be drawing some blood - which should draw a double-minor.
- Roadrunners outshoot Bakersfield 17-3 in the second.
Third Period:
- The Roadrunners will begin the third with :19 seconds of power play time.
- Brendan Perlini opens up for a Chris Mueller feed, rockets home a one-timer to get the Roadrunners to within a goal with just over 11 minutes to play.
- Craig Cunningham one-times a Tyler Gaudet feed from the high slot, Chris Mueller redirects past Brossoit with 15 seconds remaining to tie the game.
Overtime:
- The Roadrunners enter overtime for the fourth occasion this season. They are 2-1-0 in the previous three accounts.
- Craig Cunningham is turned away by a blocker save on a breakaway, Bakersfield transitions and Josh Currie beats Adin Hill high with 2:31 left in OT, securing a 3-2 Condors victory.
FORWARDS
BRENDAN PERLINI - CHRIS MUELLER - CRAIG CUNNINGHAM
MICHAEL BUNTING - TYLER GAUDET - HENRIK SAMUELSSON
ERIC SELLECK - RYAN MACINNIS - CONOR GARLAND
GARRET ROSS - MARK OLVER - STEFAN FOURNIER
DEFENSEMEN
DAKOTA MERMIS - JAMIE MCBAIN
JARRED TINORDI - KYLE WOOD
BRANDON BURLON - DYSIN MAYO
GOALTENDERS
ADIN HILL
MAREK LANGHAMER
---
VIDEO HIGHLIGHTS
- Bakersfield's Taylor Beck opens the scoring, beating Adin Hill off of a rebound.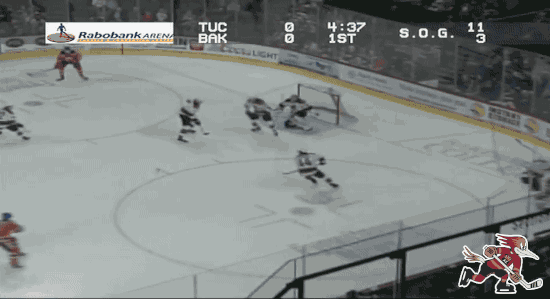 - Taylor Beck scores his second of the game to give the Condors a 2-0 lead late in the first.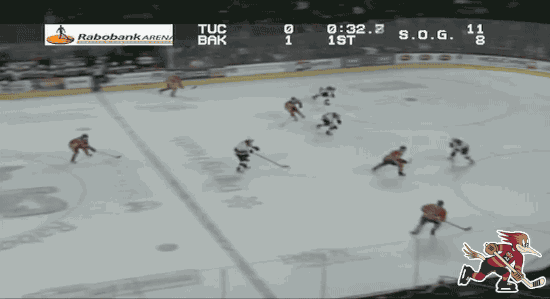 - Brendan Perlini gets the Roadrunners on the board in the third.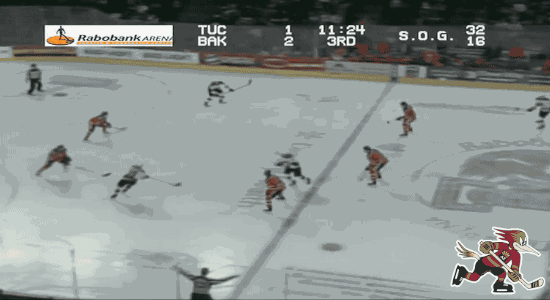 - Chris Mueller redirects home a Craig Cunningham shot to tie the game 2-2 with 15 seconds left in regulation.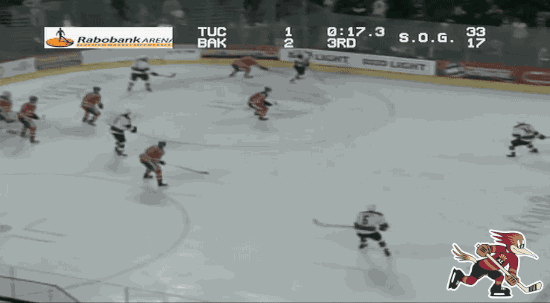 - Bakerfield's Josh Currie beats Adin Hill high on a breakaway 2:31 into overtime to give the Condors a 3-2 win.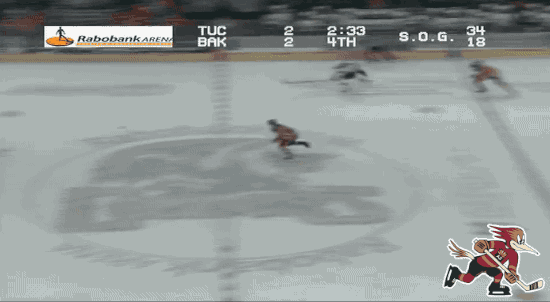 ---
PHOTOS