NEWS & STATS
GAME #27: Tucson at Stockton
By: Alexander Kinkopf
January 06, 2017 6:13 PM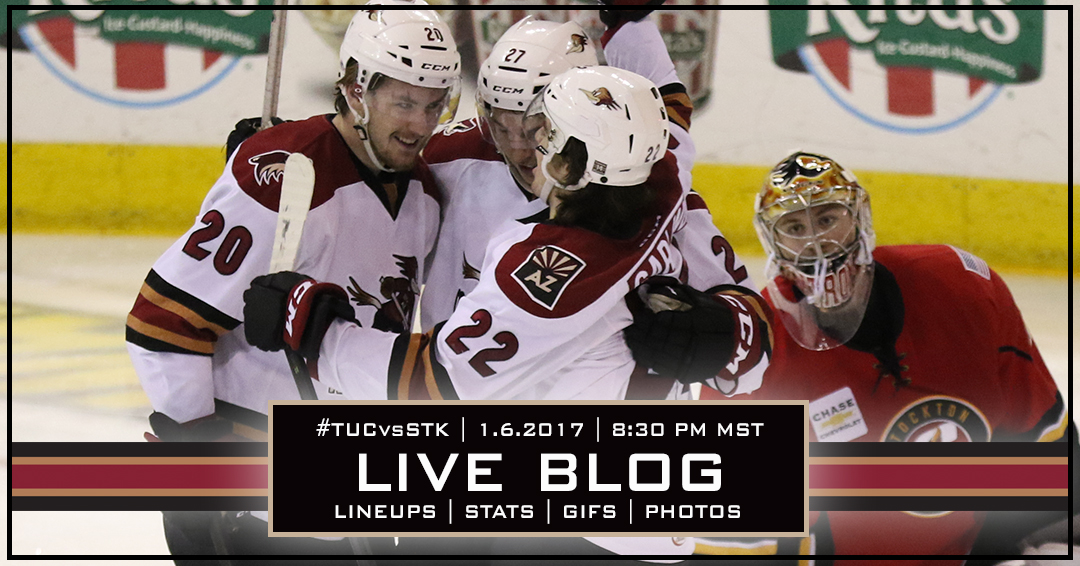 TUCSON ROADRUNNERS 2, STOCKTON HEAT 3
Final, Overtime | 3:56 Remaining
Tucson (15-8-3-0) at Stockton (16-9-3-1)
Friday, January 6, 2017, 8:30 p.m. MST
Stockton Arena, Stockton, California
Referees: #19 Tim Mayer, #36 Mike Campbell
Linesmen: #43 Steven Berry, #85 Steve Walsh
AHL Live, iHeart Radio
TUCSON: G Adin Hill, D Jarred Tinordi, D Kyle Wood, LW Michael Bunting, C Tyler Gaudet, RW Mark Olver
STOCKTON: G Jon Gillies, D Brett Kulak, D Rasmus Andersson, LW Andre Mangiapane, C Daniel Pribyl, RW Mark Jankowski
---
SOG - TUC 33; STK 39
PP – TUC 0/4; STK 0/2
FIRST PERIOD:
1) STK - Jamie Devane (3) (Hunter Smith, Mike Angelidis) 6:03
2) TUC - Kyle Wood (8) (Jamie McBain, Christian Fischer) 17:08
SECOND PERIOD:
3) TUC - Christian Fischer (12) (Chris Mueller) 15:13
THIRD PERIOD:
4) STK - Keith Aulie (1) (Daniel Pribyl, Linden Vey) 6:04
OVERTIME:
5) STK - Mark Jankowski (9) (Morgan Klimchuck, Kenney Morrison) 1:04
---
NOTES
Pregame:
- Adin Hill leads Tucson out of the tunnel and onto the ice for warm-ups. For Hill, it will mark 13th start of the season for the Roadrunners - he comes into the night with a 8-2-2 record with a .910 GAA and a 2.97 GAA. Hill is 2-1-0 in three previous starts against the Heat this season.
- Waiting on official word from hockey operations on the statuses of Christian Fischer (illness) and Garret Ross (undisclosed) who were deemed questionable for tonight's game at 4:30 PM MST.
- Barring any last-minute changes, Henrik Samuelsson and Hunter Fejes look to be the team's healthy scratches up-front. Zbynek Michalek is out (undisclosed).
- Jon Gillies in net for Stockton tonight. Gillies is 1-3-1 with a .873 SV% and a 3.78 GAA against the Roadrunners this season.
- Garret Ross and Christian Fischer were both on the ice for warm-ups. Hunter Fejes skated as well.
- Official word from hockey operations says Garret Ross is out tonight; Hunter Fejes will slide in his place. Fischer seems good to go.
First Period:
- Stockton controlling the early pace here, lead Tucson 5-1 in shots through the first 5 minutes.
- Hill plays a Heat dump-in to the corner, doesn't get much on it. Stockton forward corrals puck, throws to front of net, loose puck buried to give the Heat a 1-0 lead just over five minutes in.
- Roadrunners struggling to maintain posession, zone time early on.
- Jarred Tinordi brings the first bit of energy to the period for Tucson, laying into a Stockton forward just inside the Roadrunners' blue-line.
- Kyle Wood rockets home his eighth goal of the season, tying the game 1-1 with 2:52 left in the first period, high to the short-side of Jon Gillies.
- Wood now has 13 points (4G, 9A) against the Heat this season.
- Roadrunners record the final six shots of the period.
Second Period:
- A much, much better start to the second for Tucson. They have outshot the Heat 5-1 through the first five minutes.
- Fourth line of Fournier, Cheek, and Sparks develop Tucson's best scoring chance of the period thus far. Gillies turns away Cheek's Grade-A chance, Sparks can't get a solid handle on loose rebound.
- Michael Bunting nearly buries a redirect off of a Kyle Wood shot. Very close.
- Tucson takes a lead in the shot department for the first time all night, 22-21 with 5:33 left in the second. Were once down 12-3 early in the first.
- With the puck deep in Stockton's zone, Christian Fischer stays in open space, controls a loose puck that pops out, and skates around Jon Gillies to bury a backhand goal to give Tucson a 2-1 lead.
- The Roadrunners outshoot the Heat 17-10 in the middle frame.
Third Period:
- Roadrunners can't capitalize on an early period power play; register two shots.
- Stockton ties the game on a broken play. Adin Hill makes the initial save, but a huge rebound is left out for Keith Aulie, who connects and finds the back of the net.
- Tyler Gaudet just misses on a shorthanded opportunity, fires a shot off the near-side post.
- Adin Hill coming up big here in the third.
- Stockton outshooting Tucson 11-4 through the first 14 minutes of the third.
- Hunter Fejes turned away on a point-blank opportunity with 1:30 left in regulation. Great feed from Conor Garland.
Overtime:
- Mark Jankowski gets a stick on a redirected shot/pass and beats Adin Hill for the game-winning goal 1:04 into the extra frame.
FORWARDS:
LAURENT DAUPHIN - CHRIS MUELLER - CHRISTIAN FISCHER
MICHAEL BUNTING - TYLER GAUDET - MARK OLVER
HUNTER FEJES - RYAN MACINNIS - CONOR GARLAND
LINDSAY SPARKS - TREVOR CHEEK - STEFAN FOURNIER
(HENRIK SAMUELSSON - GARRET ROSS)
DEFENSEMEN:
JARRED TINORDI - KYLE WOOD
DAKOTA MERMIS - JAMIE MCBAIN
BRANDON BURLON - DYSIN MAYO
(ZBYNEK MICHALEK)
GOALTENDERS:
ADIN HILL
JUSTIN PETERS
---
VIDEO HIGHLIGHTS
- Jarred Tinordi lays into a Heat forward as he enters the Roadrunners' zone.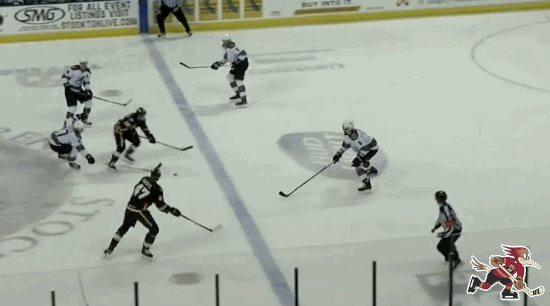 - Kyle Wood buries a Jamie McBain feed high to the short-side of Jon Gillies to put Tucson on the board late in the first period.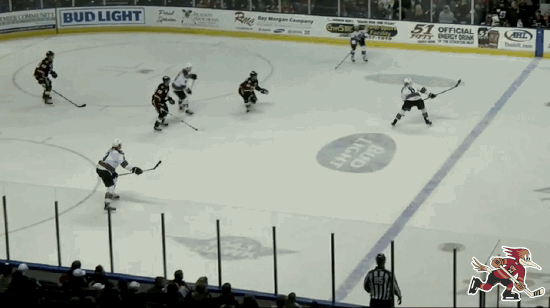 - Christian Fischer hops on a loose puck and moves around Stockton's Jon Gillies to give the Roadrunners a 2-1 lead late in the second.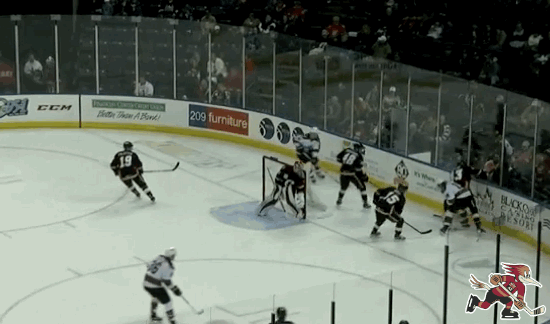 ---
PHOTOS