NEWS & STATS
GAME #34: Tucson at Charlotte
By: Alexander Kinkopf
January 21, 2017 1:40 PM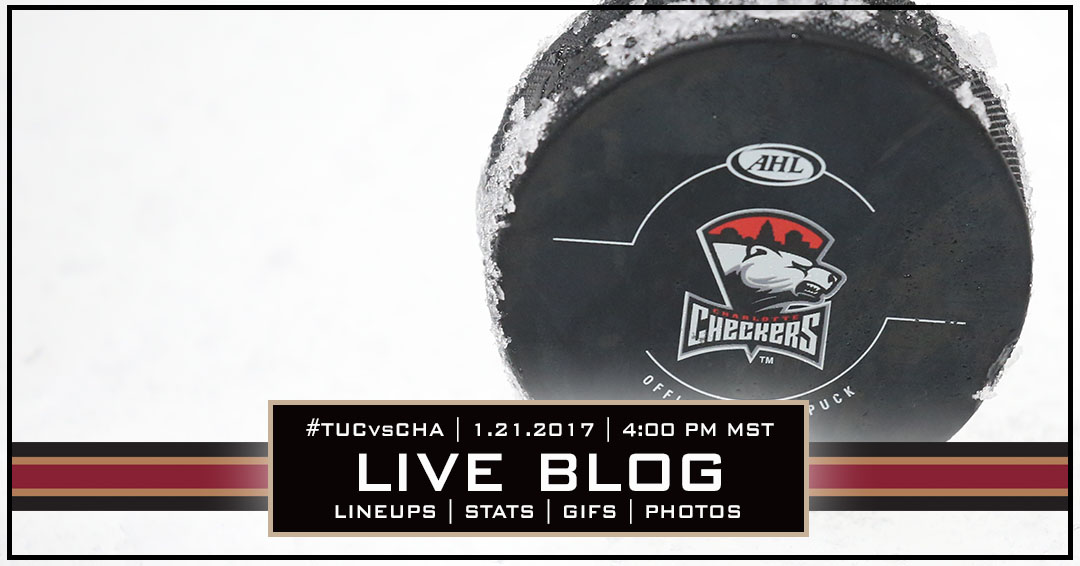 TUCSON ROADRUNNERS 1, CHARLOTTE CHECKERS 3
Final | 0:00 Remaining
Tucson (20-9-4-0) at Charlotte (16-21-3-0)
Saturday, January 21, 2017, 4:00 p.m. MST
Bojangles' Coliseum, Charlotte, North Carolina
Referees: #43 Tom Chmielewski, #2 Jarrod Ragusin
Linesmen: #98 Beaudry Halkidis, #58 Terry Wicklum
AHL Live, iHeart Radio
TUCSON: G Justin Peters, D Jamie McBain, D Jarred Tinordi, LW Mark Olver, C Tyler Gaudet, RW Henrik Samuelsson
CHARLOTTE: G Alex Nedeljkovic, D Trevor Carrick, D Dennis Robertson, LW Andrej Nestrasil, C Andrew Poturalski, RW Patrick Dwyer
---
SOG - TUC 27; CHA 38
PP – TUC 0/2; CHA 0/4
FIRST PERIOD:
1) CHA - Trevor Carrick (1) (Sergey Tolchinsky, Mitchell Heard) 11:31
SECOND PERIOD:
No Scoring
THIRD PERIOD:
2) CHA - Andrej Nestrasil (2) (Andrew Poturalski, Haydn Fleury) 4:10
3) TUC - Mark Olver (6) (Tyler Gaudet) 13:19
4) CHA - Levko Koper (6) (Kris Newbury) 15:00
---
NOTES
Pregame:
- Justin Peters leads the team out of the tunnel and onto the ice for warm-ups, set to make his third consecutive start and his 11th of the season. Peters comes into the evening with a 5-4-0 record with a .871 SV% and a 3.65 GAA. In his previous two starts, Peters has stopped 55 of 58 shots faced.
- Anthony Duclair files onto the ice with the team, making his American Hockey League debut.
- Duclair will skate on the right side of the first line; Laurent Dauphin and Chris Mueller to his left.
- Brandon Burlon, Dysin Mayo, and Stefan Fournier look to be the team's healthy scratches. Garret Ross remains out (undisclosed).
First Period:
- Trevor Cheek misses on a Grade-A back door scoring opportunity three minutes into the game.
- Justin Peters facing a flurry of shots early. Charlotte rings one off the post.
- After stopping the first seven shots faced, Justin Peters surrenders a goal to his former team. Charlotte gets a shot through traffic to take a 1-0 lead midway through the first.
- Tucson gains some life during the final five minutes of the period, register five-straight shots while maintaining possession and control.
- Roadrunners go on their first power play of the evening with 33 seconds left in the opening frame.
Second Period:
- Tucson will begin the second period with 1:27 minutes left on a power play.
- Roadrunners register the first three shots of the period.
- Tucson successfully kills off their second penalty of the evening. Providing Peters with sound protection defensively.
- Pretty even, back-and-forth period here. Not a whole lot of scoring chances being surrendered by either club. Peters playing very, very well.
Third Period:
- Not a fantastic start for Tucson in the third. Charlotte registers first three shots of the period, goes on the power play two minutes in.
- All Charlotte through the first 6 minutes of the third. Nestrasil forces his way through Tucson defenders and jams home the Checkers' second goal of the evening.
- Mark Olver gets Tucson on the board with just over six minutes left to play, following up on a Tyler Gaudet rush to bury a loose rebound.
- Charlotte counters just over a minute after Olver's marker, executing on a two-on-one following a Roadrunners turnover.
- Tucson's win-streak ends at five games.
FORWARDS:
LAURENT DAUPHIN - CHRIS MUELLER - ANTHONY DUCLAIR
MARK OLVER - TYLER GAUDET - HENRIK SAMUELSSON
MICHAEL BUNTING - RYAN MACINNIS - CONOR GARLAND
HUNTER FEJES - TREVOR CHEEK - LINDSAY SPARKS
(STEFAN FOURNIER - GARRET ROSS)
DEFENSEMEN:
JARRED TINORDI - JAMIE MCBAIN
ANTHONY DEANGELO - ZBYNEK MICHALEK
DAKOTA MERMIS - KYLE WOOD
(BRANDON BURLON - DYSIN MAYO)
GOALTENDERS:
JUSTIN PETERS
ADIN HILL
---
GIF HIGHLIGHTS
- Jarred Tinordi lays a shoulder into a Checkers forward to shut down a Charlotte scoring opportunity.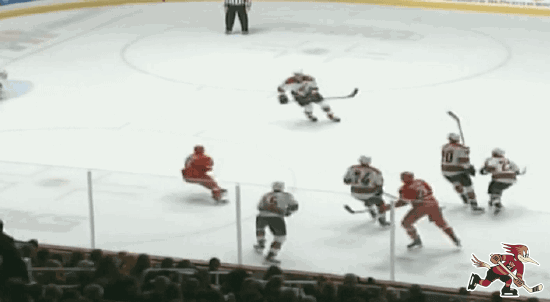 - Mark Olver follows up a Tyler Gaudet rush in the third period to score his sixth goal of the season.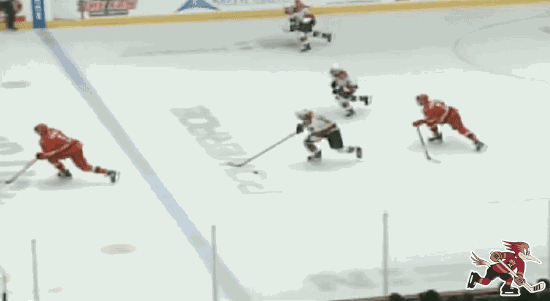 ---
PHOTOS