NEWS & STATS
GAME #43: Tucson at San Jose
By: Alexander Kinkopf
February 14, 2017 5:44 PM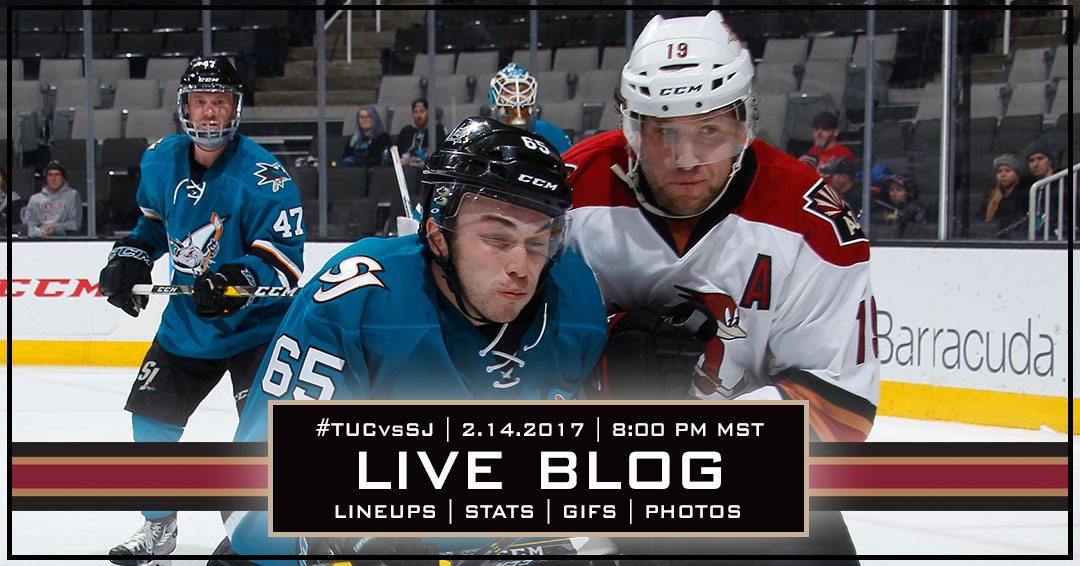 TUCSON ROADRUNNERS 1, SAN JOSE BARRACUDA 4
Final | 20:00 Remaining
Tucson (21-16-5-0) at San Jose (27-11-1-3)
Tuesday, February 14, 2017, 8:00 p.m. MST
SAP Center, San Jose, California
Referees: #33 Reid Anderson, #40 Keith Kaval
Linesmen: #21 Alexander Ledovskiy, #37 Brett Martin
AHL Live, iHeart Radio
TUCSON: G Marek Langhamer, D Jarred Tinordi, D Jamie McBain, LW Brendan Ranford, C Mark Olver, RW Eric Selleck
SAN JOSE: G Troy Grosenick, D Joakim Ryan, D Tim Heed, LW Adam Helewka, C Rourke Chardier, RW Buddy Robinson
---
SOG - TUC 29; SJ 39
PP – TUC 1/6; SJ 3/5
FIRST PERIOD:
1) SJ - Rourke Chartier (10) (Tim Heed, Nikolay Goldobin) 11:14
2) SJ PPG - Nikolay Goldobin (13) (Marcus Sorenson, Tim Heed) 17:28
3) TUC PPG - Michael Bunting (10) (Jamie McBain, Anthony Duclair) 18:55
SECOND PERIOD:
4) SJ PPG - Mirco Mueller (1) (Ryan Carpenter, Julius Bergman) 5:32
THIRD PERIOD:
5) SJ PPG - Marcus Sorensen (14) (Daniel O'Regan, Nikolay Goldobin) 9:48
---
NOTES
Pregame:
- Marek Langhamer leads the team down the tunnel and onto the ice for warm-ups, set to make his 10th start of the season.
- Dakota Mermis looks to be back in the lineup after serving as a healthy scratch on Saturday night, taking the place of Brandon Burlon.
- No changes seen to the personnel in the team's offensive alignment. Branden Troock and Conor Garland are not dressed.
First Period:
- A pretty solid start for the Roadrunners, who have registered the first four shots of the game.
- Stefan Fournier, energy packed as always, drops the gloves five minutes in.
- San Jose takes back momentum from Tucson's early push, records nine of next 10 shots, one of which inluded Rourke Chartier's game-opening tally.
- Trailing 2-0 and working on their first power play of the evening, Michael Bunting redirects a Jamie McBain shot home to get the Roadrunners on the board with just over a minute left in the period.
Second Period:
- Not much going for the Roadrunners in the second period. Hold their own, no Grade-A scoring opportunities.
- Tucson outshot 19-12 in the middle frame.
- Marek Langhamer plays a phenomenal period; San Jose registers one goal during the frame, their second on the power play.
Third Period:
-
FORWARDS:
LAURENT DAUPHIN – CHRIS MUELLER – CHRISTIAN FISCHER
MICHAEL BUNTING – TYLER GAUDET – ANTHONY DUCLAIR
BRENDAN RANFORD – MARK OLVER – ERIC SELLECK
MITCH MOROZ – RYAN MACINNIS – STEFAN FOURNIER
(BRANDEN TROOCK – CONOR GARLAND)
DEFENSEMEN:
JARRED TINORDI – JAMIE MCBAIN
ANTHONY DEANGELO – KYLE WOOD
DAKOTA MERMIS – ZBYNEK MICHALEK
(BRANDON BURLON)
GOALTENDERS:
MAREK LANGHAMER
ADIN HILL
---
GIF HIGHLIGHTS
- Stefan Fournier and Alex Gallant drop the gloves early in the first period.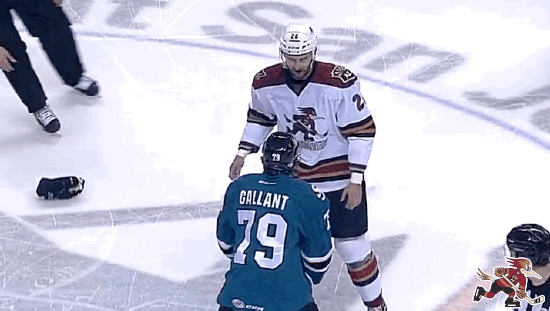 - Michael Bunting redirects a Jamie McBain shot past Troy Grosenick on the Roadrunners' first power play of the evening late in the first period.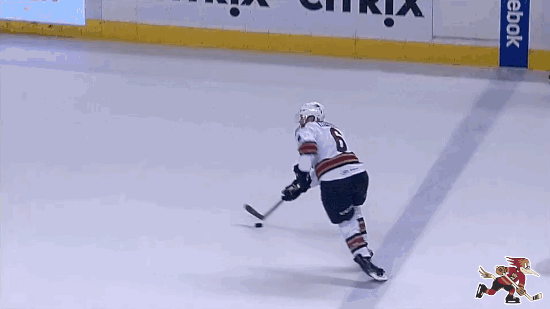 ---
PHOTOS