Game Recaps
Roadrunners blanked by Bakersfield in a 2-0 loss Saturday
By: Alexander Kinkopf
February 23, 2019 9:41 PM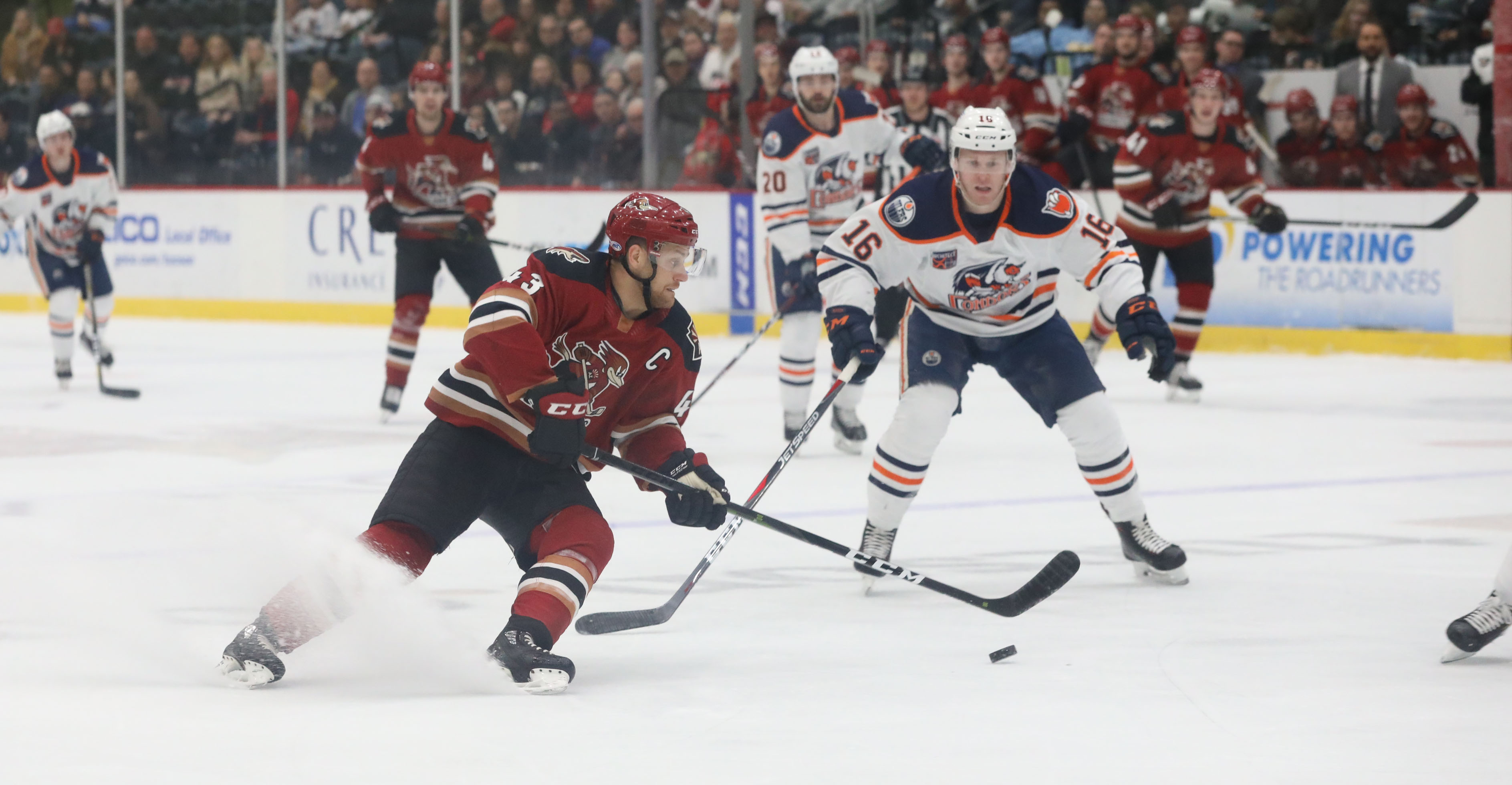 The Roadrunners fell short to the Bakersfield Condors by a 2-0 count Saturday night in front of 6,375 at Tucson Arena, the largest crowd of the season.
The Condors have now won 16-straight games, tying the 1984-95 Baltimore Skipjacks for the third-longest win streak in American Hockey League history.
Despite directing 30 pucks on Bakersfield's net, the Roadrunners were unable to register a single goal, suffering their second shutout in their last four games.
"I thought we played pretty solid, honestly," said defenseman Cam Dineen. "I thought we had our chances and hemmed them in their zone a lot; we just couldn't get anything going goal-wise. For the most part, I thought there were a lot of good things to take from that game that I think we can build off of for Monday."
The Condors took a 1-0 lead less than five minutes into the contest, Kailer Yamamoto getting Bakersfield on the board with a one-time tally from the slot.
Up until the final seconds of the game, the Roadrunners played toe-to-toe with Bakersfield in a one-goal affair.
"Getting close isn't fun," head coach Jay Varady said. "You play the game to win, we didn't win, but I think for us we want to play to our identity, that's our goal every day and I thought we saw a little more of that tonight than we did in San Diego."
Christian Dvorak, skating in his second game as he continues his conditioning stint on assignment from the Arizona Coyotes, finished the evening with four shots registered.
"I thought he was outstanding," Varady said of Dvorak's game. "It's a situation where he's had a really tough year in terms of injury, I thought he looked great, I thought his game just kind of elevated even throughout tonight's game; you saw another step, and then you saw another step in the last five minutes of the game where I thought he had unbelievable looks and chances. He's been great around our guys; he's great to have around."
The Roadrunners nearly tied the game in the final minutes of regulation until the Condors countered with an empty-net goal with six seconds left on the clock.
"We've got to score a goal," Varady stressed. "You've got to score a goal to get a point in a hockey game, for us we've just got to get back to the basics, get to the blue paint, the second chances, the screens. It all sounds cliché, but if we're struggling to score goals then we've got to find a way so that one bounces in off of us every once in a while."
The teams will meet again on Monday night at Tucson Arena, where the puck is scheduled to drop just after 7:05 PM.