Game Recaps
Troublesome trip ends with a blank in Bakersfield
By: Alexander Kinkopf
December 03, 2016 10:01 PM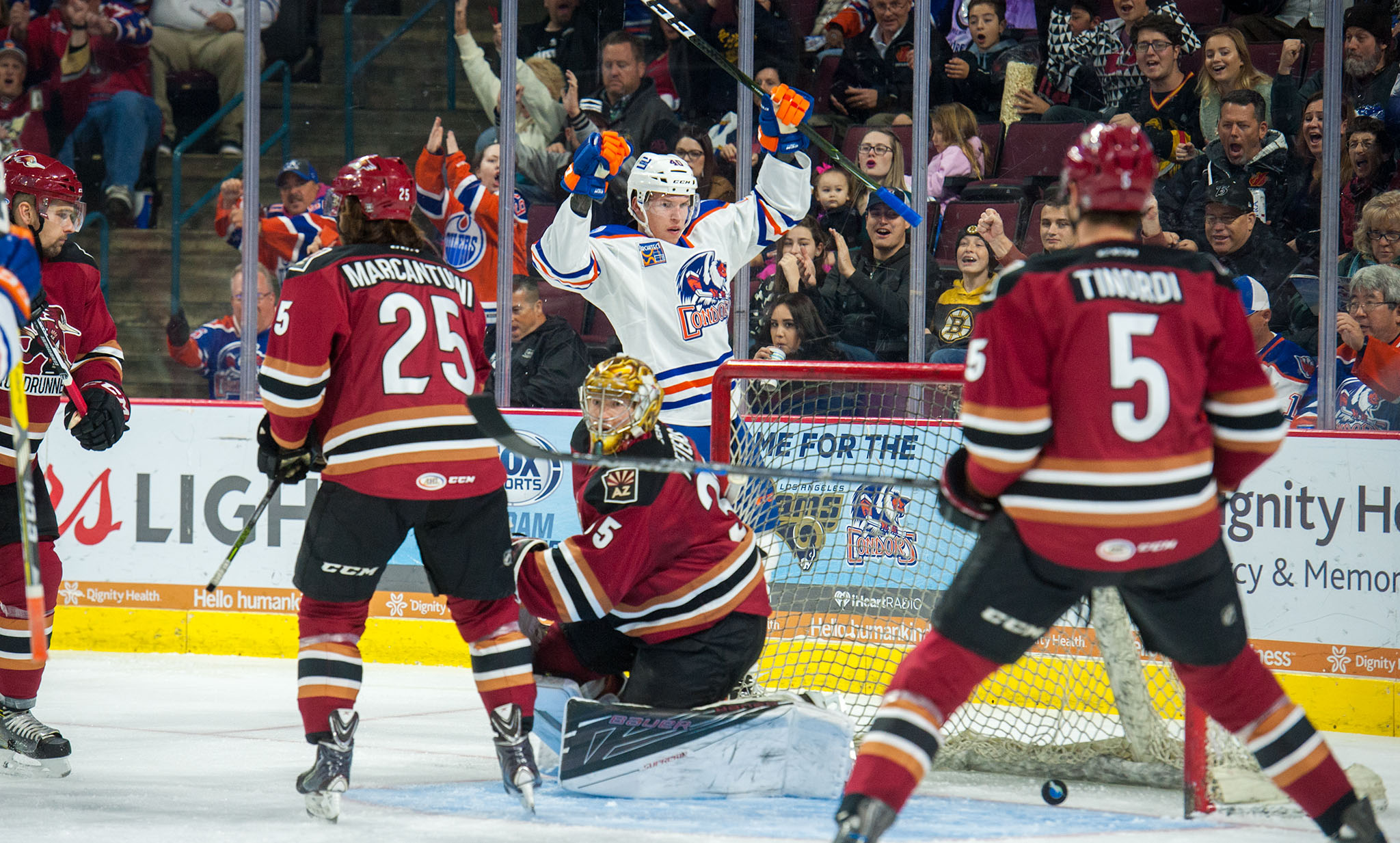 A rather difficult ending it was to a forgettable road trip for the Roadrunners Saturday night in their 5-0 loss to the Bakersfield Condors at Rabobank Arena.
For Tucson, it was the first time the team has been shut out all season, and it marks the end of the club's 37-day first-place stint atop the Pacific Division.
"Our execution was not there at all, I don't think there's any excuse," said Head Coach Mark Lamb. "[The Condors] are a team that's playing really well right now, they're really deep, they have four lines that are deep, they were rolling on all cylinders, and we just weren't there at all."
Justin Peters made his second start of the season, and didn't receive a ton of help from a Roadrunners roster that seemed to be a step behind play throughout the evening.
The Condors struck just over three minutes into the game to open the scoring, tacking on four additional goals en route to a convincing victory. Much of the game was spent in the Roadrunners' zone, where Tucson had trouble countering Bakersfield's heavy forecheck.
"That was very noticeable," Lamb said of the team's difficulty clearing their own zone. "We couldn't get the puck out of our own end, they had a good forecheck going, they were playing fast, and we just couldn't keep up, we were a step behind."
Bakersfield ran away with the game in the second, scoring three times, then adding a fifth marker in the final minute of regulation.
For the Roadrunners, it was their first loss to the Condors this season; they came into the night with a 2-0-1-0 mark against Bakersfield.
Tucson's three-game California swing ended with a winless 0-3-0-0 record, where they were outscored 14-2.
"It was real tough," Lamb said of the road trip. "We've got a lot of work to do. It's not really surprising at all, we're going through a stretch where we've got to figure some things out, we've got to find some chemistry within the lines, within the team, we've got a lot going up, down, and up right now. Every other team goes through it, we're going through it right now, and we've got to figure it out. We'll work hard at it and do it."
The team is set to travel back to Southern Arizona on Sunday; they will host the Ontario Reign for a pair of games this coming Wednesday and Friday night at Tucson Arena.