Game Recaps
Mermis' late marker earns Roadrunners a crucial point
By: Alexander Kinkopf
December 07, 2016 10:28 PM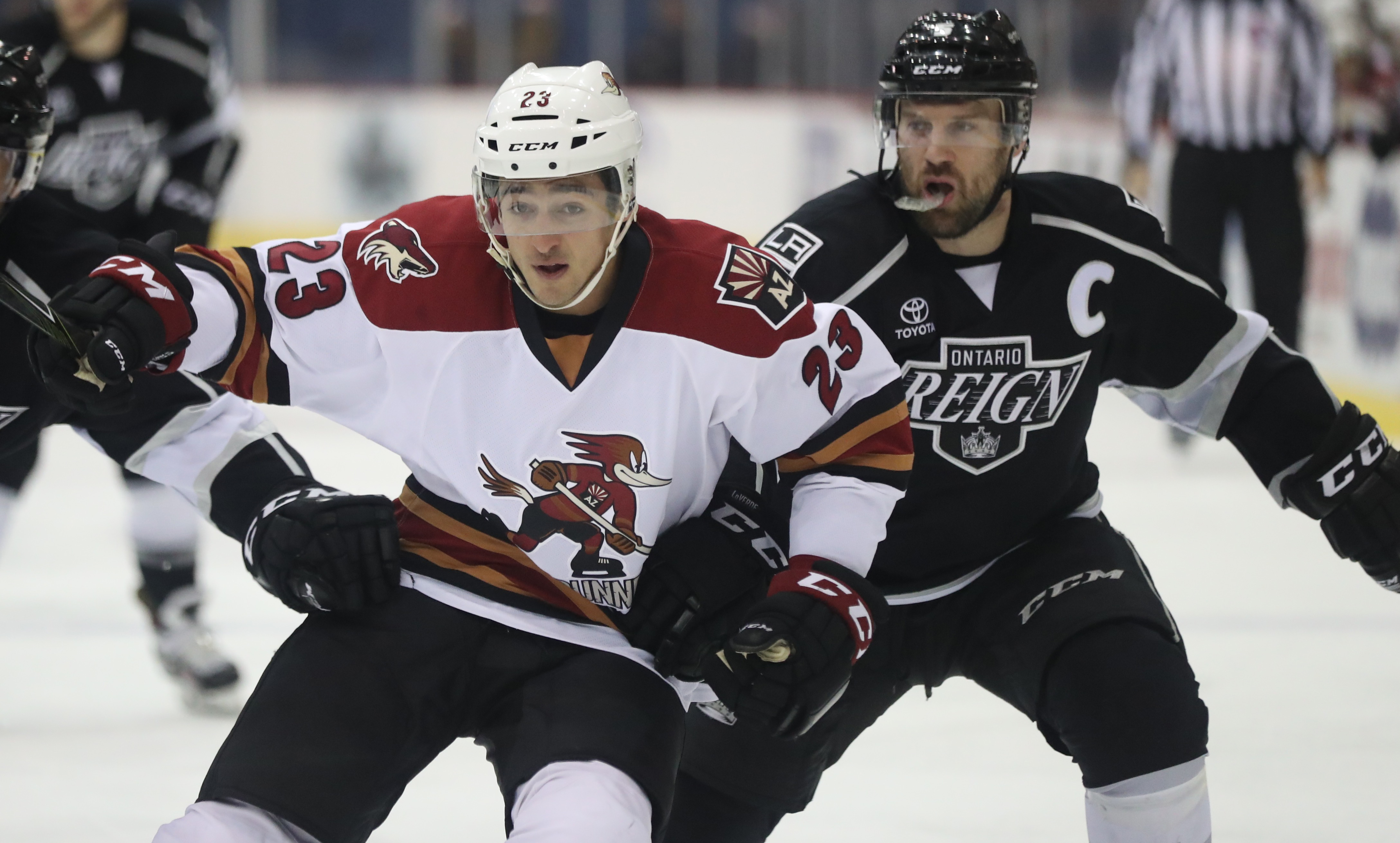 They'll take it, that's for sure.
In their return home from a forgettable road trip, the Roadrunners earned a point in their 3-2 OT loss to the Ontario Reign Wednesday night at Tucson Arena.
Was it the result the team was looking for? Not necessarily. But, through the trials and tribulations of injuries, recalls, and assignments that saw the team ice three players in Roadrunners jerseys for the first time, their performance was, quite frankly, an impressive one at that.
"It was a real good effort; I thought a lot of guys did a lot of good things," said Head Coach Mark Lamb after the game. "I thought as a team we did a lot of good things, the new players that came in filled roles, I thought they all played very well, and it was a good taste for them to get in this league. We can learn some things from this game, but there's nothing negative about it, the guys worked hard and we got a point."
The Roadrunners, it momentarily seemed, gained an early lead when Christian Fischer shoveled home a Laurent Dauphin pass in the opening minutes, but the goal was reviewed and deemed 'no good'.
Ontario responded with a pair of first period goals, Kurtis MacDermid and Justin Auger beating Marek Langhamer in the opening frame as the Roadrunners' goaltender was embarking on his fourth start of the season.
"I think I settled down again after that first period," Langhamer said. "I don't know what it is, but somehow it's tough to play first periods in this rink, but I felt pretty good after that for sure. I had only one thing on my mind, and that was to shut the door in the second and third periods, which I did, and it at least got us a point."
Langhamer was stellar in the second, nixing the Reign on a handful of grade-A scoring opportunities to give Tucson a shot at the game in the third period, facing what was only a two-goal deficit.
Just over five minutes into the third, and in his first game with the Roadrunners since his assignment earlier in the week, Laurent Dauphin hopped on an Ontario turnover in the neutral zone to walk in alone on Jack Campbell.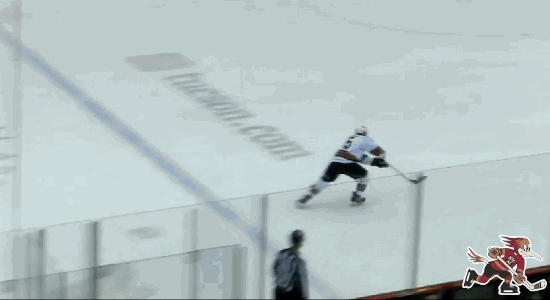 Fighting a bouncing puck as he moved in on the Reign netminder, Dauphin was able to utilize patience with the space he had, and beat Campbell to the blocker side.
With just under four minutes left in regulation, Dakota Mermis drove Ontario's zone, leaving a drop pass for Ryan MacInnis. MacInnis directed a shot low on Campbell, which he couldn't handle cleanly, and Mermis, who was driving hard to the net, got a stick on the loose puck, tucking it past the Reign netminder to tie the game.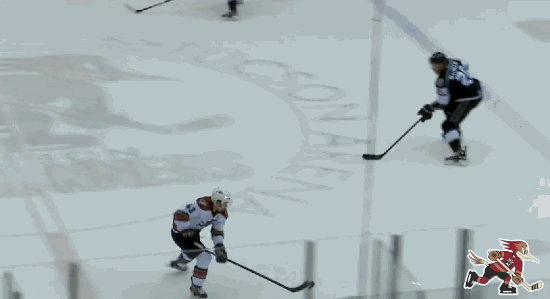 For Mermis, it was his first goal of the season, and it couldn't have come at a better time.
In overtime, Ontario's Teddy Purcell netted the game-winner after Mark Olver was tripped up deep in the Reign's zone. Purcell walked in alone as Conor Garland tried to catch him on the back-check, beating Langhamer high to the glove side.
"I thought we played better, I thought we played harder, which was the game plan, but we've got to find a way to win," said Chris Mueller. "The power play isn't scoring right now; that's my job, and that's guys' on our power play's job to produce, and we're not doing it, so we're letting the team down that way. We've talked about playing harder, playing dirtier, getting pucks in, and I thought we did a good job those ways."
The Roadrunners will host the Reign Friday night at Tucson Arena, which will also feature the team's first-annual Teddy Bear Toss. Fans are encourage to bring stuffed Teddy Bears to toss on the ice after the Roadrunners' first goal to benefit Aviva Children's Services.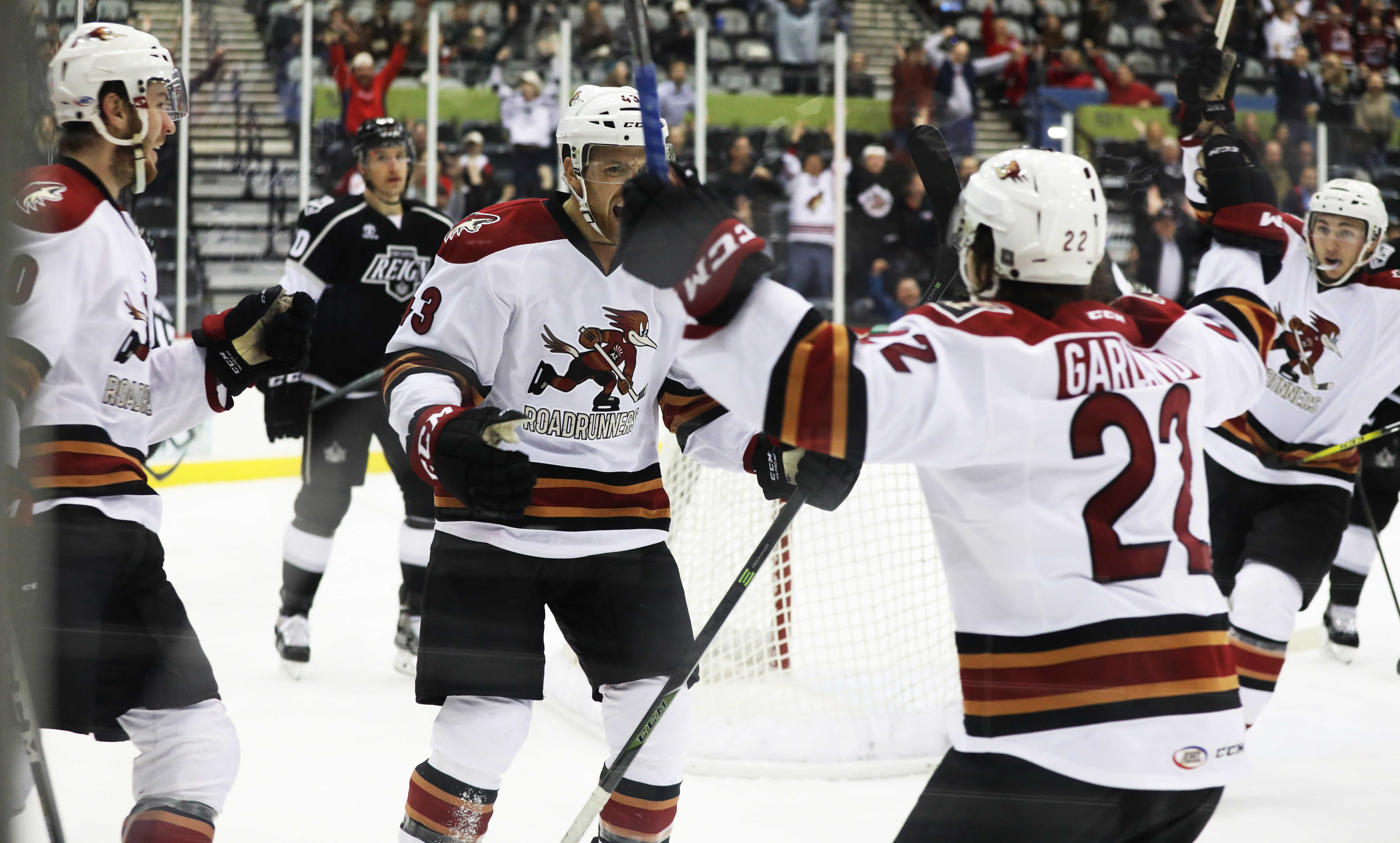 *Photos taken by: Kate Dibildox and Chris Hook