Game Recaps
Fischer for three in Roadrunners' 5-4 OT victory over San Antonio
By: Alexander Kinkopf
December 16, 2016 10:23 PM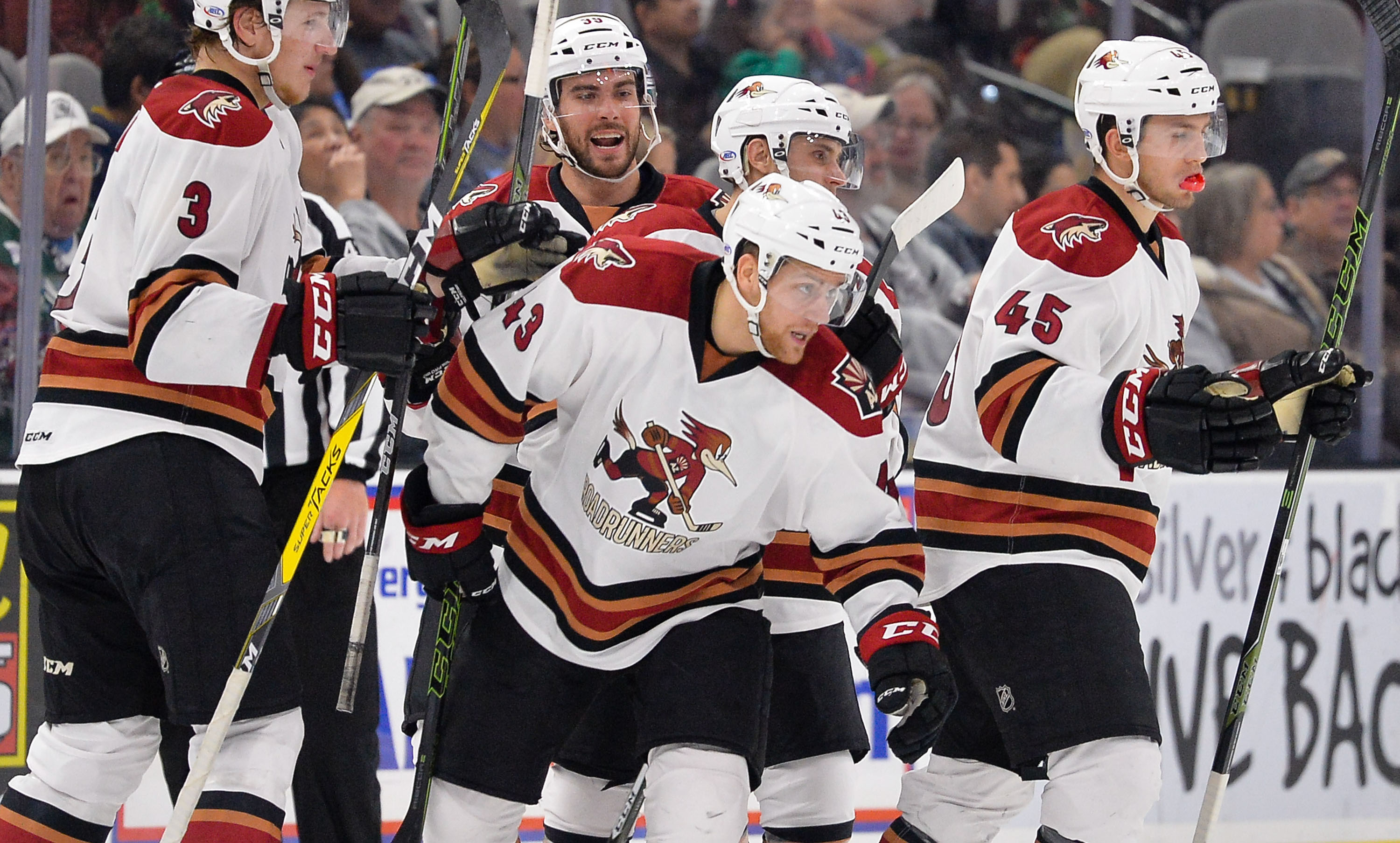 Christian Fischer's hat-trick, the first in team history, propelled the Roadrunners to a 5-4 overtime victory over the San Antonio Rampage Friday night at the AT&T Center, cutting the cord on the club's four-game losing streak in opposing buildings.
A fantastic finish in what was the club's third consecutive overtime affair was executed when Fischer bolted toward a Zbynek Michalek stretch loft pass to bury his third goal of the evening 19 seconds into the extra frame.
"He's scoring right now, but his game hasn't changed, I've liked him since day one," Head Coach Mark Lamb said of Fischer. "He puts the effort in every night, he does so many things for this hockey club, and when you're a person like that, and you're a player like that, you're going to have success, there's just no way you're not. He's only 19 years old, but he's a great example for a lot of people in that dressing room on how to play the game."
The night, however, didn't start off so pleasantly for a Tucson club that was desperate to regain some confidence away from home ice.
Goaltender Justin Peters, who was making his third start of the season, allowed three goals in the first period on just five shots faced.
"Oh yeah, it crossed my mind, but it wasn't the right time," Lamb said in regards to if he considered pulling Peters from the game. "If I felt that we really needed a momentum change, then I would've done it, but I didn't feel like we were at that point or in any of those situations. I'm glad the way it worked out, he got in there in the third, and he really battled, made some good saves, and he needs to start feeling comfortable in there and feeling a part of this team."
Tucson's offense kept things tight during Peters' shaky opening period though, registering two goals of their own.
Kyle Wood buried his sixth goal of the season on an unassisted effort when he corralled a puck in the Roadrunners' zone, weaved through oncoming traffic in the neutral zone, entered San Antonio territory and fired a wrist shot past Kent Simpson from the left circle.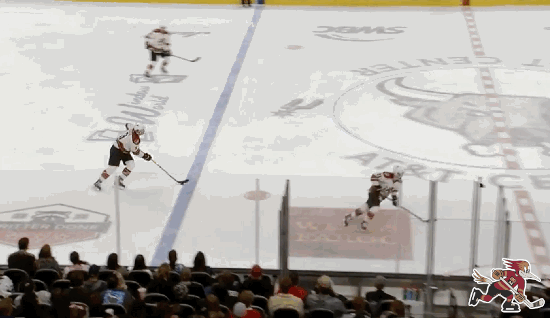 Christian Fischer scored the first of his trio of goals from just about the same spot Wood did, beating Simpson with a shot from the left hash marks.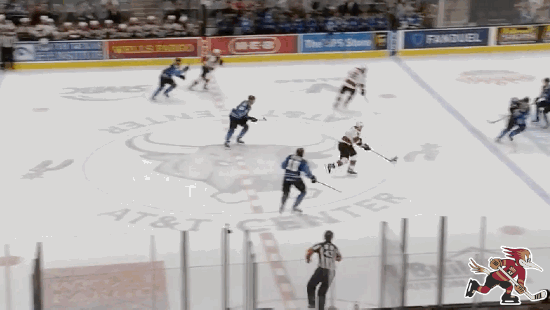 Kent Simpson was pulled en lieu of goaltender Jeremy Smith to begin the second.
Smith was stalwart in his first 10 minutes of relief of Simpson, turning away 10 Roadrunners shots, but Dakota Mermis got a puck past San Antonio's netminder when his slap shot from the high slot ricochet off of Rocco Grimaldi's stick and into the back of the net.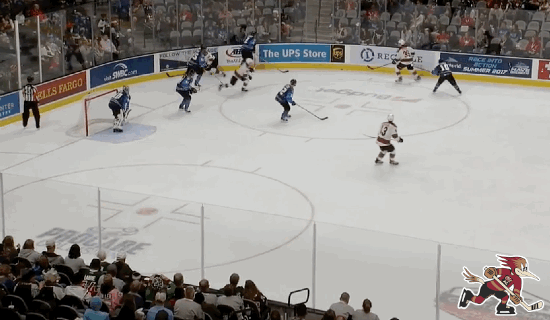 The Rampage responded three minutes after Mermis' tally and took a 4-3 lead into the third period.
While killing a penalty with less than 10 minutes left to play in regulation, Laurent Dauphin hopped on a Rampage turnover in the Roadrunners zone, swung up the ice with Fischer, who upon firing the pass he received at San Antonio's net, followed up on his own rebound to tie the game 4-4 with 8:11 left to play.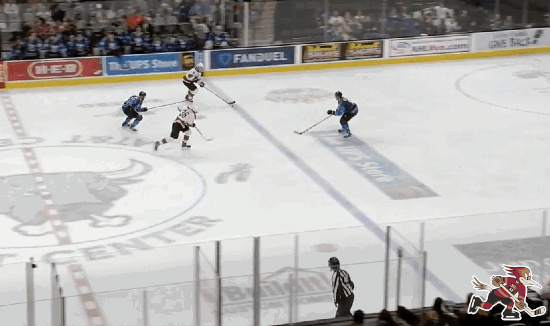 The Roadrunners entered their seventh overtime game of the season, they came into the night with a 3-3 mark in the extra frame.
On the opening shift, Laurent Dauphin controlled the puck low in Tucson's zone, feeding Zbynek Michalek with a pass behind the net. Michalek, reading the space ahead, as well as Christian Fischer's trajectory, lofted a stretch pass for the winger to skate into.
Fischer caught up with Michalek's pass about 15 feet in front of Jeremy Smith's net, quickly tempered control of the puck, moved it to his forehand, and beat the Rampage netminder with a shot high to the glove-side.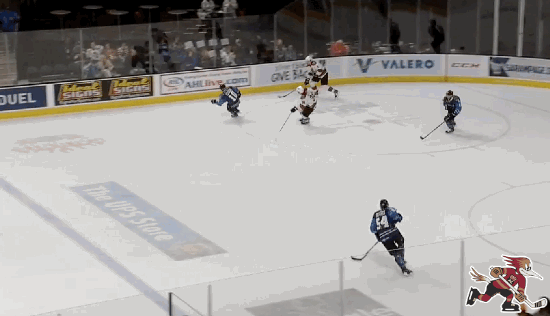 "It was an entertaining game," Lamb said. "There were some pieces in the game that I really liked, and there were some pieces of the game that I didn't. I think when we had all kinds of momentum in the game, we thought it was going to be easy, and then we changed how we were going to play, and that was the biggest difference I thought. We did some good things, but then we took our foot off the gas, took some penalties, and when San Antonio had the power play they really controlled it, their special teams was better than ours tonight."
Christian Fischer (3G) and Laurent Dauphin (3A) led all Roadrunners players in points scored (3), Christian Fischer in shots taken (7). All three of Dauphin's assists came on Fischer's goals. Justin Peters made 19 saves in the win.
The Roadrunners will complete their back-to-back set Saturday night, when they again take on the San Antonio Rampage at the AT&T Center, where the puck is scheduled to drop just after 6:00 PM MST.
Tucson will return home following Saturday's affair for a two-game set against the Bakersfield Condors on Tuesday and Wednesday. Both games are scheduled for 7:05 PM starts at Tucson Arena.