Game Recaps
Roadrunners on it in overtime yet again in 5-4 victory over Bakersfield
By: Alexander Kinkopf
December 21, 2016 10:44 PM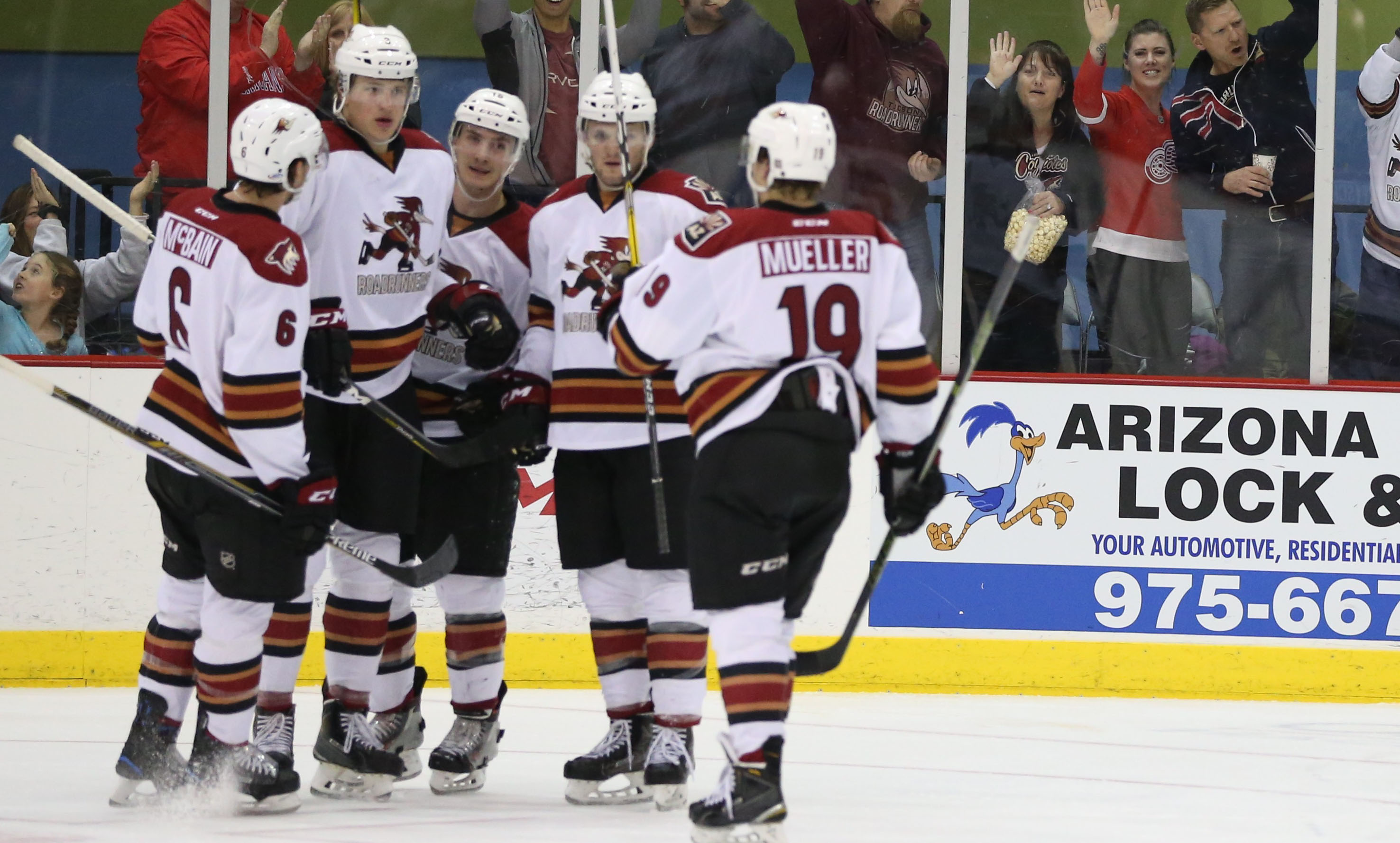 The Roadrunners tapped into overtime yet again Wednesday night, and for the fifth time in six games, but found a way to come out victorious in their 5-4 win over the Bakersfield Condors at Tucson Arena.
Chris Mueller's marker with just over two minutes left to play in the extra frame granted Tucson a sweep of the team's two-game set against the Condors, the club earning a huge four points against a divisional opponent before heading into the holiday break.
"It feels good, I mean it's huge to get four points before the break," Mueller said. "We were slipping there on the road a little bit, but it was a great team win, a great job by [MacInniss} line to get that goal back to tie it, and we found a way to win in overtime, I had a nice pass made to me in overtime, and we found a way to win, a great job by us to get the four points."
After a scoreless first period, the Roadrunners fell into a rut during the opening moments of the second when the Condors struck for a pair of goals in a 22 second span to take a 2-0 lead less than two minutes into the middle frame.
Tucson, though, answered back with three straight goals of their own.
Christian Fischer, upon exiting the penalty box after serving a tripping infraction, hopped on a puck that had rimmed out of the Roadrunners' zone. With Bakersfield's Laurent Brossoit way out of the net in his effort to beat Tucson's forward to the puck, Fischer fed Ryan MacInnis a pass, who then fired a shot into the empty net.
Just over three minutes later, Laurent Dauphin tipped a Kyle Wood shot that trickled past Brossoit and just over the goal-line to tie the game 2-2.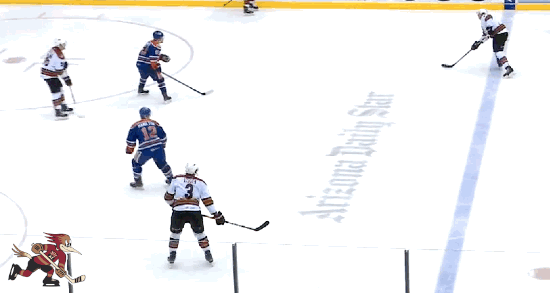 Laurent Dauphin registered his second goal of the evening with just over six minutes to play in the second when Chris Mueller found him open on the back-door with a gorgeous spin pass to give the Roadrunners their first lead of the evening.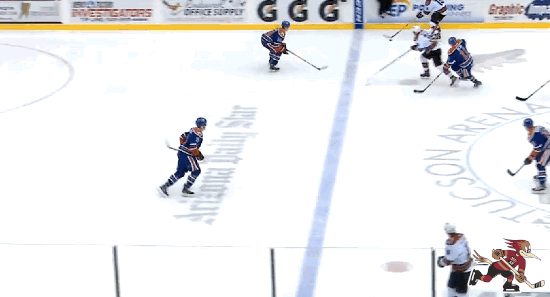 In the third, Bakersfield tacked on two more goals, including their fourth of the night with four minutes left in regulation.
Down 4-3, and less than a minute after the Condors reclaimed the lead, Ryan MacInnis scored his second goal of the evening when he received a pass atop Bakersfield's zone and fired a wrist shot that caromed off of a defenseman and into the net.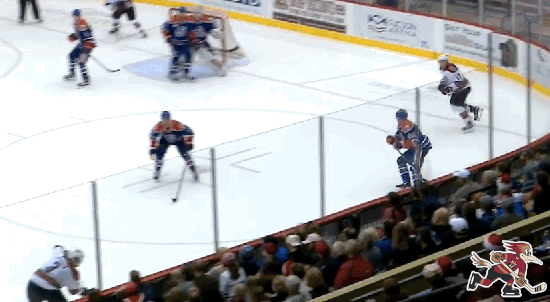 The Roadrunners entered their ninth overtime of the season; they came into the night with a 5-3 record when tied after regulation, and 4-3 in the extra period.
Just past the midway point of overtime, Kyle Wood fed Chris Mueller a pass as he fled through the neutral zone with favorable positioning on Bakersfield's defense. Mueller, upon protecting the puck from an oncoming attacker, took a quick wrist shot that beat Laurent Brossoit high to the blocker side to give Tucson a 5-4 victory.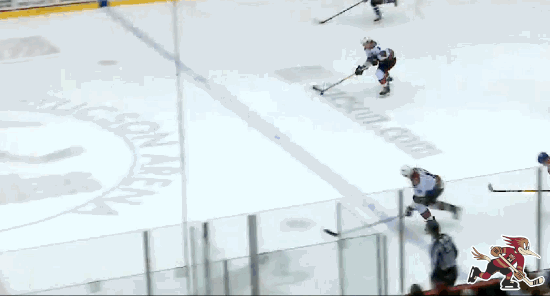 "I was just trying to go blocker and it found a way in," said Mueller. "It wasn't necessarily going exactly in that spot, but I was just trying to get a nice hard shot, and it was more of a reaction shot. Woody made a great play, and I just got lucky and found the back of the net."
The Roadrunners enter the holiday break having won four of their previous five games, and earning points in five of their last six.
"It lets you breathe, there's nothing better," said Mark Lamb of picking up wins before the holiday break. "You always want to win your last game before any type of break. Usually when you hit Christmas, it's pretty much half of the season, it's not quite for us, but I think we've done a lot of good things. A lot of things have happened, we're learning, we've got some guys that are trying to adjust to the pro game."
Laurent Dauphin (2G, 1A) led all Roadrunners players in points scored (3), Jamie McBain in shots registered (4). Marek Langhamer made 36 saves in the win.
Tucson will return to action on December 26 when they venture out on a two-game road trip, which starts against the San Diego Gulls at the Valley View Casino Center.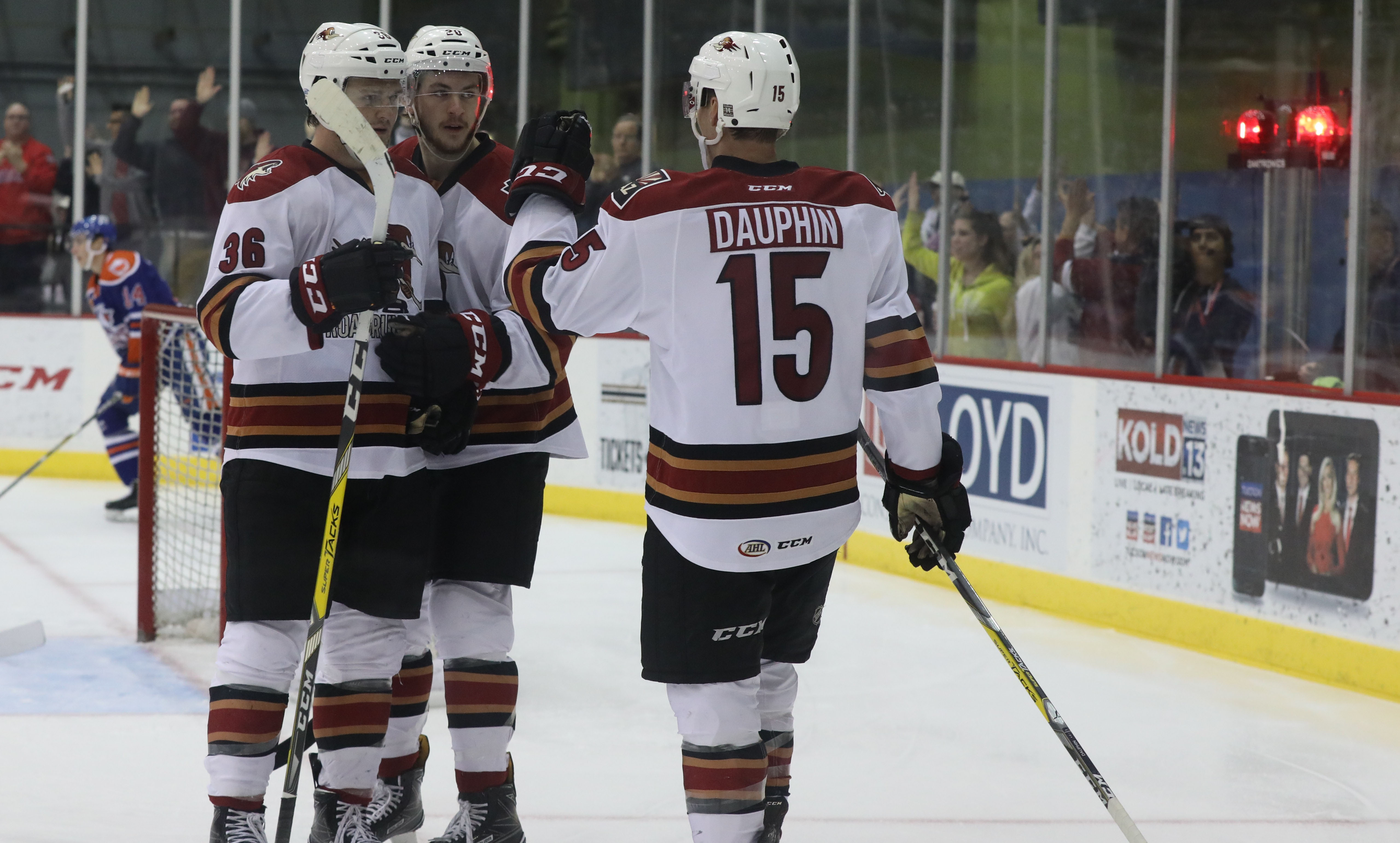 *Photos taken by: Kate Dibildox and Chris Hook