Game Recaps
An important point is earned in Roadrunners' 3-2 overtime loss
By: Alexander Kinkopf
January 06, 2017 10:54 PM
Mark Jankowski's goal 1:04 into overtime Friday night handed the Roadrunners their third consecutive loss, the team falling 3-2 to the Stockton Heat at Stockton Arena.
Tucson, however, was able to pocket one point in the standings, a little something to show for what was overall, a very solid performance.
"For the most part, I really liked our team's game and a lot of the things that we did," said Mark Lamb following the loss. "When you're not getting a lot of offense, you can't turnover the puck and give them an opportunity. It was a hard road game; they're a good team, and we competed hard."
Stockton got out to an early lead when Jamie Devane scored just over six minutes into the first, but Kyle Wood answered with his eighth goal of the season to tie the game 1-1 with under three minutes to play in the first.
As the Roadrunners' first power play of the evening wound down, Wood received a one-time feed from Jamie McBain atop the point and fired a shot high past the short side of Jon Gillies.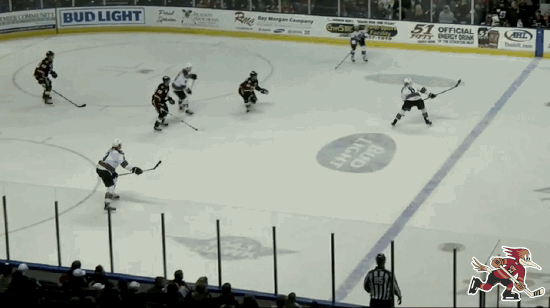 Wood's goal gave him 29 points on the season; 13 of those have come against Stockton.
During the late stages of the second, Christian Fischer gave Tucson a 2-1 lead when he, while floating in open space, controlled a Chris Mueller pass and walked around Jon Gillies, burying a backhand shot to net his team-leading 12th goal of the season.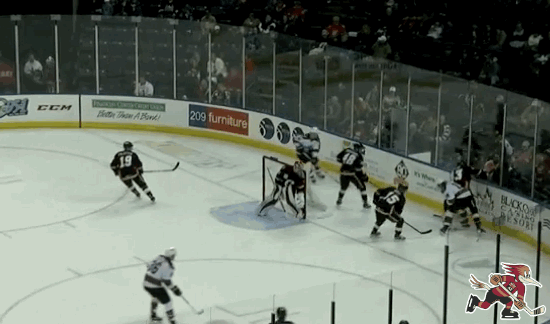 In the third, Stockton capitalized on a Roadrunners turnover in the neutral zone and scored on a broken play after Adin Hill made the initial save on the sequence.
"We had full control of the puck going through the neutral zone, we turn it over, our defense jumps in, misses a guy, gives them an odd-man rush," Lamb said of Stockton's game-tying goal. "It was a complete breakdown that ended up costing us."
Just over a minute into overtime, Mark Jankowski, while driving to the net, tipped home a ricochet pass past Adin Hill to give the Heat a 3-2 victory.
Christian Fischer (1G, 1A) led all Roadrunners players in points scored (2), Laurent Dauphin in shots registered (5). Adin Hill made 36 saves in the overtime loss.
The team now travels to take on the San Jose Barracuda Saturday afternoon at the SAP Center, where the puck is scheduled to drop just after 2:15 PM MST.
"We've just got to get in there; it's going to be a quick turnaround," said Lamb. "We'll have to prepare quick, not think too much, and go out and play a smart game."