Game Recaps
Roadrunners, Perlini pounce on Manitoba in 5-2 win
By: Alexander Kinkopf
January 10, 2017 10:54 PM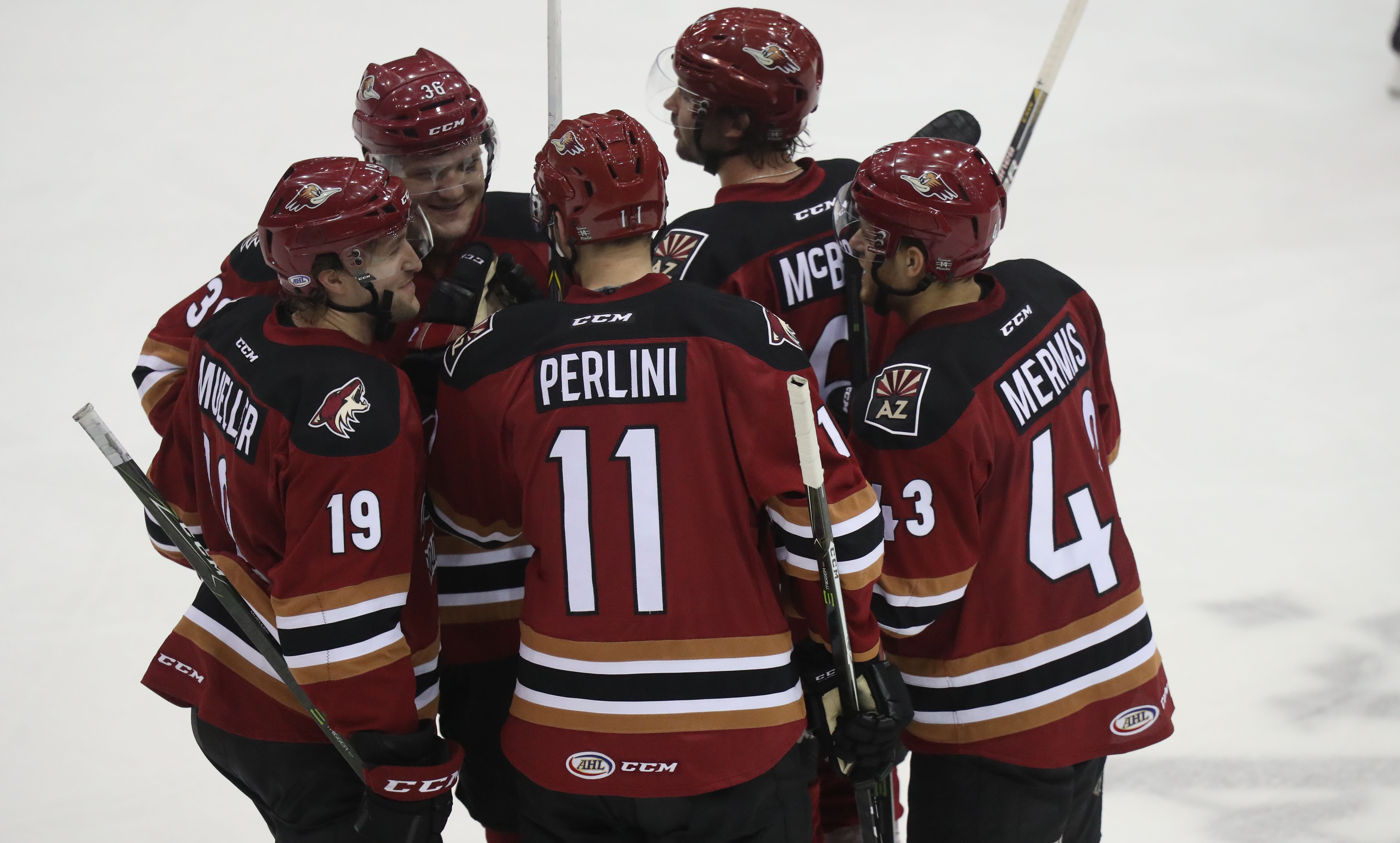 Piggybacking off of Brendan Perlini's first-career professional hat-trick Tuesday night, the Roadrunners snapped their season-long four-game losing streak in a 5-2 win over the Manitoba Moose at Tucson Arena.
In a homecoming of sorts for the 20 year-old Perlini, and what was likely also a send-off to the highly touted prospect who has appeared in 15 NHL games with the Arizona Coyotes this season, it was a wondrous night for an organization that is watching a young player blossom before its eyes.
"You watch him out there, you look at the confidence, he's just oozing with it right now," Head Coach Mark Lamb said of Perlini. "I think he really enjoys playing the game; he looks like he's having fun out there. He comes down and he scores three goals; and he doesn't just do that, the impact he has when he has the puck, killing penalties, and he really fills out a first line. "
Aside from the joyous storyline that was Perlini's performance, there was a game played – one that didn't start off so swell for a Tucson club in dire need of a win.
Manitoba struck for a pair of goals on their first two shots of the evening, taking a 2-0 lead just 1:51 minutes into the game, forcing the Roadrunners to assemble for a much needed timeout.
"We needed to change things up," Lamb said of the timeout. "The momentum was totally on their side, we need to relax, get back to it. We've been in that situation before. "
That they have; and once again, showed their resilience in staging a successful comeback effort.
Stefan Fournier got the Roadrunners on the board with just under three minutes to play in the first, chipping home a rebound to cut Tucson's deficit to one, netting his second goal in as many games.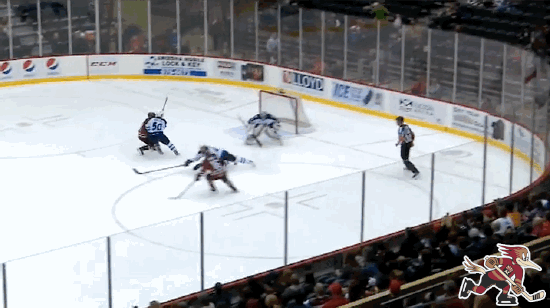 Early in the second, Christian Fischer jammed home his 13th goal of the season when he slid behind Manitoba defenders and received a perfectly placed pass from Jamie McBain.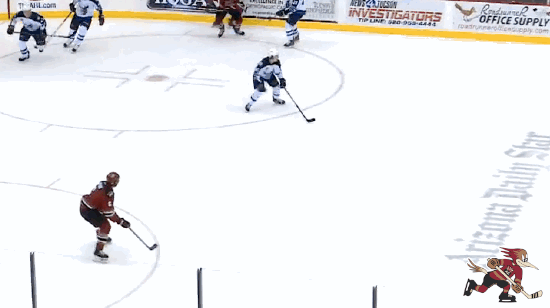 Tucson took its first lead of the evening midway through the second when Chris Mueller won an offensive zone faceoff back to Perlini, who with quick reflexes, beat Manitoba's netminder with a shot high to the right corner.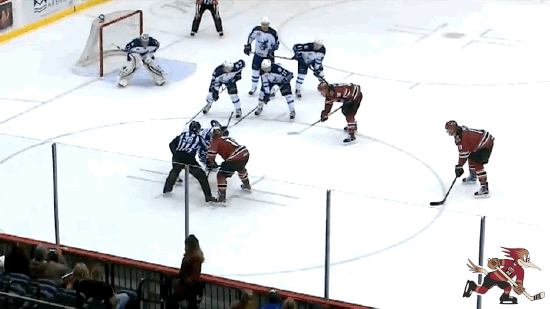 Perlini scored his second goal of the night with just under 13 minutes left in regulation when Chris Mueller fed him a gorgeous back-door pass, setting up an easy one-timer past a sprawling Ondrej Pavelec.
With 2:54 left in the third, and with Pavelec pulled for an extra attacker from Manitoba's net, Perlini flung a puck from the neutral zone into the open cage to record the first hat-trick of his professional career.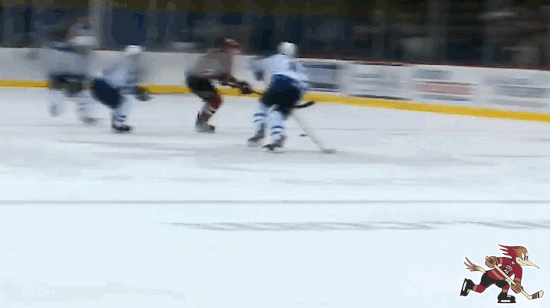 Brendan Perlini (3G) led all Roadrunners players in points scored (3), as well as in shots registered (6). Adin Hill made 36 saves in the win.
"The guys played hard, we battled back, and had some good power plays, so overall it was a good game," Perlini said of Tuesday night's performance.
The Roadrunners continue their five-game home stand this weekend with a pair of games against the Texas Stars at Tucson Arena, both scheduled to start at 7:05 PM. Both contests will feature the team's first-annual 'Wildcat Weekend', where the organization celebrates and recognizes the University of Arizona Men's Club Hockey Team.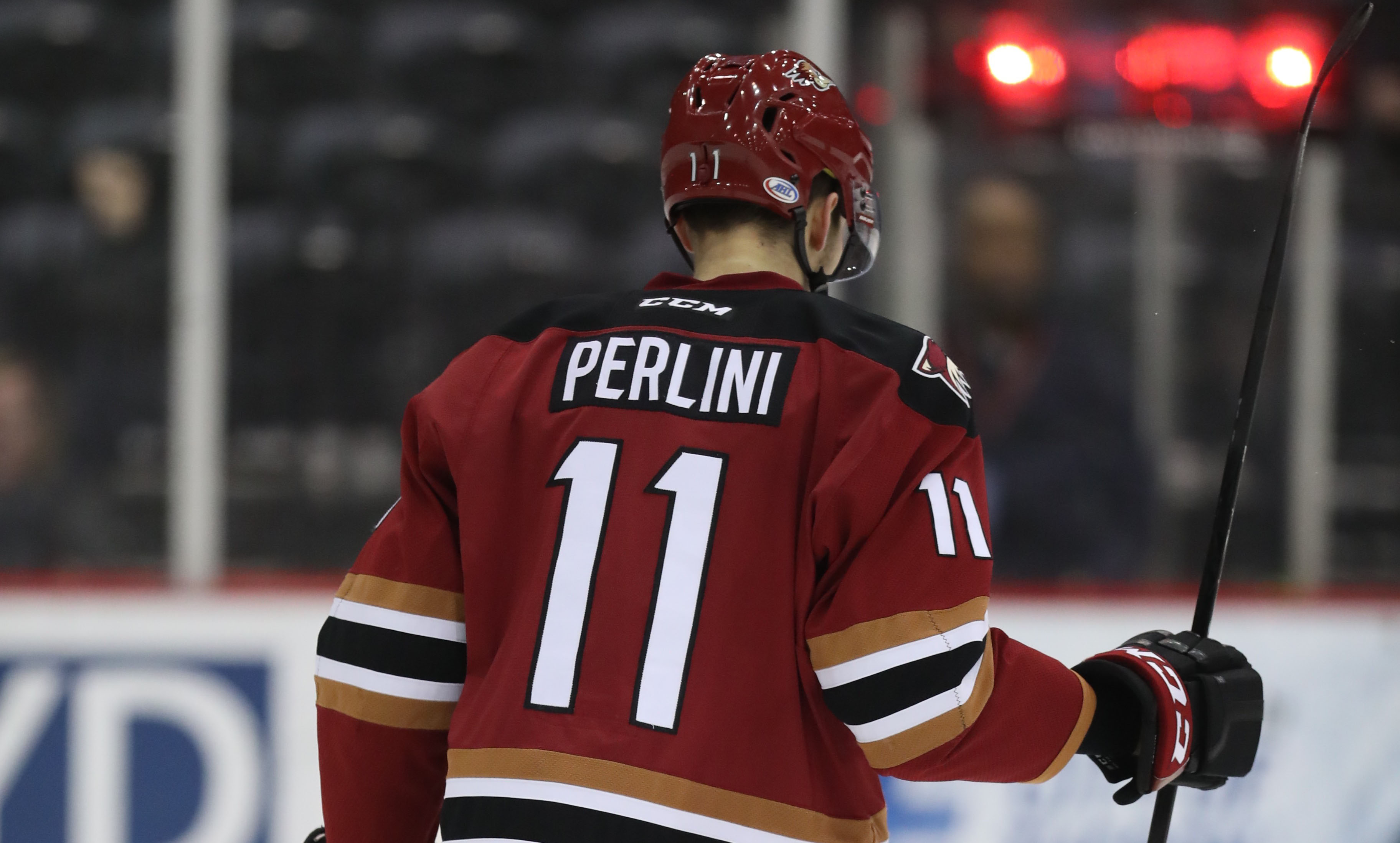 *Photos taken by: Chris Hook