Game Recaps
Roadrunners battle; bitten late by Gulls in 2-1 loss
By: Alexander Kinkopf
January 27, 2017 10:02 PM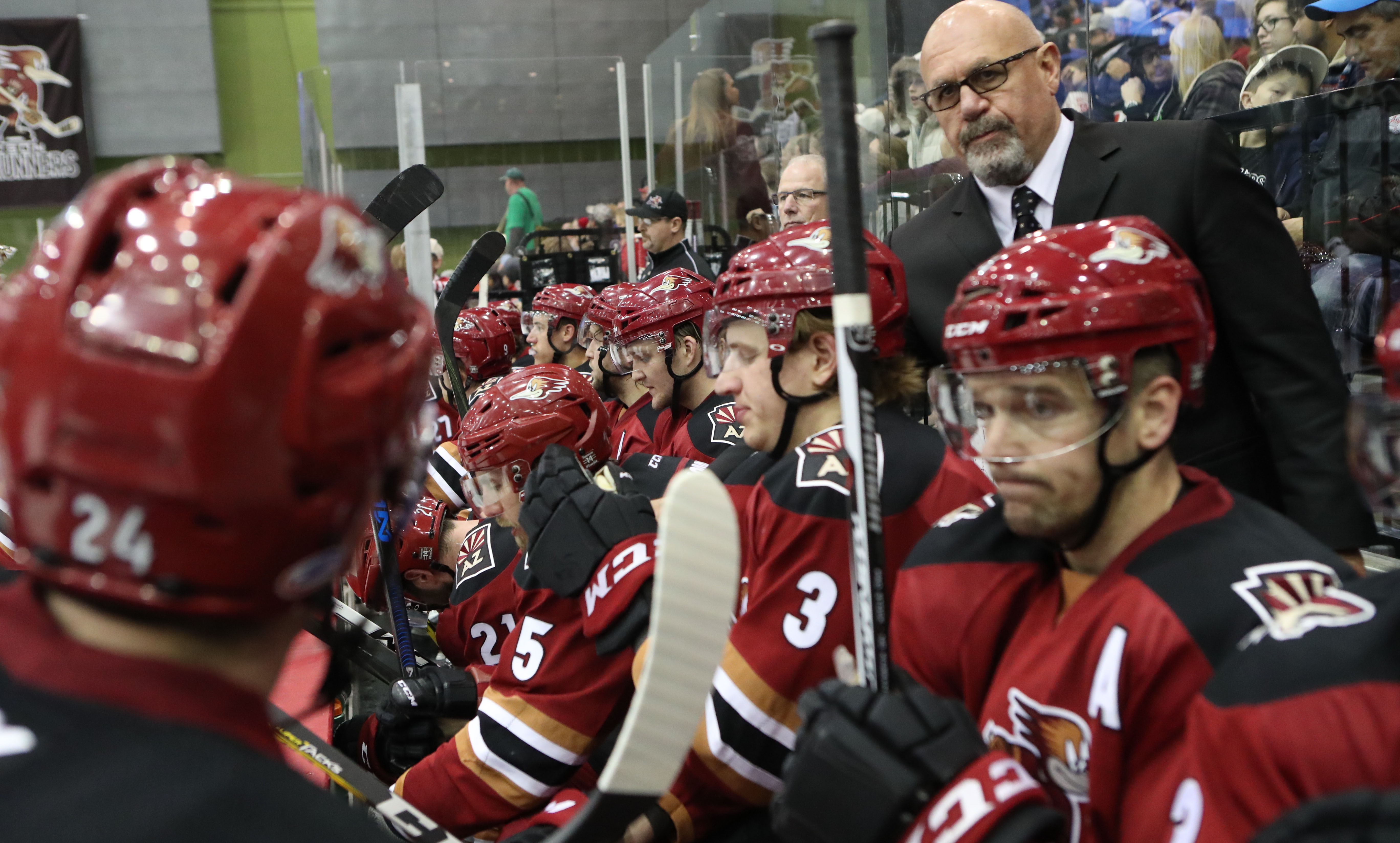 The Roadrunners fought to their wit's end through a tight-knit game Friday night, but were unable to earn a victory to show for the effort put forth, dropping their fourth consecutive game in a 2-1 loss to the San Diego Gulls Friday night at Tucson Arena.
"We're battling right now," Jarred Tinordi said following the game. "I think before this we won five-straight. This game goes in swings. I think how we get out of this is through hard work. I think when we get up tomorrow, we need to put the work in and we need to get everybody on the same page."
Tucson came out of the gates in a much stronger fashion than they did in their 8-1 loss to San Diego Wednesday night, outshooting the Gulls 12-7 while taking an early 1-0 lead.
While working on their first power play of the evening, Anthony DeAngelo received a pass from Chris Mueller atop the left point, walked in and fired a wrist shot through traffic and past Jhonas Enroth to register his third goal of the season.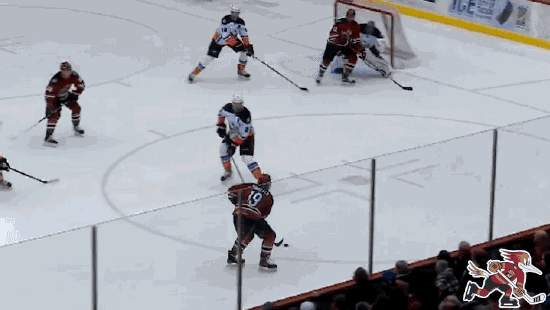 DeAngelo's marker gave the Roadrunners a 1-0 lead 10:02 into the contest.
Adin Hill, who played a fantastic game in stopping 37 shots, finally surrendered a goal with 1:29 left to play in the second period when Chris Wagner beat him on the back-door.
"I thought we played pretty good for the most part," Hill said. "We kept a lot of their shots to the outside. I think the biggest thing is we've got to clean up some of our breakouts, and make sure we're getting the puck in behind their defense and working it down low and getting some shots to their net."
Wagner, who's goal tied the game, also tallied the eventual game-winner with 11:24 left to play in regulation.
With the loss, the Roadrunners remain in fourth-place in the Pacific Division, while the Gulls have leaped into the third spot.
Tucson is now 1-4-0-0 in five games against San Diego this season.
"They've played well against us," Head Coach Mark Lamb said of the Gulls. "They have a good team. They do a lot of good things. Sometimes you never know why that happens, but I think it's more how we're playing. We haven't played our best games against them at all."
The Roadrunners return home for yet another rematch with the Gulls Saturday night, it will be the team's final game at Tucson Arena until February 24. Saturday's Game features the team's first-annual 'Superhero Night', and all hot dogs, popcorn, and sodas will be only $1 each.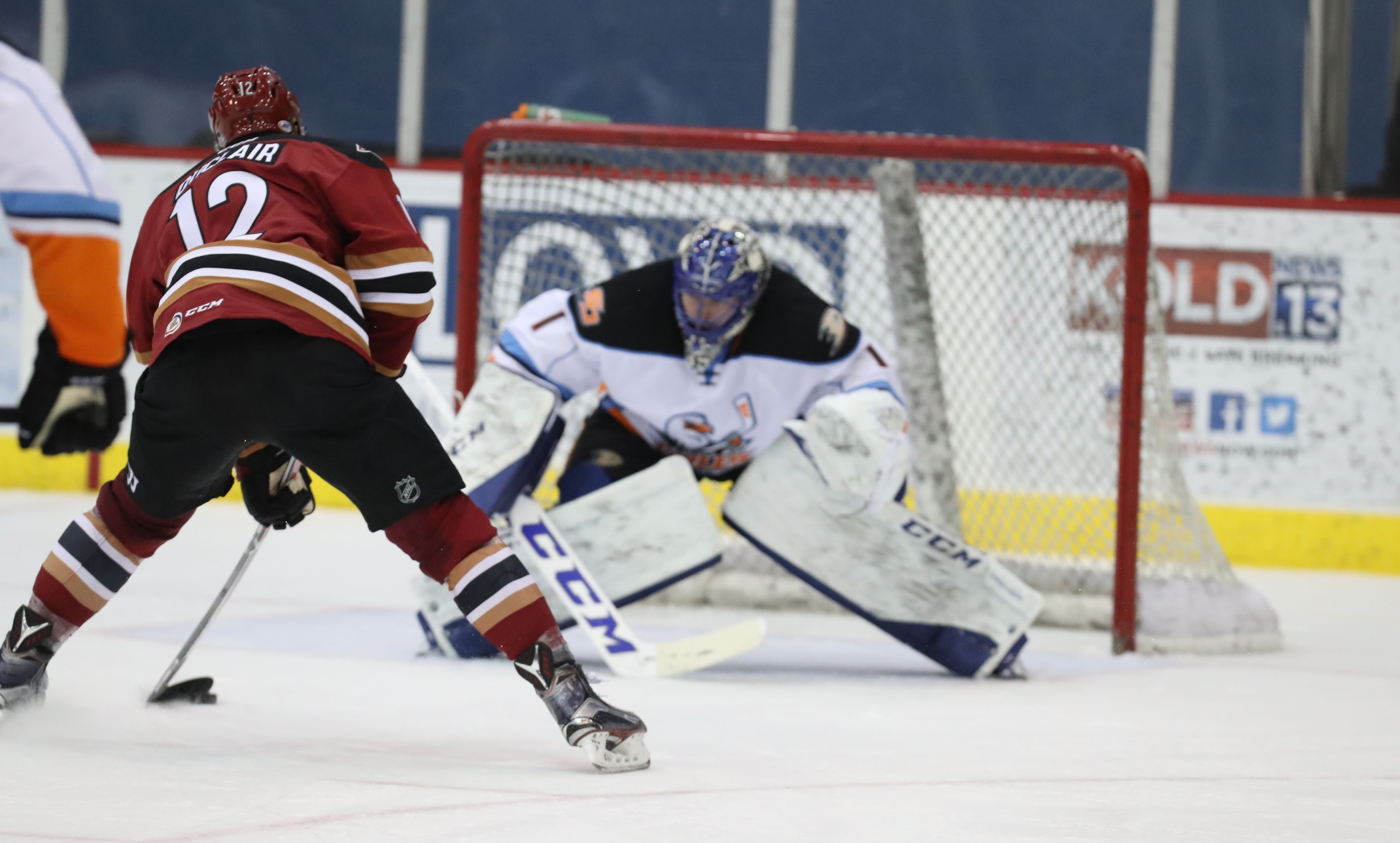 *Photos taken by: Chris Hook