Game Recaps
Early deficit haunts, hinders Roadrunners Saturday in Stockton
By: Alexander Kinkopf
December 09, 2017 9:19 PM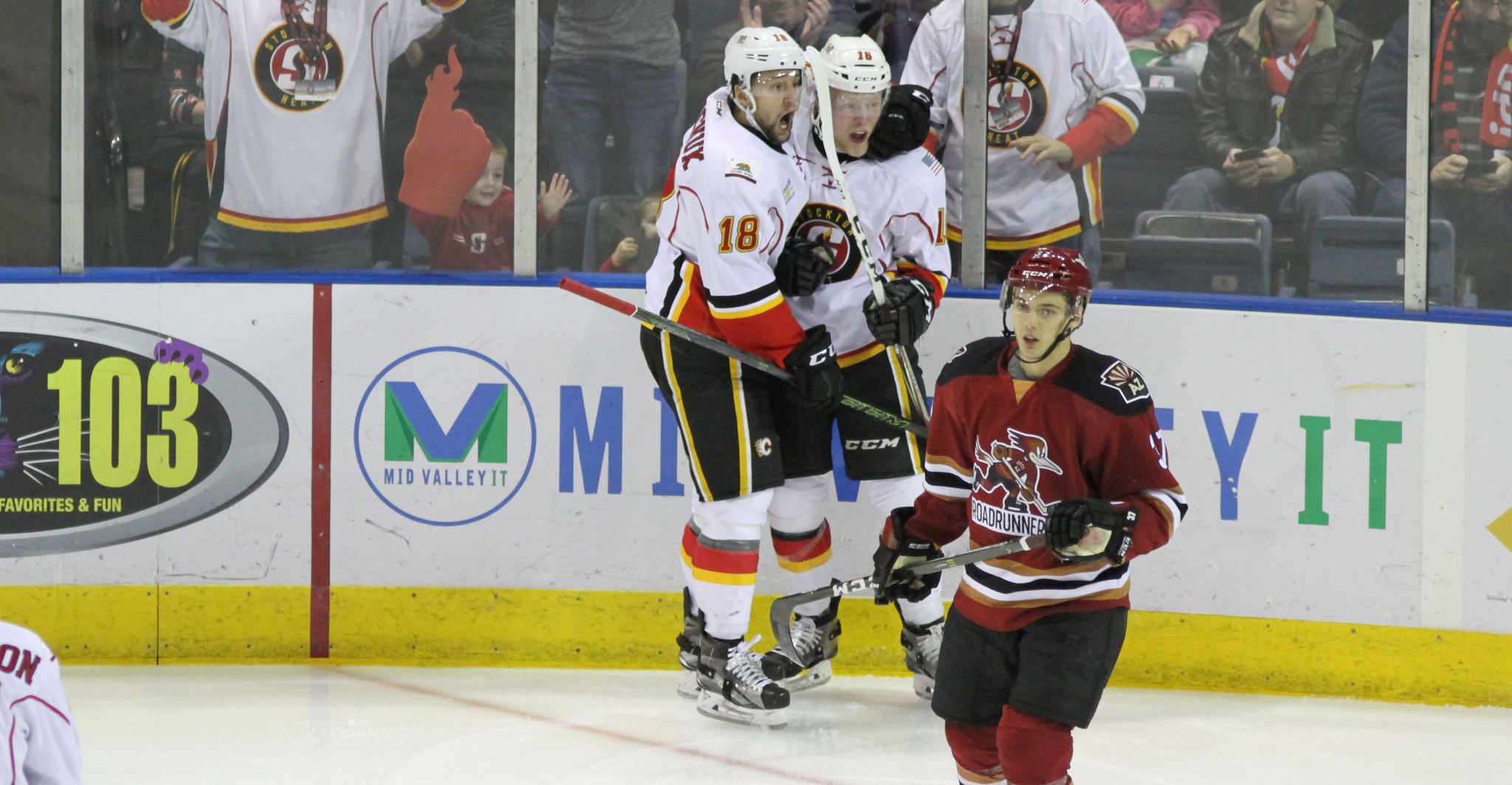 Unable to fully recover from a rather lofty, early deficit, the Roadrunners fell to the Stockton Heat by a 5-2 score Saturday night at Stockton Arena.
The Heat buried two of their first three shots to take a 2-0 lead 2:07 into the game. They added a third shortly before the midway mark of the opening frame to carry a commanding 3-0 lead into the second period.
Stockton's attack continued to be relentless in the second, the Heat firing away for 14 shots in the middle frame, adding another goal to take a 4-0 lead into the third.
Adin Hill, despite unfortunate circumstances early in the game, was very strong in keeping the Heat held to four goals.
With just under 13 minutes left to play in regulation, Dysin Mayo, alone atop the right point, walked into a Nick Merkley feed and wired home a slap shot past Stockton's Jon Gillies to get the Roadrunners on the board.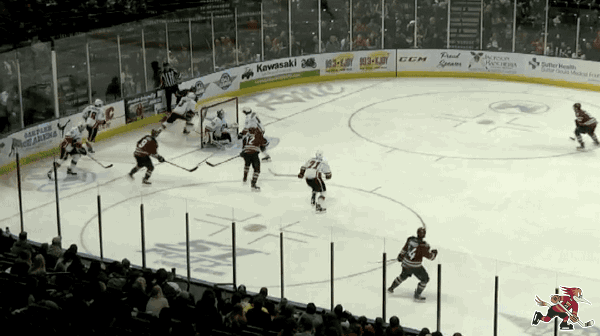 Mayo's goal, his second of the season, was his second in the club's past three games. With his assist, Merkley upped his point total to 24 (12G, 12A).
On the ensuing faceoff after Mayo's goal, the teams combined for 49 penalty minutes in a scurmish that broke out near the Roadrunners' bench.
Trevor Cheek hit a personal milestone, registering his 100th-career professional point when he shifted around Jon Gillies and buried his first goal of the season with 5:51 left to play in regulation to get the Roadrunners to within two.
Michael Bunting extended his point streak to four games with the primary assist on Cheek's marker. He's accumulated six points (2G, 4A) during his current run.
Tyler Gaudet, with an assist on Cheek's goal as well, now has points in four straight games (1G, 3A).
Stockton's Andrew Mangiapane buried an empty-net goal with 59 seconds left on the clock to secure a 5-2 win for the Heat.
Adin Hill stopped 29 of the 33 shots he faced.
With a 12-5-2-1 record, the Roadrunners have fallen out of first place in the Pacific Division for the first time since October.
The team now returns home for a two-game home stand, which begins Tuesday night when they host the San Jose Barracuda at Tucson Arena, where the puck is scheduled to drop just after 7:05 PM.