Game Recaps
Roadrunners fall 5-3 to San Diego in season opener
By: Alexander Kinkopf
October 14, 2016 9:51 PM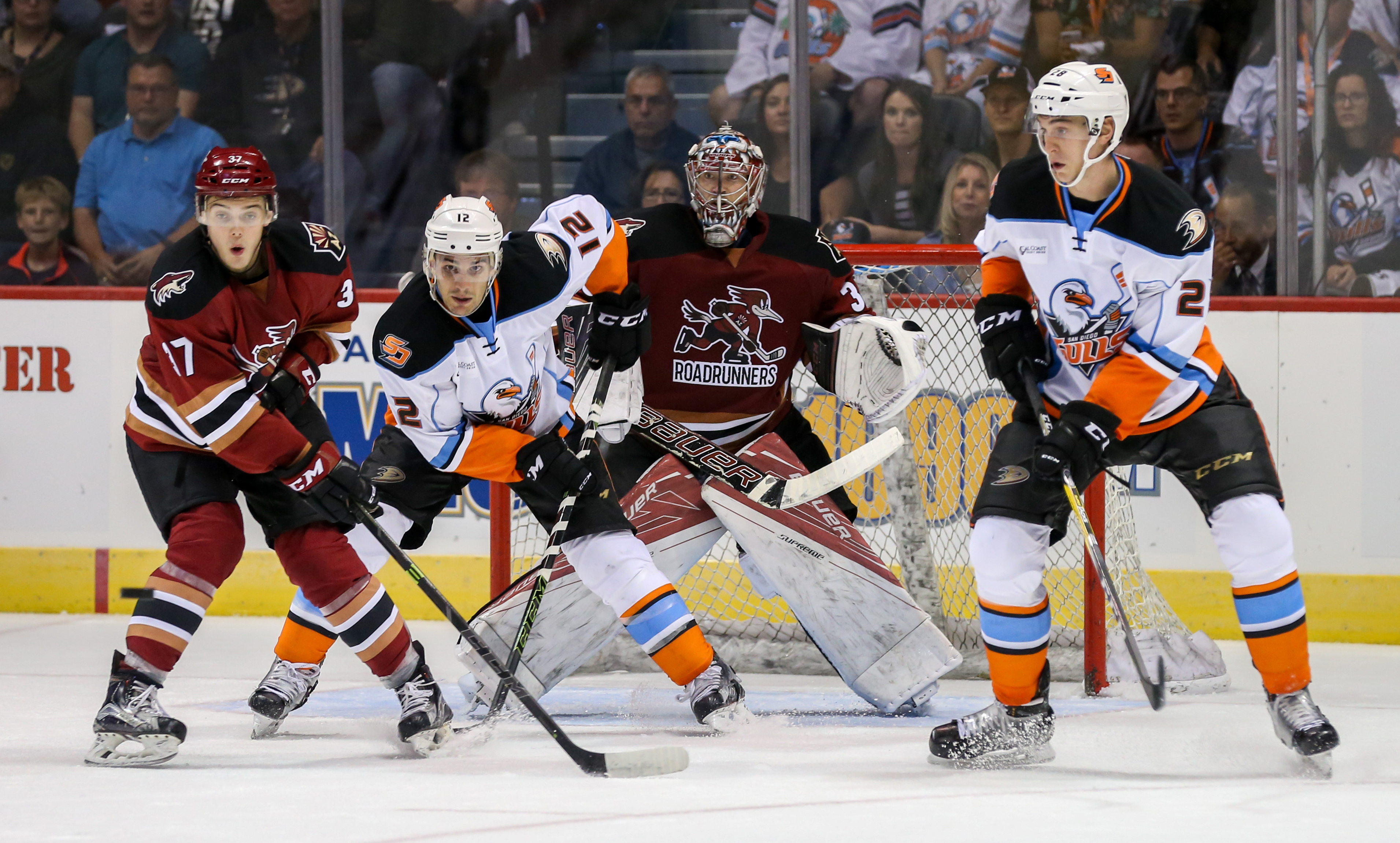 The Roadrunners mounted a short-staged comeback attempt in the third period Friday night, but ultimately fell 5-3 to the San Diego Gulls at the Valley View Casino Center in the team's American Hockey League debut.
In front of an announced crowd of 10,727, a rather raucous one at that, Tucson withstood an elongated opening ceremony in respect to the Gulls' home opener before the puck was finally dropped at around 7:15.
Special teams played a huge factor in Friday's contest – five of the eight combined goals scored came on the man-advantage. All three of Tucson's goals came via the power play, while two of San Diego's were buried while the Roadrunners had a player in the penalty box.
In total, the Roadrunners were called for seven penalties. "There's a lot of different ways to lose a game, and I thought discipline was a huge factor tonight," said Head Coach Mark Lamb.
San Diego's Corey Tropp opened the scoring just over eight minutes into the game, giving the Gulls a 1-0 lead. Under a minute into the second period, the Gulls upped their lead to 2-0 with a goal from Michael Sgarbossa.
Craig Cunningham got the Roadrunners on the board 2:17 minutes into the second, scoring the first goal in franchise history, when he drove to San Diego's net and knocked home a rebound off of a Kyle Wood shot from the point.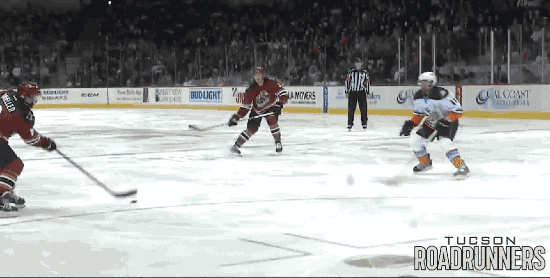 Looking as though they were running away with the game, the Gulls developed a 4-1 lead with just over 10 minutes left to play in regulation. Tucson, though, in drawing a pair of consecutive penalties, buried two power play goals in a 1:38 span to cut the Gulls' lead to one with 5:45 to play.
Craig Cunningham buried his second of the night off a one-time feed from Chris Mueller.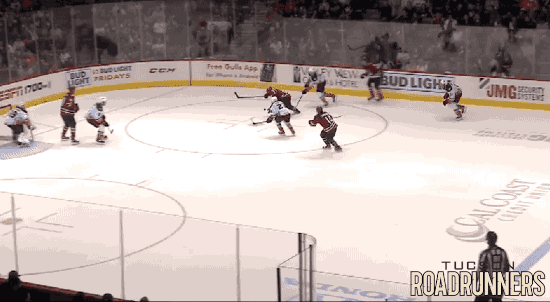 Moments later, Kyle Wood drove home his first goal of the season with a laser from the point, connecting perfectly on a feed from Chris Mueller.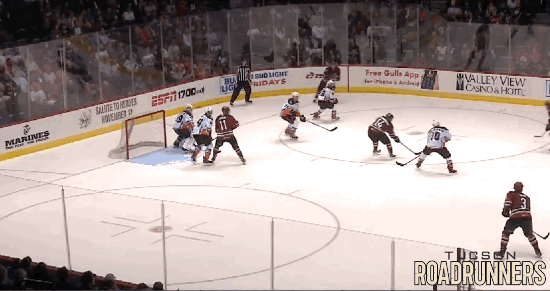 The Gulls were awarded their fifth goal of the night after it was initially waved off, Antoine Laganiere credited with San Diego's final marker of the evening.
Kyle Wood led all Roadrunners players in points scored with three (1G, 2A). Craig Cunningham (2G) and Chris Mueller (2A) registered two points apiece.
Goaltender Justin Peters stopped 38 of the 43 shots he faced.
Mark Lamb, on his overall thoughts on the game:
I liked obviously our power play, I really liked our power play, but I didn't really like our penalty killing, and that speaks for itself if you look at the stats of the game. Defensively, we looked a little bit light back there, [the Gulls] got cycling, we had a hard time breaking the cycle, and that's something that we're going to work on. Overall, there were some good signs, you got the feel for some of the young guys, new systems, different league and everything, so there were some positive signs.
Lamb, on the Roadrunners' penalty kill struggles:
When you get a chance to get the puck out, you have to get the puck out. When you're killing a penalty and [the puck] doesn't get out – they have a good power play, and it just puts havoc on you.
Lamb, on the team's penalty struggles:
There's a lot of different ways to lose a game, and I thought discipline was a huge factor tonight, and that's something that you can really clean up. We'll go over it and we'll get better in that area.