Game Recaps
Perlini's OT goal lifts Roadrunners to first win in franchise history
By: Alexander Kinkopf
October 21, 2016 10:52 PM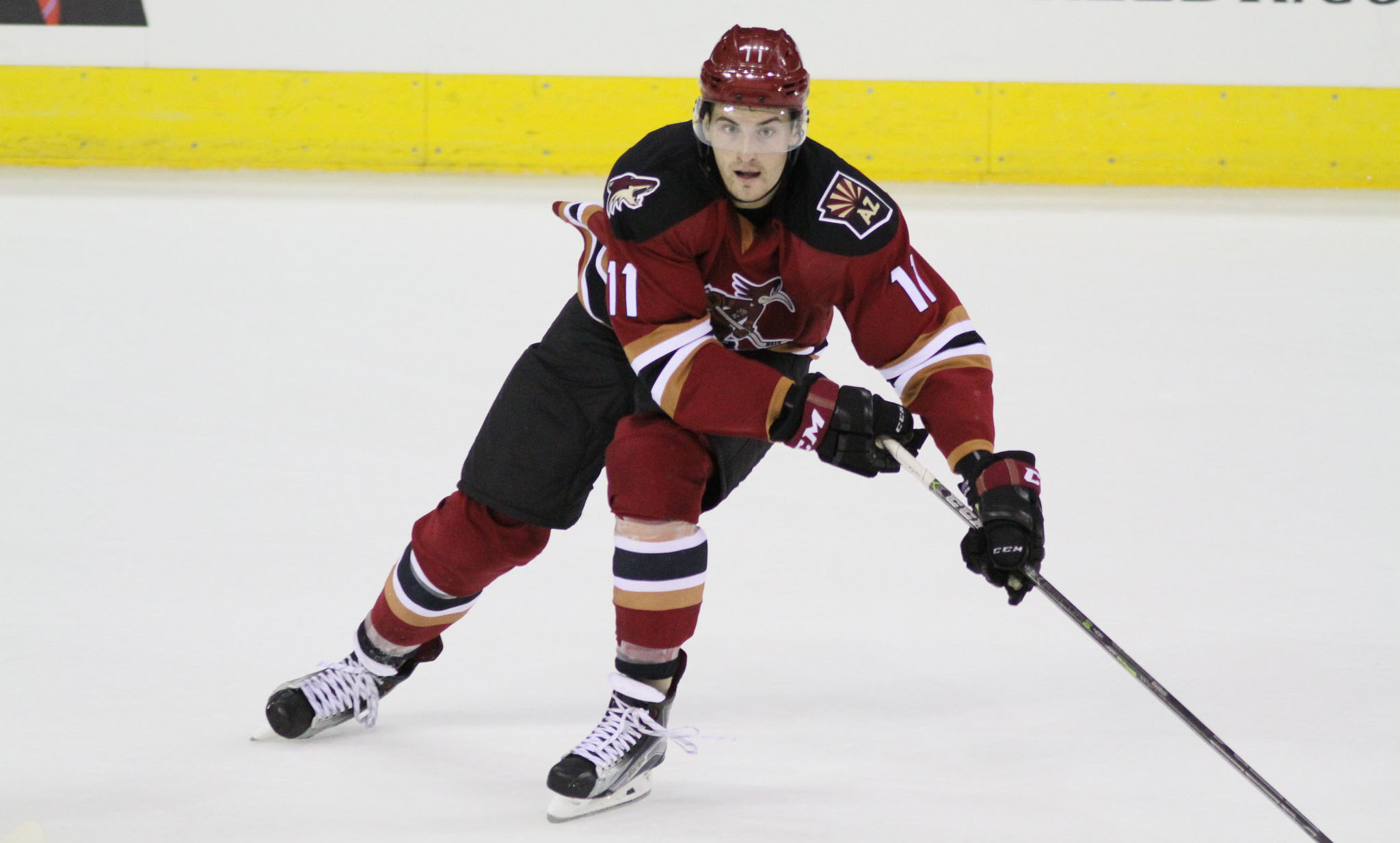 Friday night's happenings at Stockton Arena will surely build confidence, will undoubtedly brighten the mood, and will absolutely be remembered for some time.
After all, the Roadrunners secured their first win in franchise history.
Brendan Perlini, on an end-to-end rush 3:19 into overtime, cut across the high slot and fired a shot past Jon Gillies to secure a 2-1 win for Tucson over the Stockton Heat, a spectacular ending to complete a phenomenal feat.
"It was a heck of a goal by him," Head Coach Mark Lamb said of Perlini's winner. "He made a good move and a good shot, and got us our very first win."
Carried by goaltender Marek Langhamer's 43-save performance, the Roadrunners rebounded from a second period deficit when Brandon Bollig netted the Heat's lone goal of the contest, giving Stockton a 1-0 lead midway through the game.
Not only did Tucson recover from a deficit on the scoreboard, but an extremely difficult middle frame, where they were outshot 19-4.
"There weren't a lot of actual adjustments [made], it was just more discipline, having a good third man, not giving away outnumbered rushes, and that's exactly what we did," Head Coach Mark Lamb said of the team's third period resurgence. "We were rolling four lines, and all four lines were contributing, and that's what you need."
Craig Cunningham scored his third goal of the season with 14:52 remaining in regulation to tie things 1-1; Eric Selleck and Kyle Wood were credited with the assists.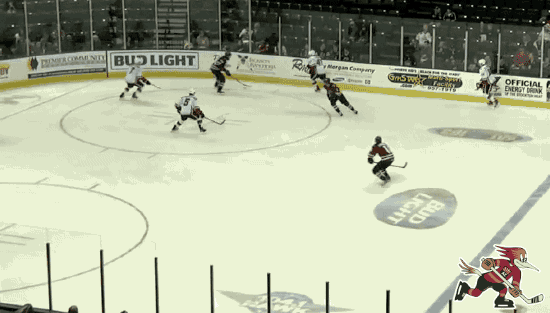 In overtime, Kyle Wood fed the puck up the right boards to Brendan Perlini, who was streaking through the neutral zone. Perlini, with space and speed, cut across the high slot in Stockton's zone, and against the grain with a defender providing a screen, fired a wrist shot that found the back of the net on the far side.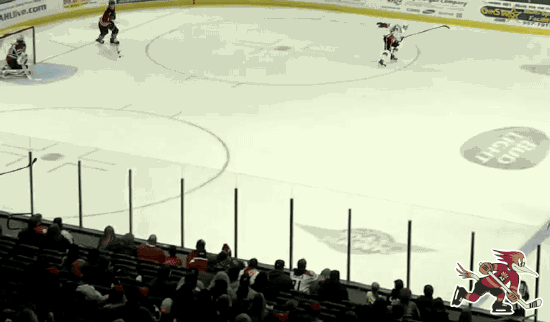 "We were in our end for quite a bit and it was toward the end of a shift, our D got control of the puck and I noticed their team going for a change, so I thought I could catch them off-guard," Perlini said of the play developing. "[Kyle Wood] moved it over to me on the right side, and I cut in looking for something. I saw that I had quite a bit of space and fired [the puck] far side. It was a great feeling for our team to get the first win of the year."
The Roadrunners held the Heat scoreless on the power play, nixing all five of Stockton's man-advantage opportunities, something the team focused on during a lengthy week of practice in Glendale.
"[The penalty kill] showed some good signs, there are still a lot of things that we've got to clean up," said Lamb. "Even though the other team doesn't score on it, it doesn't mean that it was real good, and that's the same with our power play. It was a good win on the road after a great week of practice, so it's positive moving on here."
Positive is important, especially for a team that's going through the tumultuous early stages that comes with being a first-year franchise.
"I was very happy with the win, that's for sure," Lamb said. "I thought we had a real good first period, we got into a little bit of trouble in the second period – it was our worst period, in the third period we played very well, and we ended up winning a crazy game in overtime."
Kyle Wood led all Tucson players in points scored (2A) and shots taken (5). His five points (1G, 4A) through the first two games of the season leads the team.
The Roadrunners are currently en route to Bakersfield, California, where they'll face the Condors Saturday evening at Rabobank Arena. The puck is scheduled to drop at 6:00 PM MST.