Game Recaps
Stalwart play on back-ends leads Roadrunners to 2-1 victory in Bakersfield
By: Alexander Kinkopf
October 22, 2016 9:36 PM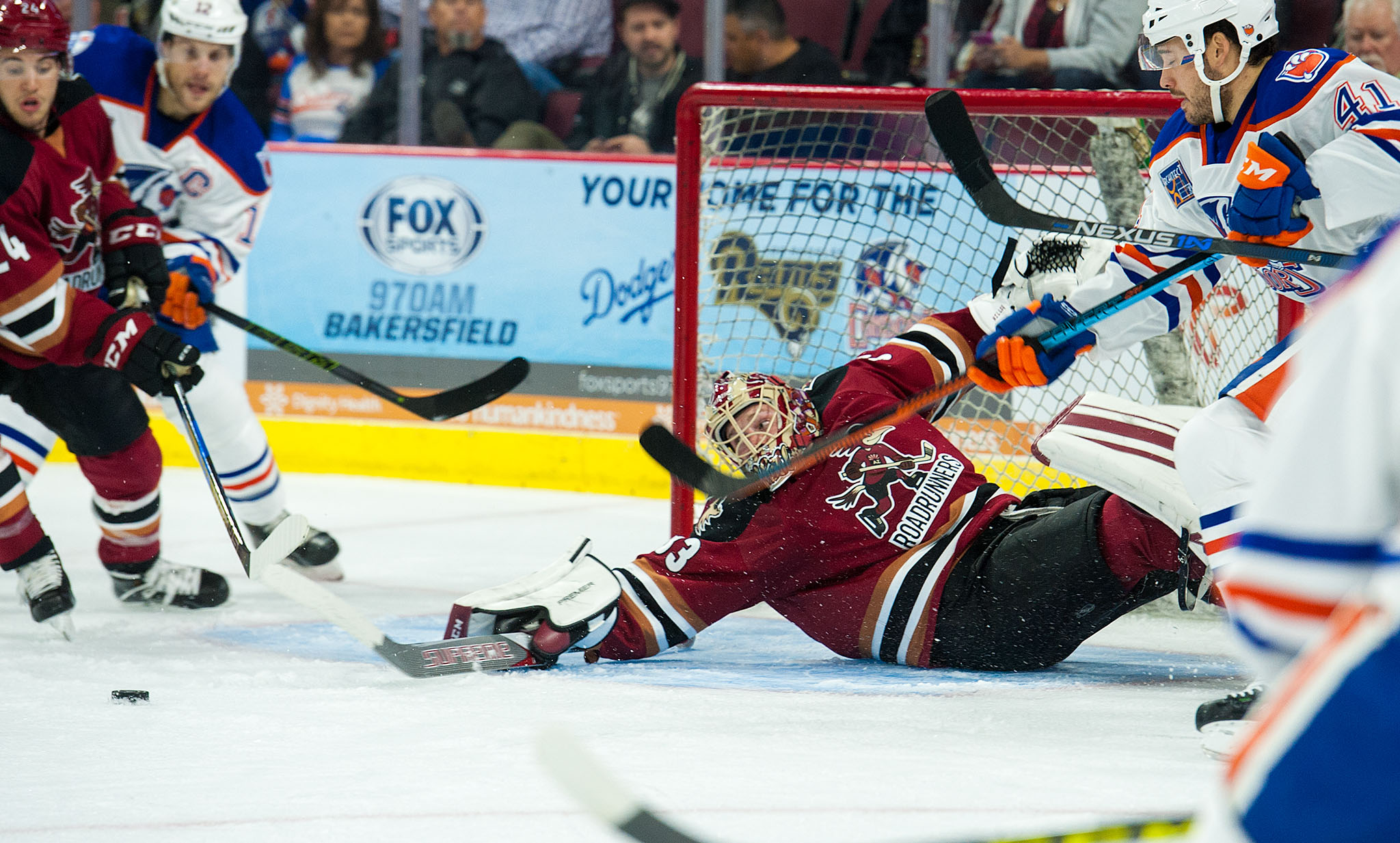 "It's been a great road trip, and we'll take that," Head Coach Mark Lamb exclaimed following the Roadrunners' 2-1 victory over the Bakersfield Condors Saturday night at Rabobank Arena.
A great weekend it's been for a club that's strung together two consecutive wins. Now, they prepare to return to Southern Arizona for a five-game home stand that begins Friday night at Tucson Arena.
In a tightly played affair against Bakersfield Saturday evening, recently recalled goaltender Adin Hill stood on his head and pitched a 31-save performance, including a flurry of magnificent stops during the final seconds to backbone the Roadrunners to earning another two points in the standings.
"It's first-star material," Lamb said of Hill's performance. "He gave us a chance to win the game. When you have goaltending like that, everything else kind of falls into place. He was a big leader for us tonight."
While Hill's play was undoubtedly one of, if not the biggest factor in Saturday night's win, that doesn't come without help from the players in front of the 20 year-old netminder. "The team played really well in front of me, they kept the shots pretty low for me, so I thought it was a good game all around," Hill said.
Some of that help came early from forward Brendan Perlini, who, fresh off of scoring Friday night's overtime winner, threw his body in front of a Kyle Wood shot and recouped to bury the ricochet puck past Bakersfield's Laurent Brossoit to give Tucson a 1-0 lead less than five minutes into the game.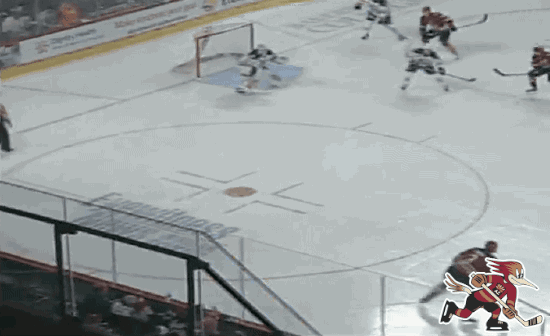 "It's the little things in hockey that make you win hockey games," Lamb said of the Roadrunners' net-front presence. "As a coach, that's what you're really proud of, is that the guys really ground it out, paid the price, worked for each other and with each other. "
Paying the price, indeed, because Eric Selleck did just that when he drove to the front of Bakersfield's net late in the third period, taking a Dakota Mermis shot off of his right side, then jamming the puck past the Condors' goaltender to score the contest's eventual game-winning goal with 5:29 left in regulation.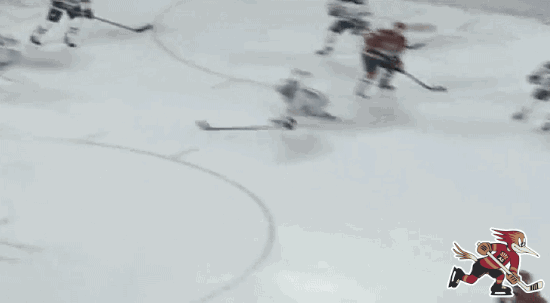 Holding onto a one-goal lead, Anthony DeAngelo was called for a delay-of-game penalty with 2:07 to play when he inadvertently chipped a puck over the glass while attempting to clear the Roadrunners' zone.
Adin Hill, however, proved to be up to the task, as the Condors pulled their goaltender in lieu of an extra attacker to assemble a late-game frenzy on Tucson's net.
"They were just trying to look for the right play," Hill said of Bakersfield's last-minute pressure. "They were looking to throw some pucks in front of the net, and there was one [shot] that hit off of something in front and went to one of their guys on the back side, and I just kind of laid my paddle down, and lucky enough he hit it."
Not only did the Roadrunners kill off DeAngelo's late-game penalty, but they kept Bakersfield's power play units quiet, shunning the Condors on all six of their man-advantage opportunities. Tucson has successfully killed off all 11 penalties taken during the previous two games, an issue that was stressed after last week's regular season opener.
"I liked a lot of things about the game, namely our penalty killing," Lamb noted. "We made some strides in the last week, I think, in terms of how we're going to play, the grit factor, paying the price, learning the systems, and playing as a team. "
Talk about returning home on good terms.