Game Recaps
Roadrunners claw for a point in 4-3 overtime loss to San Jose
By: Alexander Kinkopf
March 21, 2018 9:52 PM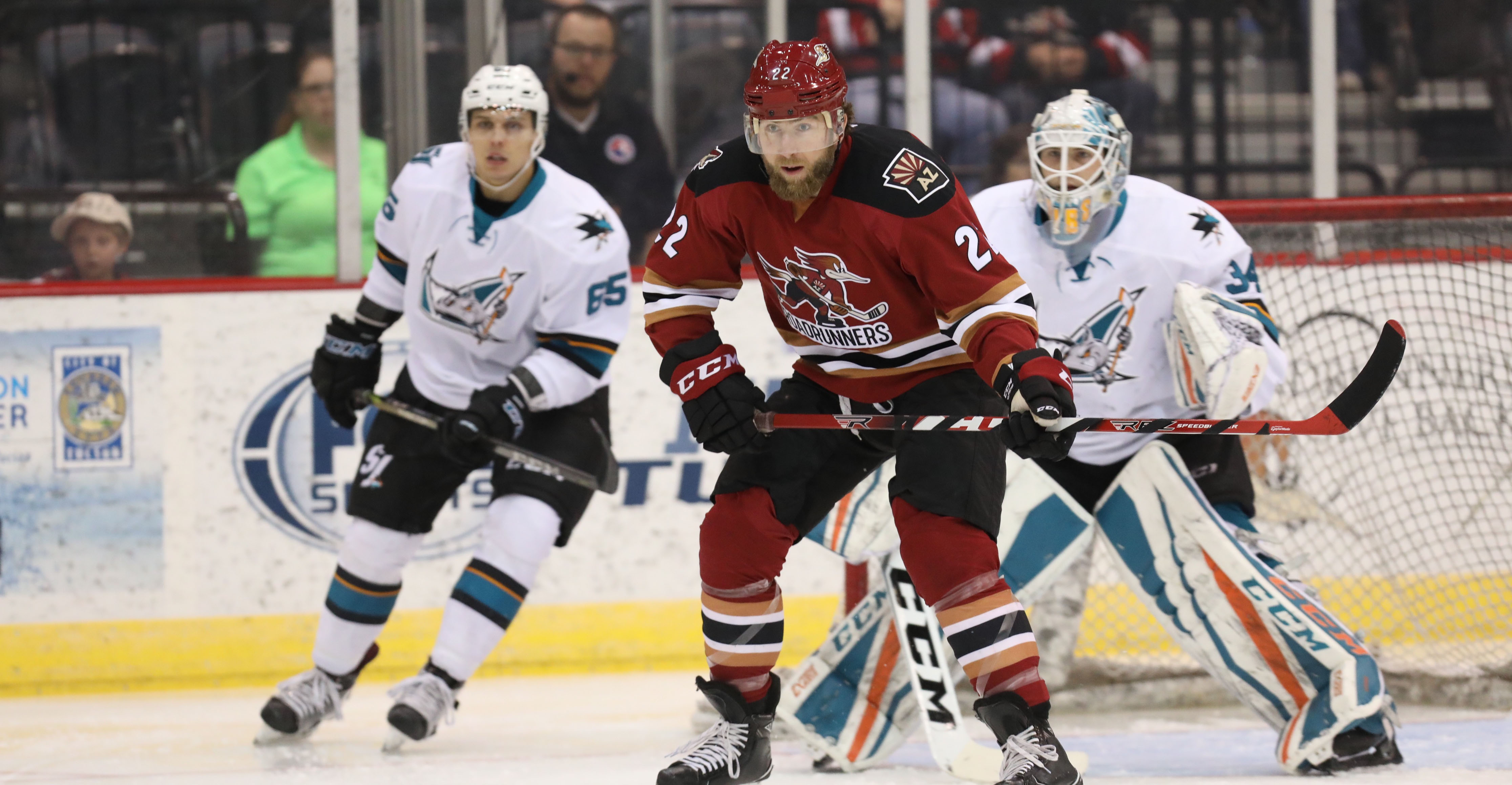 After making a late push to tie the game just outside the final minute of regulation courtesy of Carter Camper's extraordinary end-to-end rush, the Roadrunners fell to the San Jose Barracuda in overtime, 4-3, Wednesday night at Tucson Arena.
San Jose came out of the gate firing away, netting a pair of goals in a 31-second span midway through the opening frame to take a 2-0 lead in the first period.
"It's nice that we clawed our way back; I just didn't think we were desperate enough," Head Coach Mike Van Ryn said in recollect. "We knew they were going to come at us hard, we know that they have pride, and they're a hard-working team. We weren't ready. Our starts have been a bit of a struggle for our team, and it's something that we have to correct."
The Roadrunners began to respond in the second when Mike Sislo beat San Jose's Antoine Bibeau with a shot to the short side that found its way through a screen, off the post, and into the net.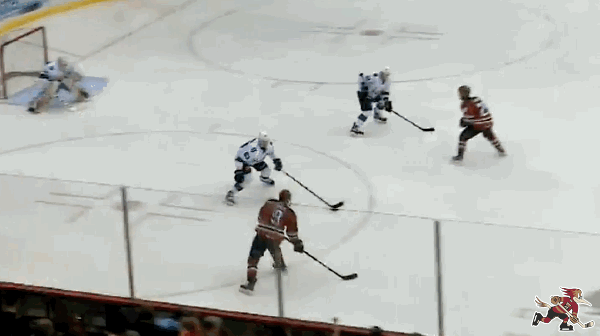 For Sislo, it was his 23rd goal of the season. He passed Dylan Strome for the team lead in that department.
San Jose reclaimed a two-goal lead shortly thereafter.
Entering the third period down 3-1, the Roadrunners began to bring sustained pressure.
Just under five minutes into the final frame, Joel Hanley, while analyzing that pressure low in San Jose's zone, pinched in from the point and one-timed a Michael Bunting feed past Bibeau to get the Roadrunners back to within a goal.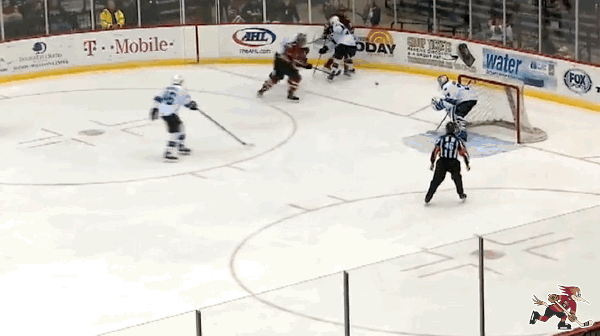 For Hanley, it was his first goal of the campaign.
"It was good to get the first one there," he noted. "It took a while, but it was good to get it in a close game while we were making a push at the end, unfortunately we came up a little bit short."
With just over a minute to play in the third, Adin Hill left a rimmed puck for Lane Pederson, who handed the puck over to Carter Camper just above the Roadrunners' goal line.
Camper, with speed, fled roughly 185 feet from end-to-end, stickhandling through three-to-four San Jose defenders before beating Bibeau with a backhand shot. Camper's goal tied the game with 1:17 left to play.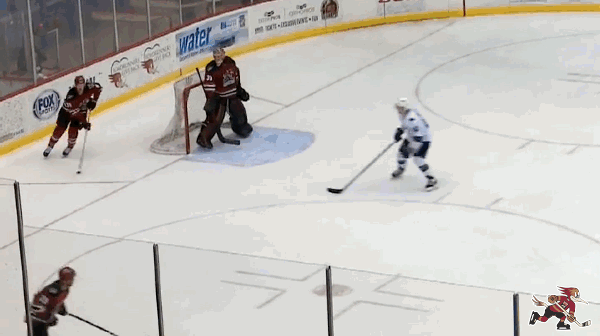 San Jose's Jacob Middleton ended the game 2:07 into overtime while the Barracuda worked on a power play.
Adin Hill stopped 14 of the 18 shots he faced in the overtime loss.
Carter Camper finished the night with two points (1G, 1A). He has 15 points (2G, 13A) in nine games played with the Roadrunners.
"Obviously we didn't get the start we wanted, we were down two goals, but to bounce back in the third is a good character comeback for the team," Hanley added. "To get a point like that, especially at this time of year, it's big. We would've liked the two points, but we'll take the point and learn from it."
The Roadrunners will begin a four-game road trip Saturday night against the Bakersfield Condors at Rabobank Arena, where the puck is scheduled to drop just after 7:00 PM PST.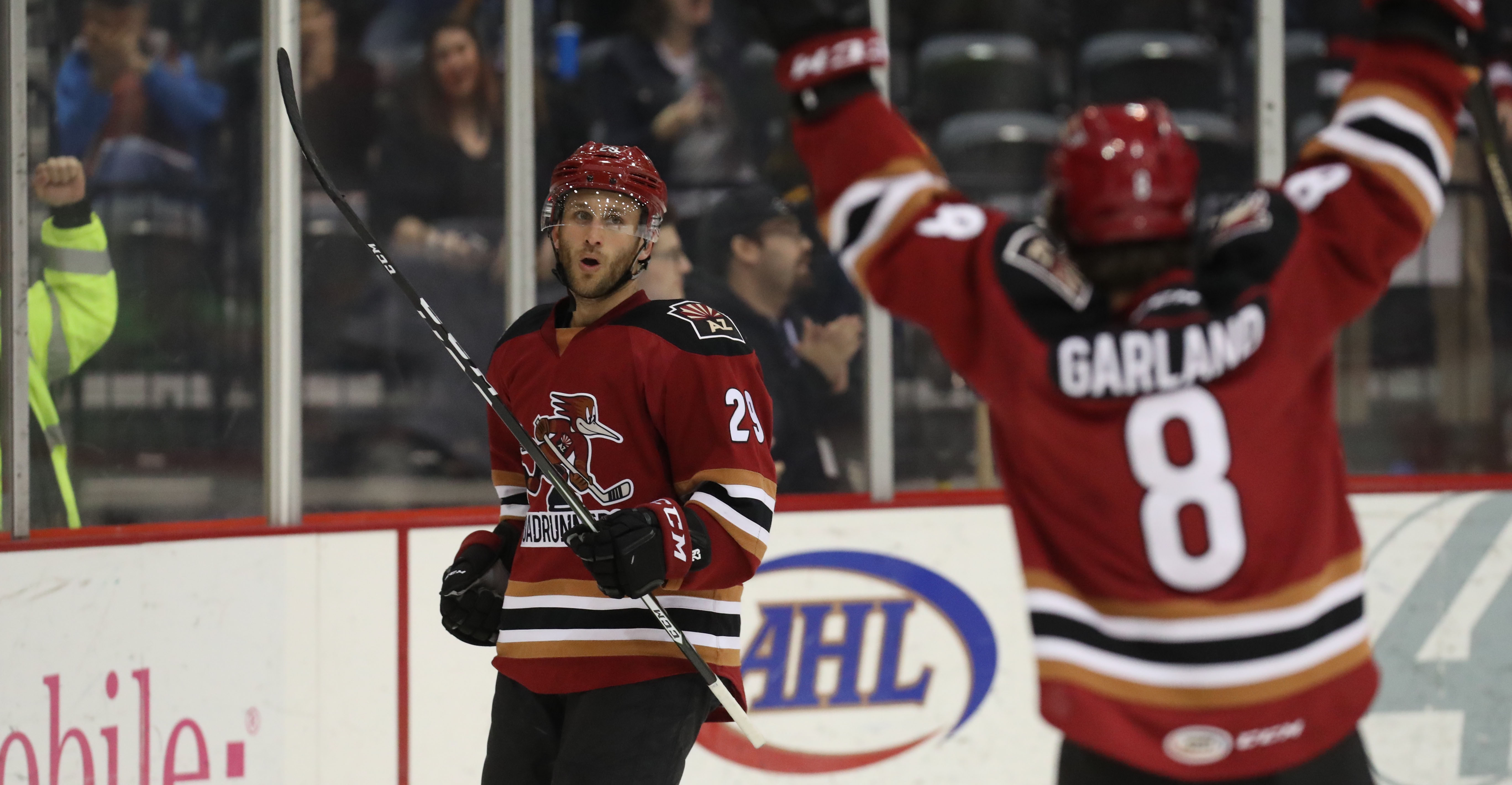 Photos courtesy: Kate Dibildox & Chris Hook