NEWS & STATS
Two-goalie tandem significant in Roadrunners' stable, steadfast approach
By: Alexander Kinkopf
May 17, 2018 11:51 AM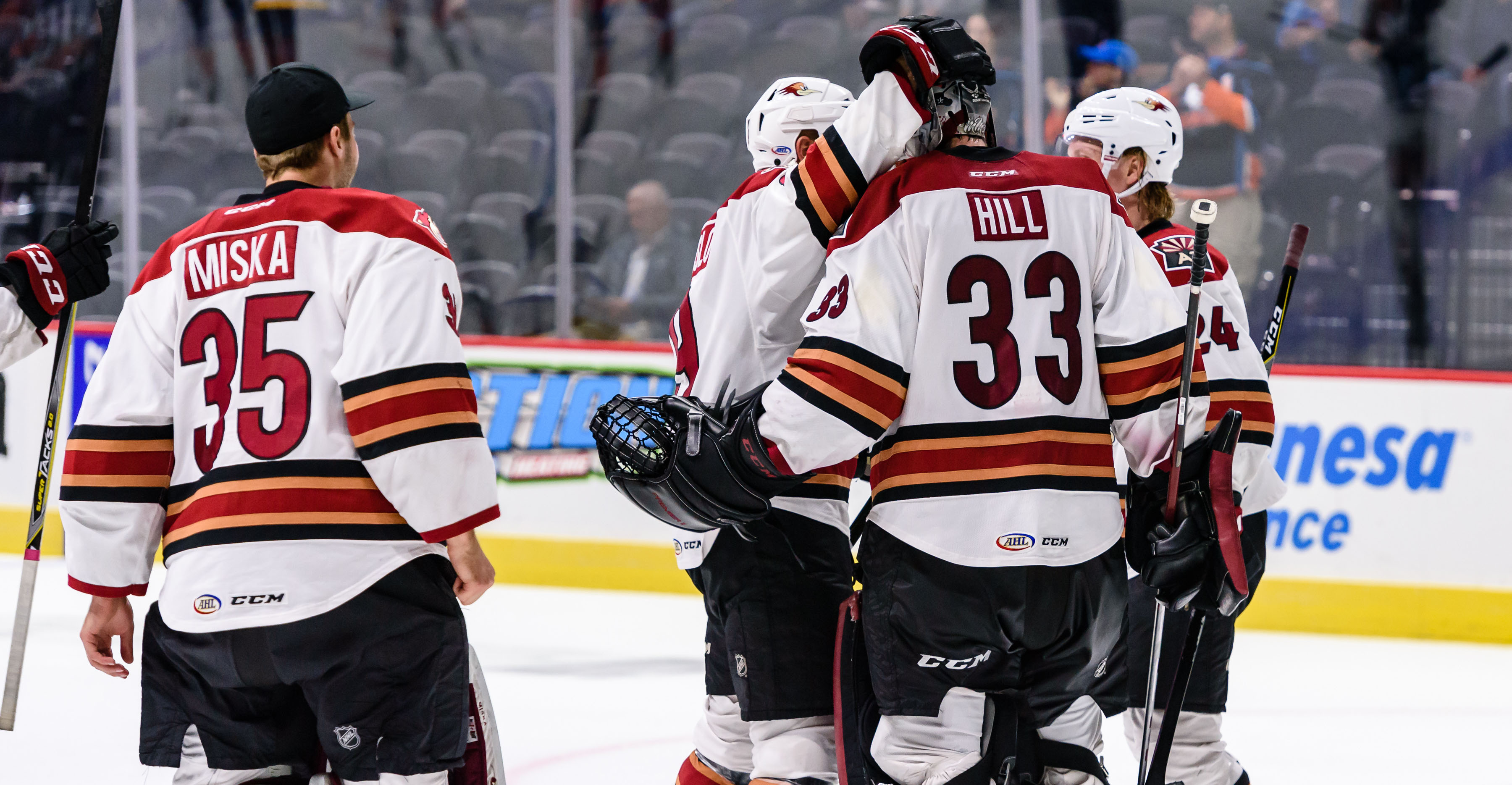 There was genuine rhythm with the goaltending pair of Adin Hill and Hunter Miska this season.
More often than not, with the Roadrunners' schedule saturated with back-to-back sets, the club flip-flopped between netminders; Hill getting the call for 33 starts, Miska 32. With relief appearances involved, both played in 36 games.
"I thought it was a good year for me," Hill said prior to departing for the summer. "I felt like I got a lot better as the season went on, I felt like I was getting quicker. I also got that NHL experience and my first taste of pro hockey playoffs, so it was a fun year."
Upon his return to Tucson on March 17 from a recall with the
Arizona Coyotes
, where he
notched his first-ever NHL win
making 34 saves in a 4-3 shootout victory over the
Los Angeles Kings
, Hill was downright stellar. He finished the regular season playing arguably the best hockey of his career, posting a 5-1-1 record with three shutouts in eight starts leading up to the postseason.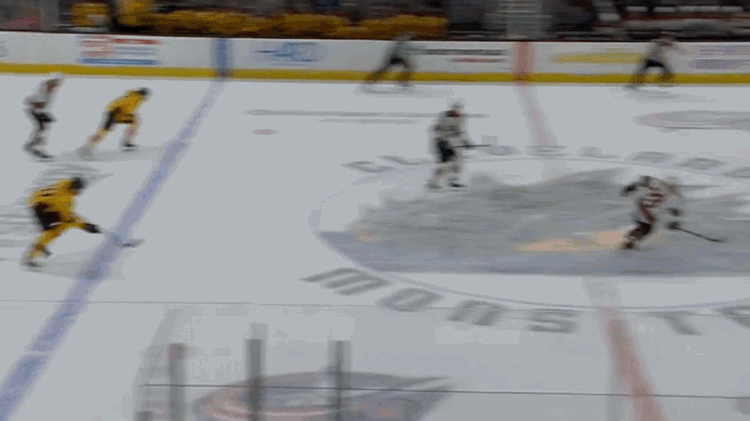 Hill's resurgence went back even further, beginning immediately after the All-Star break, where thereafter, he was almost unbeatable. In his final 15 starts, he went 10-1-3 with a .926 SV% and a 1.75 GAA.
"The hardest thing is consistency, being good every day," Hill said in regard to his biggest challenge. "But other than that, I feel like my play with the puck has gotten better, I feel like I'm seeing plays better and making better reads, I'm adjusting to other teams and what they're throwing at me, whether it's traffic or tips, I feel like I've done a better job with that, but still definitely need to improve in all of those areas."
When it comes to steady play, Miska, who finished the year winning six of his final seven decisions, kept the Roadrunners' goaltending cycle in-sync with a phenomenal first year, finishing second among all rookie goaltenders with 22 wins.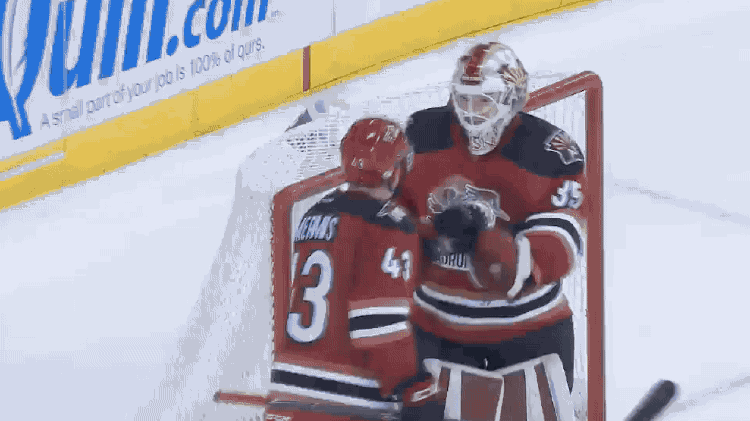 "It was unbelievable, I thought it was a great first year for me, being able to play as much as I did, it was a good learning experience," He said before leaving the desert for Minnesota. "I thought playing with Adin, we had good camaraderie with each other, we pushed each other to get better every day, so it was a pretty good season throughout."
Miska was magnificent on the road, posting a 13-3-0 record in opposing buildings, and perfect in overtime, leading the Roadrunners to a 7-0 record in games that extended past regulation and into three-on-three sudden death.
Entering the playoffs, Hill was tabbed as the team's go-to goalie, starting each and every one of the nine postseason games played, a string of performances that included a pair of shutouts and a streak of 176:48 minutes without allowing a goal.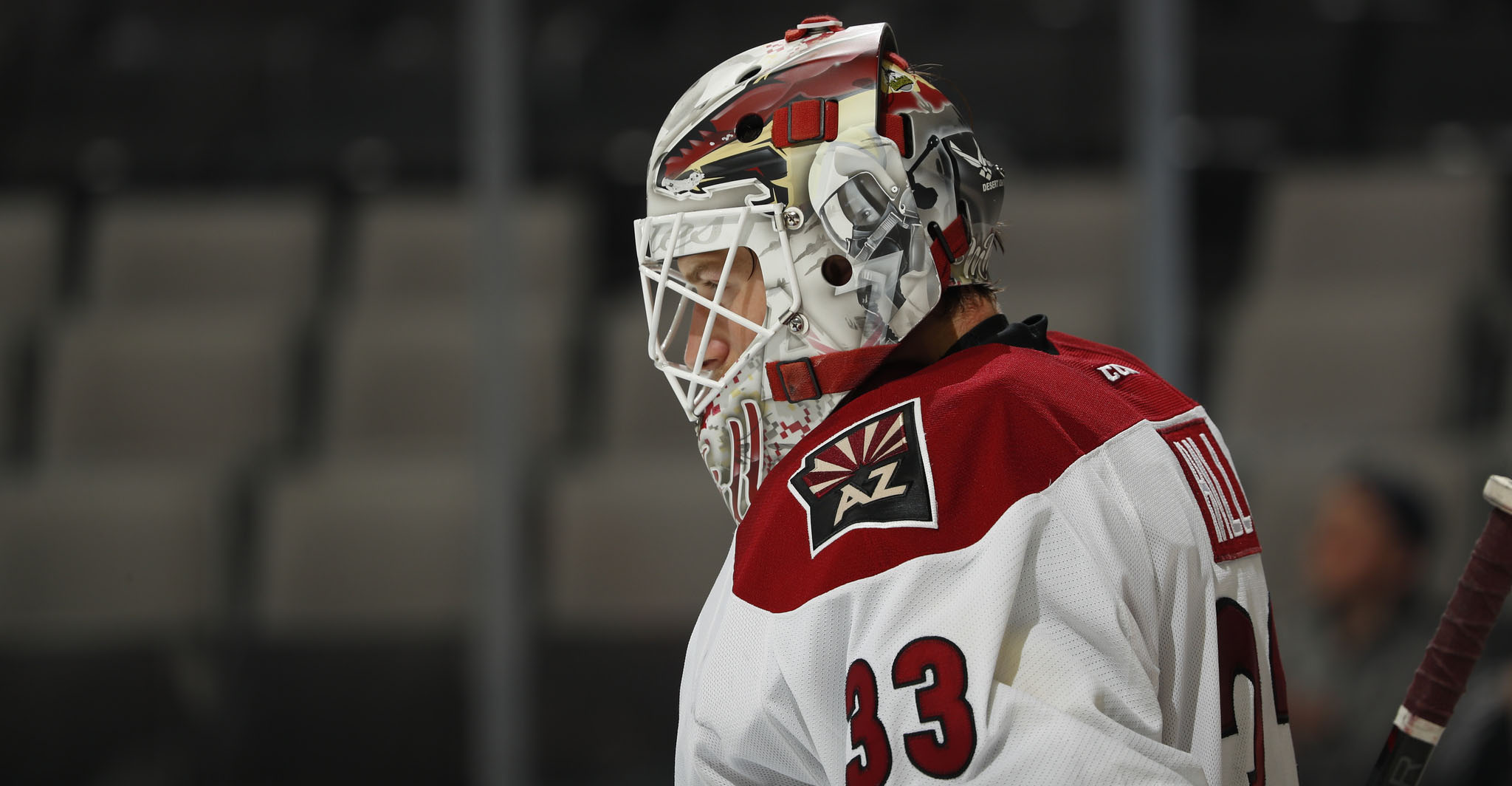 As the offseason begins to take on life, both goaltenders plan on putting together strict training regiments to come back next fall.
"I want to get a little stronger of course, a little more core strength so I can be a little faster and quicker in the net," Hill noted. "Work on screens, battles, work on tips, and reading the play. All of that stuff is huge because a lot of goals do end up being rebounds, so I'm going to try to work on that rebound control."
Hill plans to spend some time in Toronto to work in person with goaltending coach Jon Elkin, while Miska's intentions are to keep lessons learned from the Roadrunners' goalie mentor close as he works in Minnesota.
"I'm going to be sticking with what Elkin and I have been working on," Miska said of his summer workout plans. "Practicing being patient, staying on my feet, working on puck control, and focusing up on the little things because I think that's going to be a big key for my success in the future."