NEWS & STATS
Memorable Moments: 'History in Cleveland'
By: Alexander Kinkopf
June 07, 2018 10:21 AM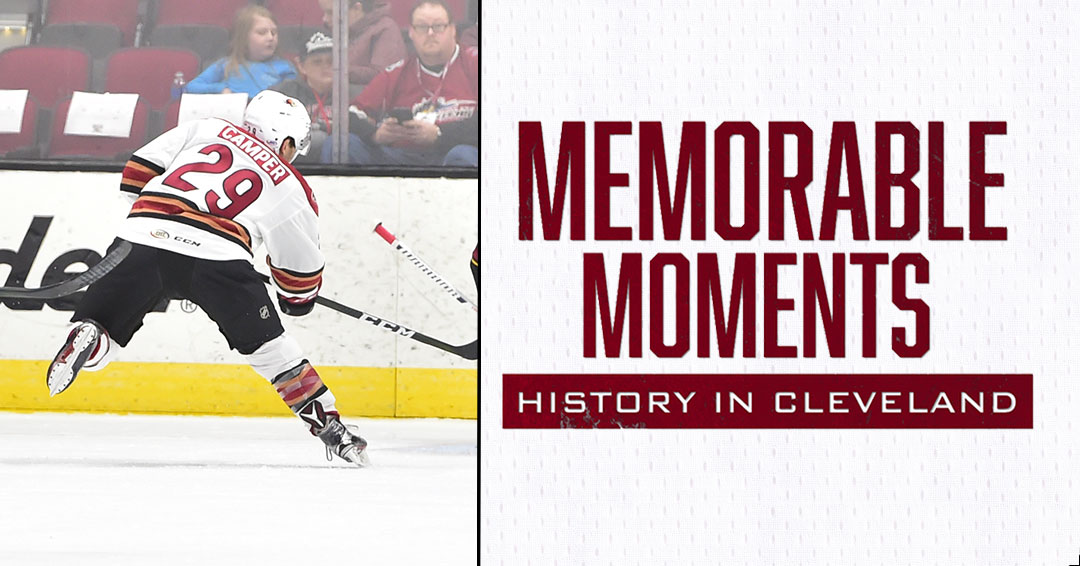 To get traded is one thing. To get traded and play against your former team in the first game with your new club is another. To get traded and play against your former team in your former home building in the first game with your new club is, well, an extremely rare occurrence.
Carter Camper
was acquired from the Cleveland Monsters
on February 26 as one of the more eye-opening moves made during the Roadrunners' trade-deadline splash. At the time of the trade, Camper was Cleveland's leading scorer by an extremely healthy margin, bringing with him to Tucson an attractive stat-line that totaled 42 points in 53 games played – numbers he would waste no time building upon in a Roadrunners uniform.
Four days after the trade, Camper, with no need for immediate relocation due to the irony of the Roadrunners making their first-ever trip to Cleveland's Quicken Loans Arena at the time, made his team debut on the evening of March 2.
Donning Tucson's colors, Camper came out with a vengeance in a game that served as both a debut and a homecoming, assisting on every Roadrunners goal scored in the club's commanding 5-1 victory.
His five points set a new franchise record, one that still stands, and he became the first
American Hockey League
player to be credited with five assists in a single game since
Alex Khokhlachev
did so with the
Providence Bruins
on February 26, 2016
.
Not often does a hat-trick get lost in the mix, but that was arguably the case for Mario Kempe due to Camper's overwhelming storyline.
In netting the Roadrunners' second, third, and fifth goals of the evening, Kempe scored the third hat-trick in franchise history, and the fastest of such – potting all three in a 6:29 minute span.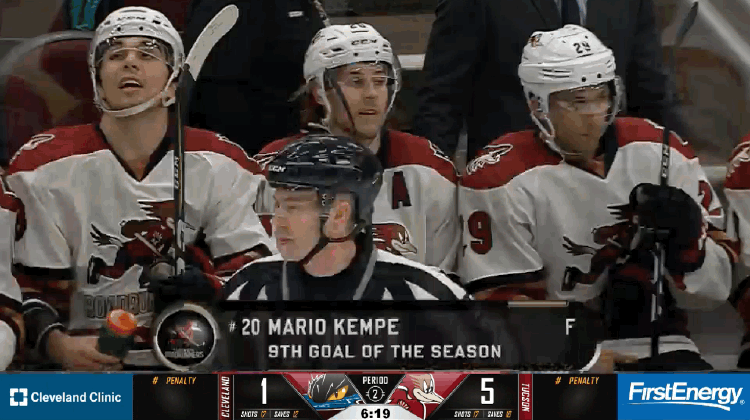 The previous two hat-tricks came off the sticks of Christian Fischer on December 16, 2016 in a 5-4 overtime victory over the San Antonio Rampage, and Brendan Perlini (natural) on January 10, 2017 in a 5-2 win over the Manitoba Moose.
For Kempe, it was his first North American professional single-game scoring trio; he had achieved the feat twice prior while playing professionally in Sweden. His hat-trick was made official well after his third goal due to investigation on the Roadrunners' second tally of the night, which was initially credited to Joel Hanley.
If Camper's debut foreshadowed his time in Tucson, it did so well. He finished the regular season with 19 points (3G, 16A) in 15 games played with the Roadrunners, and was tied for the team-lead in scoring during the playoffs with eight points (1G, 7A).
Kempe continued to find the net following his historic night, burying seven goals and 12 points in the team's final 16 regular season games, and led the Roadrunners in goals scored during the postseason.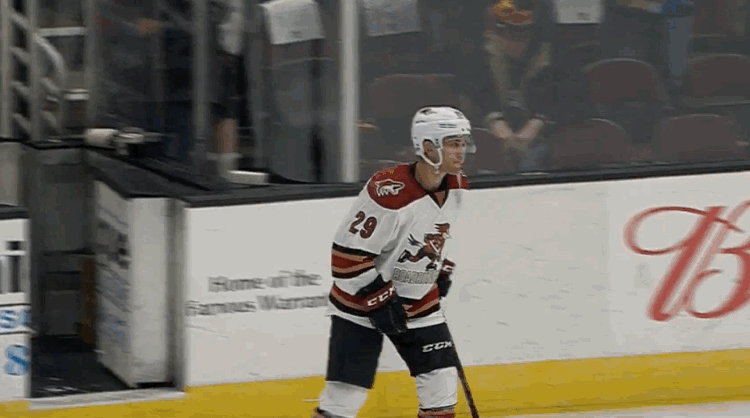 WATCH: Memorable Moments – 'History in Cleveland'
2017-18 MEMORABLE MOMENTS: