NEWS & STATS
The art of ice, its makings and maintenance
By: Alexander Kinkopf
September 13, 2018 11:32 AM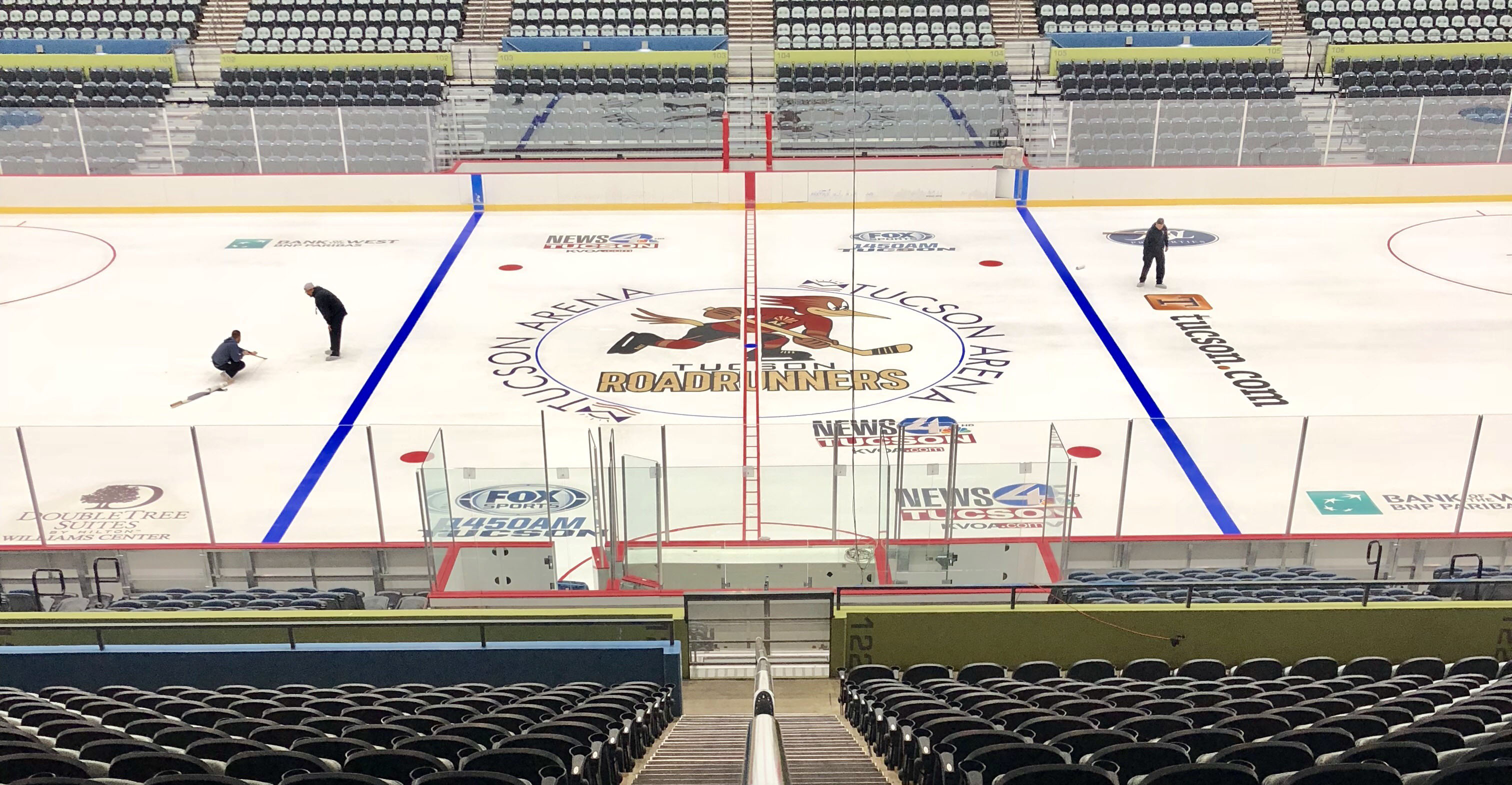 The Junior Roadrunners' 8U program assembled for its first practice of the season on Wednesday, initiating a local flow to the start of hockey season. Just days ago, Tucson Arena's floor lay void of any semblance of a rink, but an around-the-clock production that began late Saturday night constructed the surface the Roadrunners will eventually hit in less than two weeks for the start of training camp ahead of their third season in Southern Arizona.
One could argue that no other playing surface in sports is as elemental as a rink is to hockey.
Constructing ice is a meticulous process. It calls for a total of 10,600 gallons of water, a floor that can abide to hold a firm temperature of 14 degrees Fahrenheit, and sharp eyes to pinpoint placement for the paint and logos that dress the surface.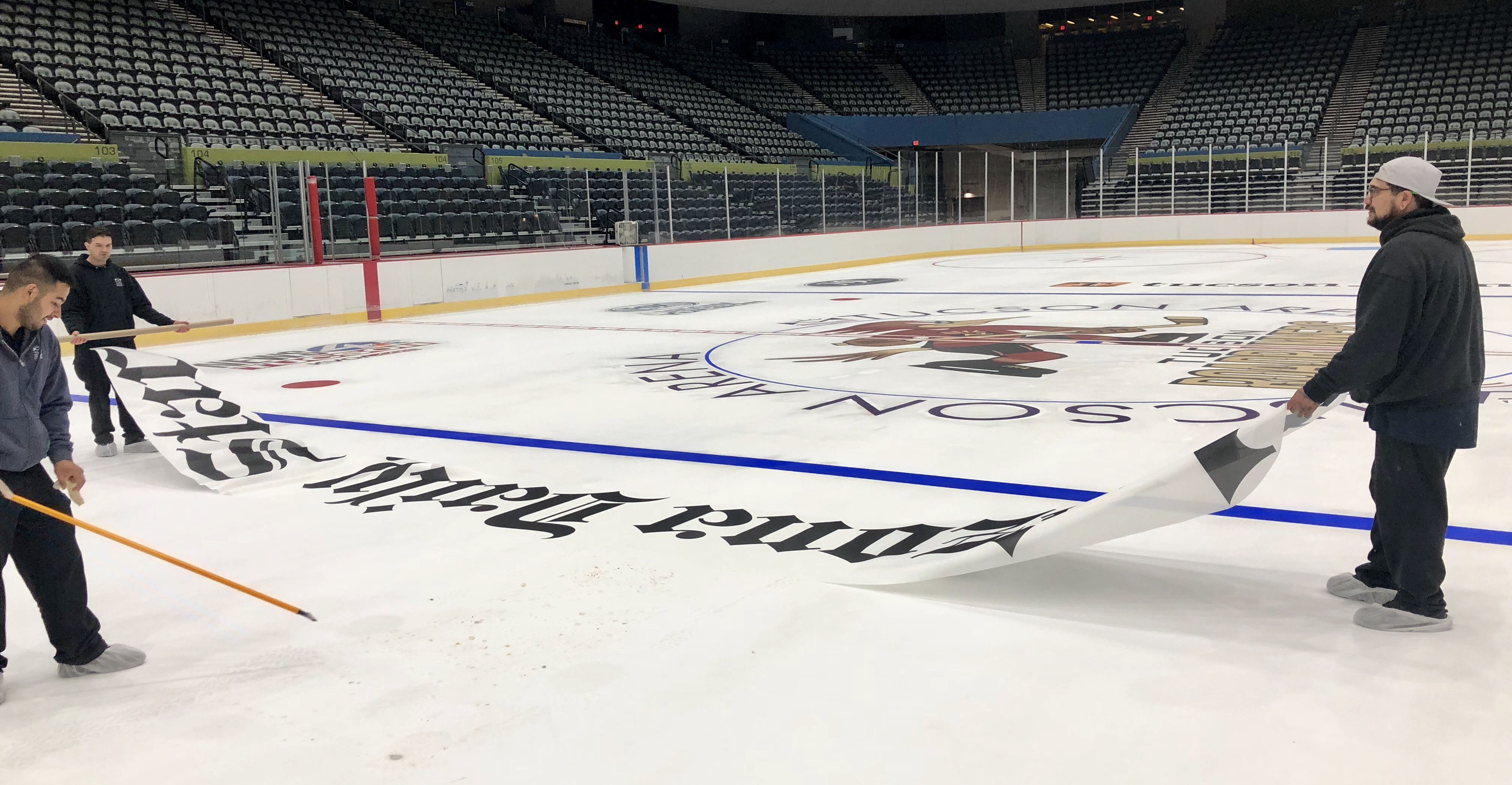 Eric Brindza and his operations staff began with the initial layer Saturday at around 11 pm, applying a foundation of water that was fused with over 400 gallons of white paint, a blank canvas to work with.
Then, as daylight broke on Sunday, came the vitals. The faceoff dots, the lines, the circles, the logos. 10 different colors of paint were used to dress the white surface to meet AHL standards, to decorate the Roadrunners logo, to promote the team's local partners.
Tucson's logo, rather iconic and a rebirth of the one initially debuted by the WHL's Phoenix Roadrunners in 1967 with alteration to color, took four hours and six workers to complete in itself.
"This is the toughest part," one of the staff members said looking at the finished center-ice logo. "It takes a lot of patience, a lot of detail, and making sure the right colors go in the right place. You better have good hands too, don't want to paint outside the lines. But once we get over this, we cruise."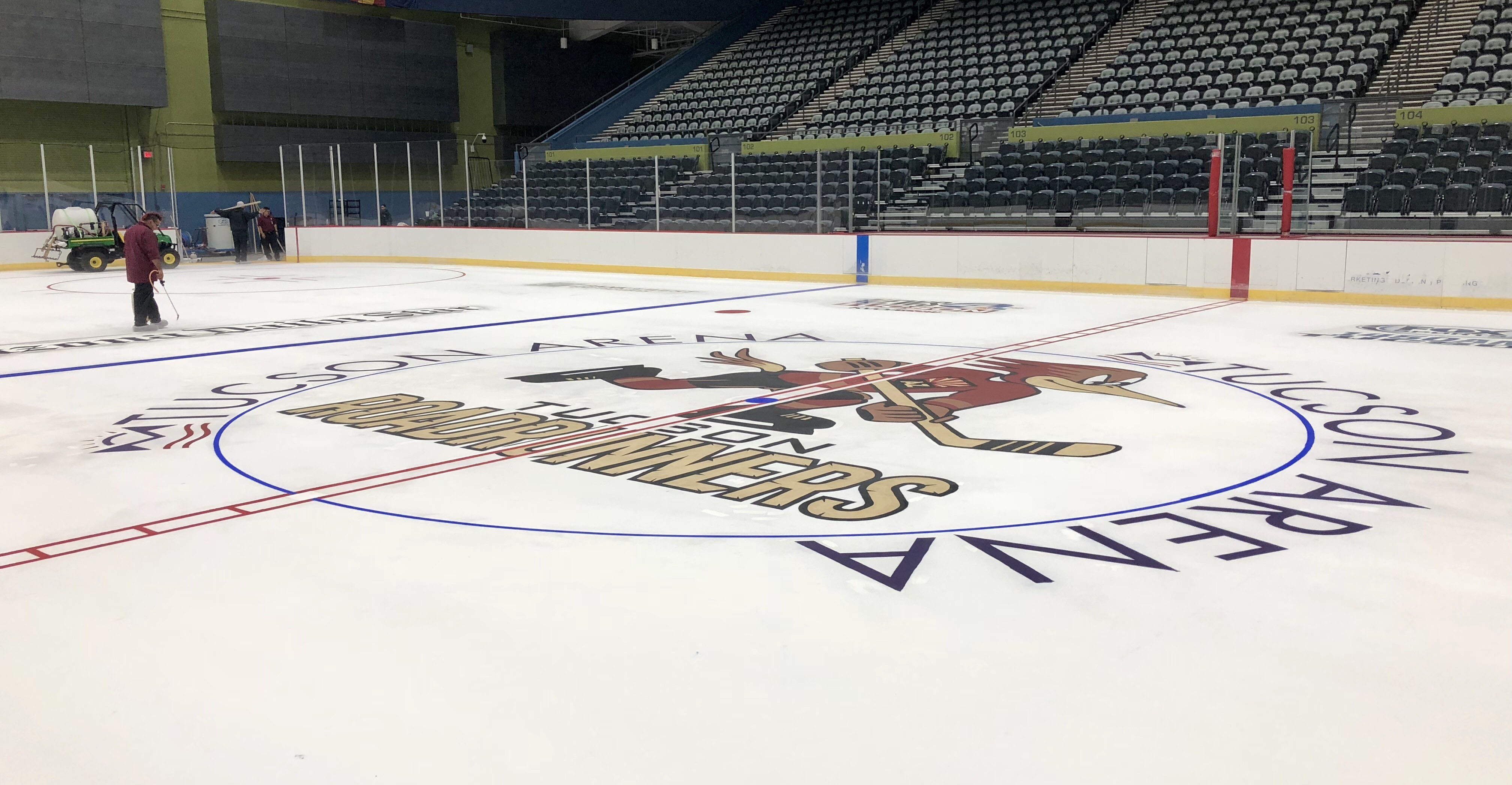 Once the decorating was complete, layers of water are sprayed at very fine levels for roughly 36 hours until the ice's level is at approximately one and a quarter inch (1 ¼"), the standard depth for a regulation sheet.
Once that 1 ¼" base is met, the floor's temperature ups to 18 degrees Fahrenheit, where it will remain throughout the season.
Safe and strong enough for a Zamboni – which weighs in at over 11,000 lbs.
By far and away the biggest tool in maintaining Tucson Arena's ice during the course of a season, the Zamboni simultaneously scrapes off one-sixteenth of an inch of ice while laying down water at temperature of 150 degrees during its ventures, instantly coating the top by quickly melting down any additional cuts with an almost immediate transition to a freeze.
"During any given Roadrunners game, we usually lose about a quarter inch of ice, so we're constantly trying to rebuild the depth to keep it at it's regular mark," Brindza said. "We're always measuring the ice's depth, making sure it's where it needs to be, and sometimes that calls for a lot of water from the Zamboni."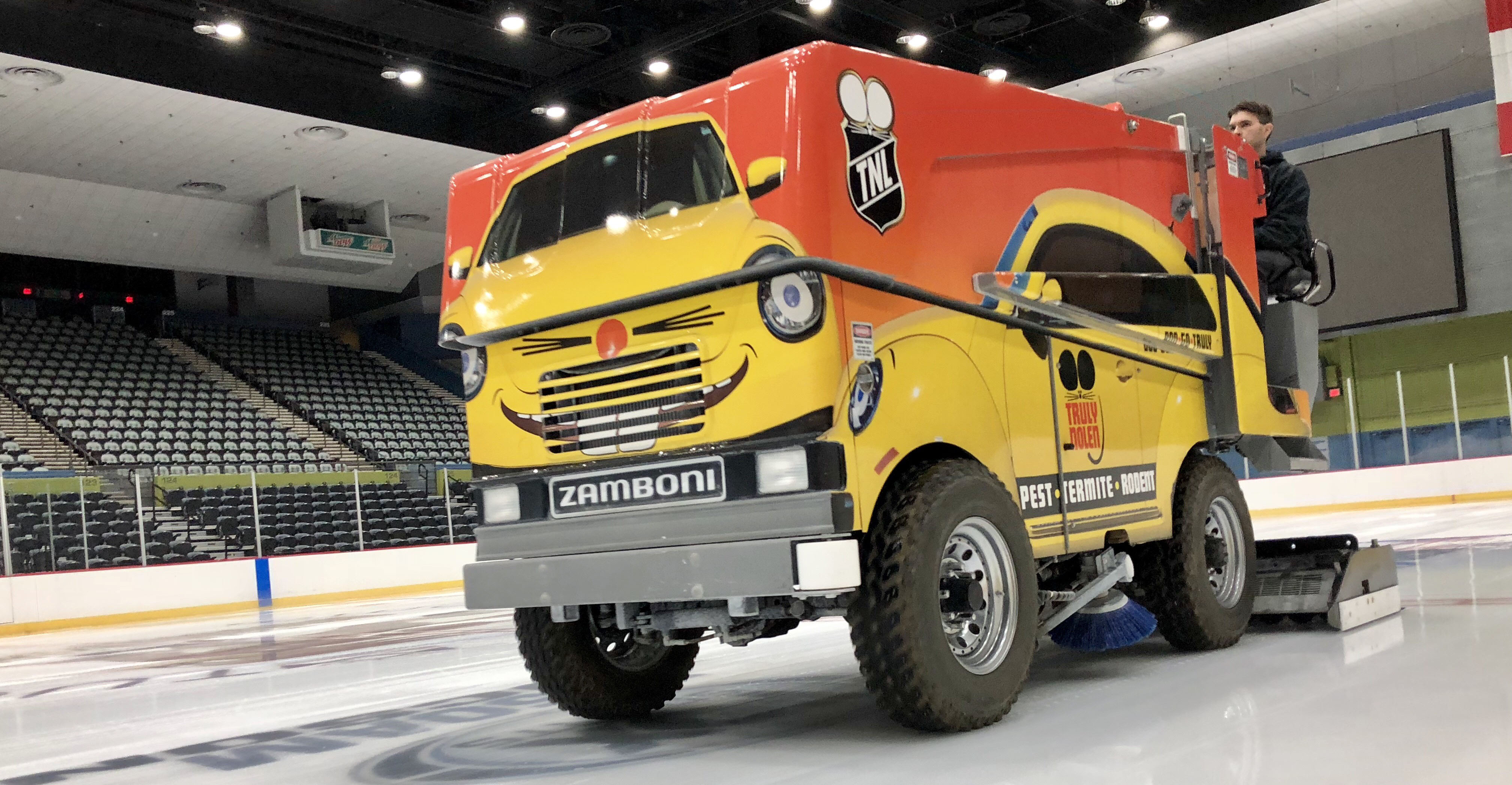 Topping out at 9 MPH, but usually coasting at a comfortable pace of 5 MPH, the resurfacing machines typically travel about ¾ of a mile during a single cut, calculating out at three miles of distance on a Roadrunners game night.
Though outside temperatures in Tucson may seem tough for maintaining strong ice conditions, the thermometer reaching 101 degrees Fahrenheit on Sunday when most of the initial freezing process took place, humidity is the real threat - which Arizona is often free from. The dryer the air, the better, and Southern Arizona has it.
The Roadrunners will first touch their newly-crafted home ice surface on Monday, September 24 for the commencement of training camp.