NEWS & STATS
Training Camp Day 1: Notes, Photos, Quotes
By: Alexander Kinkopf
September 24, 2018 3:31 PM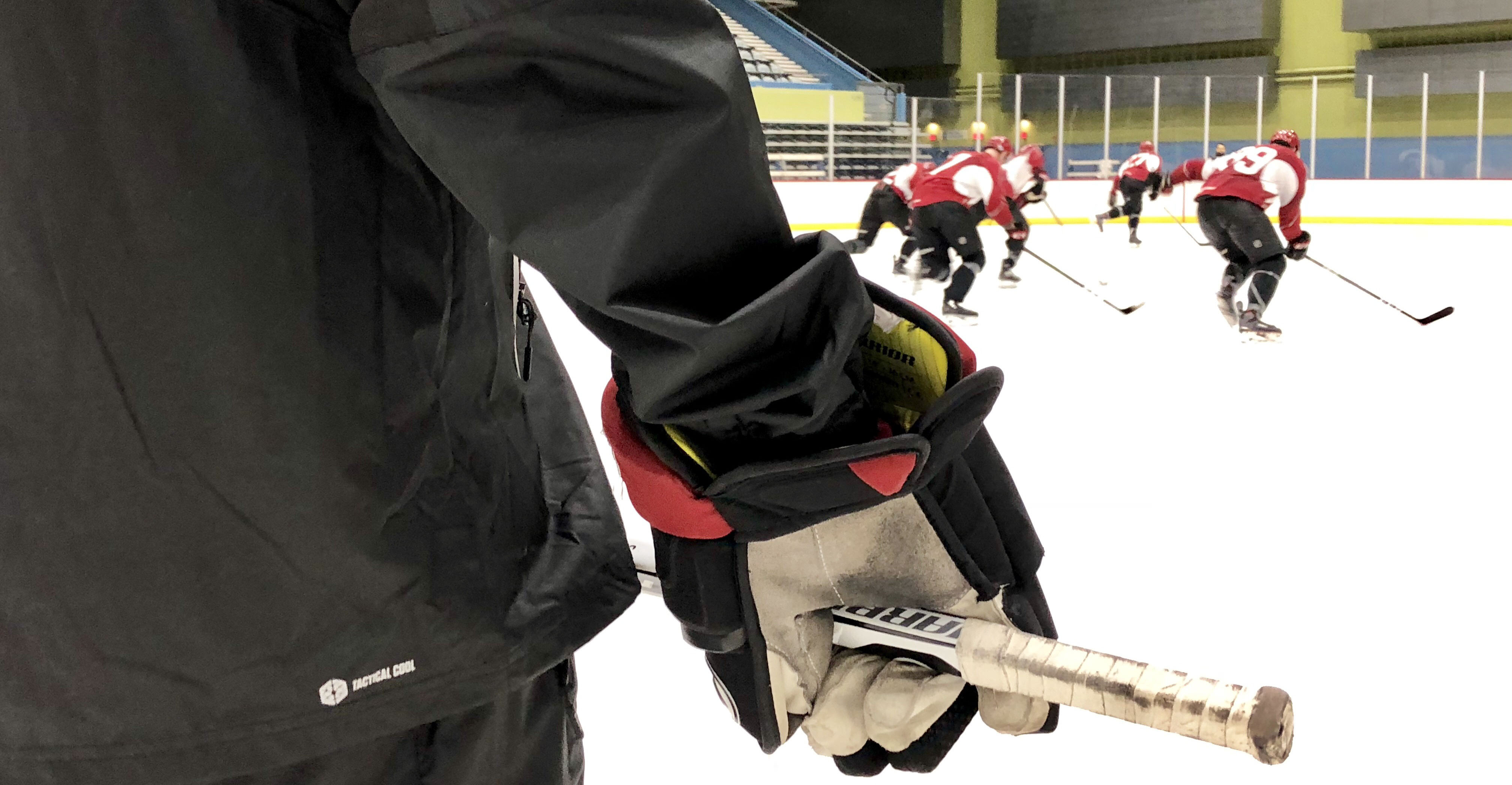 Training camp commenced Monday morning at Tucson Arena with the Roadrunners' roster and team staff funneling onto the ice shortly after 10:30 am.
Jay Varady led his first team-specific practice while getting an initial feel for his new home surface, a setting that will host 34 regular season games, including the opener on October 6 against the San Diego Gulls.
"It's great to be home," Varady said following the team's first formal skate. "For us, it was a little bit of settling in after we got back, but it feels like home and now we've got to get to work."
18 players,
all part of the original group announced
as part of the team's training camp roster, including goaltenders
Merrick Madsen
and
Ty Reichenbach
, took part in the morning's session - a two-part skate that bled into the early afternoon with a heavy dose of conditioning drills implemented for those on-hand.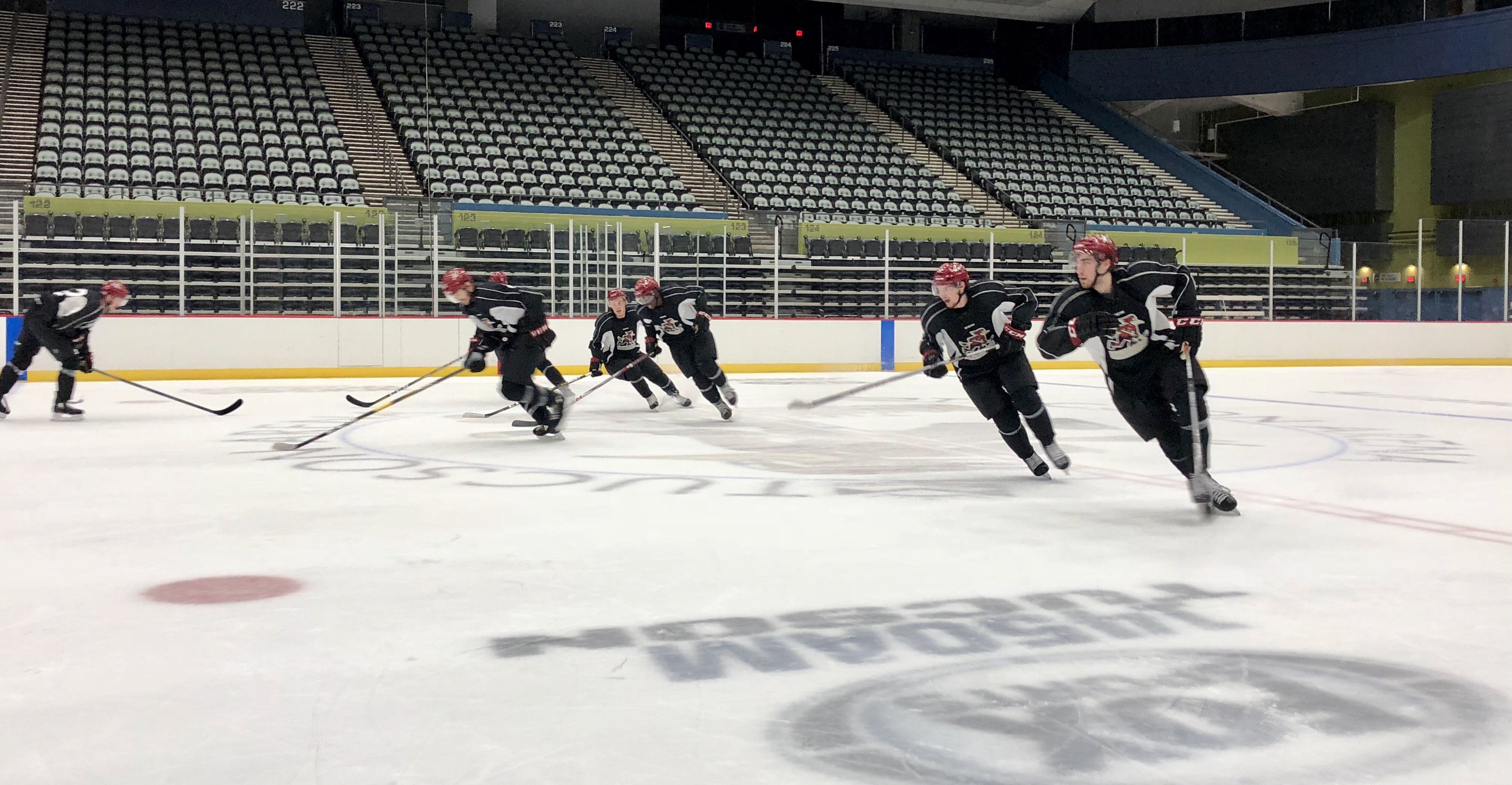 "For us, it's about working with the guys that are here," the Roadrunners' first-year coach noted. "The guys that are here today, this is the group we're working with, and maybe those numbers will be a little different when we head into the office today, and you never know who it's going to be, but we'll have some new guys to work with tomorrow."
Defensemen
Cam Dineen
,
Dysin Mayo
, and
Dakota Mermis
are expected to join the team Tuesday
. The Roadrunners' training camp roster will only continue to expand before it begins to pare down in early October.
11 of the 18 on the ice Monday attended Arizona Coyotes main training camp, which continues on with 39 players. Seven appeared in at least one game with Tucson in 2017-18.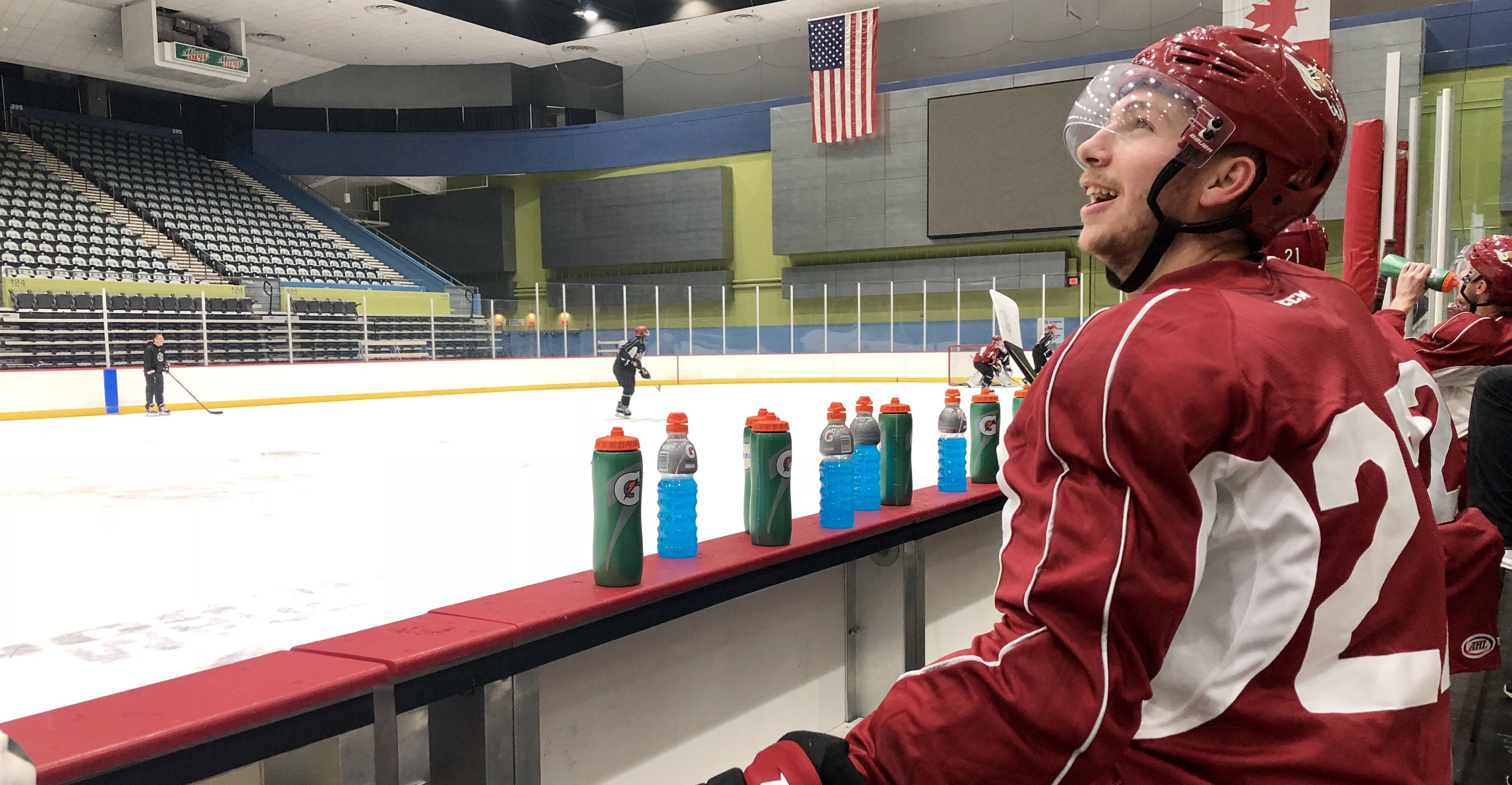 Among them, Michael Bunting, who appeared in a team-high 67 games last season and enters the year as the franchise leader in goals scored (36), points registered (71), and games played (134). Coming off of a career-year in which he shattered previous offensive highs, including a team-leading 23 goals, his focus on the outset is balancing his game and adapting to a sharper defensive approach.
"I really liked my production," Bunting said of his campaign. "I tied the team lead in goals, and I think I led the team in even-strength goals, so I hope to keep that going. I think my main focus is to get on the penalty kill. I want to adapt my game over to the defensive side, and I think if I get that, then I'll be a pretty good all around player."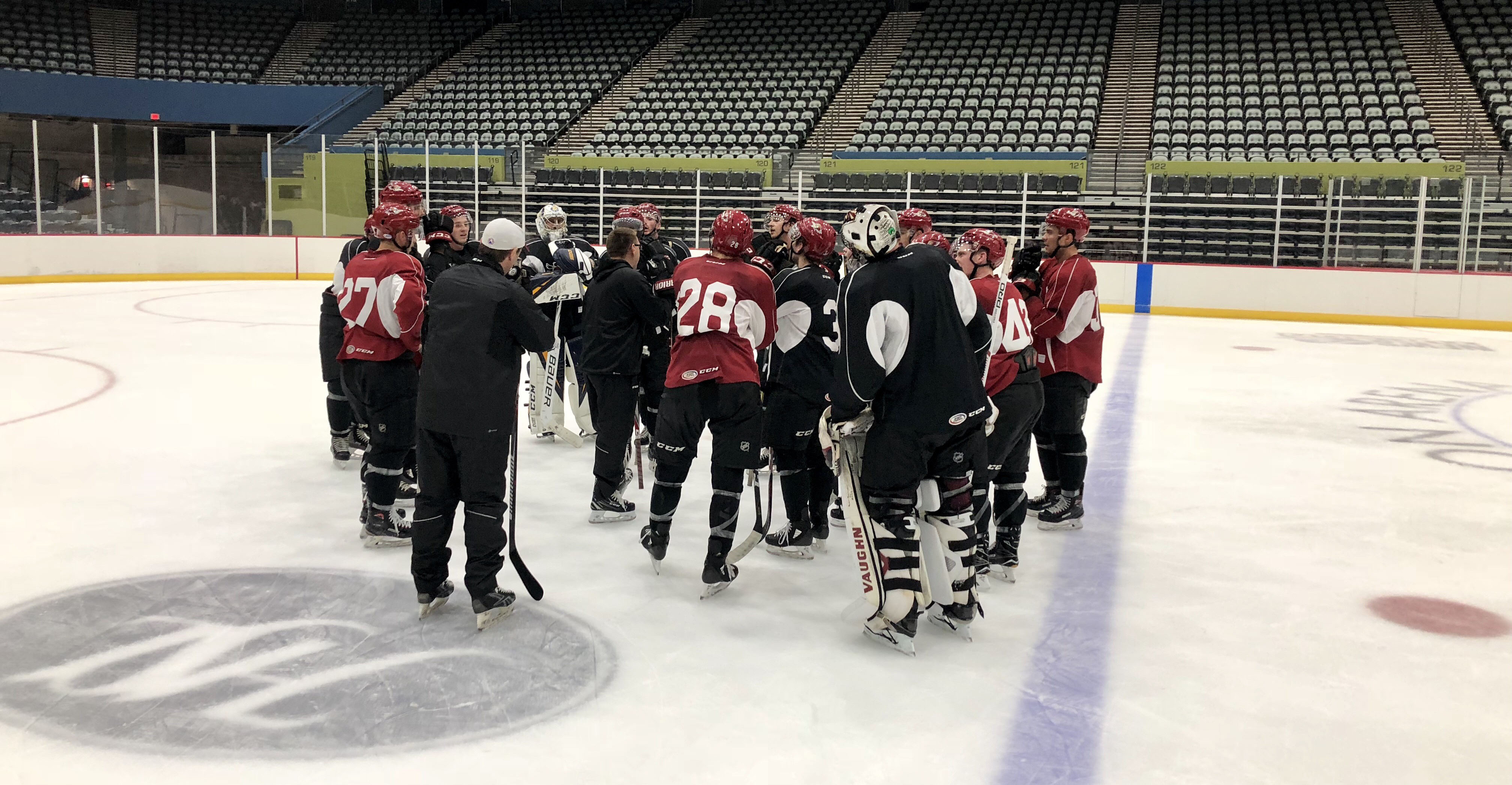 A solid mix of names with experience complemented a wealth of youth, a category defenseman Jordan Gross falls under as he prepares for his first professional season after completing his collegiate career with the University of Notre Dame.
"It was definitely huge," he said of getting one game in at the pro level. "One of the bigger things was just seeing how it operates, the pro hockey style, it's a lot different than college, so it was good to get to know that and familiarize myself. Watching some of the top guys play, you kind of see what it takes to be a real impact guy in professional hockey, so I worked really hard this summer to try and be one of those guys this year."
Jay Varady, on his coaching style:
We're about getting better every day. Some days there's going to be a little push, some days we're going to smile and laugh, but for us, it's about getting better every day as a team.
Varady, on 11 of the 18 players Monday having participated in Coyotes camps:
For a lot of these guys, we've been working with them for a period of time, whether it was in rookie camp or in main camp up in Arizona, so a lot of the first day jitters are gone, a lot of the faces and names, especially the assistant coaches here, have been working with a lot of these guys for a while now.
Varady, on working with the Coyotes' staff during rookie/main camp:
Continuity. That's what we're all about here. We're trying to create a seamless gap between the American League organization and the NHL club so that if a player gets called up, they go up and perform to their highest ability without having to think too much. In terms of working with the coaching staff in Arizona, I think it was exactly a mentorship. Anytime you get to spend 10 days with Tocchet, John MacLean, Scott Allen, Corey Schwab, these are guys that have done amazing things throughout their careers as players and coaches, and I think everybody can learn that they had a really open environment for us as an American League staff, and I think there was a really good synergy between the two groups.
Varady, on if there was anything that stood out in observing coach Rick Tocchet's style:
I just think his intensity and his understanding of all of the little things in the game, you see him working with players and he's able to pull guys aside in a small area and say 'hey, in this situation you could try this and it's going to help you', and through his experience as a player and a coach, he's able to pass those things on to the younger guys, or even the older guys in the organization to help them get better.
Michael Bunting, on his offseason training regiment:
I went to the gym, a half hour or so away from my house, woke up ever day at around 7, worked out at around 8:30, and did around two hours of weightlifting, agility and all that stuff, and then after that I would usually skate three times a week. I was on the ice quite a bit and in the gym five days a week.
Bunting, on adapting to coaching changes:
It's part of the game. Jay seems like a really good guy, it seems like he knows what he's doing. We had a really good meeting this morning, which was good, I was able to really get to know him, which is nice, because during the main camp you pass by and introduce yourself, but you don't really get to talk in detail. We had a good one-on-one conversation and I look forward to the year ahead with him.
Jordan Gross, on entering his first pro year:
Right now it's just about trying to earn a spot and being a go-to guy on the team night-in and night-out. There's a lot of good defensemen on the team here, so I'm definitely going to have to earn it.
Gross, on if anything in particular stuck with him from his experience in Tucson last season:
How the guys treat their bodies, and do so really well. It's such a long season, and you have to, or you're going to have nagging injuries, so I think that was one of the big things. I worked out with a bunch of pro guys this summer, so seeing them do that as well was a good thing for me entering my first pro year.
More to come from Tuesday's training camp session.