NEWS & STATS
Training Camp Day 3: To Minnesota
By: Alexander Kinkopf
September 26, 2018 4:04 PM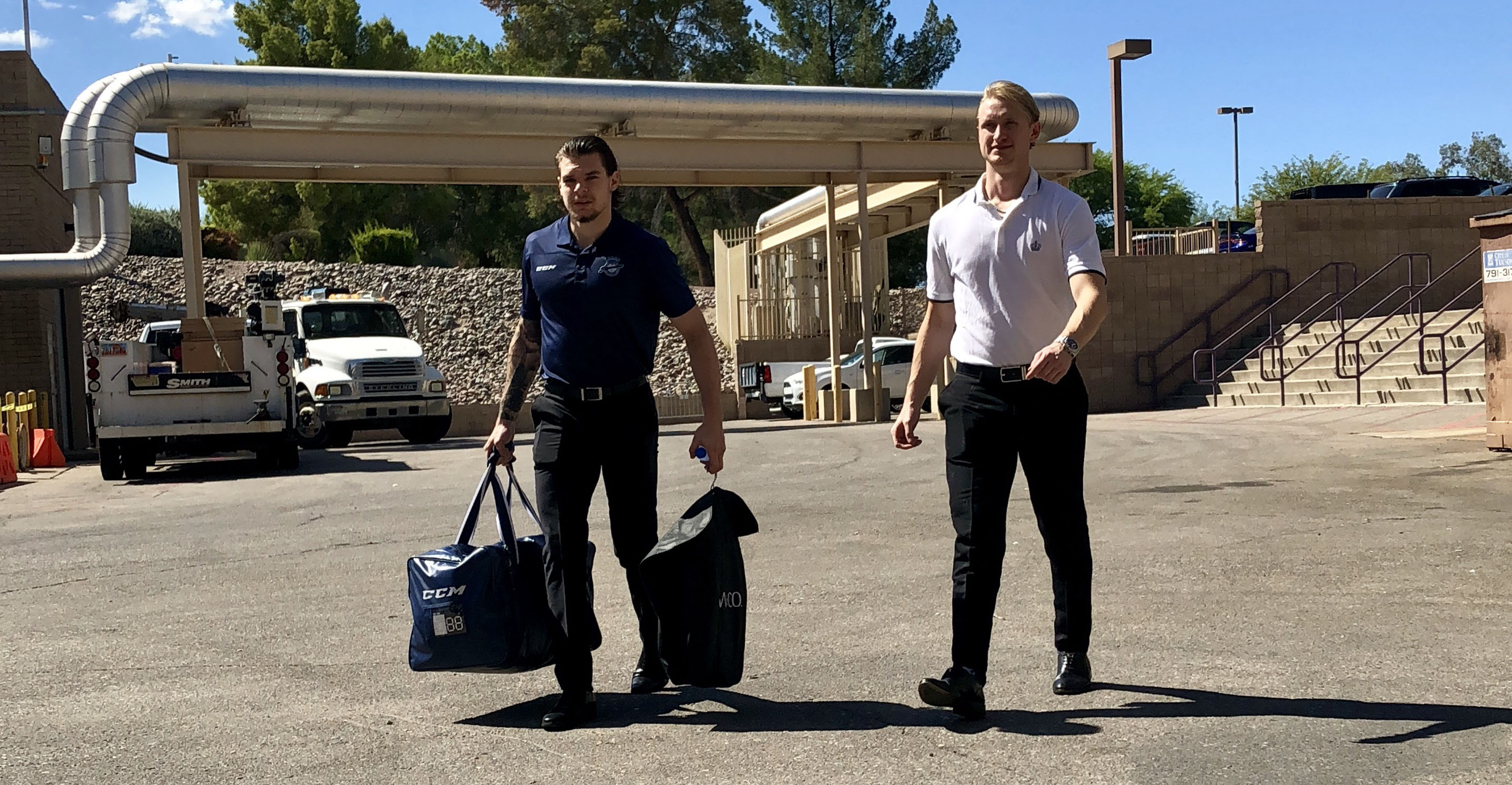 1,300 miles away, and it's the farthest east the Roadrunners will travel this season outside of their two trips to Illinois in December and February. The destination for Tucson's two preseason games is Saint Paul, Minnesota, where they'll take on the Iowa Wild on Friday and Saturday.
Both contests, Friday's slated for 4:00 pm PST and Saturday's for 2:00 pm PST, will be broadcast on
Fox Sports Tucson -1450 AM
with
Adrian Denny
making his on-air debut with the club, featuring pre and postgame shows for each exhibition affair as roles and alignment for the 29 names on the Roadrunners' training camp roster are tested behind new head coach
Jay Varady
.
Tuesday's eight assignees from Arizona Coyotes main camp joined Wednesday's off-ice workouts and team meetings before the team embarked for Hunter Miska's home state.
14 of the 29 total heading to Saint Paul played in at least one game with the Roadrunners last season; 22 of the names attended Coyotes camp. There are 15 forwards, 10 defensemen, and four goaltenders.
"We're going to go there, we're going to put some lineups together, we're going to evaluate the performance of the players as we move forward," Varady noted before leaving for the airport. "I don't think I have any preconceived notions as to what's going to happen, we may have some ideas we want to try, some line combinations, some defensive pairings and see how the chemistry works out."
As is the case with any road trip, Head Equipment Manager Eric Bechtol and Assistant Ryan Andrus put in a wealth of behind-the-scenes work to supply the team's venture, almost 100 hockey sticks in tow to complement a truck full of gear.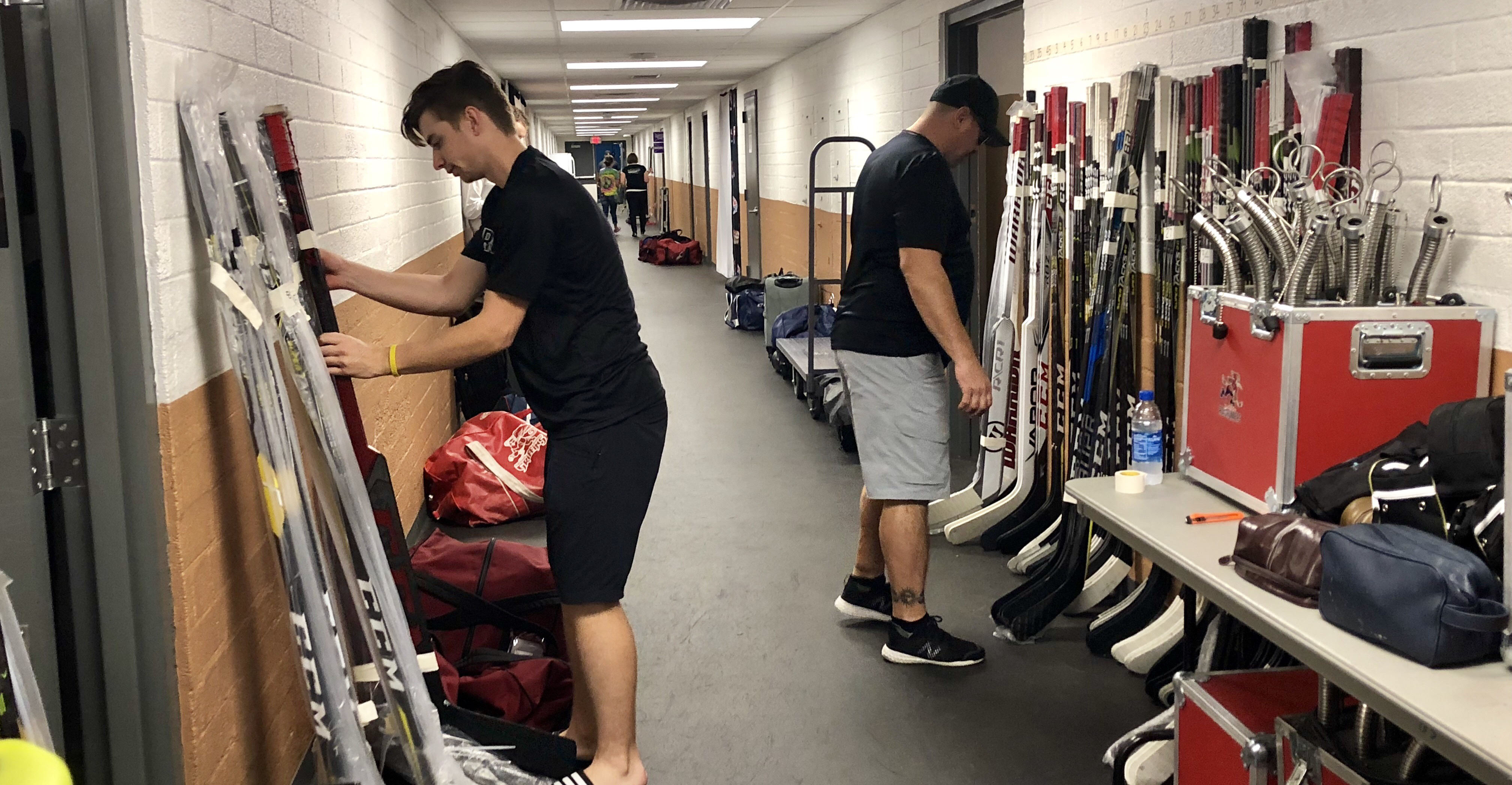 Tucson will don its brick red uniforms for both contests, as they will for all road regular season games through the Christmas break.
"Everybody's looking pretty good," Helewka said of the team's camp thus far. "With some new guys coming in, their first few skates in camp, it's actually been good, crisp passes everything like that. Jay seems like a very nice guy, a very good coach, he's very intelligent, and I'll learn a lot from him."
Others, like Lane Pederson, are returning after a wildly successful 2017-18 campaign ready to embrace the team's new faces to build chemistry and camaraderie heading into the season opener which lies less than two weeks away.
"At the start of every season you're going to have some new guys and a lot of familiar faces too, so this trip gives us a chance to bond and get to know each other," he said following his first day back in Tucson. "You get to see what guys are like away from the rink and off the ice. Sometimes you don't get to know guys too well during training camp, so this will serve as a good tool and help a lot with team chemistry."
The Roadrunners are 1-3-0-0 all-time in preseason affairs. This will be the first time they play outside the Pacific Division in an exhibition setting.
October 6, 2016 - at San Jose | Sharks Ice: 4-2 LOSS
October 7, 2016 - at Stockton | Stockton Arena: 3-2 LOSS
September 29, 2017 - at Ontario | Citizens Business Bank Arena: 5-3 LOSS
Setpember 30, 2017 - at San Diego | Valley View Casino Center: 2-0 WIN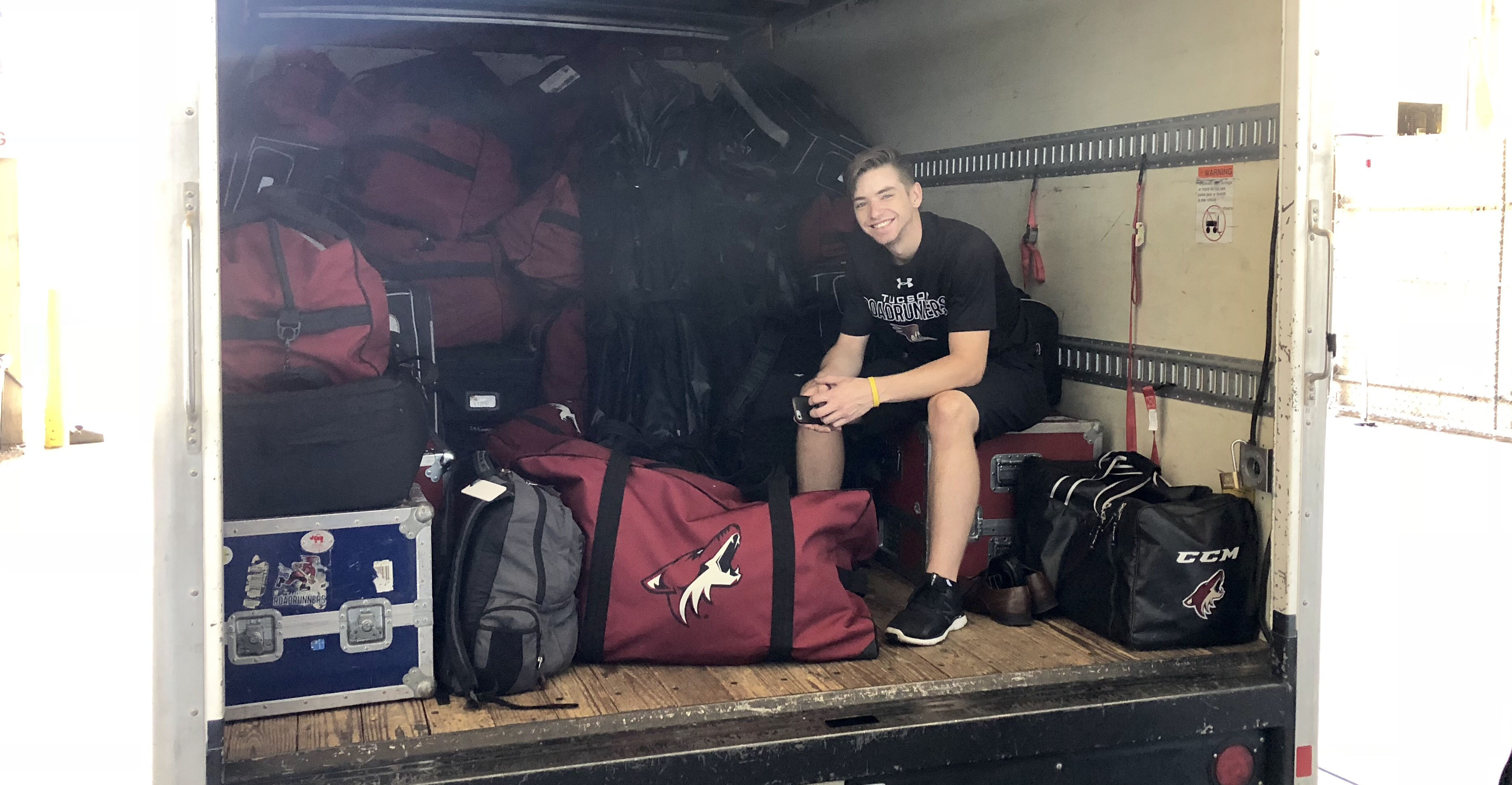 The team is scheduled to return to the ice for a practice on Thursday at TRIA Rink ahead of Friday's game. Additional thoughts from head coach Jay Varady and forwards Adam Helewka and Lane Pederson:
Jay Varady, on the 29 players heading to Minnesota:
I think it's a group we're just trying to put together, it's kind of that time of year where players are moving, whether it's from the Coyotes or we've got players in from Norfolk, it's a group we're just trying to put together right now.
Varady, on how preseason games can be 'bigger' for certain players:
We're just trying to figure out what everybody's role is going to be to start the season. This is a tryout, no matter if a guy's been here for one year, two years, whatever it's been, maybe it's their third season here, but they want a different role on the team and I think this is an opportunity for us as a staff to see people in different situations and see how they perform.
Varady, on what he's looking to get out of the two preseason contests:
I think it's just about building on our identity and who we want to be as a group. We want to be a team that plays fast in transition, we want to be an attacking team, and that's one thing that we're really looking for in our play. In terms of the team, I think it's good for us to get on the road and have some conversations in the airport, or at the hotel, or at the rink, there's just a little more time together.
Varady, on the team having an opportunity to build camaraderie on the road:
I like it. I think going on the road, you have the opportunity to just kill some time in the airport, we'll have time to have some conversations and just casually get to know each other better as we move forward.
Adam Helewka, on the transition from San Jose to Arizona organizations:
Yeah it's honestly been really easy so far and the staff has been so helpful, anything I need they'll take care of me, the guys are great, it's really easy to get to know the guys here. It's not always easy to get to know guys on a new team and fit in, but they've been really easy on me.
Helewka, on if he was familiar with anyone in camp upon arrival:
I knew a few guys just from playing against them over the past years in junior and from battling last year during the regular season and playoffs as well. It's kind of nice to be able to play alongside the guys you've battled with over the years, it's a nice change.
Helewka, on his thoughts of camp in Tucson thus far:
Everybody's looking pretty good. With some new guys coming in, their first few skates in camp, it's actually been good, crisp passes everything like that. Jay seems like a very nice guy, a very good coach, he's very intelligent, and I'll learn a lot from him.
Helewka, on what he's looking to get out of the two games in Minnesota:
I'm always looking to prove myself until you get to the level of the NHL, but since we only have two preseason games, it's just getting the good habits back and preparing for the regular season starting in just over a week.
Lane Pederson, on his outlook ahead of the two preseason games:
I think I'm just looking to continue playing my game, the kind of game I was playing with the Coyotes and kind of grow on that, take the next step for whatever role lies ahead. Get up to speed, get ready, and get excited about October 6.