NEWS & STATS
Past exhibitions, Minnesota's connection, and two against Iowa
By: Alexander Kinkopf
September 28, 2018 10:14 AM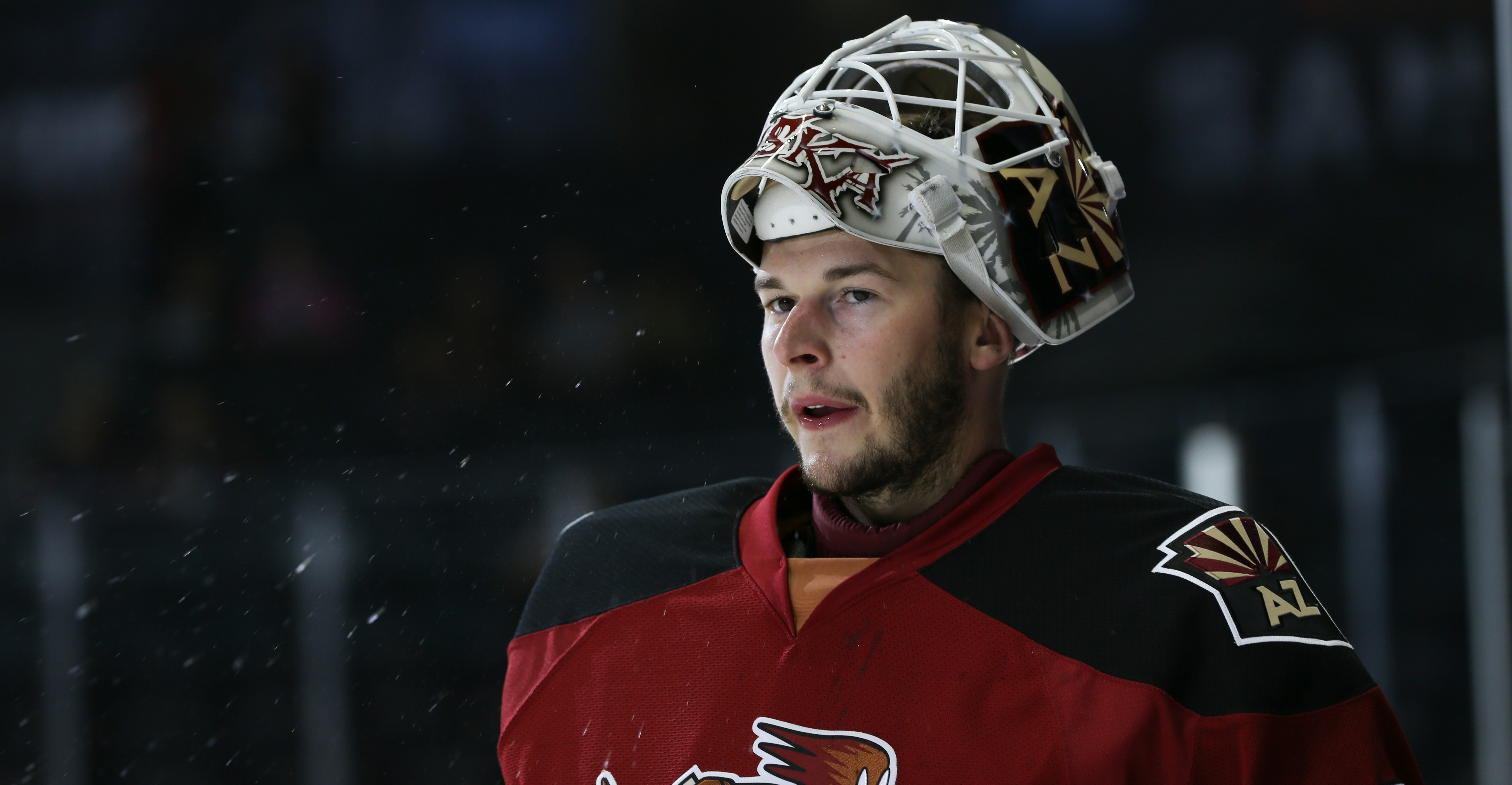 Eight days out from the start of the 2018-19 campaign, the Roadrunners are set to begin a back-to-back preseason set with the Iowa Wild at the TRIA Rink in Saint Paul, Minnesota, where the puck is scheduled to drop just after 4:00 pm PST for the series' opener.
The two games against the Wild, the follow-up affair slated for Saturday at 2:00 pm PST, will be the extent of Tucson's exhibition schedule as the team returns home following to resume training camp.
Listen up!
Adrian Denny
and
Fox Sports Tucson – 1450 AM
will provide the first-ever Roadrunners preseason broadcasts, streaming both games live and hitting the air 15 minutes prior to puck drop for each game. Today's coverage begins promptly at 3:45.
The 29-player training camp roster for this weekend's games can be found below, its makeup consisting of 15 forwards, 10 defensemen, and four goaltenders. Nearly half (14) of those with the team this weekend played in at least one game with the Roadrunners last season; 22 attended Arizona Coyotes main training camp.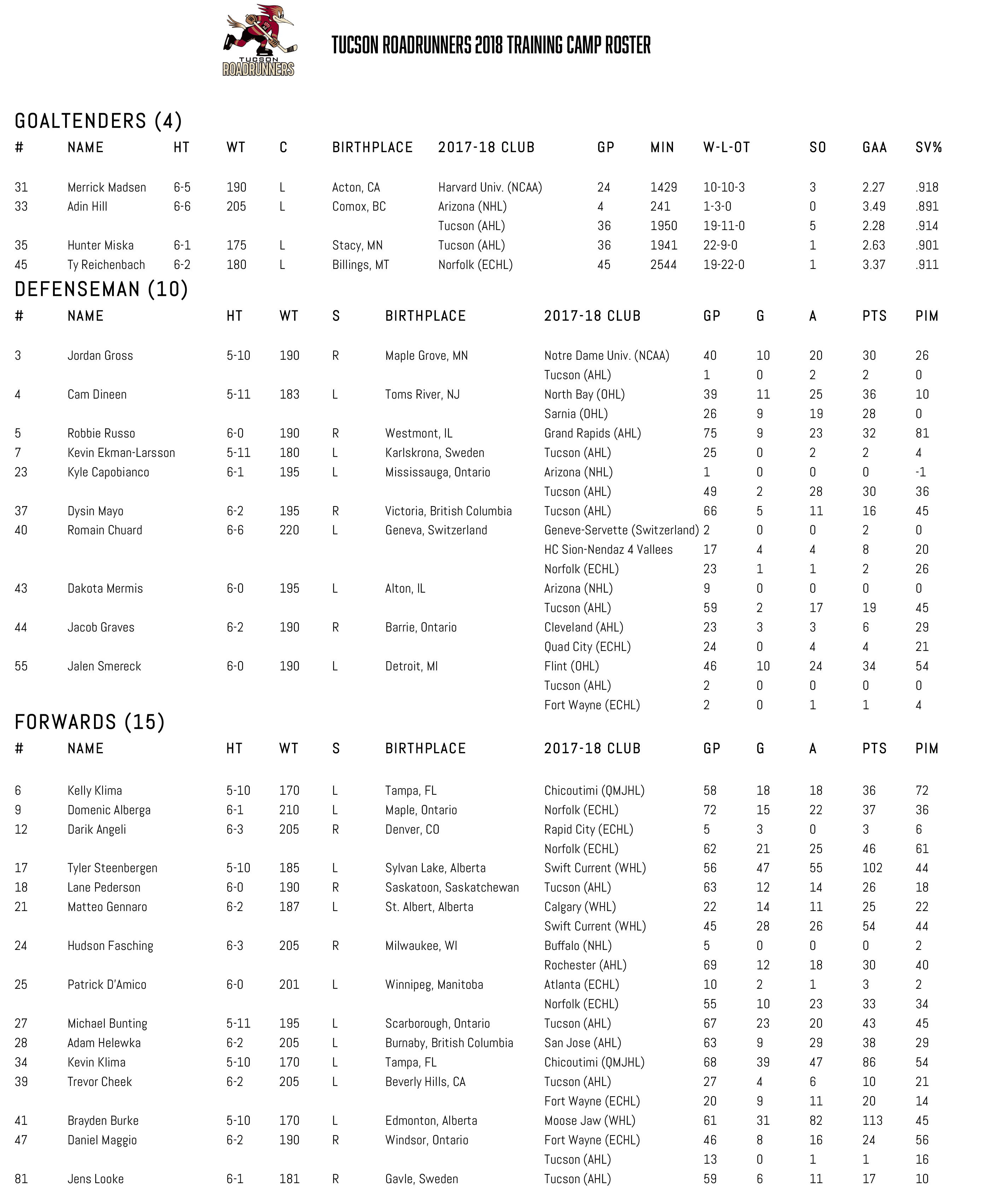 As noted before – the Roadrunners will don their brick red uniforms for both games, protocol for all of the club's road affairs through the Christmas break.
It doesn't count, but it counts! The Roadrunners are 1-3-0-0 all-time in preseason games, and will be facing a team outside of the Pacific Division in an exhibition setting for the first time ever.
Preseason History:
Maybe trivia question worthy, if anything, but
Henrik Samuelsson
's marker on October 6, 2016 against the
San Jose Barracuda
marked
the first time a goal was scored
with the team's logo, brand, and identity on a sheet of ice during live action. Assists to
Brandon Burlon
and
Brendan Perlini
there.
Those on this year's roster that found of the back of the net in last year's exhibitions include forward Jens Looke and defenseman Jalen Smereck, each of whom will be donning different numbers this campaign. Looke switches from 24 to 81, Smereck 5 to 55.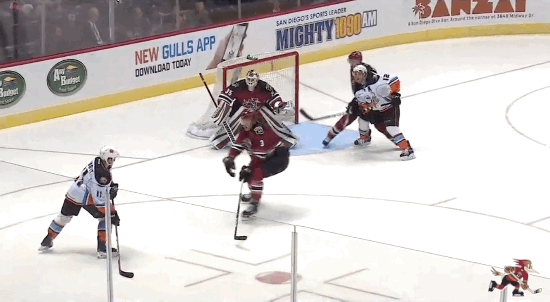 "It's good going back [to Minnesota], I got to play back home a bit over the summer, but this will be different," Miska said when asked about his homecoming prior to the team's departure on Thursday. "It'll be fun, playing with all of the boys in front of my family, it'll be nice. It'll be fun to see some familiar faces up in the stands out there cheering me on."
Training Camp Coverage:
Additional thoughts leading into the weekend's two-game set:
Jay Varady, on the mindset going into preseason:
I think it's a group we're just trying to put together, it's kind of that time of year where players are moving, whether it's from the Coyotes or we've got players in from Norfolk, it's a group we're just trying to put together right now.
Lane Pederson, on getting into live action with a new Tucson group:
I think I'm just looking to continue playing my game, the kind of game I was playing with the Coyotes and kind of grow on that, take the next step for whatever role lies ahead. Get up to speed, get ready, and get excited about October 6.
Adam Helewka, on what he's looking to get out of the two games in Minnesota:
I'm always looking to prove myself until you get to the level of the NHL, but since we only have two preseason games, it's just getting the good habits back and preparing for the regular season starting in just over a week.
Puck drops just after 4:00 pm PST.