NEWS & STATS
Tucson tops Iowa, 4-2, in preseason opener
By: Alexander Kinkopf
September 28, 2018 6:08 PM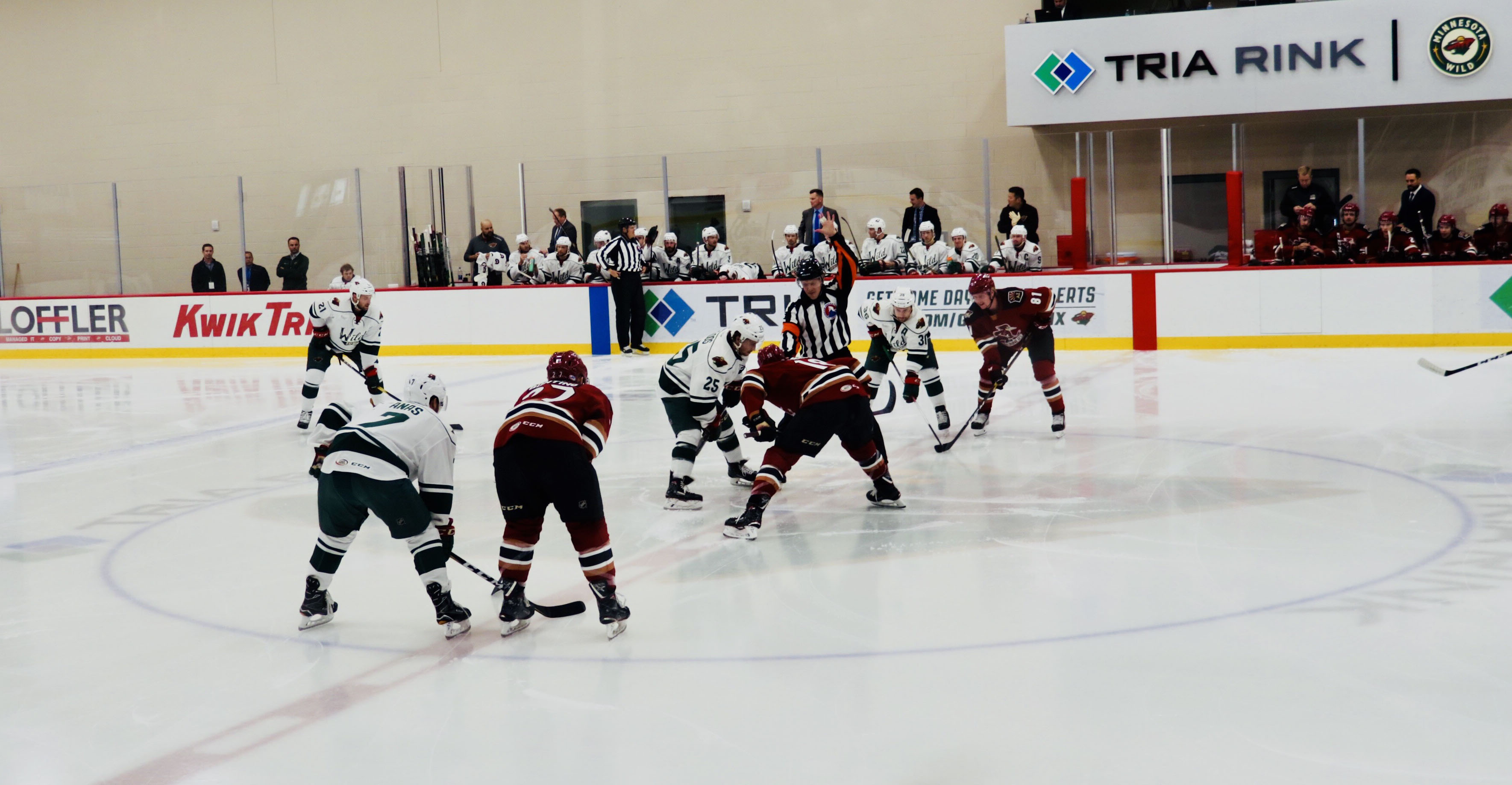 With solid goaltending and sound offensive support, the Roadrunners hurdled over the Iowa Wild by a 4-2 score in Friday's preseason opener at TRIA Rink in Saint Paul, Minnesota.
Hunter Miska got the starting nod and was sturdy throughout, turning away 29 of the 31 shots he faced.
"Hunter had a great game," head coach Jay Varady said after the win. "I thought he made some big saves at big times."
Neither team found the back of the net until the latter stages of the second period, when Domenic Alberga swatted home a loose puck to give the Roadrunners a 1-0 lead with 5:54 to play in the second period. Kyle Capobianco and Robbie Russo were credited with the assists.
Alberga finished the 2017-18 campaign with 37 points (15G, 22A) in 72 games with the Norfolk Admirals, Tucson's new ECHL affiliate.
With Tucson carrying a 1-0 lead into the third, the teams went on to combine for five goals in the final frame.
Having been shunned on their first six power play opportunities of the evening, the Roadrunners finally capitalized during a two-man, five-on-three advantage, Michael Bunting netting Tucson's second of the night from out front.
Shortly thereafter, Iowa's Dmitry Solokov got the Wild on the board upon redirecting a shot past Miska.
Trevor Cheek was quick to reclaim a two-goal lead for Tucson, burying the Roadrunners' third goal of the night with an assist credited to Brayden Burke.
Cheek's goal gave the Roadrunners a 3-2 lead with 8:32 left on the clock. In 27 games with Tucson last season, he registered four goals and six assists.
With five minutes left to play, the Roadrunners were assessed a pair of minor penalties in a :12 second span. Iowa took advantage, netting their second goal of the evening to cut Tucson's lead to 3-2.
On the ensuing carry-over penalty, Bunting sped away on a shorthanded breakaway to jam home his second tally of the night, giving the Roadrunners a 4-2 lead with 3:36 left in regulation.
Bunting, the game's leading scorer, finished last season tied with a team-high 23 goals and a career-best 43 points.
Kyle Capobianco was credited with two assists on the evening.
The teams will reconvene for the second and final game of the two-game preseason set at
TRIA Rink
, where the puck is scheduled to drop just after 2:00 pm PST. Live coverage with
Adrian Denny
begins at 1:45 on
Fox Sports Tucson – 1450 AM
.
*Lead Photo courtesy: Joe O'Donnell - Iowa Wild