NEWS & STATS
Roadrunners & SAVOR To Introduce New Food And Beverage Dining Options
By: Tucson Roadrunners
October 04, 2018 1:04 PM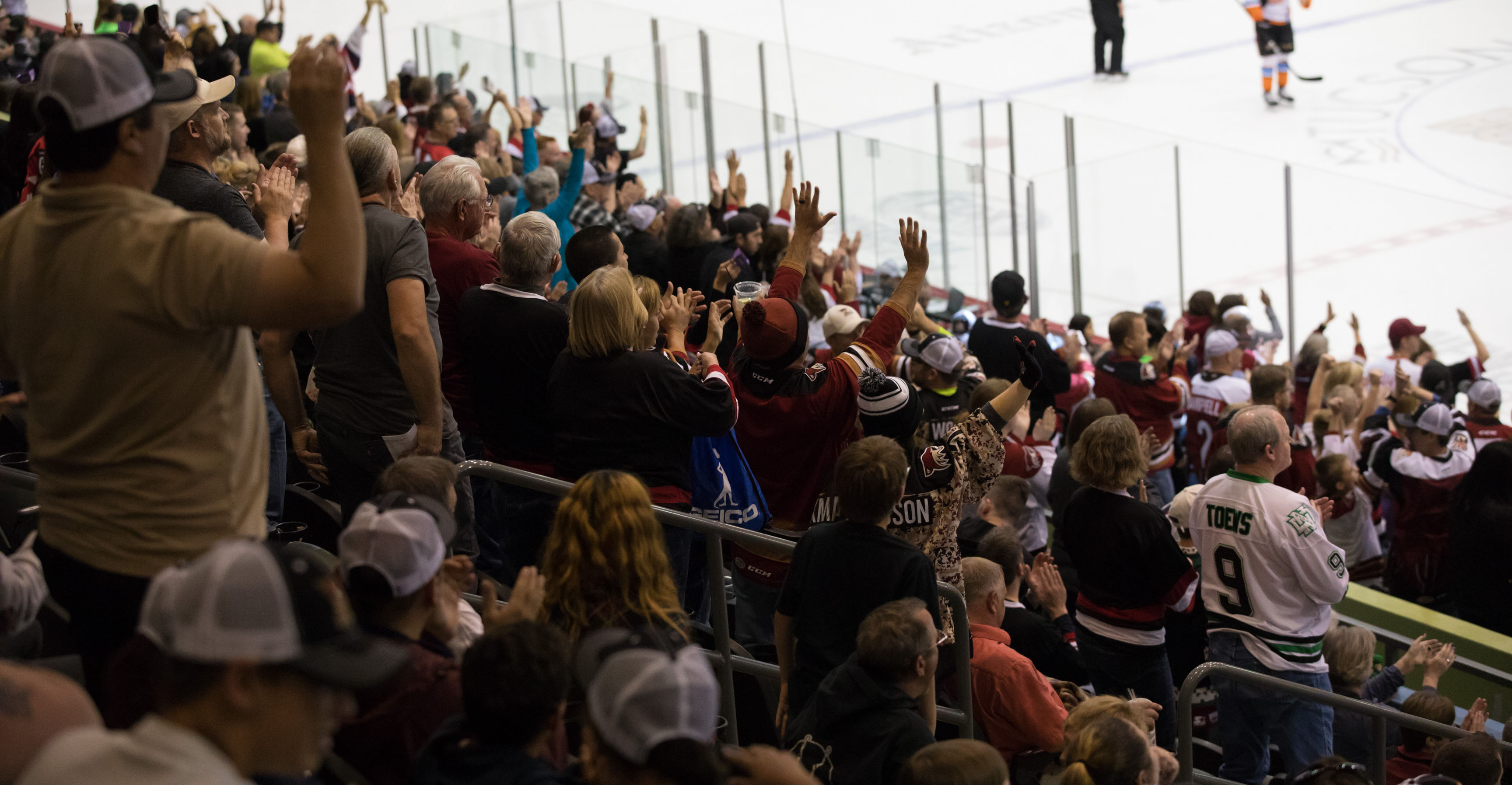 TUCSON, AZ – The Tucson Roadrunners, proud American Hockey League affiliate of the Arizona Coyotes, and SAVOR, the official food and beverage provider of Tucson Arena, announced today that they have created numerous exciting food and beverage options for the 2018-19 season. The menu items below truly celebrate the flavors and excitement of the team and take the game day experience to a new level for all Roadrunner fans with new fan favorites and authentic local flavors.
"We are always happy to provide new and improved fan experiences at Tucson Arena," said Roadrunners' President Bob Hoffman. "Being able to offer these new selections will provide fans with more options than ever before when dining at our games. This is a tremendous step in the right direction for a new season and we want our fans to know we always have them in mind when it comes to making positive changes."
New Food Items:
Old Pueblo Chicken Wrap – Grilled Marinated Chicken Breast, Black Bean and Corn Relish, Queso Fresco, Romaine Lettuce, Avocado and Pablano Creama, Sun Dried Tomato Tortilla
Kilt Lifter Bratwurst - Arizona Local Bratwurst infused with Kilt Lifter Beer, Hermans Horseradish Dill Pickles, Deli Mustard, Poppy Seed Roll.
Meatball Sub – Large Meatballs stewed in San Marzano Tomato Sauce, Provolone, Shredded Mozzarella, Locally Baked Torpedo Roll.
Bigger Better Pizza – 12" Wood Fired Crust Pizza (Pepperoni or Cheese)
The Sicilian* – Italian Hot Sausage Link on a Sicilian Roll with Peppers, Onions and San Marzano Marina
*Coming soon to the DJ's Filling Station Food Cart
Stand Alone Food Cart Concepts:
Meyer Ave. Taco Stand – Featuring Street Tacos filled with your choice of Carne Asada, Marinated Pollo or Carnitas.
SAVOR's Slider Stand – Featuring Crispy Chicken Sliders, Cheeseburger Sliders or Pulled Pork Sliders. Don't forget a side of tater tots!
DJ's Filling Station – Featuring Tucson's famous Sonoran Dog, All-American Cheeseburger, or a spicy Hot Link Sandwich.
The Prezel and Churros Cart – Featuring flavor twists on pretzels including Sourdough, Jalapeno and Cheese Stuffed, Pretzel Braid, and a Pretzel Bites Bag. Also serving traditional churros or Bavarian Cream Filled Churros.
Tucson Focused Local Craft Beer Offerings:
Dragoon Brewery IPA
Sentinel Peak – Icebreak IPA and Dewpoint Dunkel
Barrio Brewing Co. – Tucson Blonde and Barrio Rojo
Dillinger Brewing Co. - Roadrunner Red
The Return of the Souvenir Cup
32oz Souvenir Soda Cup with half price refills!
Opening Night – This Saturday
The Roadrunners begin their season this Saturday, October 6 at 7 p.m. against the San Diego Gulls in an I-8 Border Rivalry matchup.
All Roadrunners players will walk down a red carpet at the main entrance of the Tucson Convention Center to kick off the club's third season in the Old Pueblo. The players will be driven to the red carpet in a collection of vintage Chevy Corvette's and dropped off on the Church Street entrance of the TCC, located next to the box office. They will then proceed to walk down the red carpet between 4:00 – 5:00 p.m.
Fans are invited to line the red carpet and the plaza beginning at 3:30 p.m. Dusty and members of the Roadrunners Rally Runners will be in attendance to interact with fans and give away Roadrunners prizes.
Denny will also be on hand to introduce and interview the players as they arrive for the game.
Fans are also encouraged to enjoy the official Tailgate Party with live music by The George Howard Band on the plaza beginning immediately after player introductions. The Tailgate Party will include interactive games for fans of all ages, tailgate favorite-food and a beer garden featuring various adult beverages.
Upon entry of the Tucson Convention Center, fans will receive a replica Western Conference Regular Season Champions banner presented by Williams & Associates. Additionally, fans will enter to more live music as former American Idol contestant Brook Sample will be performing on the Promotions Deck from 6:00 - 6:30 p.m.
Tickets for Saturday's game,and all other single game tickets, are available exclusively at the Tucson Convention Center Box Office, ticketmaster.com or by calling (800) 745-3000.