NEWS & STATS
On the road, Tucson looks to stay sharp in San Diego
By: Alexander Kinkopf
October 11, 2018 3:44 PM
There are few opportunities, until the latter stages of the season at least, where, as a visiting team, the role of spoiler can really be played.
On Friday, Tucson is the target for defeat when San Diego hosts its first home game of the season at the Valley View Casino Center, a venue that expects a capacity crowd of 10,000-plus.
"There's definitely an extra push there when it comes to playing your rival, playing in their home opener," Hudson Fasching said following Thursday's practice. "There's going to be a lot of energy in the building, no doubt about that, and that's something that we're kind of looking at feeding off of, just rolling with everything and using that energy for ourselves and just enjoying ourselves out there."
"I like playing in front of opposing crowds with everyone yelling at you, so tough is relative," Fasching added.
For as much power the home team has when it comes to dictating noise and excitement in the atmosphere, the visiting club has the ability to turn things down, to act as the villain, if you will.
"I think there's going to be an additional kick of energy for us, they're going to have a great crowd going for them," Lane Pederson noted leading into the teams' rematch. "But as much as that's an advantage for them, we can use that too, and feed off of that energy, have them as quiet as we can while going in there and playing a good, solid road game, do our job and get the two points that we need."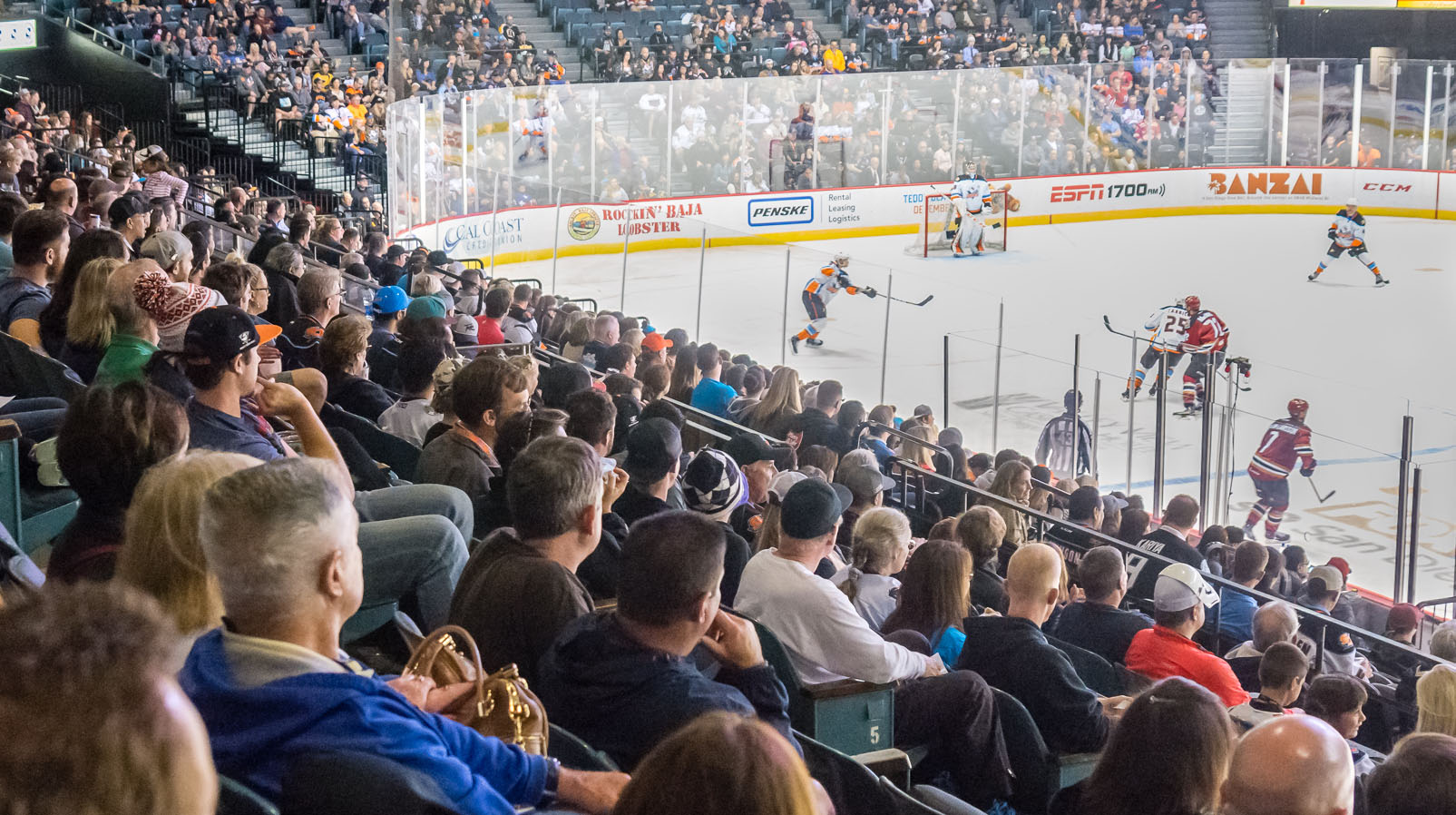 Last season, the Roadrunners were rude visitors, their 24-7-2-1 record in opposing buildings the best in the Western Conference and second in the AHL.
"It was just a winning mindset," Pederson said when touching on the team's victorious ways on the road. "I don't think there was a building we went into last year that we were afraid to step into, or nervous or worried about losing in. We had that confidence that we could go in anywhere and beat anyone."
If anything, Tucson will be void of any extracurricular distractions. No pregame ceremony to be a part of, no dramatic introductions, no changes to the timeline of their preparations. Just play.
"It's just about being mentally tough at any point, and I think for us it's less about the festivities and more about us just being able to go out there and play and focus on ourselves," Fasching added. "It kind of brings a team together when you're together for the first time outside of your comfort zone, outside of the home base, so we're really excited about that, and to just go out and play."
Entering Friday, the Roadrunners have earned points in four of their previous five visits to San Diego's Valley View Casino Center, compiling a 3-1-0-1 record during that span, improving their all-time mark at the Gulls' home building to 5-6-0-1.
"For us, it's just another hockey game," Pederson said simply. "It's game number two, we're trying to build off of what we did on opening night, take strides forward, and keep this thing rolling and going in the right direction."
The puck drops at 7:00 on Friday night for what the Roadrunners hope to be, for their hosts at least, a rather quiet evening.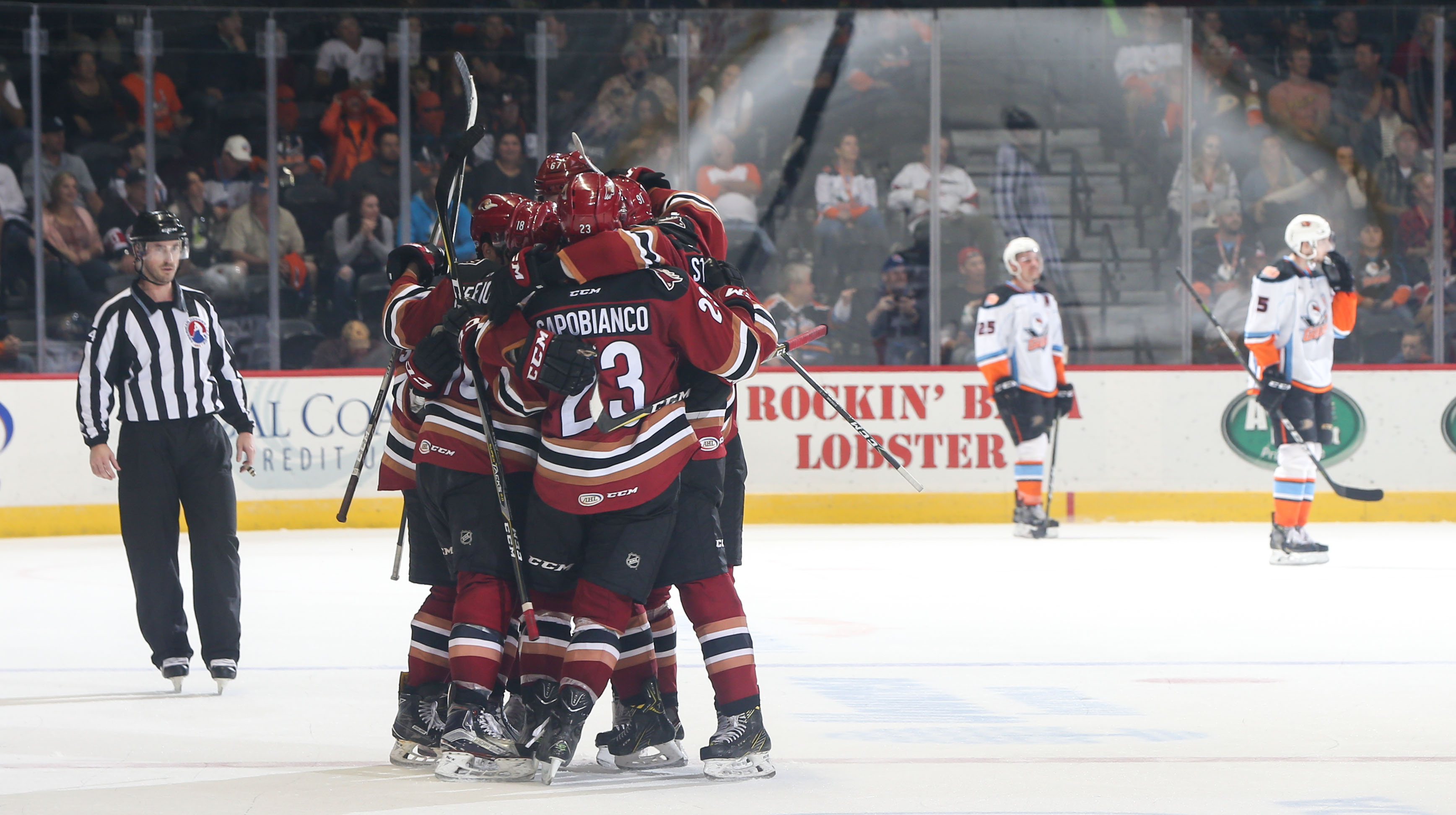 ---
---
Hudson Fasching, on 'quieting' the San Diego crowd:
It always brings a team together, especially early on, to have a little bit longer of a road trip against a bigger opponent. It is sort of a dramatic environment, I think it will not only bring us together, but it'll give us something to look forward to, to kind of quiet down that crowd and have a good moment as a team.
Fasching, on transitioning into game two:
It's all about our mentality. It's early in the season, systems are still getting introduced, things are still getting cemented, so it's just more about the mentality and work ethic that we put in, and I think that's something that we kind of established throughout the game last week and something that we're looking to continue utilizing, continuing to use the things we've learned, and at the same time, forgetting them and just playing our own game.
Lane Pederson, on the atmosphere at Valley View Casino Center:
They have some good crowds, they're right on top of you, it's pretty loud in there, and it's a fun place to play. I've always enjoyed coming here and playing, I think everyone on the team enjoys the rivalry, enjoys the competitive edge that there is between us and the Gulls, so I think it'll be a lot of the same.
Pederson, on the expectations heading into game two:
We expect the pace to pick up a little bit, the systems to be a little tighter, I think they've gotten some guys back from injury or the NHL or what have you. It's going to be a good test for us, we've got to be ready to go, it's their home opener so we're going to have a lot of energy to feed off of.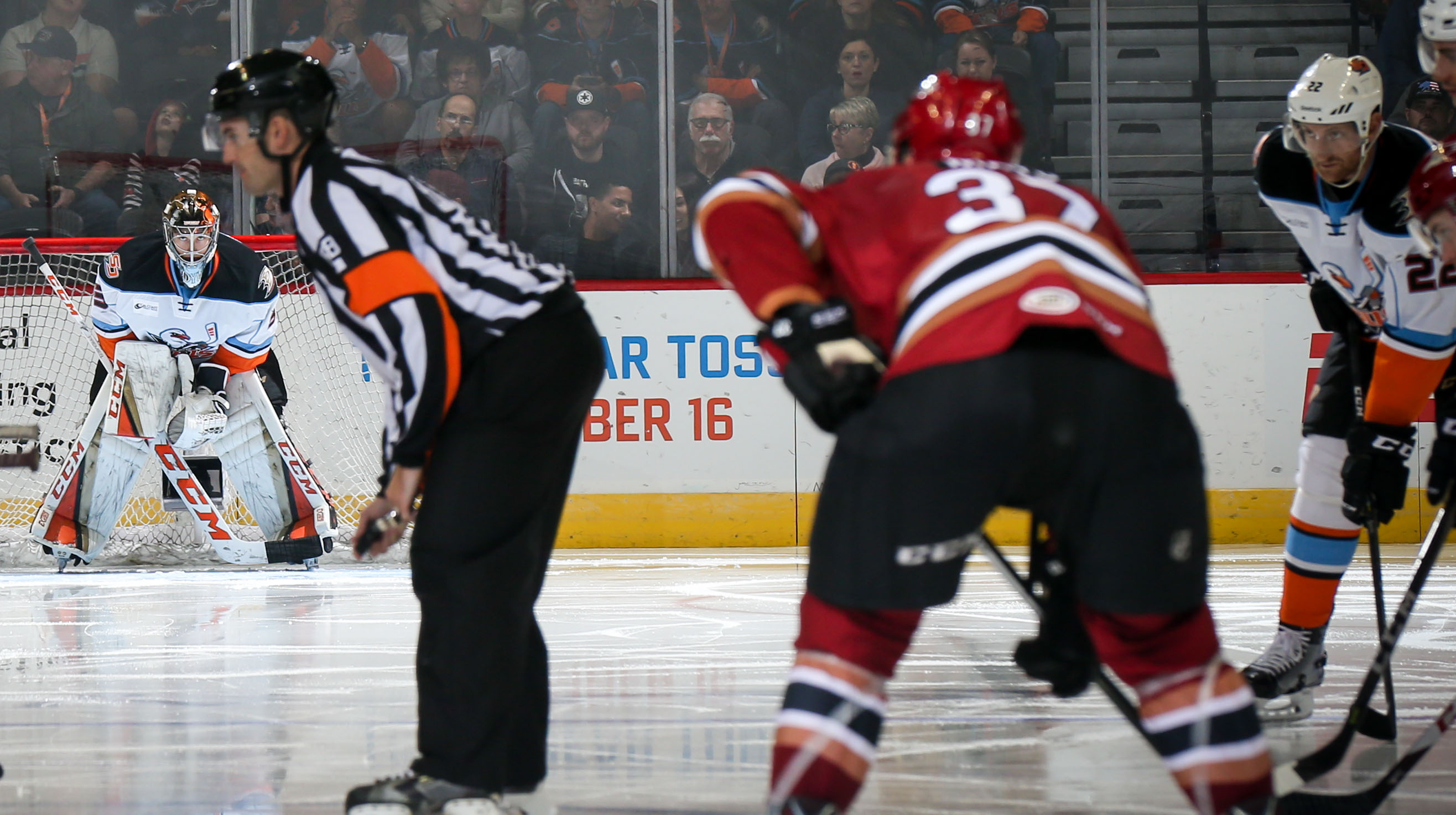 Photos courtesy: San Diego Gulls