NEWS & STATS
Good Morning, Tucson: Rockford Rematch
By: Alexander Kinkopf
October 20, 2018 10:18 AM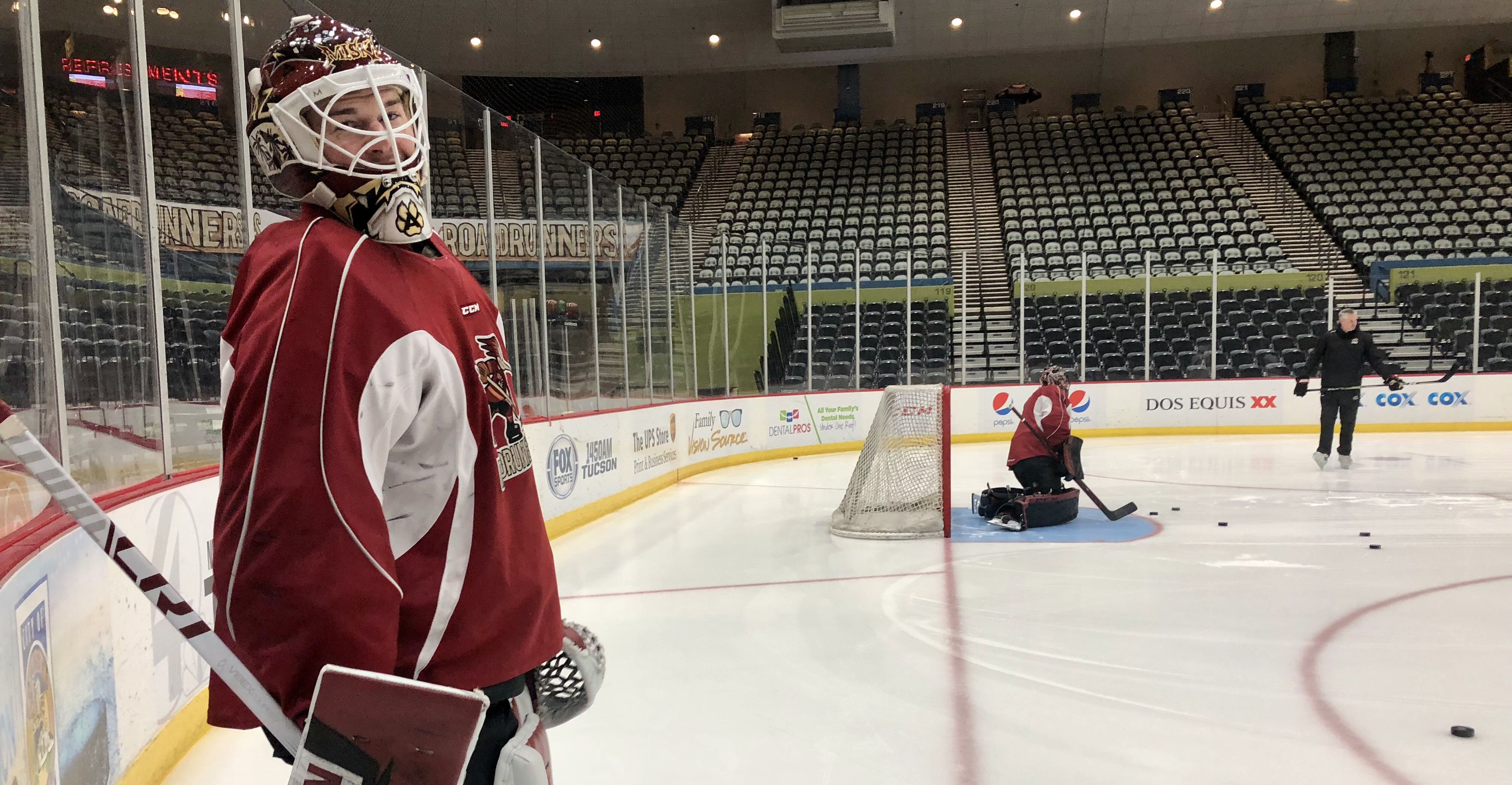 A good morning to you from Tucson Arena as the team shifts into the back-end of its two-game weekend set just over 12 hours removed from Friday night's overtime triumph. Save a little more room for Rockford, 7:05 PM.
Included in the Roadrunners' 68-game schedule are 27 back-to-back scenarios. They'll complete the second of those tonight; one week ago, the club shook off two teams, the San Diego Gulls and Bakersfield Condors, in separate cities in a 24-hour span.
The team, as per usual the night after a game, held an optional morning skate. Both goalies were present, as were seven skaters.
The Roadrunners' overtime win Friday was the 20th in club history, and the 10th on home ice. Now 4-0-0-1 on the year, the team continues its trend of playing fantastic hockey out of the gate; they're now 13-2-1-1 all-time during the month of October, 6-1-0-0 at Tucson Arena.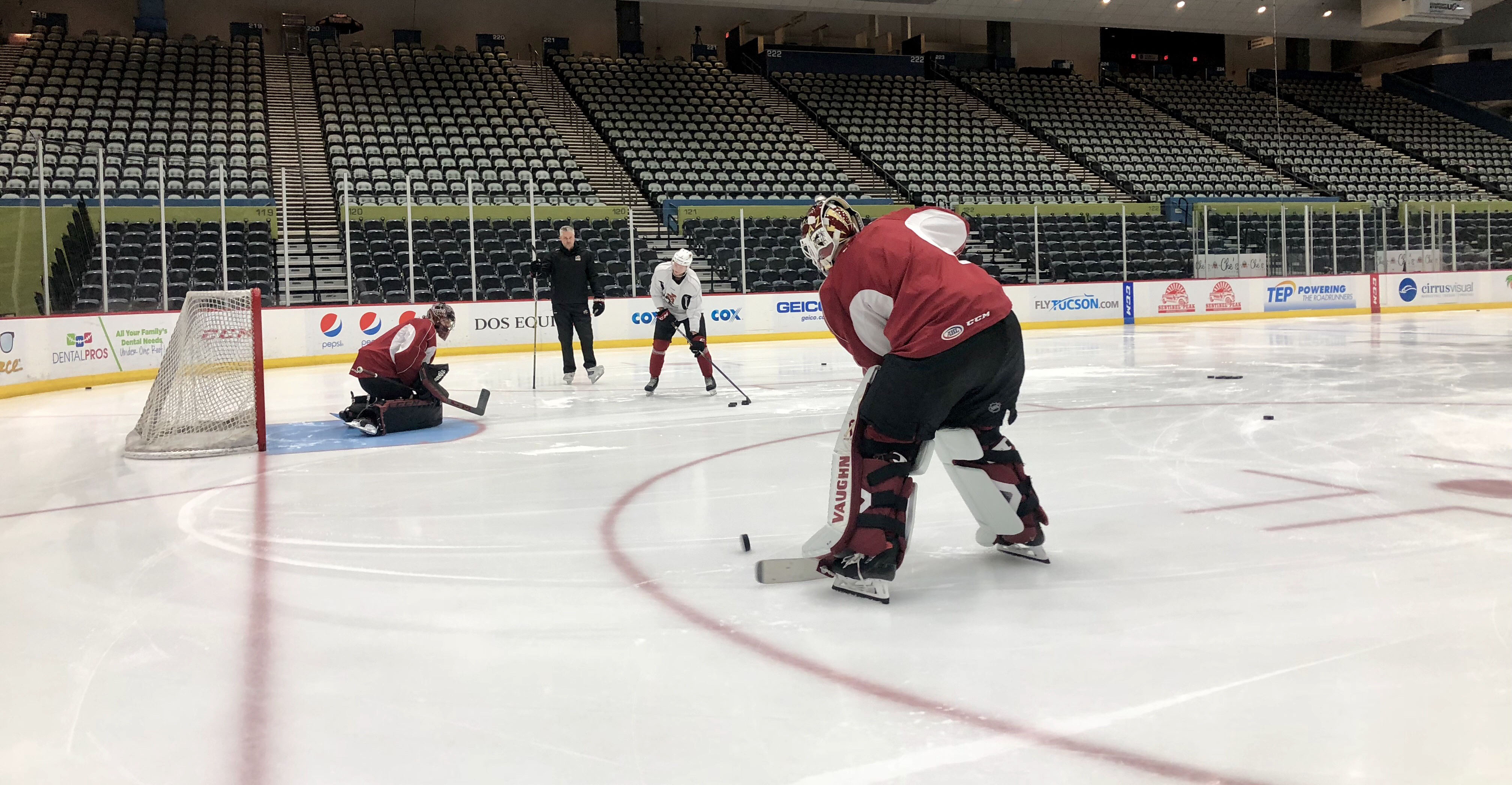 Hey again, old friend. It was fantastic seeing Andrew Campbell on Tucson Arena ice Friday night. The Roadrunners' captain last season, the second in team history, left lasting effects on a number of players, staff, and fans alike.
"I made some life-long friends here," Campbell said after the game. "It was great to be able to come back and get some hugs, handshakes, and see a lot of old friends, that's what it's all about. That's why you play the game, for the relationships that you make."
Top of the charts! Or close to it, at least. Adam Helewka is now tied for second among AHL players in goals scored with five; Dakota Mermis, with yet another positive rating Friday night, leads the league in +/- with a plus-seven rating.
David Ullstrom wasted no time making his presence felt Friday night, registering an assist on Michael Bunting's game-opening tally after winning an offensive zone draw.
Balanced scoring, of which has been a consistent storyline through the team's first five games, was yet again a major factor last night as eight players found the scoresheet, notably Jens Looke, who finished the evening with a pair of assists, including his set-up of Conor Garland's game-winner. Looke shared a few thoughts following the morning walk-through.
---
---
Jens Looke, on Friday night's victory:
It was a really good win for us, I don't think it was the best game we've played this year, but we got the win and that's the most important thing. For tonight, we have to go out there and play a full 60 minutes because we didn't do that last night.
Looke, on the team's third period, penalty troubles:
We've talked about it a little bit, and we know that we can't take those penalties, we have to be more disciplined and stay at five-on-five, because when we play five-on-five we know that we are a really good team, and we want to keep it that way.
Looke, on his first impressions of Rockford's team:
They're a skilled team, they make good plays, that have really good forwards. We can't turnover the puck on the blue lines, we have to get it deep and work from there because when we do that, we know we're really hard to play against. We have to be careful with the puck in certain areas and go from there.
Looke, on his defensive effort in overtime to lead to Garland's game-winner:
That was a really good feeling. I haven't played so much in three-on-three and it felt good to have the chance. I just tried to go out there and do my best, help the team get the win, and yesterday we had it, so it was a good feeling.
Looke, on the team's morale heading into tonight's rematch:
We're feeling good. We have some stuff that we need to do better tonight, but I'm excited and I think everyone else is as well, to go out there for another win.
More to come from Tucson Arena.