NEWS & STATS
Roadrunners Announce Additional Programming on iHeartRadio and Fox Sports 1450 AM
By: Tucson Roadrunners
November 05, 2018 8:32 AM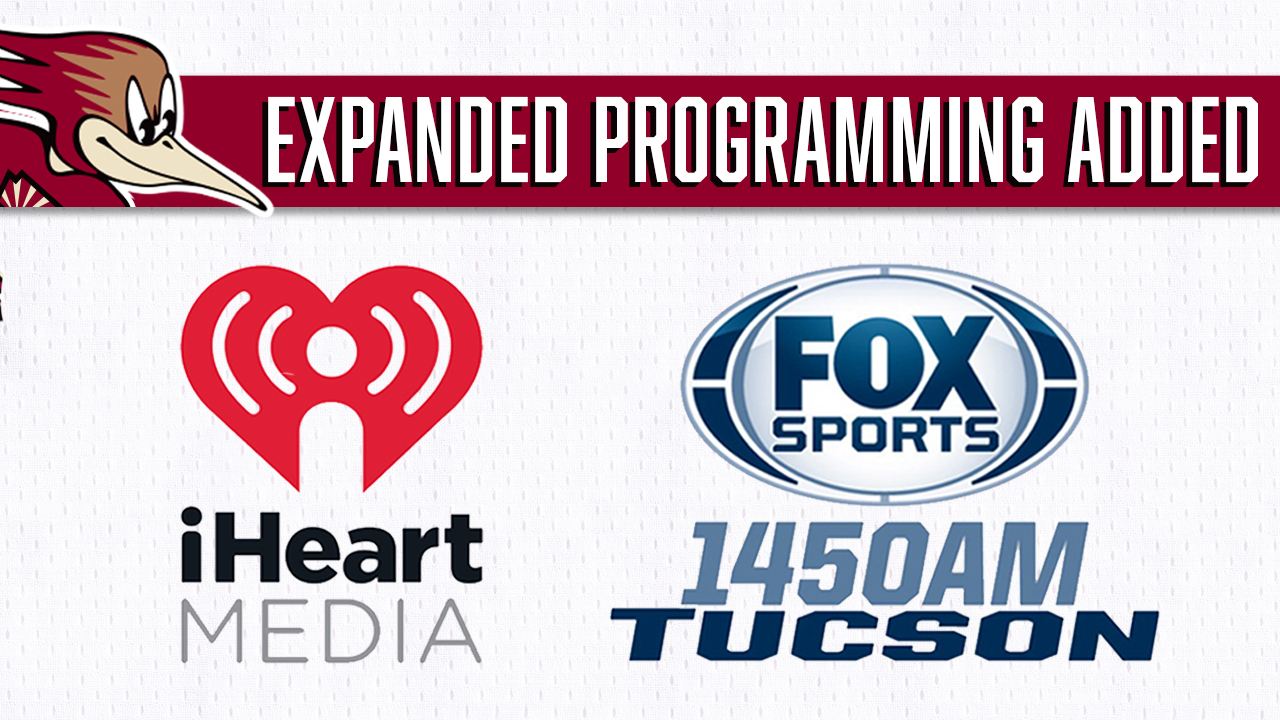 TUCSON, AZ – The Tucson Roadrunners, proud American Hockey League affiliate of the Arizona Coyotes, announced additional programming that will begin airing today on Fox Sports 1450 AM iHeartRadio.
Beginning immediately,
"The Roadrunners Report"
, a 60-second feature by the "Voice of the Roadrunners"
Adrian Denny
will air every day on the Roadrunners Flagship Station
Fox Sports 1450 AM
and on all
iHeartRadio
stations in Tucson. The report will be updated daily and feature audio from Roadrunners players and coaches, as well as game highlights, upcoming promotions and broadcast information on Tucson's professional sports team.
"Roadrunners Happy Hour" will begin Tuesday, November 6 and air from 6-7 p.m. on Tucson's Sports Station, Fox Sports 1450 AM. The program will entail hot takes and analysis on the team from the "Voice of Roadrunners" and will also entertain special guests from the team and those within the hockey world.
The
"Roadrunners Insider Podcast"
with
Alex Kinkopf
and
Walt Ruff
will begin at 8:55 a.m. Wednesday mornings on
Fox Sports 1450 AM
during the
Dan Patrick Show
and continue on the
iHeartRadio
app with all new episodes premiering Wednesday's at 12 Noon.
Continuing with "Roadrunners Hockey Weekend", another segment hosted by Adrian Denny, fans can get prepared for weekends at Tucson Arena by hearing from a Roadrunners player or coach. "Roadrunners Hockey Weekend" will air the Thursday of every Roadrunners home weekend on all Tucson iHeartRadio Radio Stations.
"iHeartMedia is a great partner and supporter of the Tucson Roadrunners, as well as the market leader in Tucson Radio," said Denny of the expanded programming. "We are excited to add these brand new elements to their daily lineups that will greatly supplement the play-by-play on our Fox Sports 1450 AM game broadcasts."
In addition to Denny, who is in his first season as the new voice of the club, the team has also been pleased to add Kinkopf and Ruff to all game broadcasts this season during the Roadrunners Warm Up Show and during all intermission reports for away games as they broadcast live from the team's
"Official Watch Party Headquarters"
at
Brother John's Beer, Bourbon & BBQ
at 1801 N. Stone Ave. in Tucson. During home games, Ruff will catch up with a Roadrunners player live after both periods and again at the end of the game, while Kinkopf patrols the Roadrunners locker room postgame, checking in during
Fox Sports 1450 AM
postgame coverage with live interviews.
---
---
About iHeartMedia Tucson
iHeartMedia Tucson owns and operates KRQQ-FM, KMIY-FM, KOHT-FM, KNST-AM, KYWD-FM and KXEW-AM and is a part of iHeartMedia. With over a quarter of a billion monthly listeners in the U.S. and over 129 million social followers, iHeartMedia has the largest national reach of any radio or television outlet in America. As the leading audio company in the U.S., iHeartMedia serves over 150 local markets through 849 owned radio stations, and the company's radio stations and content can be heard of AM/FM, on satellite, at iHeartRadio.com, on the company's station websites and on iHeartRadio, iHeartMedia's digital music, podcast, on demand and live streaming radio service an on iHeartRadio, iHeartMedia's digital music, podcast on demand and live streaming radio service, available on over 250 platforms and 2000 devices, including on digital auto dashes, tablets, wearables and smartphones, on virtual assistants, smart speakers, TVs and gaming consoles.
Listen to Tucson's stations below:
93.7 KRQ
Hot 98.3
My 92.9 Tucson
KNST 790 AM
97.1 The Bull
Tejano 1600
Fox Sports 1450 AM
---
---
On-The-Ice
The
Tucson Roadrunners
return home for a promotion-packed three game set of home games this Wednesday, Friday and Saturday. With points in seven of their first ten games, the club and newly named captain
Dakota Mermis
take on I-8 Border Rival San Diego for
"I Voted" Night
on Wednesday where fans can redeem a buy one ticket, get one free offer at the
Tucson Convention Center
box office. Friday against San Jose is
Cancer Awareness Night
presented by
ASHLine
and fans will receive a Cancer Awareness Cowbell courtesy of
Fox 11
upon entry. The evening is also the first
Ladies Night
of the season, sponsored by
Geneis OBGYN
. In the weekend finale, the team will take the ice in specialty jerseys that will be auctioned off after the game for
"Salute Our Military Night"
presented by
T-Mobile
.