NEWS & STATS
Last Week Today: Three up, One down
By: Alexander Kinkopf
November 19, 2018 11:12 AM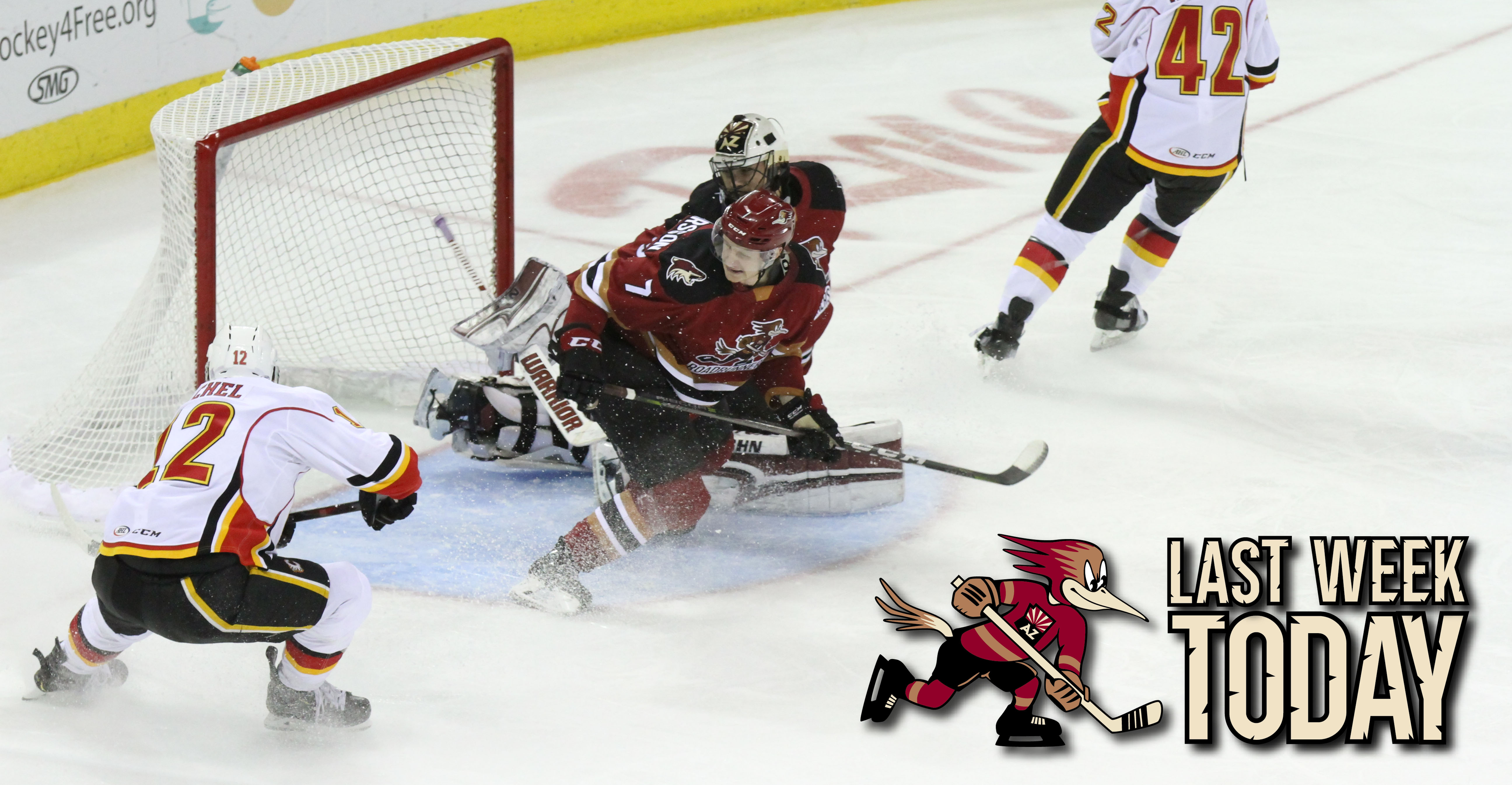 The Rundown:
The calm before the storm.
"I'll take painfully overused and unoriginal sports lingo for $800, Alex."
A rather quiet week is in the books for the Roadrunners, a seven-day span that called for only one game ahead of a week – of which is currently upon us – that will serve as the busiest of the season thus far, hockey-wise, with a four-game-in-six–day run set to begin Tuesday night.
A quick rewind to last Monday! Hunter Miska made his NHL debut when he relieved Darcy Kuemper with 18:16 left to play in the Coyotes' 6-1 loss to the Detroit Red Wings at Little Ceasars Arena. He made eight saves on nine shots faced.
Miska became the 20th Roadrunner to appear in a game with the Coyotes upon a recall from Tucson, the fourth goaltender, and the 11th to make an NHL debut doing so.
Back to the week! One game, one result – a loss, and one season debut.
The Roadrunners dropped their fourth game of the season in regulation Friday night at Stockton Arena, a 3-1 loss at the hands of the Stockton Heat. Kevin Ekman-Larsson made his season debut, serving up an assist to set-up the team's lone goal of the evening.
Hey, captain! Dakota Mermis was inserted into the Coyotes' lineup on Saturday night, appearing in his 10th NHL game as he played 11:20 in Arizona's 2-1 loss to the Boston Bruins at Gila River Arena.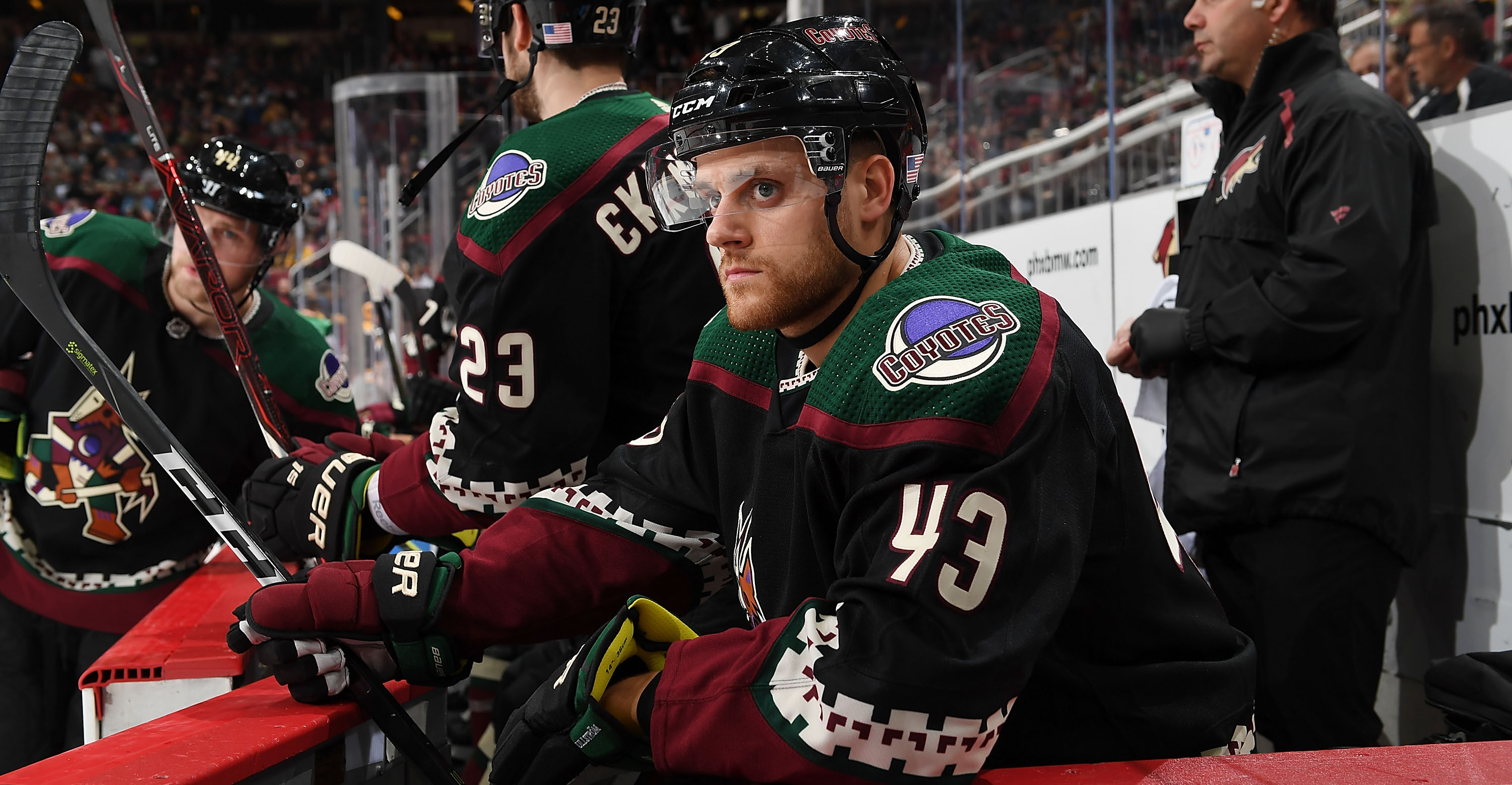 Now that's a jersey.
In total, three Roadrunners earned NHL recalls to the Arizona Coyotes this week, including Robbie Russo, who joined the parent club Friday, and Mario Kempe, who caught a flight to join the Coyotes following Saturday night's game in Stockton.
---
---
Where They Stand:
Record: 9-4-0-1 (.679 pts %)
Pacific Division: 2nd Place
Western Conference: 3rd Place
League: 5th Place
---
---
The Week That Was:
Friday, November 16
Roadrunners (1) at Heat (3)
Stockton Arena
---
---
Up & Down
Recalls (TUC --> ARI)
Thursday, November 15: Dakota Mermis
Friday, November 16: Robbie Russo
Saturday, November 17: Mario Kempe
Assignments (ARI --> TUC)
Monday, November 12: Dakota Mermis
Transactions
Wednesday, November 14: Ty Reichenbach (Released from PTO)
Thursday, November 15: Kelly Klima (Released from SPC)
---
---
Alumni in Action:
Documented earlier, a pair of 2018-19 Roadrunners got a taste of action with the Coyotes this week, Hunter Miska making his NHL debut on Tuesday night in Detroit and Dakota Mermis playing in his 10th NHL game on Saturday. Lawson Crouse, who registered 32 points (15G, 17A) in 52 games with the Roadrunners last season, scored his third goal of the year on Tuesday night at Little Ceasars Arena in Detroit, Michigan, beating Jimmy Howard with a snap shot to the top right corner.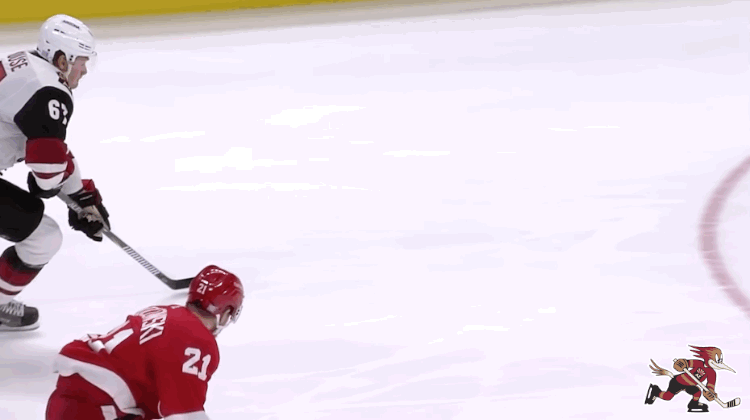 ---
---
Highlight of the Week:
Kevin Ekman-Larsson, making his season debut Friday night in Stockton, read a cheating defense and a flying Hudson Fasching, lofting a stretch-pass through the neutral zone. Fasching, behind coverage, skated into Ekman-Larsson's feed in-stride, walking in along to beat Nick Schneider to the blocker side, netting his fourth goal of the season to open the scoring at Stockton Arena.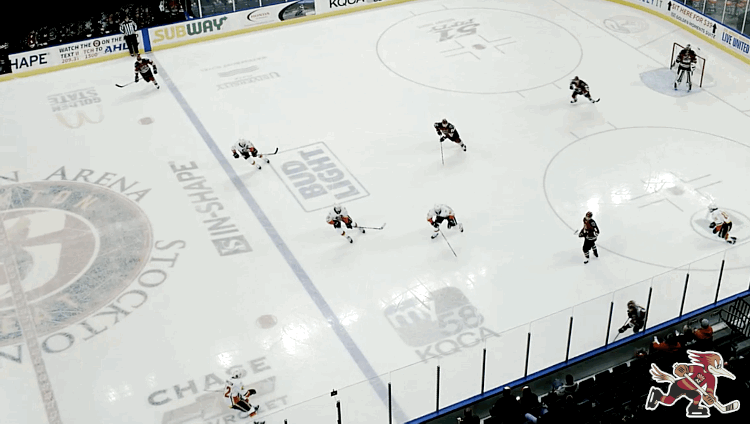 ---
---
Photo of the Week:
Conor Garland in his natural state. (Credit: Stockton Heat / Asvitt Photography)