NEWS & STATS
Good Morning, Tucson: Halfway There
By: Alexander Kinkopf
January 12, 2019 10:09 AM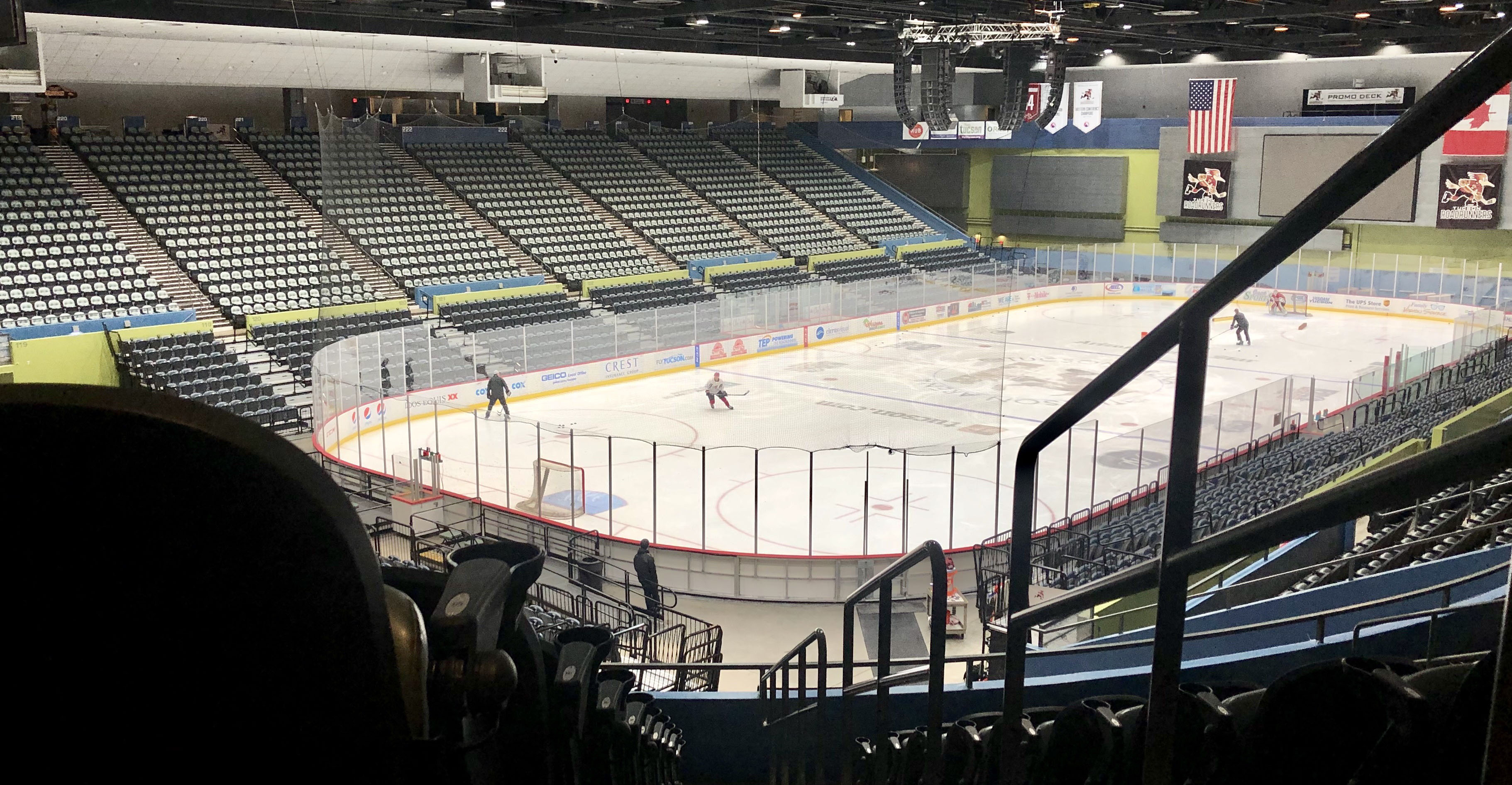 For some, the season is a grind; for others, it loses life a bit too fast. For the Roadrunners and their Pacific Division-specific 68-game schedule, the official midpoint of the season will introduce itself at tonight's outcome.
Good morning from Tucson Arena, and a rather quiet one at that, as the facility eases into what is to be a considerably busy day with the University of Arizona men's club hockey team hosting University of Nevada, Las Vegas at 1:00 p.m.
There's plenty of hockey to go around.
Welcome the Chicago Wolves for what is to be the Roadrunners' fourth and final regular season match-up with the original IHL franchise, circa 1994. Tucson will look for its first win of the year against a Chicago team that, well documented last night, has scored more goals (139) than any other club in the American Hockey League.
With Friday night's defeat, the Roadrunners have now dropped consecutive games on home ice for the first time this season.
Help on its way? You could say. The Arizona Coyotes announced the re-assignment of forward Michael Bunting as the Roadrunners' lightly attended optional morning skate was wrapping up. He has yet to appear in a game against the Wolves this season and touts an 18-point (6G, 12A) total in 22 AHL games played this season.
Held off the score sheet for the first time since December 21 last night, AHL All-Star defenseman Kyle Capobianco shared a few thoughts following morning walk-throughs:
Kyle Capobianco, on summarizing Friday's 6-3 loss:
I thought we started off really well, we took it to them and had a few chances and then they obviously got a few quick goals to turn the momentum, but I thought we clawed back and started to turn the game in our favor, but they got that power play goal that ultimately took it.
Capobianco, on the strengths the Chicago Wolves behold:
They're a veteran team, they have older forwards that make the right plays, and they've got some strong defenseman. They're a tough team to play against but I think our game matches up well with them.
Capobianco, on any particular adjustments the team is highlighting on making tonight:
I think just keeping the pucks low. I thought we did a good job of working them down low, our forwards especially, who did a great job on their defensemen to keep the puck in their end. It's about getting more pucks toward their net, I don't think we tested that goalie enough last night either.
Capobianco, on his own game of late, ability to create offense:
I think it's a thing where our team is having success and our offense is having pretty good success, so I'm just trying to contribute as much as I can and chip in.
Capobianco, on the keys to keeping the Wolves' high-powered offense at bay:
They definitely have some top scorers on their team, so you've just got to be hard on those guys and give them no time and space.
More to come from Tucson Arena.