NEWS & STATS
Last Week Today: Overcoming Colorado
By: Alexander Kinkopf
January 21, 2019 8:13 AM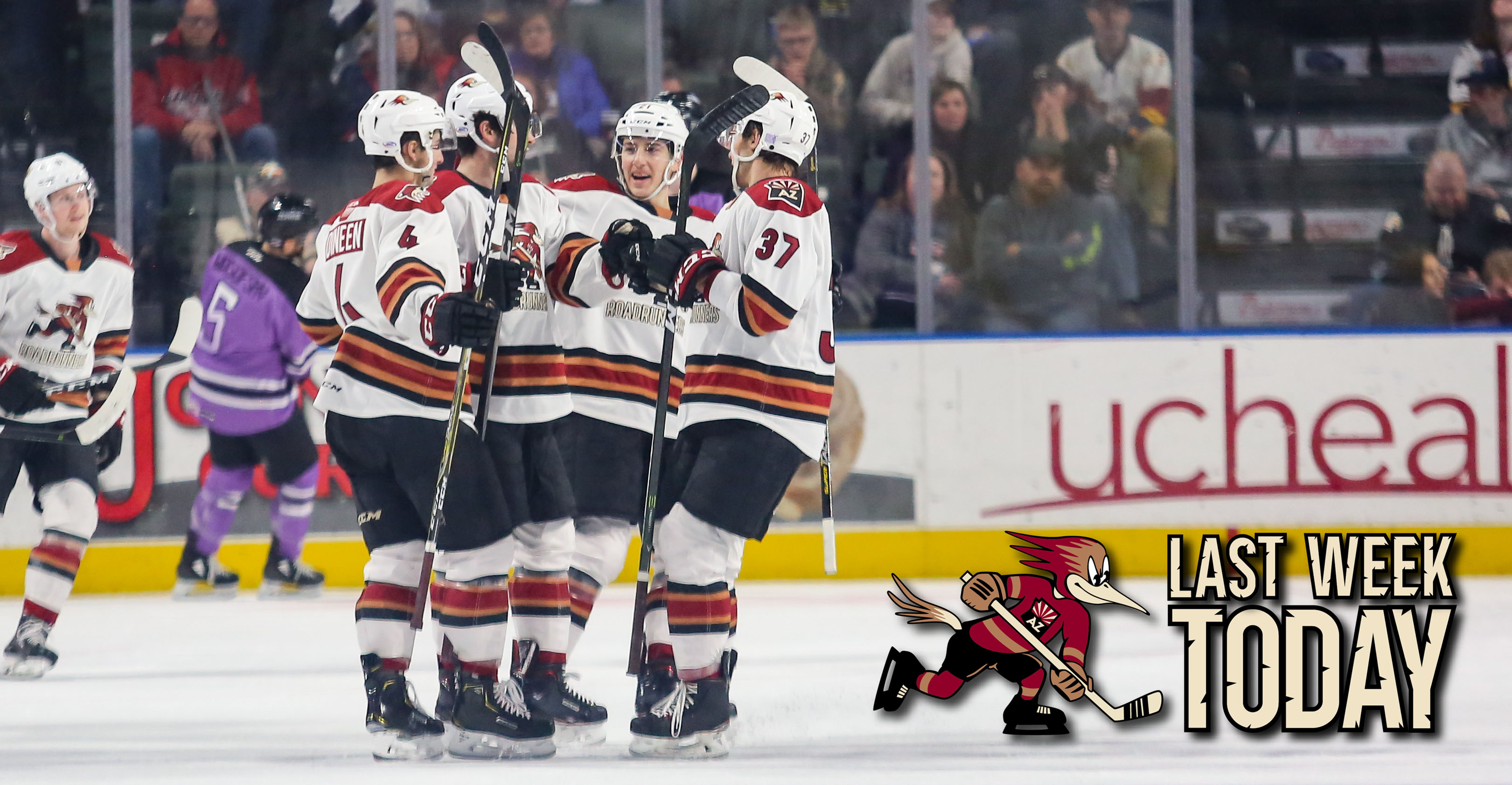 Photo: Ashley Potts/Colorado Eagles
The Rundown:
At long last, the dragon of playing at Colorado's Budweiser Events Center was slayed; the Roadrunners earned their first-ever win at the Eagles' home arena to highlight a week that had its eyes on the teams' two weekend meetings.
Those two games were the start of what is to be the busiest stretch of the season for Tucson, a span of six games in nine days running from January 18-26.
Friday night, and for just the second time all season, the Roadrunners scored a power play goal, a shorthanded goal, and a five-on-five goal all in one game, a 7-3 loss. Michael Bunting, who finished the weekend with three goals, scored in both special teams situations.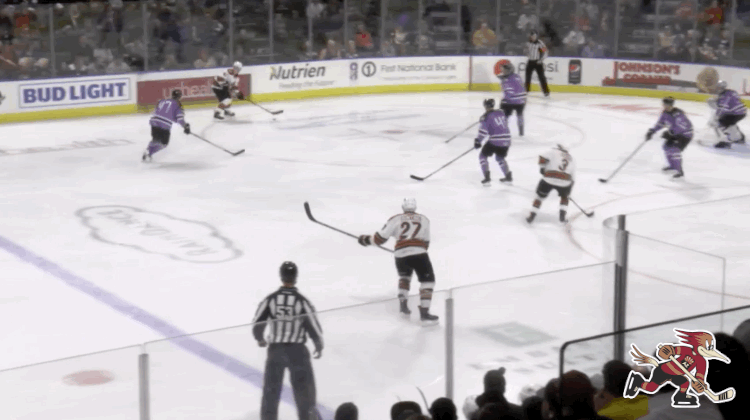 Adin Hill, who ironically made a season-high 26 saves in relief of Hunter Miska on Friday, got the nod for his first start with the Roadrunners since being re-assigned from Arizona on Saturday night – his first with the team since November 21.
Steady and stable he was, turning away all 21 shots he faced to pitch the ninth shutout of his professional career, helping the Roadrunners to a 2-0 win.
And of course, we got a peak at the prize presented when achieving the ultimate goal in the AHL, which goaltender Calvin Pickard earned last season with the Toronto Marlies.
The 26-year-old netminder, who appeared in four games with the Roadrunners earlier in the month while on a conditioning assignment, received his
2018 Calder Cup championship ring
prior to the Coyotes' pregame skate on Sunday.
---
---
Where They Stand:
Record: 21-11-3-1 (.639 pts %)
Pacific Division: 2nd Place
Western Conference: 2nd Place *by win percentage
League: 3rd Place *by win percentage
---
---
The Week That Was:
Friday, January 18
Roadrunners (3) at Eagles (7)
Budweiser Events Center
Saturday, January 19
Roadrunners (2) at Eagles (0)
Budweiser Events Center
---
---
Up & Down
Recalls (TUC --> ARI)
Assignments (ARI --> TUC)
Monday, January 14: Adin Hill
Transactions
Monday, January 14: Merrick Madsen – Returned on loan to Norfolk (ECHL)
---
---
Alumni in Action:
The recipient of a nicely delivered Alex Goligoski stretch pass on Sunday evening, Mario Kempe fled free behind coverage with possession of the puck to move in and beat Frederik Andersen to the blocker side with a shift in balance to his forehand, scoring his third goal of the season to tie the game 1-1 in the Coyotes' eventual 4-2 win over the Toronto Maple Leafs at Scotiabank Arena.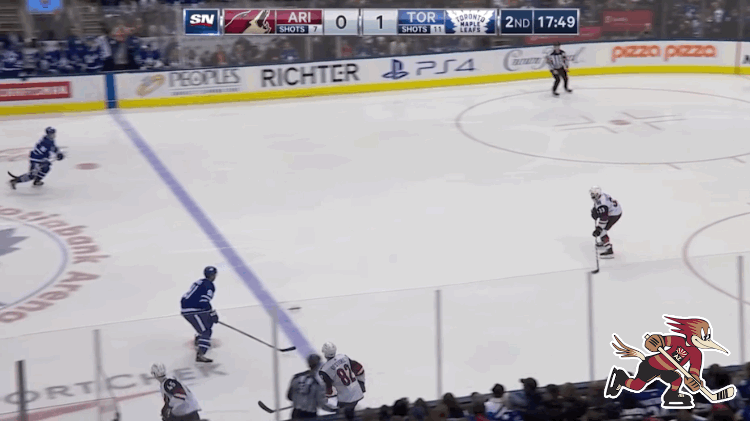 ---
---
Highlight of the Week:
Michael Bunting, operating in a shorthanded situation on the penalty kill, intercepts a pass high in the defensive zone before turning on the jets to fly in alone to beat Colorado's Pavel Francouz with a quick shimmy to his backhand, scoring his second goal of the evening in Friday's 7-3 loss to the Eagles.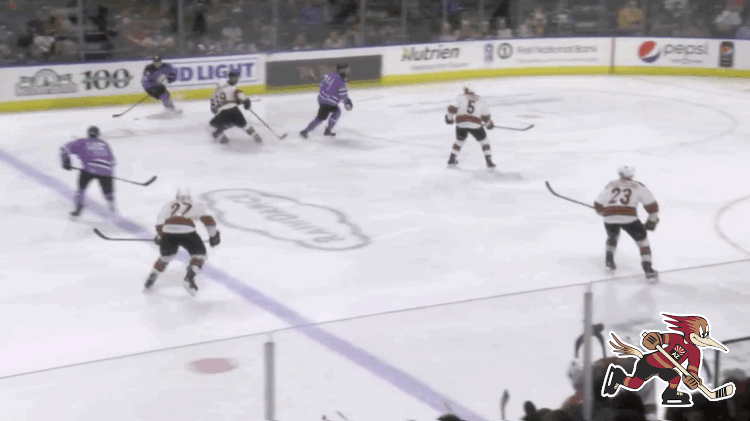 ---
---
Photo of the Week:
Adin Hill denies an early opportunity in the first period of Saturday night's 2-0 win, showcasing his flexibility to turn away Tyson Jost's scoring bid, keeping the Eagles off the board in what would eventually be a 21-save shutout at Colorado's Budweiser Events Center. (Credit: Jordan Reyes Imagery/Colorado Eagles)