NEWS & STATS
Hill posts second straight shutout to back Roadrunners' early offensive outpour
By: Alexander Kinkopf
January 23, 2019 9:36 PM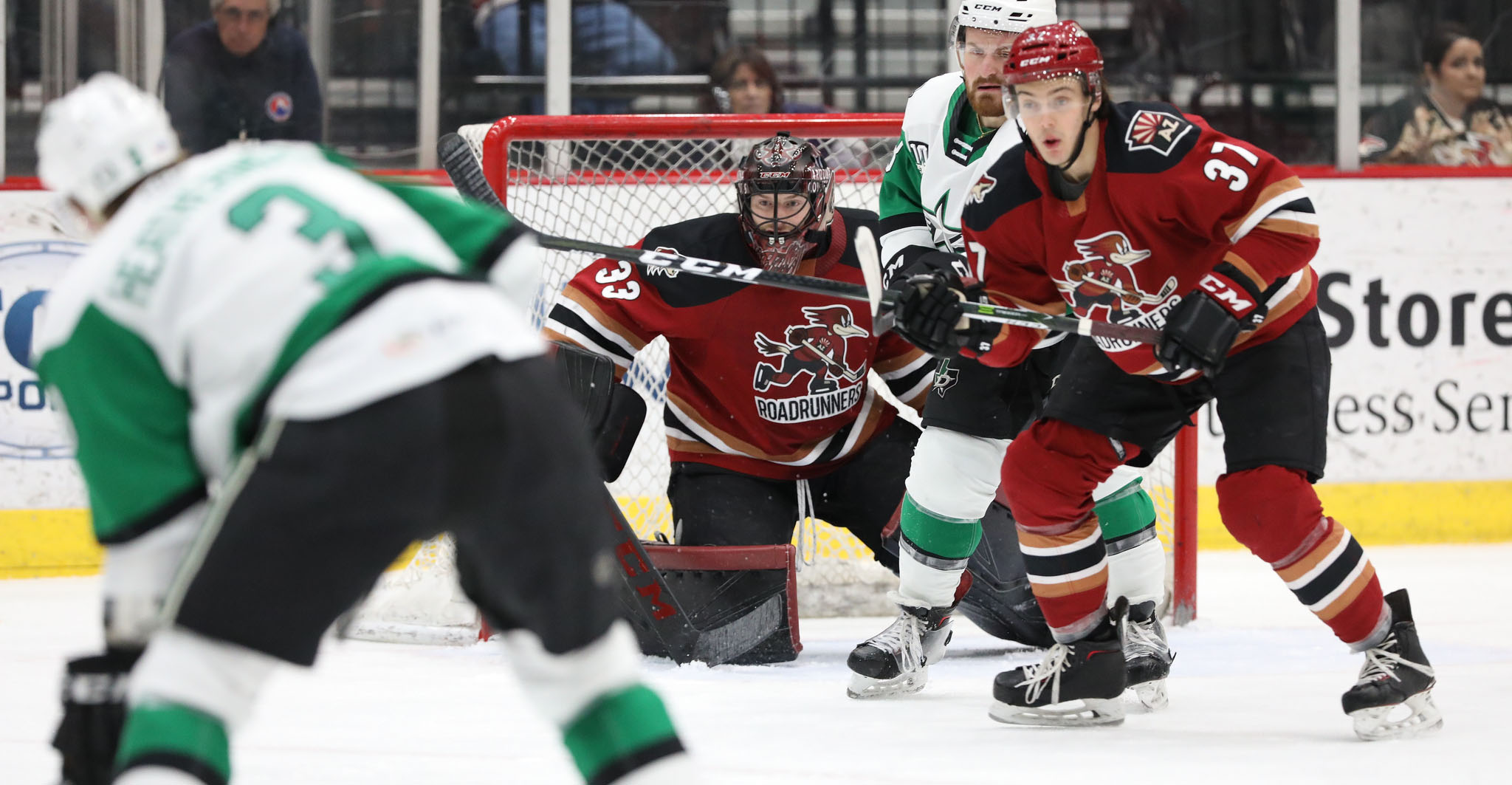 Photo: Chris Hook
Boosted by early production to build a strong first period lead and backed by Adin Hill's second-straight shutout, the Roadrunners topped the Texas Stars by a 4-0 score Wednesday night at Tucson Arena.
Hill, re-assigned to Tucson from the Arizona Coyotes last Monday, has now posted shutouts in each of the two games he's started since returning to the Roadrunners, and has gone 123:26 without allowing a goal.
"Whenever you get a shutout, it's a team effort, it's not just the goalie, the team has to play a great game in front of you," Hill said. "Once again the guys in front of me have done a great job limiting the other team's chances, clearing any pucks that have been out front and boxing guys out, they've done a great job for me."
The 22-year-old netminder's 39 saves is a new season high, and the most he's ever registered in his career when holding an opposing team scoreless.
Three goals in a 5:47 span in the first period gave the Roadrunners a solid 3-0 lead to work with, and despite Texas' comeback efforts, they stood strong to secure their third-straight win.
"We went up early in the game and had to take their pushback," noted defenseman Cam Dineen. "Obviously they're going to try to push, try to score, and try to create opportunities, but we did a good job keeping them to the outside. Obviously with [Hill] in net, he was unbelievable, it was great to have him back there."
Dineen would open the scoring, netting his third goal of the season just over five minutes into the contest when his pass attempt into traffic ricochet off of a Stars defender and into an open net.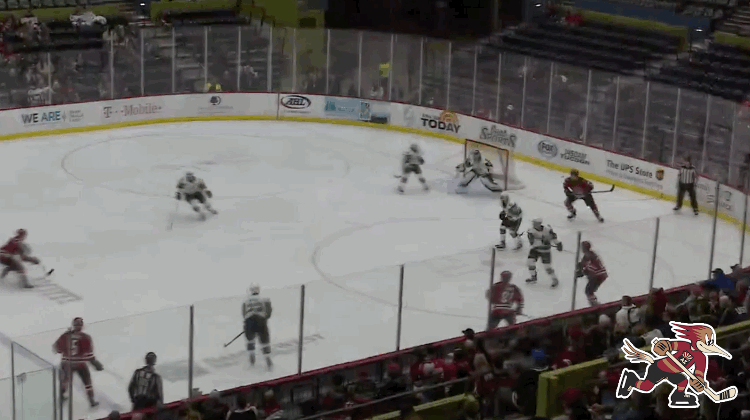 Less than four minutes later, Michael Bunting deposited a shot low to the blocker-side after Lane Pederson disrupted a Texas clearing attempt, giving the Roadrunners a 2-0 advantage.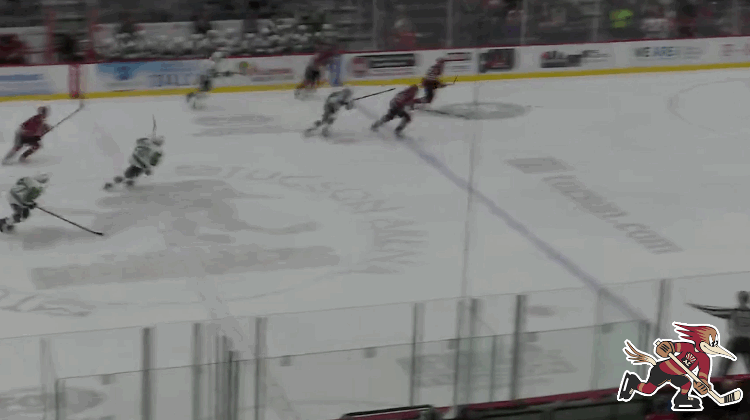 Bunting's tally extended his goal-scoring streak to four games.
Just over a minute later, Brayden Burke would up the Roadrunners' lead to 3-0 when he found the back of the net on a fast-break sequence after receiving a lengthy stretch pass from David Ullstrom.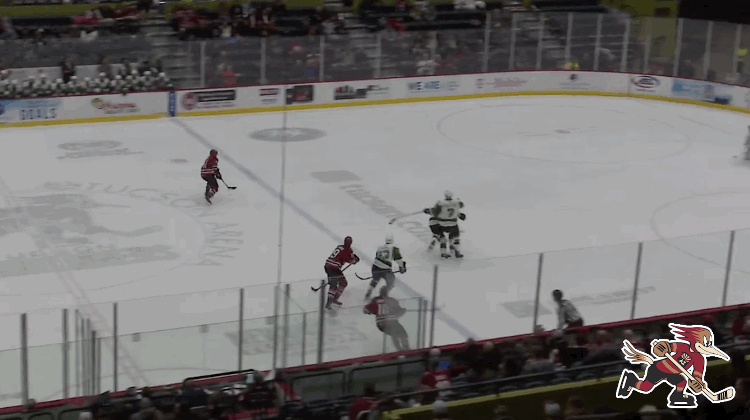 Neither team would score in the second period; Hudson Fasching's goal with :14.5 seconds left in regulation all but iced the game, giving the Roadrunners a 4-0 lead, the night's eventual final score.
"I thought [Hill] was great in our net, that's for sure," head coach Jay Varady said. "I thought we got off to a pretty good start; we managed pucks pretty well in the first period, got away from it for a little bit, but we had enough to hang on."
The Roadrunners will open up a two-game weekend series against the Bakersfield Condors Friday night at Tucson Arena, where the puck is scheduled to drop just after 7:05 PM.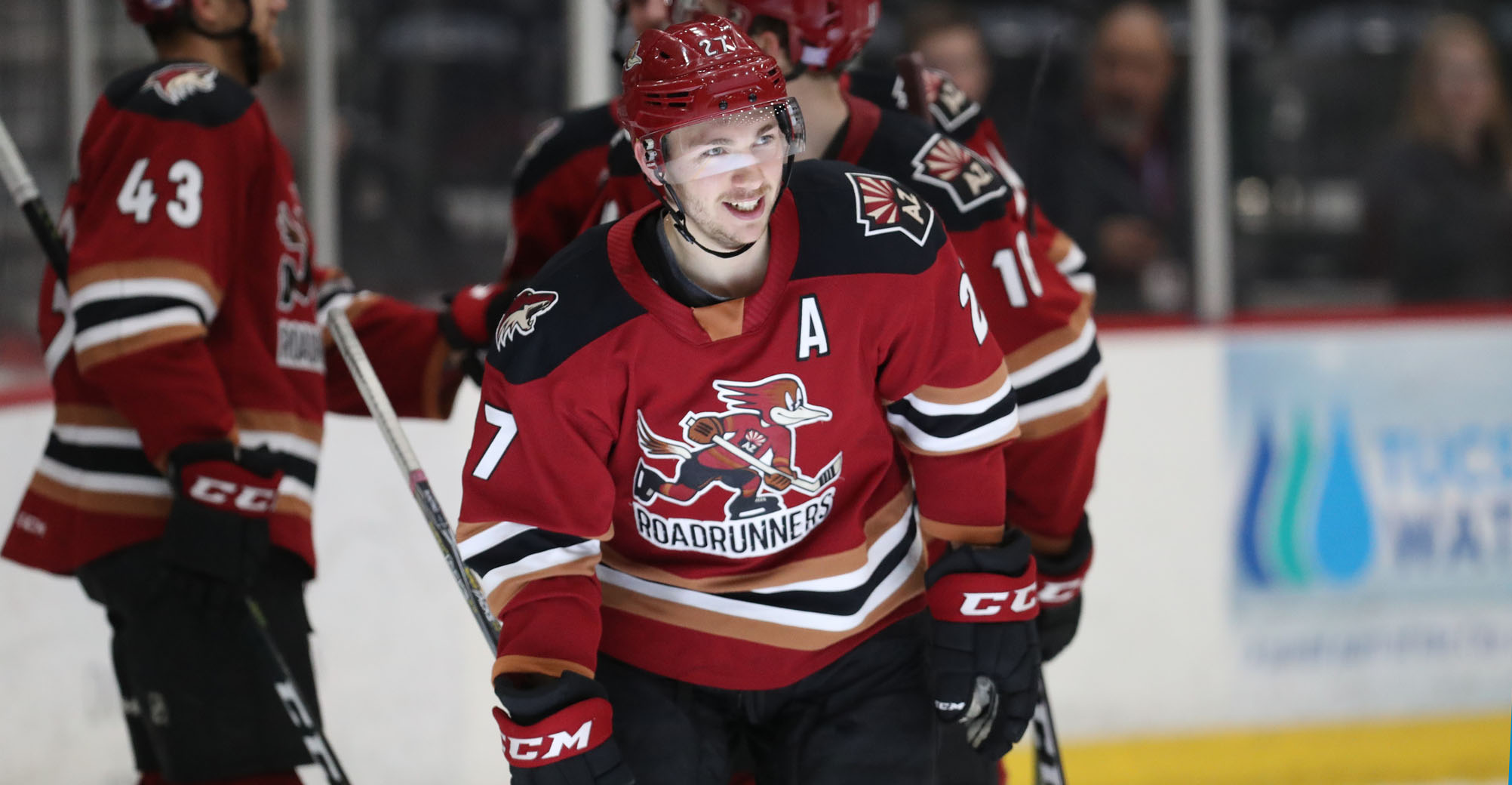 Photo: Chris Hook