NEWS & STATS
Roadrunners can't match Condors in Friday's 3-1 loss
By: Alexander Kinkopf
January 25, 2019 9:32 PM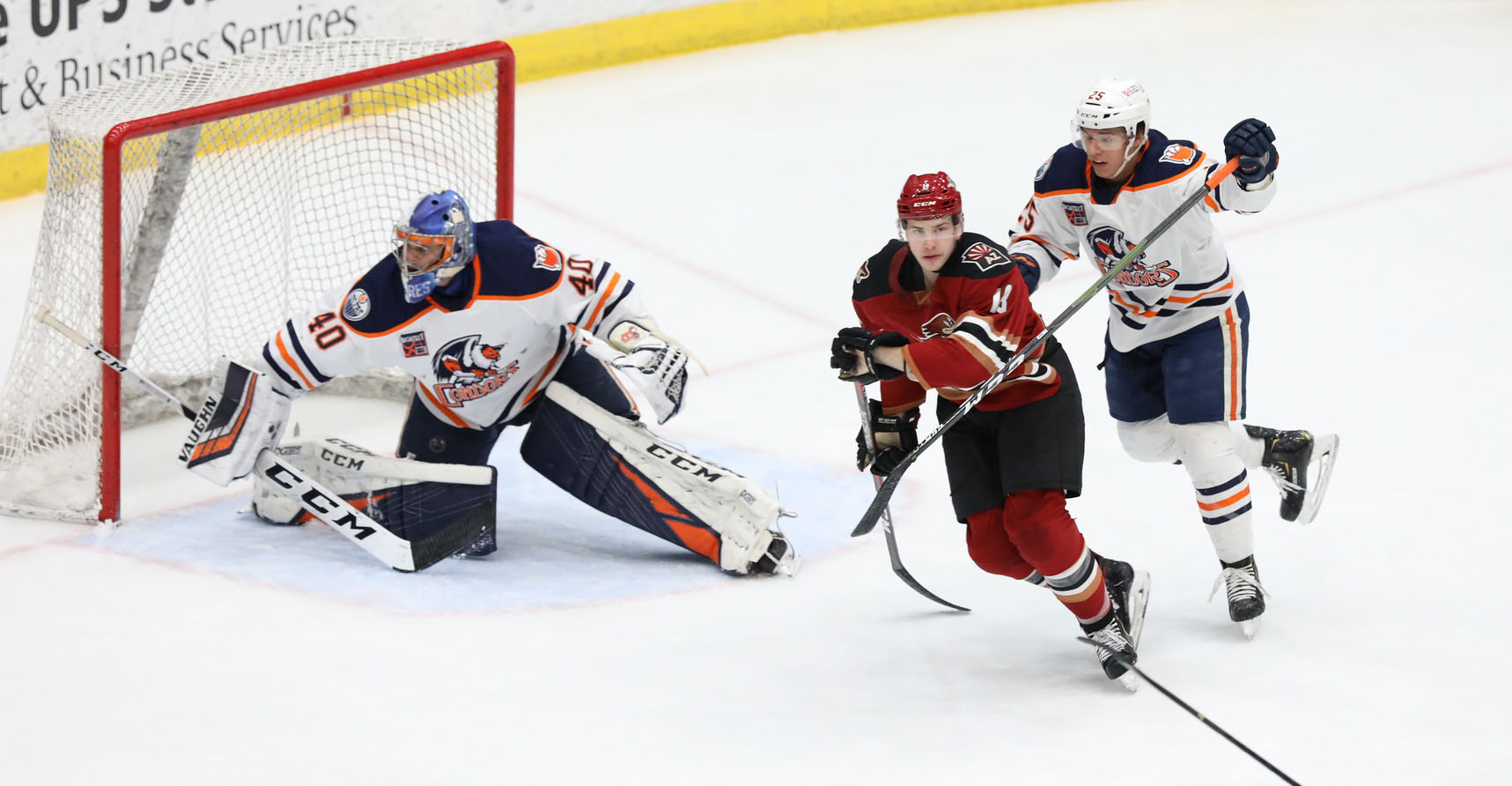 Photo: Kate Dibildox
The Roadrunners' three-game win streak was snapped in a 3-1 loss to the Bakersfield Condors Friday night at Tucson Arena.
It served as Tucson's first defeat at the hands of the Condors this season after winning each of its first three match-ups against its division counterpart.
With the victory, the Condors extended their win streak to seven games, currently standing as not only the hottest team in the Pacific Division, but in the entire American Hockey League.
"We're clearly aware of what they've been doing as of late," head coach Jay Varady stressed when asked about the Condors' current stretch. "But our focus internally is on us and how we have to play and manage our own game."
"I think we need to be better with the puck, I think we put ourselves in a lot of bad situations that we need to be better at tomorrow, so that's something to focus on," Varady added. "We need to create our own luck, [Bakersfield] got two bounces tonight and I think that's directly related to where we put the puck; we put the puck in bad spots and they were able to create luck."
The Roadrunners were the first team to find the back of the net, doing so with just under four minutes left in the first period when Giovanni Fiore buried his ninth goal of the season as he stood open in front of Bakersfield's net after David Ullstrom caused the Condors to cough up the puck while attempting to clear their own zone.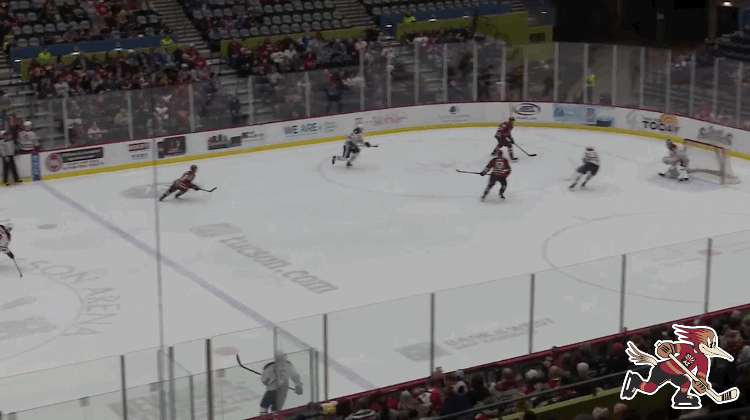 For Fiore, it was his third goal in a Roadrunners uniform; he now has six points (3G, 3A) in 11 games since coming over from Anaheim in a trade.
Less than three minutes into the second period, Bakersfield struck to tie the game 1-1, Mitch Callahan's shot deflecting off of Jordan Gross and past Adin Hill.
Hill's shutout streak was snapped at 147:06, the third longest of his career.
Minutes later, the Condors would take a 2-1 lead, before upping their lead to 3-1 with 8:11 left to play in regulation.
"I thought we came out pretty strong in the first, we came out with the lead there in the second, but we kind of got away from our game," said defenseman Dysin Mayo. "We were turning pucks over and weren't working as hard as we should have and they got some good bounces as well, so that was the game there."
Hill stopped 20 of the 23 shots he faced, suffering his third loss of the season.
The teams will meet again on Saturday afternoon at Tucson Arena, where the puck is scheduled to drop just after 3:05 PM.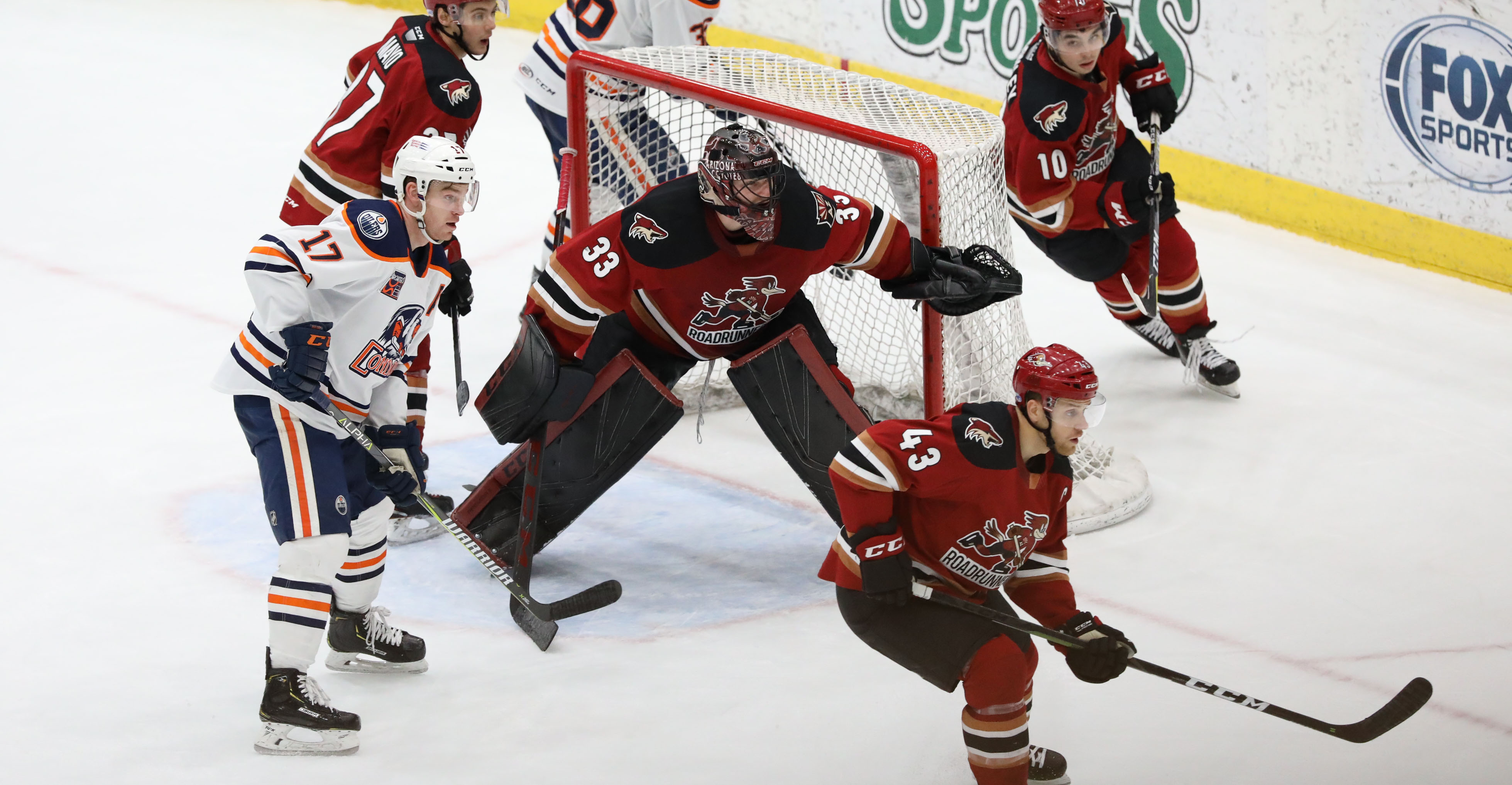 Photo: Kate Dibildox