NEWS & STATS
Tucson High School Roadrunners Advance to High School Championship
By: Tucson Roadrunners
February 08, 2019 11:31 AM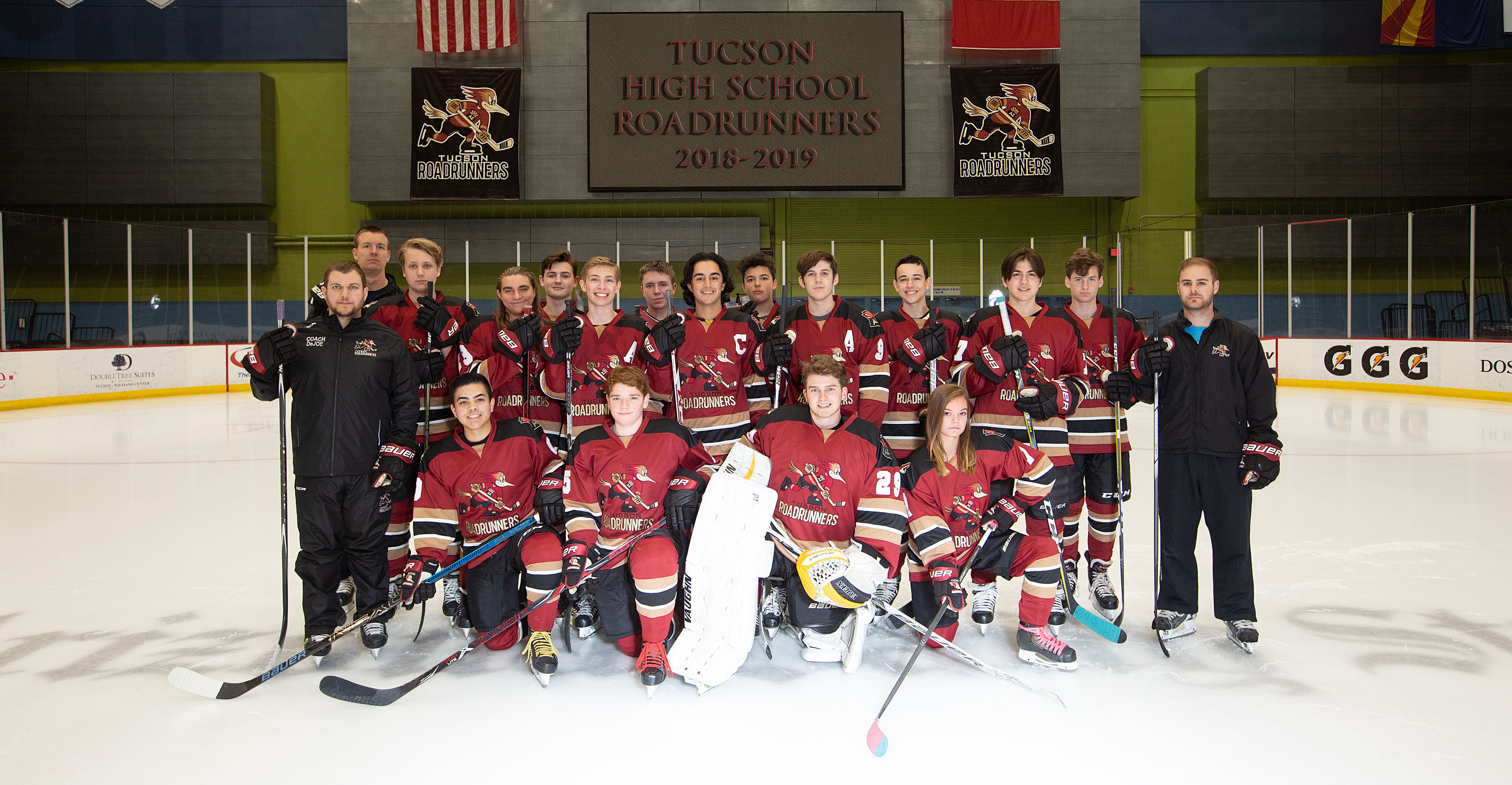 TUCSON, AZ – The Tucson Roadrunners, proud American Hockey League affiliate of the Arizona Coyotes, are proud to share that the Tucson High School Roadrunners have advanced to the Arizona High School Hockey Association State Championship game.
The club, led by Head Coach Daniel Lusher, will go head-to-head against the Desert Vista Thunder this Sunday, February 10 at 5:00 p.m. at the Scottsdale Ice Den – Coyotes Rink.
The team advanced with a win over the Mountain Ridge Mountain Lions by a score of 4-0 last Saturday. Goaltender Maxwell Eklund stopped all 21 shots faced in the contest.
"We are so proud of our Tucson High School Roadrunners for advancing to the state championship in their first season of play," remarked Roadrunners President Bob Hoffman. "This is a tremendous step forward to growing the game in Arizona and we look forward to the day when a Tucson-born player is a member of our Roadrunners roster."
"Advancing to a championship game with this group is a testament to all of the hard work that has gone into this season," said Lusher. "This game on Sunday is a reaffirmation that Tucson youth hockey is successful and it will only continue to grow. It's exciting to be a part of the program because it has a very bright future."
The club also had two players, goaltender Maxwell Eklund and forward Ranon Plett named to the All-State team, which is comprised of the Division 1, Division 2 and Division 3 players.
"Seeing this team come together as a group in their first year in the league is really inspiring for us," said Junior Roadrunners President Jeremy Bow. "They've put in the work and now they're turning a lot of heads and showing what Junior Roadrunners hockey is all about. The future is bright for these kids, and for youth hockey in Tucson."
Ranon Plett (Mountain View High School), along with Na'im Temlock (University High School) were also named to the All-Academic Team.
"We are extremely proud of our high school team. They have worked hard to be better players, but more importantly, they're great kids who get along well on and off the ice and are having a lot of fun playing," Ryan DeJoe, Coaching Director of the Junior Roadrunners. "This is a huge step for Tucson hockey to compete in the Arizona High School Hockey Assocation and we are thrilled for our team, especially our seniors, to get the opportunity to play in the state championship game."
For more information on the
Tucson Roadrunners
youth hockey programs, click
HERE
. For more information on the
Arizona High School Hockey Association
, click
HERE
.
On-The-Ice
The 23-14-4-1 Tucson Roadrunners now hit the road for the team's annual "Gem Show Road Trip", which will see them play six consecutive road games between February 8 and February 20.
Forward Lane Pederson had three points for the club over the weekend, now placing him in a tie for third place in team scoring with 12 goals, 14 assists, totaling 26 points.