NEWS & STATS
Playoff Picture: Sunday, April 7
By: Alexander Kinkopf
April 07, 2019 7:58 AM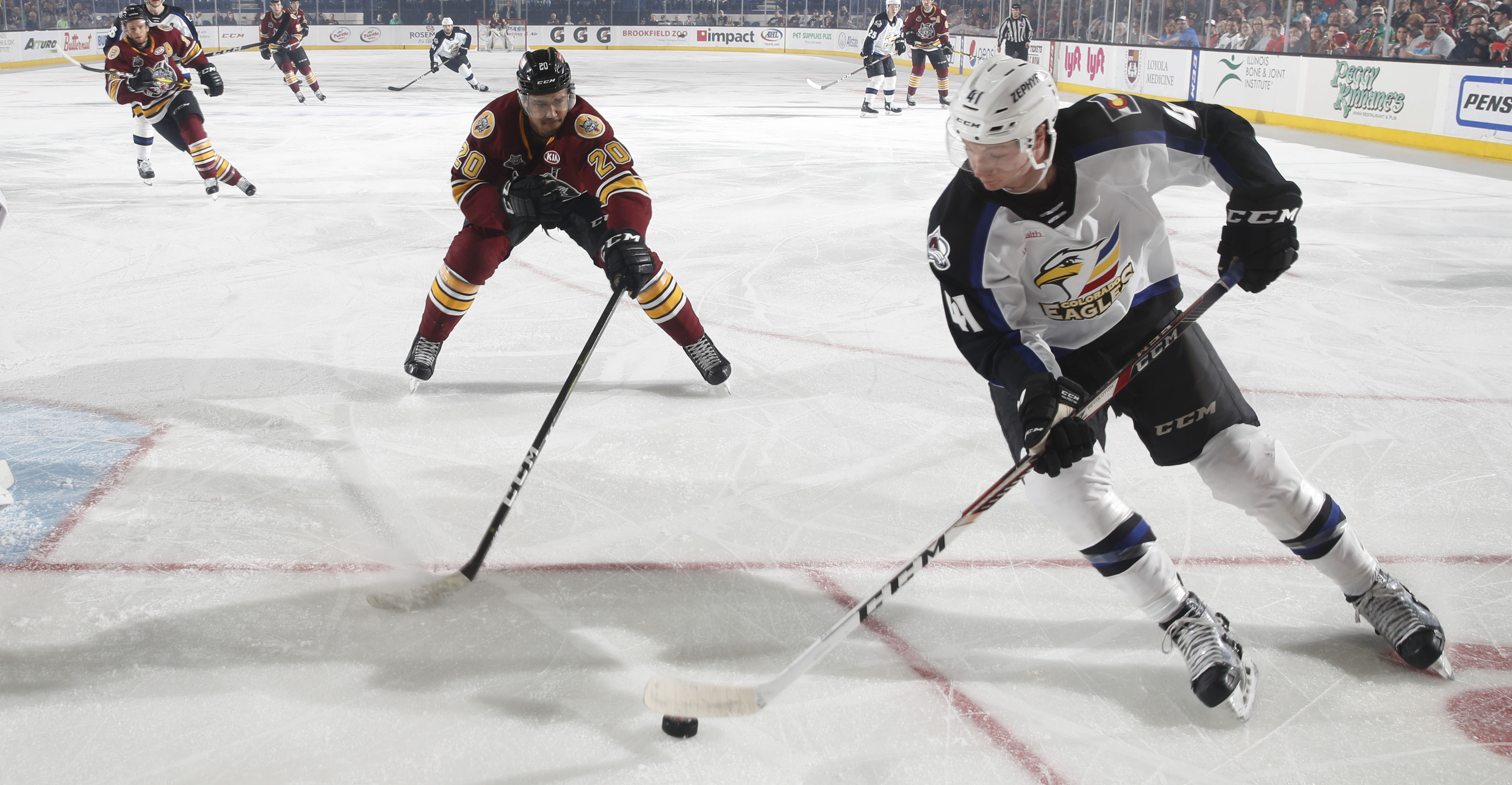 Photo: Chicago Wolves/Dale Woltman
The 'Playoff Picture' is a recurring segment that will run through Saturday, April 13, the end of the American Hockey League regular season, to detail the Roadrunners' push to qualify for the 2019 Calder Cup playoffs.
The following days, with no games involving Pacific Division teams pertinent to the grouping's playoff race, will be exempt: Monday, April 8, Tuesday, April, 9, and Thursday, April 11.
---
---
TODAY - Sunday, April 7:
And then there were three.
With the San Jose Barracuda clinching a playoff spot on Saturday night following the Colorado Eagles' 3-2 loss to the Chicago Wolves, there are now three teams, a trio that consists of the Roadrunners, Eagles, and San Diego Gulls, in contention for the final two playoff spots in the Pacific Division.
The Roadrunners clung to fourth-place last night following Colorado's devastating loss in Chicago, thanks in large part to the Wolves' game-winning goal being scored with 1:13 left to play in regulation.
Of the three teams vying for the Pacific's final two playoff spots, two play this afternoon in a monumental set of games played 1,971 miles apart with enormous implications on fourth and fifth-place separation, or should it be, ownership.
If the Roadrunners are to win in any fashion this afternoon or earn one point in an overtime or shootout loss to the Ontario Reign at Citizens Business Bank Arena, they are guaranteed to maintain fourth-place and playoff position.
Simply put: Tucson owns the regulation or overtime wins (ROW) tiebreaker with Colorado, 32 to 29. In any instance where the teams are tied in points, the Roadrunners will be favored.
Should Tucson lose in regulation and Colorado win in any fashion, the Eagles would reclaim the grouping's final postseason spot.
The Gulls, idle from action today, will clinch the Pacific's third playoff spot with an Eagles regulation loss.
The Roadrunners' magic number stands at six at day's outset.
---
---
CURRENT STANDINGS:

---
---
GAMES WITH RELEVANCE:
COLORADO EAGLES (34-26-4-1) at CHICAGO WOLVES (43-21-5-3)
1:00 PM PST – ALLSTATE ARENA
Notes: Colorado enters the day having lost five of its last six games (1-4-1-0) … Chicago is a striking 6-1-0-0 against teams from the Pacific Division this season … The Eagles' .439 road win percentage ranks 11th in the Western Conference … The Wolves clinched the AHL's Central Division with their Saturday evening win.
---
---
QUALIFICATION / TIE-BREAKER RULES: