NEWS & STATS
Last Week Today: Wild To The Finish
By: Alexander Kinkopf
April 08, 2019 2:40 PM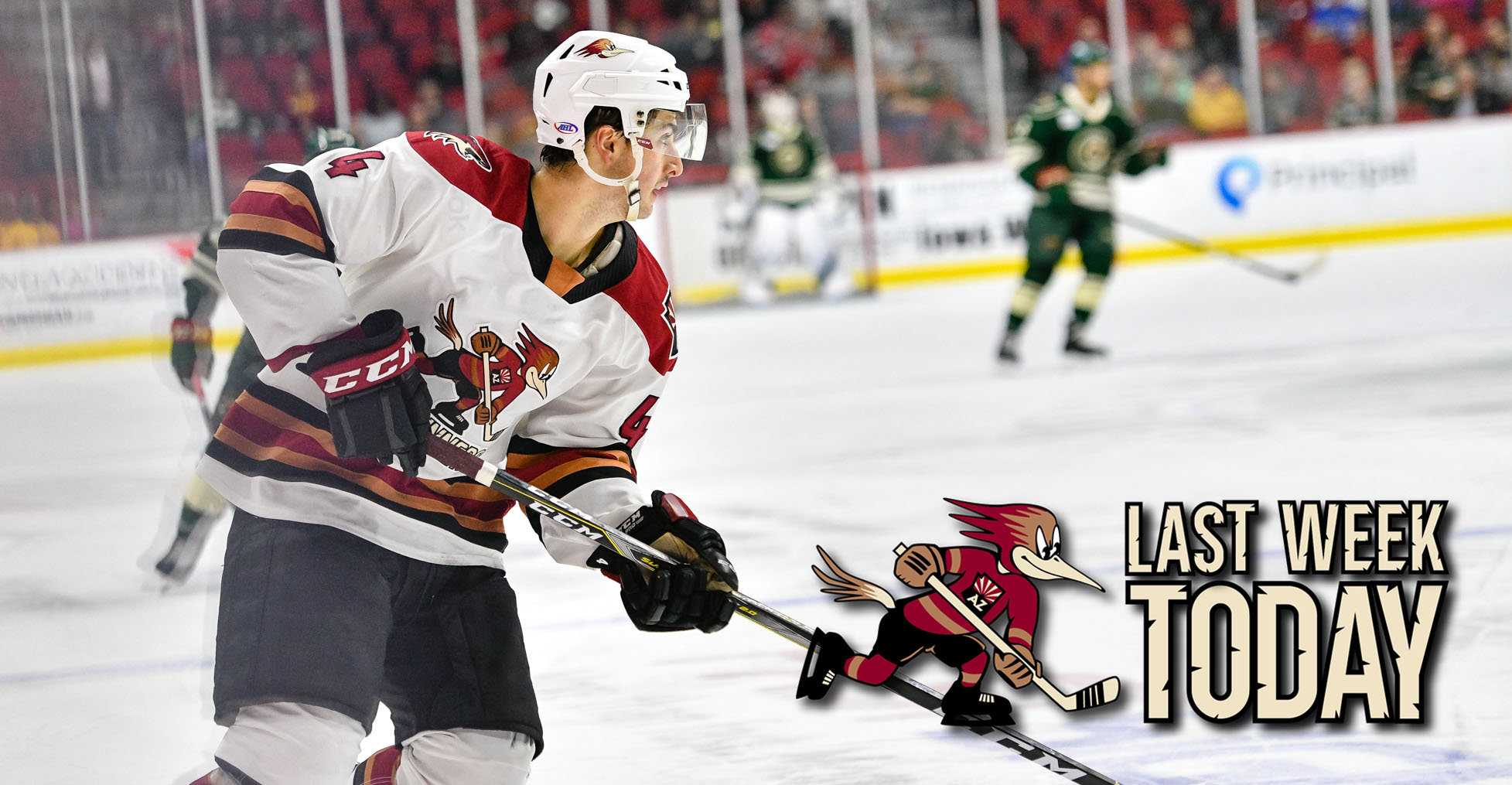 Photo: Iowa Wild/Shane Abbitt
The Rundown:
Embarking on their final regular season road trip last Sunday and winning two of three games played over the previous seven-day period, the Roadrunners enter the final week of the year in full control of their own playoff destiny.
They're one point outside of the Pacific Division's postseason cut-off with three games remaining.
Should the Roadrunners win each of their final three games, they are guaranteed to qualify for the Calder Cup playoffs for the second-straight season.
Where they find themselves today is due in large part to their big back-to-back showings in Des Moines, earning four points with two critical wins on Tuesday and Wednesday over the Iowa Wild, capped off with Nick Merkley's overtime game-winning goal in the series finale.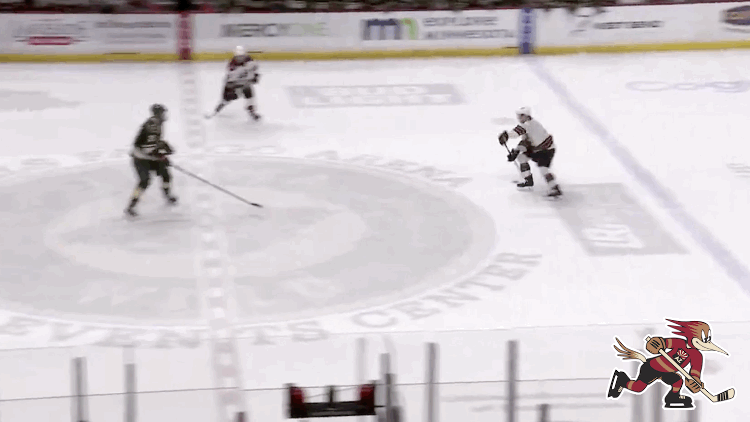 Back with a vengeance, Merkley is, now with seven points (4G, 3A) in the team's previous six games.
Adding to Wednesday's dramatic walk-off win was the fact that it served as the 200th game in franchise history – a solid result to salute another respectable organizational milestone.
Trevor Cheek established a new AHL single-season career-high in goals scored (7) after finding the net in both Iowa contests.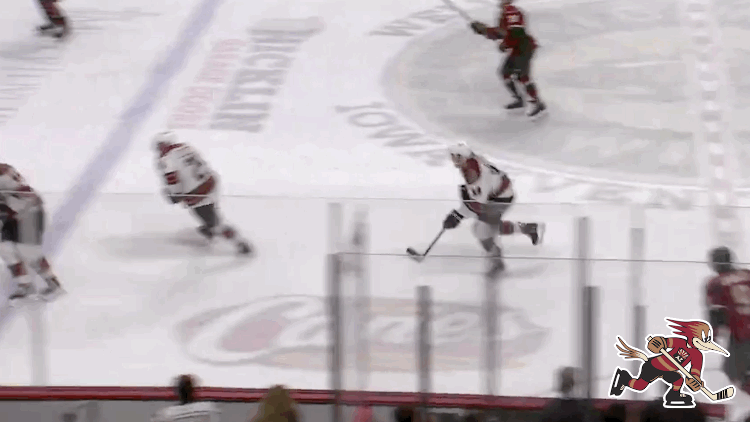 Don't sleep on trade deadline acquisition Michael Chaput, who is averaging a point per game since joining Tucson's roster, tallying up four assists in Iowa.
Despite Sunday's loss in Ontario, Lane Pederson deposited his 21st goal of the season, becoming just the fourth player in team history to eclipse the 20-goal mark.
---
---
Where They Stand:
Record: 33-24-5-3 (.569 pts %)
Pacific Division: 5th Place
Western Conference: 6th Place *by win percentage
League: 13th Place *by win percentage
Magic Number: 5
---
---
The Week That Was:
Tuesday, April 2
Roadrunners (5) at Wild (4)
Wells Fargo Arena
Wednesday, April 3
Roadrunners (4) at Wild (3) F/OT
Wells Fargo Arena
Sunday, April 7
Roadrunners (2) at Reign (4)
Citizens Business Bank Arena
---
---
Up & Down
Recalls (TUC --> ARI)
Wednesday, April 3: Adin Hill
Assignments (ARI --> TUC)
Friday, April 5: Adin Hill
Transactions
---
---
Alumni in Action:
Hunt, possess, and bury. Conor Garland did just that in the Arizona Coyotes' 4-1 win over the Vegas Golden Knights on Thursday night at T-Mobile Arena, recovering a Vegas turnover deep in the offensive zone and spinning to shoot, beating Marc-Andre Fleury just under the glove to register his 13th goal and 18th point of the campaign.
---
---
Highlight of the Week:
Make it a double! Michael Bunting broke Tuesday night's game wide open with two goals in less than two minutes, beating Andrew Hammond with a shot against the grain from the high slot, and then on his next shift, depositing a shot to the top left corner on a breakaway. Bunting's two tallies in a 1:50 span gave the Roadrunners a 5-1 lead in the team's eventual 5-4 win over the Iowa Wild at Wells Fargo Arena.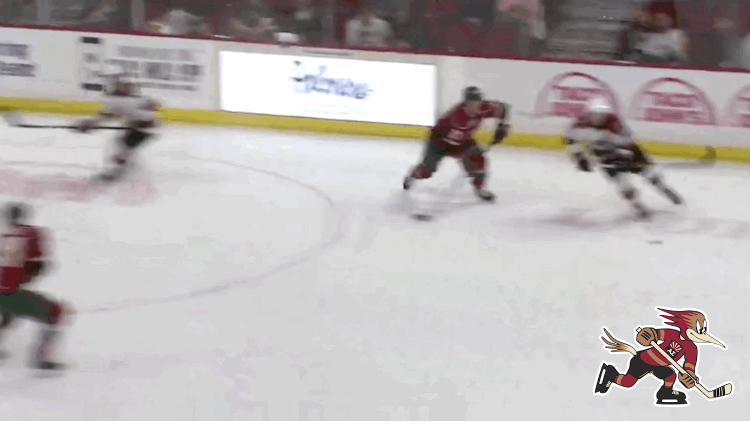 ---
---
Photo of the Week:
Greasy goal. An elated Trevor Cheek picks himself up off the ice after diving to jam home the game-tying goal with 8:24 remaining Wednesday night at Wells Fargo Arena in the Roadrunners' 4-3 overtime victory over the Iowa Wild. (Credit: Iowa Wild/Shane Abbitt)