NEWS & STATS
Playoff Picture: Friday, April 12
By: Alexander Kinkopf
April 12, 2019 9:02 AM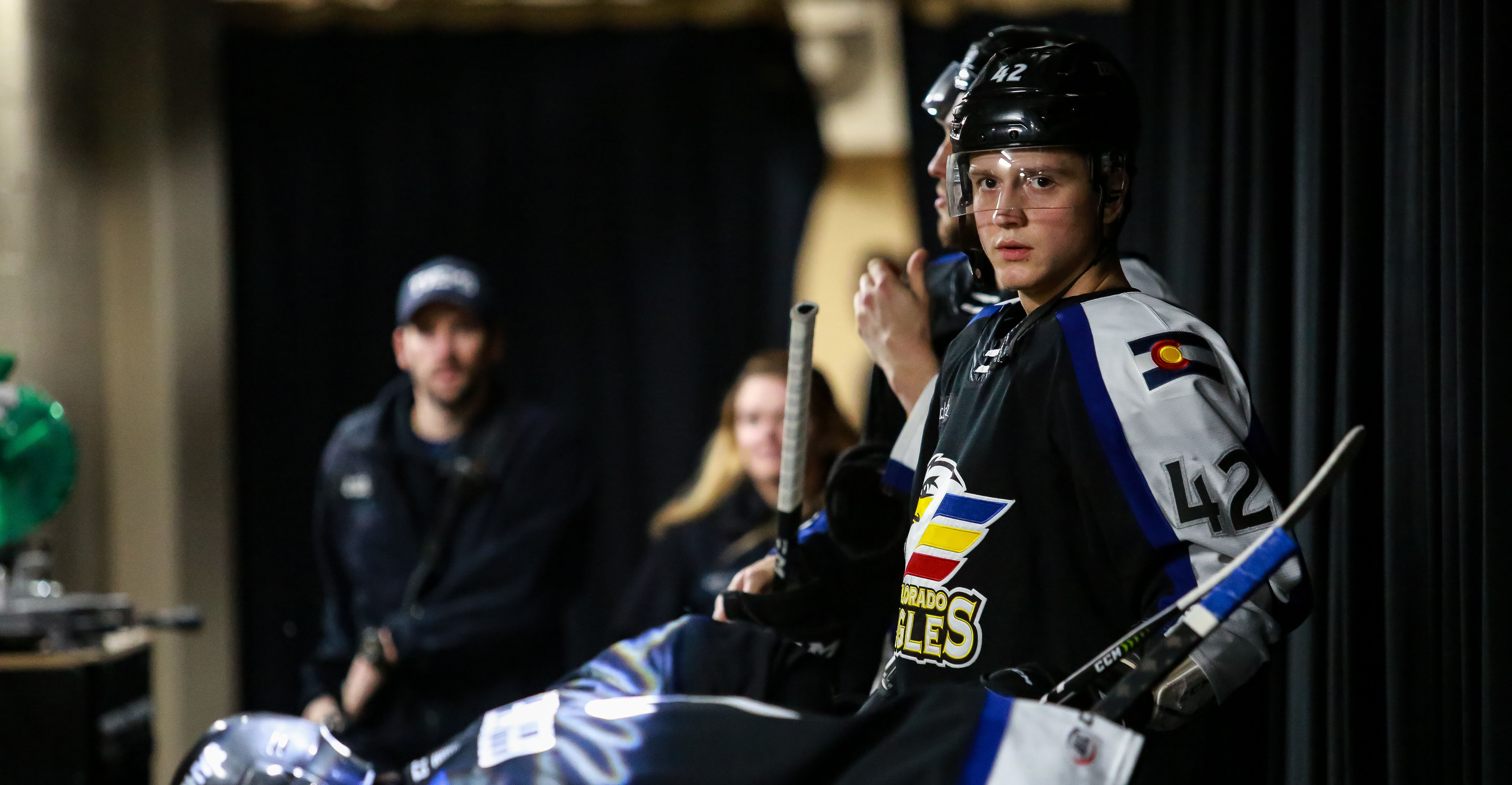 Photo: Colorado Eagles
The 'Playoff Picture' is a recurring segment that will run through Saturday, April 13, the end of the American Hockey League regular season, to detail the Roadrunners' push to qualify for the 2019 Calder Cup playoffs.
The following days, with no games involving Pacific Division teams pertinent to the grouping's playoff race, will be exempt: Monday, April 8, Tuesday, April, 9, and Thursday, April 11.
---
---
TODAY - Friday, April 12:
Make no mistake about it - the Roadrunners are looking to postpone a couple of parties tonight, and in doing so, stay alive in the playoff chase.
While it's certain that two wins for the Roadrunners over the San Diego Gulls this weekend, with at least one being in regulation, will guarantee their second-straight postseason berth, there is also the stark reality of what could happen should they lose this evening.
Of the trio of teams fighting for the Pacific Division's final two playoff spots, Tucson, San Diego, and Colorado, the Roadrunners are the only one of those aforementioned three that cannot clinch this evening, no matter what. They are also, and take this face on, the only one of that group that could be eliminated tonight.
San Diego and Colorado are guaranteed to have their playoff hopes live through the night. Tucson needs to fight.
Eyes will be on, but the Roadrunners certainly won't lean on, tonight's match-up between the San Jose Barracuda and Colorado Eagles.
Let's dig in. And let's go astray, for a minute, from the daily purpose of this playoff rundown and get a bit broad.
As detailed in Thursday's press release
, when talking the weekend as a whole, there are four clinching scenarios for the Roadrunners.
Two (2) Tucson wins vs. San Diego with at least one coming in regulation
Two (2) Tucson overtime/shootout losses vs. San Diego and two (2) Colorado regulation losses vs. San Jose
One (1) Tucson win vs. San Diego and two (2) Colorado regulation losses vs. San Jose
One (1) Tucson win and one (1) overtime/shootout loss vs. San Diego and one (1) Colorado regulation loss vs. San Jose
As for tonight's clinching scenarios, which only pertain to San Diego and Colorado, they are detailed below, courtesy the
American Hockey League
's
public relations department
: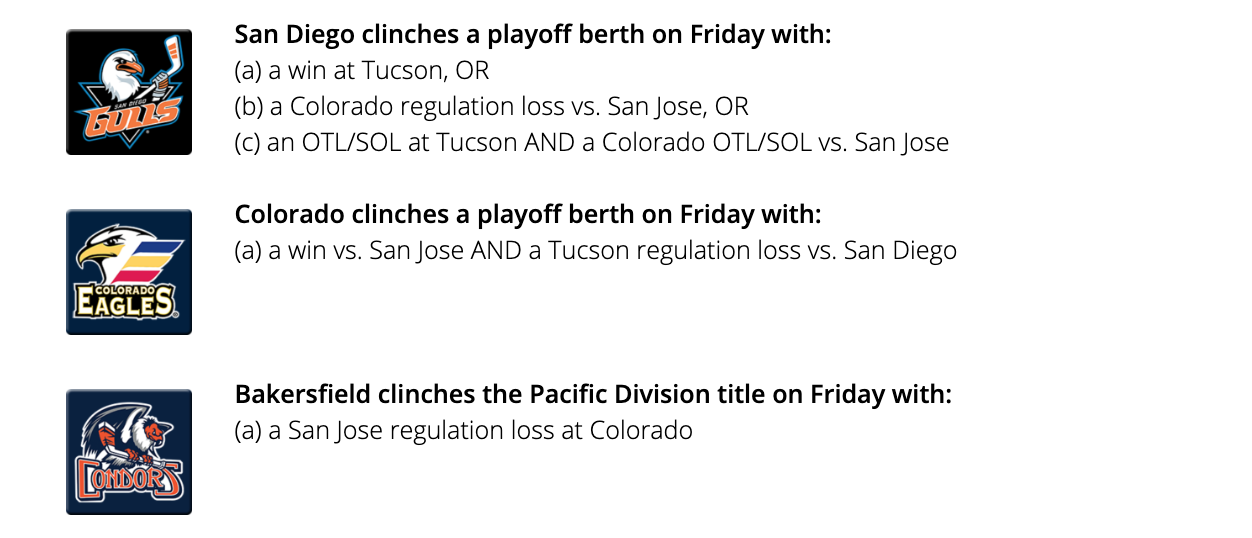 The Roadrunners will be eliminated from playoff contention tonight if they suffer a regulation loss to the Gulls and the Eagles win in any fashion against the Barracuda.
---
---
CURRENT STANDINGS:
---
---
GAMES WITH RELEVANCE:
SAN JOSE BARRACUDA (38-21-3-4) at COLORADO EAGLES (35-26-4-1)
6:05 PM PST – BUDWEISER EVENTS CENTER
Notes: The Eagles are 3-3-0-0 against the Barracuda this season, including a 2-0-0-0 record at home … San Jose has won six of its past seven games … Colorado's number one goaltender Pavel Francouz has returned to the team upon taking a leave of absence … San Jose won the previous match-up 9-0 on March 17.
---
---
QUALIFICATION / TIE-BREAKER RULES: