NEWS & STATS
Playoff Picture: Saturday, April 13
By: Alexander Kinkopf
April 13, 2019 8:54 AM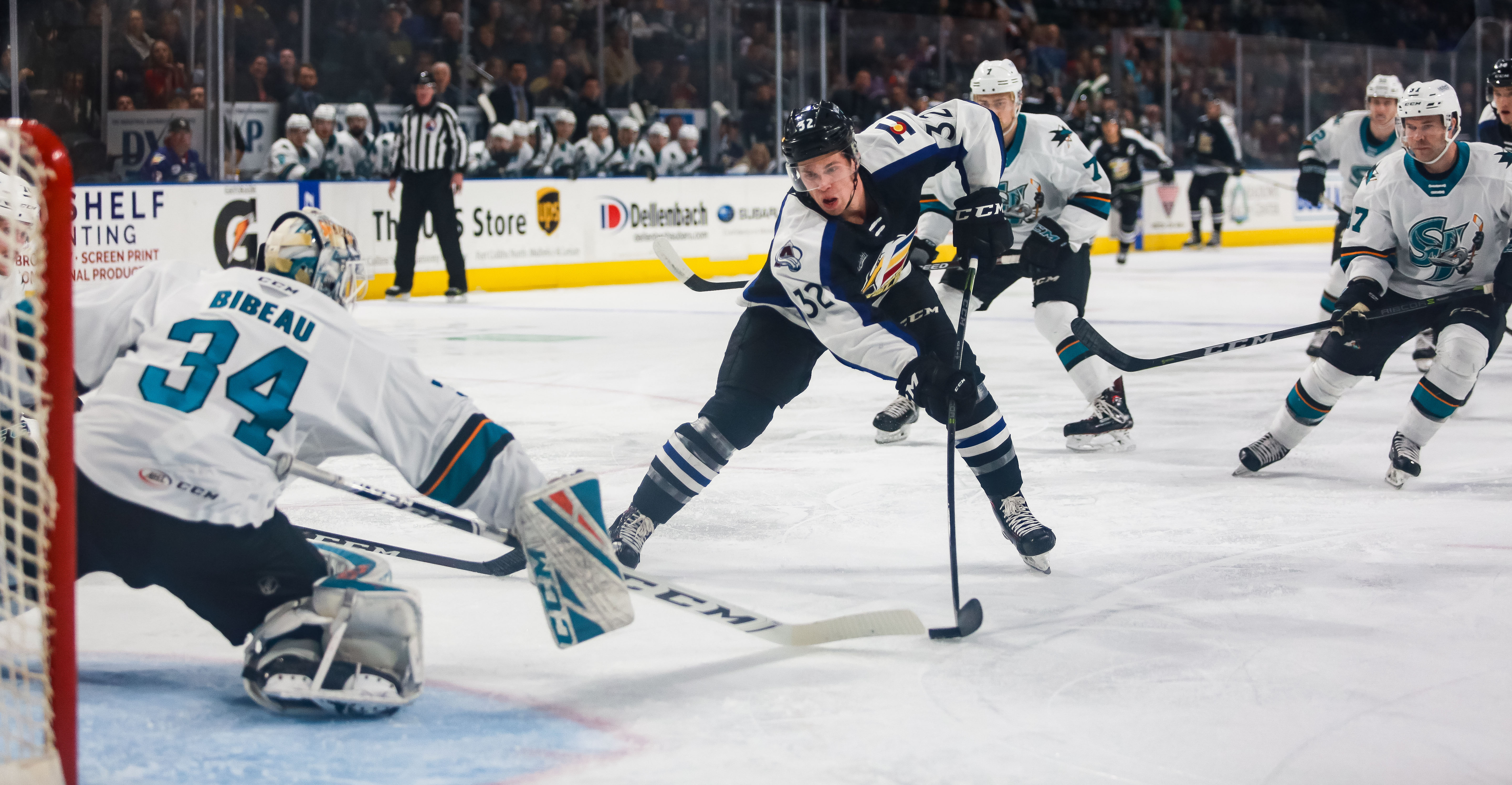 Photo: Colorado Eagles
The 'Playoff Picture' is a recurring segment that will run through Saturday, April 13, the end of the American Hockey League regular season, to detail the Roadrunners' push to qualify for the 2019 Calder Cup playoffs.
The following days, with no games involving Pacific Division teams pertinent to the grouping's playoff race, will be exempt: Monday, April 8, Tuesday, April, 9, and Thursday, April 11.
---
---
TODAY - Saturday, April 13:
Everything hinges on outcomes involving two teams' regular season finales on this Saturday evening to determine who captures that highly sought-after fourth and final Pacific Division playoff spot.
If we rewind to yesterday for a moment, and translate those results to digest what we're looking at today, it's best-case scenario for the Roadrunners. That's what a win and a little bit of outside help can do.
The San Diego Gulls became the third team in the Pacific to clinch last night courtesy Colorado's 3-1 loss to San Jose. San Diego, however, is still playing for something tonight. Should the Roadrunners beat the Gulls in regulation this evening, Tucson would surpass San Diego to claim third-place in the division.
But before we get too intricate and calculate seeding from top-down, let's simplify things with the two clear-cut scenarios that would guarantee the Roadrunners a playoff berth at night's end:
1) A point earned vs. San Diego
2) A Colorado loss (reg/OT/SO) vs. San Jose
That's it. No more fine print.
In fact, should the Eagles lose to the Barracuda in any fashion, the Roadrunners will officially punch their postseason ticket sometime, say, around the midway mark of the second period tonight with Colorado's tilt beginning one full hour in advance.
As broken down by the American Hockey League's public relations department:

Should the Roadrunners lose in regulation and the Eagles win, Tucson would be eliminated from playoff contention.
---
---
CURRENT STANDINGS:
---
---
GAMES WITH RELEVANCE:
SAN JOSE BARRACUDA (38-21-3-4) at COLORADO EAGLES (35-24-4-3)
6:05 PM PST – BUDWEISER EVENTS CENTER
Notes: The Barracuda improved their record against the Eagles to 4-1-1-1 with Friday's 3-1 victory … San Jose has now won four-straight games and seven of its past eight (7-1-0-0) … The Eagles have dropped six of their last eight games (2-5-1-0) and three straight at home … Colorado has failed to eclipse the two-goal mark in regulation in each of its previous four contests … San Jose's Dylan Gambrell became the fifth rookie in the AHL to hit the 20-goal mark with his third period tally Friday night.
---
---
QUALIFICATION / TIE-BREAKER RULES: