NEWS & STATS
Summer 'Runners: Lane Pederson
By: Walt Ruff
August 01, 2019 10:10 AM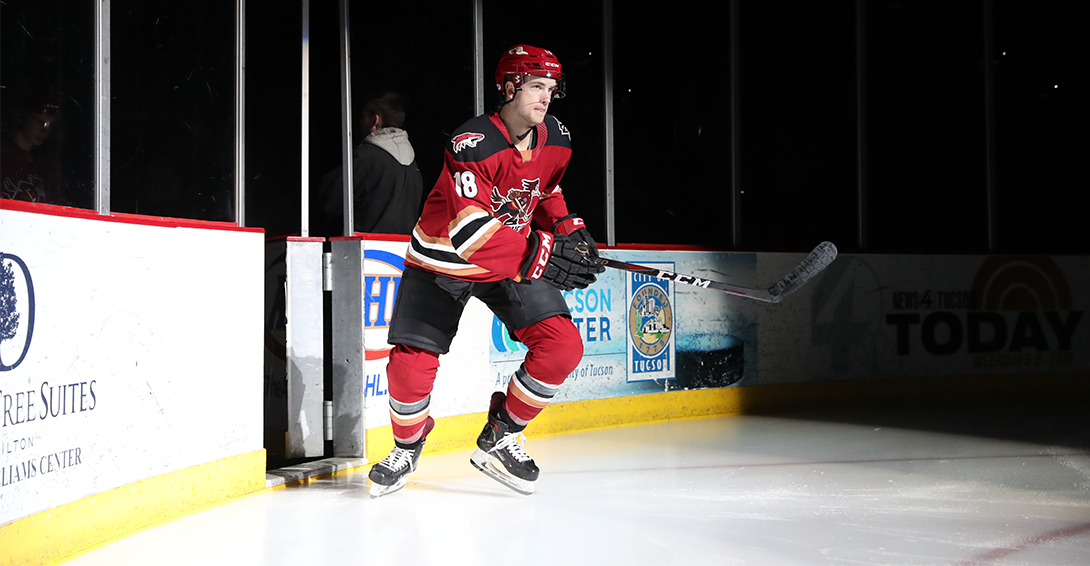 Hockey will be back soon, Tucson. Until then, catch up with your favorite players in "Summer 'Runners"
Lane Pederson
2017-18: 12 Goals - 14 Assists - 26 Points with Tucson
2018-19: 23 Goals - 24 Assists - 47 Points with Tucson

This Summer In: Saskatoon, Saskatchewan

Q: Saskatoon this time of year, what's there to do?

It's a great place to spend a summer. It hasn't been great for us so far this year, it's been raining like crazy but there's a few beautiful golf courses around here that me and a few of my buddies all have memberships at and play quite a bit. "Sask" also has a ton of lakes, so that's kind of our weekend thing. Everyone hops in a car and heads to a buddies cabin or a family friend's cabin and spends the weekend out there. It's always nice to be out on the water; fishing, boating and around the campfire. I've been training and skating during the work week, but then those two on the weekends. It's a good place and I'm enjoying.

Q: What's that training schedule been like?

Well I work out five times a week, and then slowly ramp up the skating. It starts with just about twice a week, then it goes to three times a week and it keeps progressing to four and by the end of the summer you're getting after it every single day. It's all about getting comfortable and getting confident in your skating and making sure you're ready to go when the puck drops at training camp. I also actually went to Kelowna for a week and I skated with Coyotes skating coach Lars Hepso, Barrett Hayton and Nate Schnarr a bit ago. So I did get to see a few familiar faces, which is nice.

Q: Speaking of familiar faces, have you kept up with some guys from the team since you left town?
I keep in pretty close contact with my roommate Tyler Steenbergen. I was also just at Dysin Mayo's wedding not too long ago with some of the guys, Michael Bunting, Hudson Fasching, and I also talk to Kyle Capobianco and Nick Merkley quite a bit as well. We've got such a group down there in Tucson though so it's easy to keep in contact with them, whether it be by Instagram, or text, or call, it's always nice to hear from guys.

Q: Let's talk about your game. At season's end you cited shooting the puck more as something that led to your success from the 2018-19 campaign, your coaches cited your consistency as something that allowed you to take the next step from your rookie year. With those two things in mind entering the upcoming fall, what's the next step in your game to grow even further for 2019-20?

This fall it's about coming in, starting in Glendale with training camp and trying to earn a job there. I'm going to take what I learned last year, use the steps I took forward and just keep building on those. I want to keep developing, hammer some things out and fine-tune my game. One day, hopefully soon, I can make that jump and contribute at the next level. That's every kids dream, to play in the NHL. I just want to put my best foot forward and use the opportunity I'm given there and make the most of it.
Q: Last year was the first for your head coach, Jay Varady, behind the bench in Tucson. He described you throughout the season as a "culture carrier" and denoted at season's end how he was really proud of your growth. How would you describe him, your relationship with him and his growth through his first year at the helm?

Jay had a huge helping hand in my growth this year. Early on in the season he was tough on me. He had high expectations for me, as I had high expectations on myself. But as the season progressed that only benefitted me. He's a good communicator, he keeps a light mood in the room, but he's also demanding in way where he knows what he wants and what he needs to see from his players. He's a well-respected coach, he's approachable and someone you can go to talk about things, whether that's your game or other things. He's a great fit for us in Tucson. --
The fourth season of Roadrunners hockey in Southern Arizona gets underway Friday, October 18 as the club hosts the San Antonio Rampage, AHL affiliate of the Stanley Cup Champion St. Louis Blues at Tucson Arena. Ticket packages including opening night are on sale now under the Tickets tab atop your screen or by calling 866-774-6253.