NEWS & STATS
Roadrunners Announce 2019 Preseason Schedule
By: Tucson Roadrunners
August 29, 2019 10:00 AM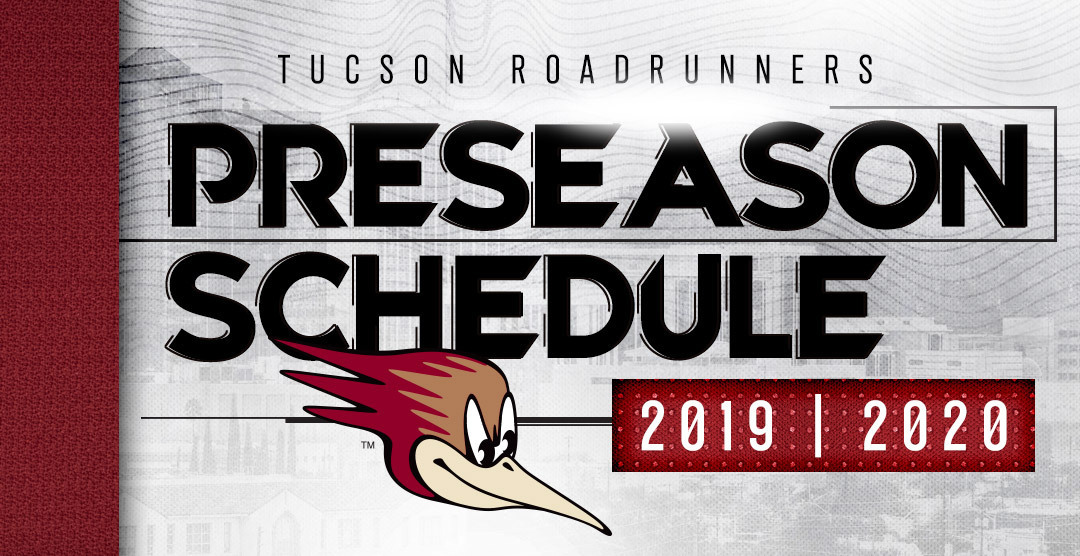 TUCSON, ARIZONA – The Tucson Roadrunners, proud American Hockey League affiliate of the Arizona Coyotes, announced today the team's 2019 preseason schedule.

The Roadrunners will begin their two-game preseason schedule on Friday, September 27th against the Chicago Wolves, AHL affiliate of the Vegas Golden Knights. Tucson then faces the Milwaukee Admirals, AHL affiliate of the Nashville Predators, on Saturday, September 28th. Both games will take place at UW-Milwaukee Panther Arena, home of the Admirals. Only Saturday's game will be open to the public.

Both contests will be broadcast on Fox Sports 1450 AM, the flagship station of Tucson Roadrunners hockey, by the "Voice of the Roadrunners" Adrian Denny.

ROADRUNNERS 2019 PRESEASON SCHEDULE:
Friday, September 27th | at Chicago Wolves | 5 p.m.
Saturday, September 28th | at Milwaukee Admirals | 4 p.m.

The weekend will mark the first of three contests within a spin of 33 days against the reigning Western Conference Champion Chicago and the first-ever against Milwaukee.

Tucson Roadrunners Hockey on Fox Sports 1450 AM
Roadrunners hockey returns to the airwaves for a fourth season of hockey on their exclusive radio provider, Fox Sports 1450 AM, an iHeartMedia Tucson station. Also the home of the Roadrunners Insider Podcast, visit FoxSports1450.com for all of your Roadrunner audio needs.

About iHeartMedia Tucson
iHeartMedia Tucson owns and operates KRQQ-FM, KMIY-FM, KOHT-FM, KNST-AM, KYWD-FM and KXEW-AM and is a part of iHeartMedia. With over a quarter of a billion monthly listeners in the U.S. and over 129 million social followers, iHeartMedia has the largest national reach of any radio or television outlet in America. As the leading audio company in the U.S., iHeartMedia serves over 150 local markets through 849 owned radio stations, and the company's radio stations and content can be heard of AM/FM, on satellite, at iHeartRadio.com, on the company's station websites and on iHeartRadio, iHeartMedia's digital music, podcast, on demand and live streaming radio service an on iHeartRadio, iHeartMedia's digital music, podcast on demand and live streaming radio service, available on over 250 platforms and 2000 devices, including on digital auto dashes, tablets, wearables and smartphones, on virtual assistants, smart speakers, TVs and gaming consoles.

Roadrunners Season Ticket Memberships
The best way to never miss a moment of Roadrunners action, lock in your same great seat for all 34 Roadrunners home games today. Starting at just $11.50 per game, enjoy exclusive benefits that only Season Ticket Members have access to including your own personal Ticketmaster Account Manager, first right to 2020 Calder Cup Playoff tickets, a special membership gift and more! Call the Roadrunners today at 866-774-6253 to speak with your representative.

Roadrunners Pick Your Own Plan
Your Roadrunners membership, your way. Select 11 games of your choice and be in attendance for Opening Night on October 18 for as low as $174.

Roadrunners Face-Off Packs
Whether you a Roadrunners fan into golfing, hiking or just lounging by the pool, the one thing they all have in common, an option for you in the new Face-off Packs! Including four vouchers to Opening Weekend, three unique packages are on sale now starting at just $97.50. Explore all today by calling 866-774-6253.

Roadrunners Single Game Tickets
Single game tickets to all 34 Roadrunners home games at Tucson Arena are on sale now! Secure yours today by visiting the Tucson Convention Center box office at 260 S. Church Ave in Tucson or by visiting TucsonRoadrunners.com/singlegame.