NEWS & STATS
Roadrunners Announce 2017-18 Season Schedule
By: Tucson Roadrunners
July 11, 2017 10:25 AM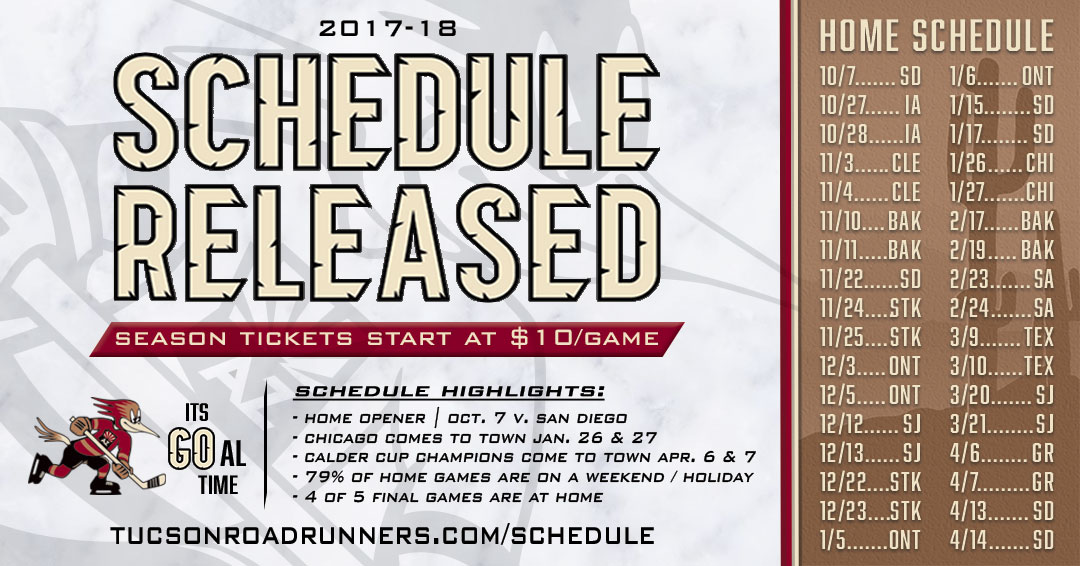 Tucson's second AHL season will feature four new opponents: the Chicago Wolves (January 26 and 27), Cleveland Monsters (November 3 and 4), Iowa Wild (October 27 and 28) and defending Calder Cup Champion Grand Rapids Griffins (April 6 and 7) all come to town for the first time in 2017-18.
The Roadrunners will host three Holiday games this season including Veterans Day on Saturday, November 11 versus Bakersfield, Martin Luther King Jr. Day on Monday, January 15 against San Diego and Presidents' Day on Monday, February 19 versus Bakersfield.
A fan and family-friendly schedule showcases 27 of the team's 34 home games being played on weekends or Holidays (79% of games). Saturday nights will be the busiest with 13 home games while Friday ranks close behind with 11 contests. The Roadrunners will also host four Wednesday games, three Tuesday games, two Monday games and one Sunday game in 2017-18.
Tucson's longest homestand of the season is six games and begins October 27 through November 11. The calendar also features five-game and four-game homestands. The Roadrunners will play a pair of games December 22 and 23 and will finish the 2017-18 regular season with four of its last five games at home including the regular season finale on Saturday, April 14 against San Diego.
Home games will start at 7:05 p.m. except Sunday, December 3 and Monday, February 19 which both are 4:05 p.m. starts.
Schedule Notes:
52 of Tucson's 68 games will be against Pacific Division rivals.

The Roadrunners will play the San Diego Gulls 12 times, the most against any opponent.

Tucson will not see San Antonio or Texas until the second half of the season, playing each opponent a total of four times (two home and two away).

The Presidents' Day Game will be a special matinee 4:05 p.m. start time.

November is the busiest month on the home calendar with seven home games, followed by December and January which feature six games each.

Tucson's farthest puck drop from home will be in Cleveland (2,051 miles away) followed by Grand Rapids (1,937 miles), Chicago (1,788), and Des Moines (1,534 miles), home of the Iowa Wild.
Month-by-Month Notes
October:
Home opener is Saturday, October 7 against San Diego

First-ever games against the Wolves in Chicago October 21 and 22

Play the Defending Calder Cup Champion Grand Rapids Griffins in Michigan for the first time on October 25

Host Iowa for the first time ever October 27 and 28

Tucson's second-longest stretch away from home, running 19 days from October 7 through October 27

Start off with just one home game and one road game in the season's first 14 days
November:
Host Cleveland in the first-ever meetings between the two teams November 3 and 4

Host Bakersfield on Veterans Day – Saturday, November 11

Most home games of any month with seven

Only play two road games, at San Diego November 17 and 18

Seven-of-nine November games are against Pacific Division opponents

Roadrunners play three games sandwiched around Thanksgiving on Wednesday, Friday and Saturday that week
December:
Meet Ontario for the first time this season on December 3 in the only Sunday home game of the season and will play the Reign a total of four times this month

Second-busiest month overall with 12 games, all against California-based Pacific Division opponents

Close out the month on New Year's Eve in Ontario against the Reign
January:
Open the month by ending a three-game stretch against Ontario January 5 and 6 and play the Reign in four-of-five games from December 31 through January 12

Host San Diego on Martin Luther King Jr. Day January 15

See divisional foe San Antonio for the first time on January 19 and 20

Host Chicago for the first time ever on January 26 and 27
February:
Begin the month with the longest road trip of the season, covering 5,289 miles over four cities: Ontario, San Diego and San Jose plus Austin (home of the Texas Stars)

Spend a season-high 20 days away from home January 27 through February 17

Host Bakersfield on Presidents' Day at 4:05 p.m. February 19

San Antonio's only visit to Tucson comes February 23 and 24
March:
Busiest overall month of the season with 13 games including nine road games

Visit Cleveland for the first time ever March 2 and 4

Host Texas for the only time this season March 9 and 10

The only calendar month where the Roadrunners do not play San Diego

Visit Iowa for the first time ever on March 30 and 31
April:
Close the regular season schedule with three straight games against San Diego including the final two home games of the year April 13 and 14

Finish the season with four of the final five games at Tucson Arena

Host defending Calder Cup Champion Grand Rapids Griffins for the first time ever on April 6 and 7
Opponent Affiliations:
Bakersfield Condors Edmonton Oilers
Chicago Wolves Vegas Golden Knights
Cleveland Monsters Columbus Blue Jackets
Grand Rapids Griffins Detroit Red Wings
Ontario Reign Los Angeles Kings
San Antonio Rampage Colorado Avalanche
San Diego Gulls Anaheim Ducks
San Jose Barracuda San Jose Sharks
Stockton Heat Calgary Flames
Games by Days of the Week:
Monday – 2 (2 home/0 away)
Tuesday – 3 (3 home/0 away)
Wednesday – 12 (4 home/8 away)
Thursday – 0 (0 home/0 away)
Friday – 21 (11 home/10 away)
Saturday – 25 (13 home/12 away)
Games by Month:
October – 7 (3 home/4 away)
November – 9 (7 home/2 away)
December – 12 (6 home/6 away)
January – 11 (6 home/5 away)
February – 11 (4 home/7 away)
March – 13 (4 home/9 away)
April – 5 (4 home/1 away)
Full and 20-game Season Ticket Memberships start as low as $10 per game are now on sale for the 2017-18 season. Membership includes perks like exclusive members-only events, Member gift, lowest possible pricing, NHL preseason game included (Full Memberships only), the Never Waste A Seat ticket trade program, guaranteed access to Calder Cup Playoff and more!
To select your seats today call 1-866-77-HOCKEY (774-6253) or visit TucsonRoadrunners.com for more information.