NEWS & STATS
Roadrunners Radio Partner Is Now Fox Sports 1450 AM, Tucson's Sports Station
By: Tucson Roadrunners
July 24, 2017 3:47 PM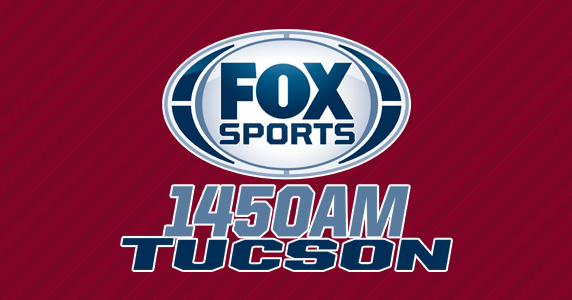 TUCSON, AZ – iHeart Radio Tucson announced today the debut of Fox Sports Radio 1450, Tucson's Sports Station and radio home of your Tucson Roadrunners, effective immediately.
Fox Sports 1450 AM offers a variety of national and local sports-related programming including Tucson Roadrunners hockey. The station will also become the home of The Dan Patrick Show starting September 11, 2017.
"We are excited about the switch to Fox Sports Radio," said Tom Callahan, Roadrunners Director of Broadcasting. "Tucson is a great sports town and the fit for the Roadrunners is perfect. Fans can get their sports talk fix right up until game time and then listen to Roadrunners hockey."
Fox Sports Tucson will carry all regular season and playoff Roadrunners games with a 15-minute pregame show prior to puck drop.
Full Programming Schedule
Outkick The Coverage with Clay Travis 3 – 6 a.m.
Clay Travis (Interim) 6 – 9 a.m.
The Dan Patrick Show (Beginning September) 6 – 9 a.m.
The Rich Eisen Show 9 a.m. – 12 p.m.
The Herd with Colin Cowherd 12 – 3 p.m.
Steve Gorman SPORTS! 3 – 5 p.m.
J.T. "The Brick" with Tomm Looney 5 – 8 p.m.
The Jason Smith Show 8 – 11 p.m.
The Ben Maller Show 11 p.m. – 3 a.m.
Listeners can also tune in to Fox Sports 1450 AM via its website, FoxSports1450.com, and on iHeartRadio, iHeartMedia's all-in-one digital music and live streaming radio service.
iHeartMedia is a leading media outlet in the Tucson market and its content is available across multiple platforms, including its broadcast stations; online via its branded digital sites; mobile; and social, with nationwide listening through iHeartRadio, the all-in-one streaming music and live radio service – with its more than a billion downloads and 100 million registered users.
About iHeartMedia Tucson
iHeartMedia Tucson owns and operates KRQQ-FM, KMIY-FM, KOHT-FM, KNST-AM, KYWD-FM and KXEW-AM and is part of iHeartMedia. With over a quarter of a billion monthly listeners in the U.S. and over 85 million social followers, iHeartMedia has the largest national reach of any radio or television outlet in America. As the leader in multiplatform connections, it also serves over 150 local markets through 858 owned radio stations, and the company's radio stations and content can be heard on AM/FM, HD digital radio, satellite radio, on the Internet at iHeartRadio.com and on the company's radio station websites, on the iHeartRadio mobile app, in enhanced auto dashes, on tablets, wearables and smartphones, and on gaming consoles.
iHeartRadio, iHeartMedia's digital radio platform, is the fastest growing digital audio service in the U.S. and offers users thousands of live radio stations, personalized custom artist stations created by just one song or seed artist and the top podcasts and personalities. With over a billion downloads, iHeartRadio reached 100 million registered users faster than any other radio or digital music service.
iHeartMedia's platforms include radio broadcasting, online, mobile, digital and social media, podcasts, personalities and influencers, live concerts and events, syndication, music research services and independent media representation. iHeartMedia is a division of iHeartMedia, Inc. (PINK: IHRT). Visit iHeartMedia.com for more company information.