NEWS & STATS
Conference Call: Mike Van Ryn, Steve Sullivan
By: Tucson Roadrunners
July 26, 2017 1:40 PM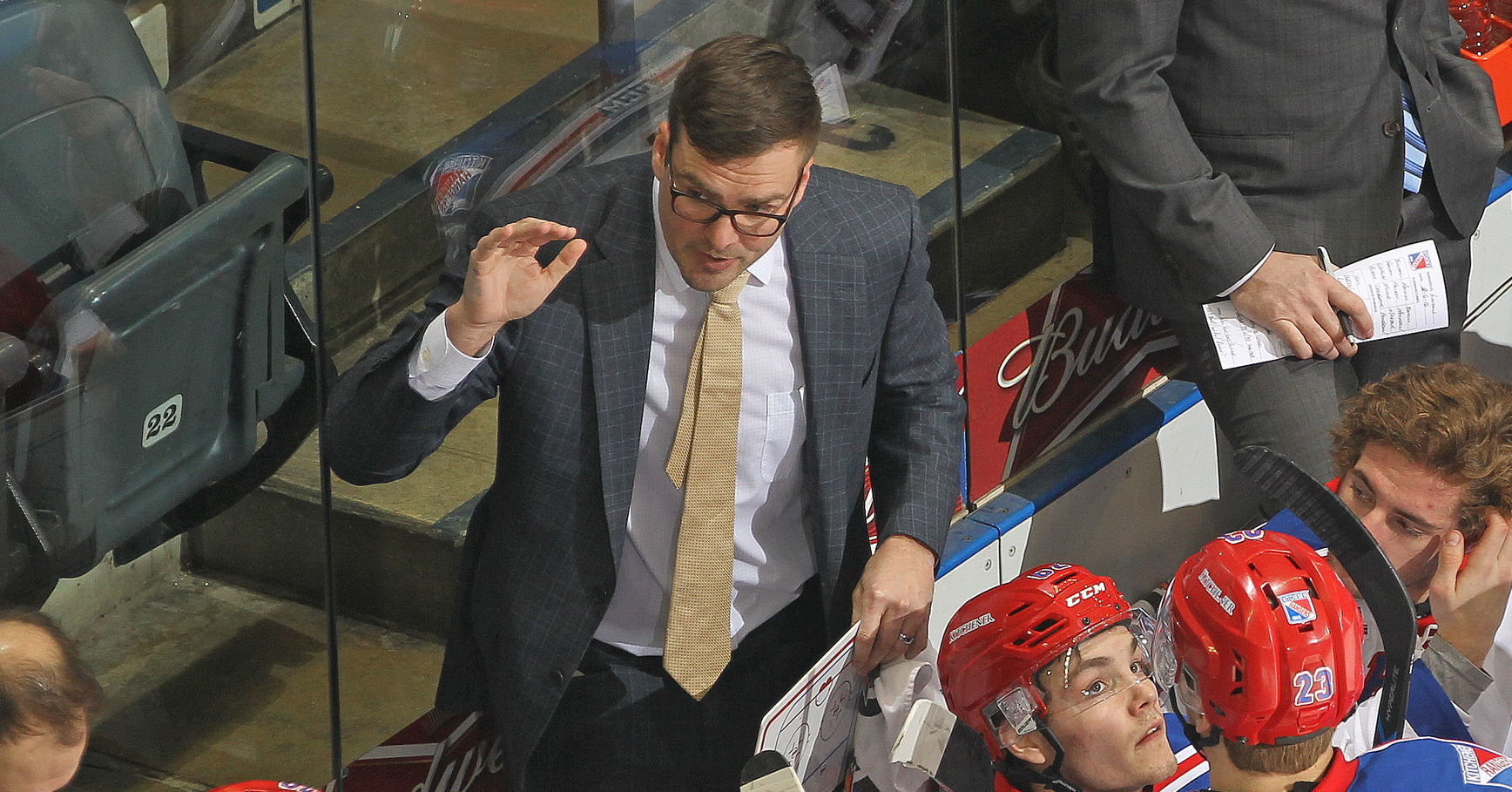 Below is a full transcript from Wednesday afternoon's conference call with Roadrunners Head Coach Mike Van Ryn and General Manager Steve Sullivan as they addressed the Tucson media for the first time.
Mike Van Ryn, on being named Head Coach; what it means for himself, franchise:
I'm extremely honored and super excited about the opportunity to get to work in Tucson and to continue to work with our young prospects. We think we have a great pool of [prospects] that are talented, and I really look forward to creating a culture with Steve [Sullivan] and with the rest of the coaching staff, and to have a fun and learning environment for our players and to push them to get better every day. I think through development the wins will come, and we'll create a winning culture as well, as a place that our players love to play in, and a brand of hockey that our fans will enjoy to watch.
Steve Sullivan, on what his role will be as the Roadrunners' GM:
I'm very excited about the challenges ahead of us with this young, talented core of prospects that we have coming up. For myself, the role will be to continue to manage the team, making sure our young prospects are developing at the pace that we're hoping for, and also to be able to surround them with the right veterans, the right leadership to create the right culture that Mike [Van Ryn} is intending to implement here in this upcoming season, so if I can help him in any way with the right people, put them in place and make sure that we have the right vision going forward. That's what we're going to be trying to do here.
Van Ryn, on his experience in working as a Development Coach with the Coyotes for the past year:
It's been a pleasure. If you get to know these kids – young men, really – they're passionate, they're extremely polite, and they want to learn, and that's the biggest thing. They want information, they want to know how to get better, they want to know what it takes, and they want a clear path on how they've got to get there. So for me, I played a small role in that, I tried to do the best we could, and now that I get to be hands-on with them every day with my coaching staff, who I think is extremely talented, we're looking forward to expanding and trying to help these guys improve and get to where they need to get to.
Van Ryn, on what his interaction was with Roadrunners players last season, what he thought of Tucson:
I loved the city, I loved the college atmosphere, obviously the weather is pretty awesome, so I enjoyed it. I didn't get a ton of time [in Tucson] because I was actually based on the east coast, but I got to be with them fairly frequently. A lot of [my interactions] with them was done through video, through phone calls, through the summer leading up to the hockey season and throughout this summer as well. This job now allows me to be on the ice with them every day, to have those touches, to be able to pull them aside, to do a little bit more. I missed that; I enjoyed the player development role, but it's difficult to get to work the pro guys a lot because in my past role, I was mostly with the younger guys, the junior guys, but I had quite a bit of interaction with the [Roadrunners players], and I wanted to do more, that's just kind of who I am. Now I've been given that opportunity to get out on the ice every day with them, and that's what they need. These guys need information, that's just the generation. They want to be shown how to do it; they want to be told how to do it. Some guys may get it after the first try, and for other guys it may take 10 or 20, who knows. I try to pride myself on being a patient teacher and a communicator, and to try to exhaust all avenues to come up with ways to get through to the players to teach them what necessary skills they need to be an every day NHL player. I'm extremely excited for that chance to get to do it every day.
Van Ryn, on if he sees players reacting differently to feedback than they did during his playing days:
Yeah, with the media and everything, you can just get so much information now, it's so easy, and that's what they're accustomed to. I think you've got to taper it a lot, I think our vision is to come up with development plans for each and every player rather than a group, and then try to draw it all in, so that's the approach we're going to try and take, to try and get to know each and every player, which we pretty much already do, but try to expand that a little bit more and incorporate more of the on-ice stuff. I'm a firm believer in trying to do whatever you can to make a player confident, and that's not rocket science to anybody. The more confident these players can be, the better they're going to be, and I think as coaches, the screaming and yelling, it might work with a couple of guys, but you've really got to invest, and these players have to know that you have their best interests at heart, and that you're in this with them, you're invested, and you're trying to do whatever you can to help them, and in return all you ask is that they put forth their best effort, and they put in as much time as they can, they commit to sleeping the right way, to eating the right way. We're lucky to have John Slaney as an assistant coach and Steve Potvin as an assistant coach – who is just an absolutely wonderful skills coach – and he's going to bring a lot more to the table than just the skills aspect. I think that we can cover a lot of different avenues with these guys on a daily basis, and we're just looking forward to implementing that and hopefully watching these players grow.
Van Ryn, on what changes Roadrunners fans can expect to see now that he's Head Coach:
We'll basically be playing what [the Coyotes] play; the special teams might be a bit different. [Rick Tocchet] and I will talk about that, exactly what he wants, but I'm pretty sure as of right now, we're to mimic what they're doing. If you've listened to [Tocchet} talk, he's all about a fast, exciting, puck possession game with a lot of puck pursuit and a relentless attitude, and that's a fun brand of hockey, that's an offensively driven system where you're pressuring teams and forcing them into mistakes, and basically you're just trying to overwhelm them, and to an extent, you're almost trying to steal the other team's confidence. It's fun to coach that way, and it's also fun to play that way, and I think when your players are having fun playing a system, that's when you get the most buy-in, and I see that happening for us.
Van Ryn, on what he took away from his coaching experience in the OHL:
You're constantly looking for ways to get better. These guys aren't kids, but my players in Kitchener were, and they can get bored quickly. You always have to find ways to spice things up, you've always got to try to change your practices up a little bit, maybe even change your lines up, your systems up a tad, little tweaks here and there just to keep things fresh. When they're having fun, they're playing their best hockey, and I think for us, that's what we want to do. Obviously it's a working environment and it's a put everything on the line environment, but we want to find ways to keep them excited, to keep them wanting to be at the rink. That's what I learned; when my guys were having fun, they wanted to be there all of the time, they wanted to work out harder, they wanted to work on their skills more, they wanted to be at the rink, and that's what we want. We want to create rink rats, because the time in the rink and these guys repping it out, that's what's going to make these guys NHL players, and we want to give them that avenue. You'll hear [Steve Sullivan] and I talk about that culture of a fun environment, a learning environment, a passionate and hardworking environment, and that's what we're striving for.
Van Ryn, on his leadership, coaching style:
I like to talk, I like to joke around, but I've also got a serious side to me. I'm pretty approachable, and I think I'm open. I'm very honest and I'll tell you what I think, and I think that honesty worked well in Kitchener – I always just told the guys what we had to do and what I thought they had to do, and I try to have fun while I'm doing it. You hope that that's contagious, and you hope that the guys around are having fun too, and we just come and we work every day. I try to be outgoing, I like to talk, and I like to teach.
Sullivan, on what he thinks the Coyotes are looking to get out of his role as Roadrunners GM:
I think more collaboration with the big club. I think both [Mike Van Ryn] and I are coming from the development side, so that's what we're both going to really try to be doing, to make sure that we're developing our prospects to the utmost and giving them the best opportunity. We've been talking about communication and collaboration from top to bottom, and that's what we're doing, and that's why these changes were made, to have alignment from the big club to the American Hockey League team. So it's from the NHL team to the American Hockey League team to the development team, all three groups are working together and making sure we're on the same page and trying to better our players and our prospects to make them the best pros possible to help the NHL club, that's why we're here today.
Sullivan, on the organization's developmental philosophy:
The philosophy's not going to change, and it's going to start with culture. [Mike Van Ryn] touched on it, and that he wants a puck possession type hockey club that's relentless and hard working, and we're going to play a lot like [Rick Tocchet's] system. I think it's going to be an exciting brand of hockey, and I think that's going to be brought down to the Tucson Roadrunners. We're going to try and play the same way as the Arizona Coyotes do, and for us, it's going to be understanding that we have to implement that system and give our prospects the best opportunity to be successful once they get the call to the big club. The reason why you do mimic the big club's system is to give those players the best opportunity, and with that being said, we also want to create a hard working culture but also a winning culture, and that might not be on a daily basis trying to win from night to night, but it's making sure the winning culture is doing the right things every single day and understanding that the way we are going to get better is from developing.