NEWS & STATS
Roadrunners Summer Sizzler Plan Presented By Sentinal Peak Brewing On Sale August 1
By: Tucson Roadrunners
July 31, 2017 2:33 PM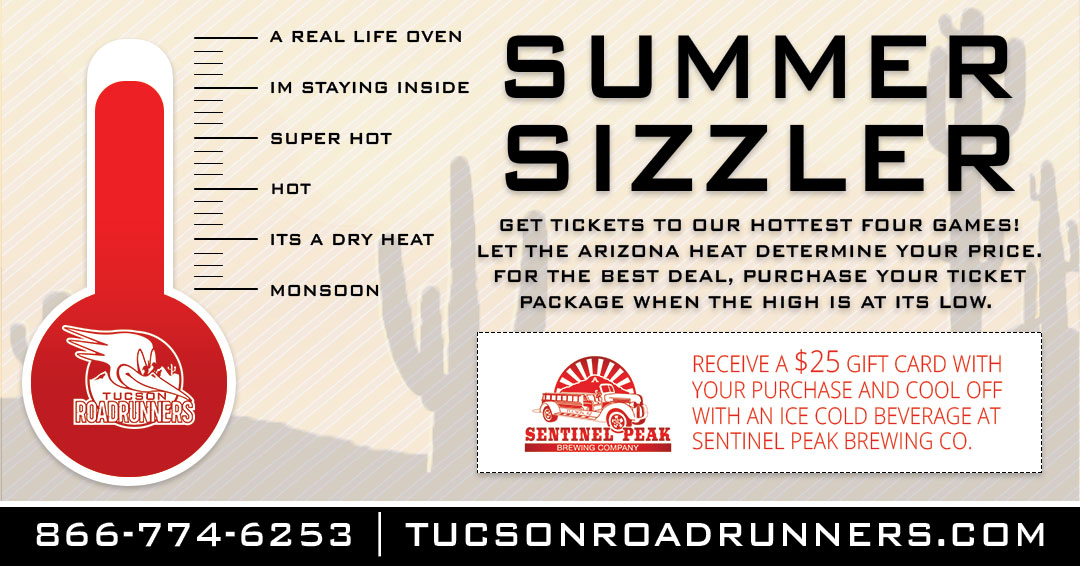 TUCSON, AZ - The Tucson Roadrunners, proud American Hockey League affiliate of the Arizona Coyotes, announced a special ticket promotion available during the month of August (ends August 25) that gives fans their first chance to buy tickets for the Roadrunners biggest games of the season with the purchase price based on the sizzling Arizona weather.
The Summer Sizzler Plan presented by Sentinel Peak Brewing Company will feature a ticket to four different Roadrunners games including the season opener on October 7 versus San Diego as well as tickets to the October 27 game versus Iowa, November 11 game versus Bakersfield and November 24 game versus Stockton (all tickets in Side Section) and a $25 gift card to Sentinel Peak Brewing Company.
The cost of the package is based on the previous day's high temperature as reported by News 4 Tucson (KVOA). For Tucson, the yearly average high temperature for the month of August is 97 degrees. Each day's cost runs on a 24-hour period, starting and ending at 8:00 AM Arizona time daily.
Summer Sizzler Plan presented by Sentinel Peak Brewing Company (includes one seat to each mentioned game and gift card):
October 7 vs. San Diego Gulls (season opener)

October 27 vs. Iowa Wild (first ever visit for the Wild)

November 11 vs. Bakersfield Condors (Veterans Day)

November 24 vs. Stockton Heat (Black Friday)

$25 Gift Card to Sentinel Peak Brewing Company
Sentinel Peak Brewing Company is located at 4746 E. Grant Rd in Tucson and is Tucson's only Midtown Brewpub. Sentinel Peak opened in January of 2014 and is co-owner by Jeremy Hilderbrand, Matt Gordon and Taylor Carter – all Tucson area firefighters.
To purchase your Summer Sizzler Plan today, contact the Roadrunners front office at 1-866-774-6253 or visit TucsonRoadrunners.com for more information!