NEWS & STATS
GM Steve Sullivan Talks 'Collaboration' In Developing Core Youth
By: Alexander Kinkopf
August 24, 2017 11:01 AM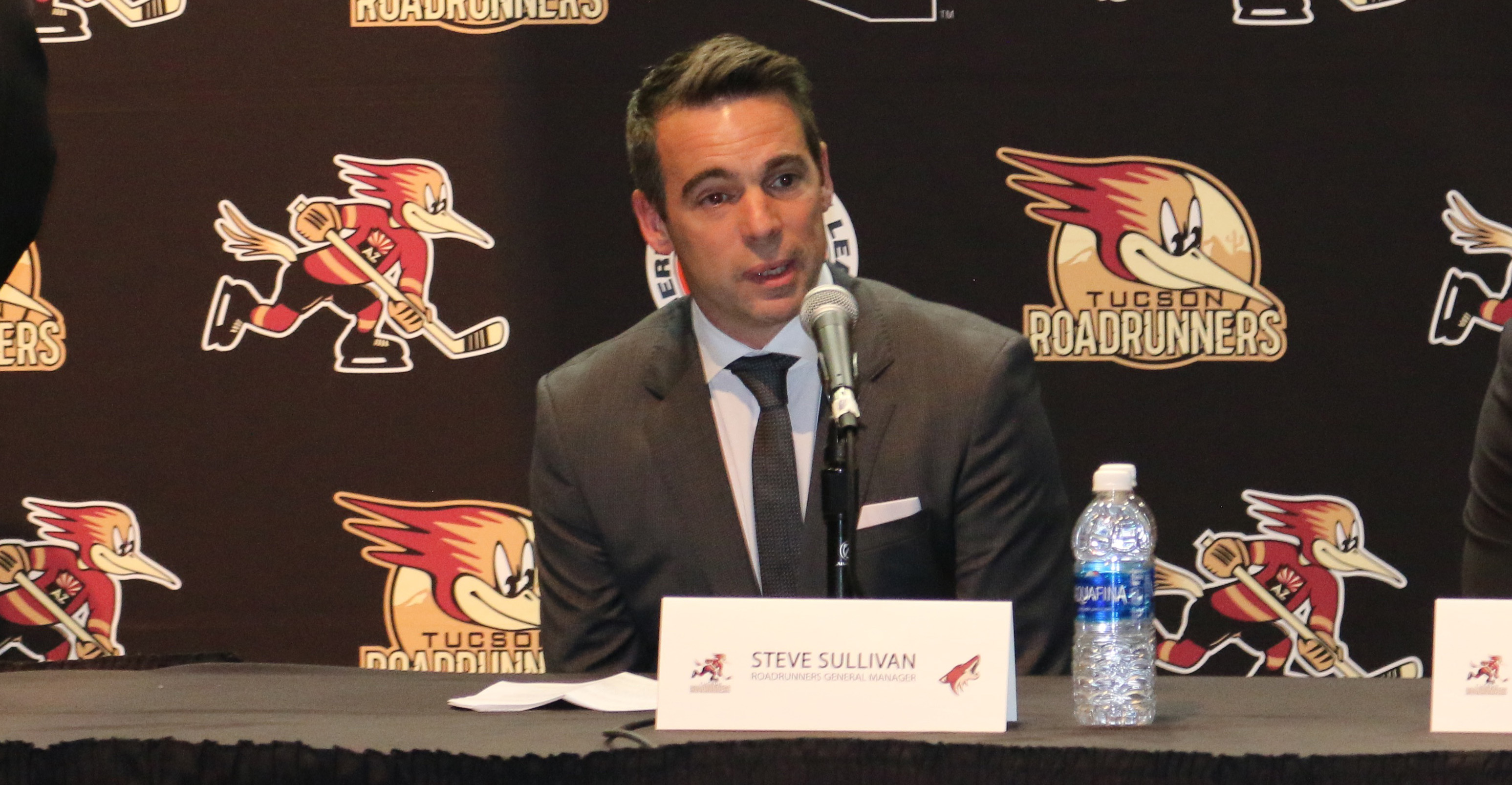 There was an air of excitement inside Tucson Arena Wednesday afternoon, one that carried refreshingly over a group of new faces who addressed local media and fans for the first time following a summer of restructure.
Top-down, from the Coyotes' brass to those who oversee the Roadrunners' daily hockey operations, a meticulously collaborated staff has been assembled to ensure a steady stream of cohesion to develop the best on-ice product.
"It's a must," Sullivan said in regard to the importance of configuring a united hockey operations staff. "The collaboration between the NHL team and the American league team has to be in sync; it has to be in line completely. If not, there's no chance for success."
The Coyotes have one of hockey's most highly touted compounds of young prospects, many of which will benefit from an abundance of playing time in Tucson.
"We're a young hockey club, we've got a big pool of prospects coming in and we have to give those kids the best opportunity to succeed," he said. "When they come here [to Tucson] they need a chance to play. There may be some bumps and bruises along the way at the beginning of the year in letting certain players turn pro and find their way into pro hockey, but I think we have to allow them that opportunity, and by doing so that gives them the chance to get called up to the big club and hopefully win a Stanley Cup at some point."
Sullivan, who has been a staple in the Coyotes' development staff since 2014, spent two seasons as a development coach, and last season as the director of said department. He has seen, time and time again, the rewards of working with such promising, young talent.
"The best part is the end result, when they get called up to the National Hockey League, and knowing that you've had some small part in that," he said with a smile. "Coming from the development side, [Mike Van Ryn] and I being development coaches that past couple of years, we've seen a lot of these players from their junior years from when we first drafted them, we've been able to work with them for a bit, and this is now a continuation of that at the pro level."
Working with blossoming product brings high levels of motivation, intensity, and energy. Those players, many of whom are tabbed as being big assets to the Coyotes' future, will be shaped into fitting the model of the organization's overall scheme.
The physical development for this process is one thing. Honing in on a centralized, universal mental approach is another – and it's a major aspect of the staff's plans when training camp opens in September.
"It's all about having a mindset of playing fast," he noted excitedly. "You can splice it up 1,000 ways. The description is different for everybody, but for us, it's getting into that mentality of playing fast, playing north, getting the puck going up, and trying not to defend as much. Last year, if you look at the stats that we had here, the shots against were way too high, we played in our own end too much, and that mirrored the NHL club also – so this year we want to change that. We want to make sure that we don't defend as much, that we get the puck out of our zone as fast as we can, and then we play fast, we get the puck going north into the offensive zone as much as possible, so that's what you're going to see."
Having been in Tucson on a regular basis last season to check in on many of the players he monitored in his director of player development role, Sullivan comes into the season with a firm understanding and working knowledge of many of the names that will likely grace the Roadrunners' roster in 2017-18.
For Sullivan, those bridged relationships were critical in his transition to general manager.
"It was huge," he said of being around the Roadrunners' roster last season. "You know what their strengths and weaknesses are, you're able to give them a summer program to work on so they don't waste an offseason, and they can come into the year knowing exactly what's expected of them. Our communication with the players has been huge; I've been in touch with most of them throughout the summer. They're ready to come in, they're ready to go, and I think most of them know what's at stake, know what they need to do to become NHL hockey players, and I think they're ready to do the work."
That work, which has already begun for Sullivan and his hockey operations staff, will shift into full gear when players report to Gila River Arena for the start of rookie camp on September 7.