NEWS & STATS
With Roadrunners, Van Ryn Values Relationships
By: Alexander Kinkopf
August 30, 2017 10:25 AM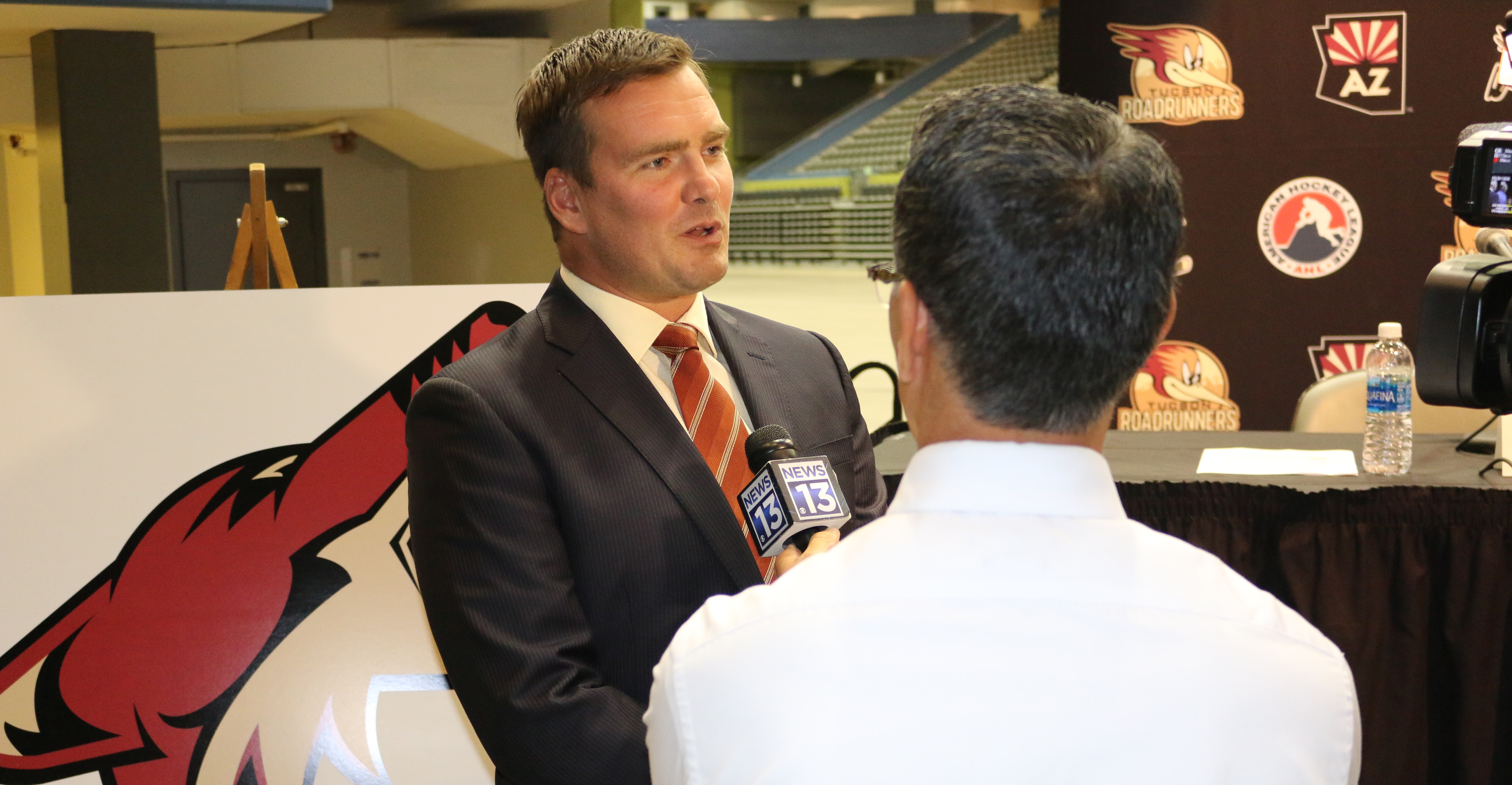 Mike Van Ryn is no stranger to having an impact on young players' growth. He served as a development coach for the Arizona Coyotes last season, a responsibility that succeeded his time in the Ontario Hockey League where he educated blossoming prospects in major junior hockey.
The 38 year-old London, Ontario native now embarks on his second American Hockey League coaching stint. He was previously an assistant coach with the Houston Aeros from 2011-2013, and also played in 105 AHL games during his lengthy professional playing career.
Harnessing his experiences as a player with a plethora of background coaching at a number of development levels, Van Ryn grasps on to his belief of building strong, dependable rapports with his team.
"I really focus on my relationships with the players, and that's really a huge portion of my coaching," he stressed. "It can't be overlooked."
He embraces building a solid foundation that branches out to having strong bonds with his players.
"I think it's everything," he reiterated on developing player-coach relationships. "At times I think coaches fall into the trap of superficial talk, but you really have to get down and actually get to know a guy and take the time, whether that's taking them for coffee or even maybe taking them to dinner."
After all, in most walks of life, you get what you give.
"If [the players] know that you care, it goes a long way, and the message is that much stronger," he said. "Those relationships [with the players] are key, they're very important, and it's a big part of coaching these days. I'm lucky that I've created a lot of [relationships] already with a lot of the guys, and it should help in hitting the ground running, and my assistant coaches have also done the same, so it should make things a little easier."
Van Ryn was able to develop relationships with a number of players on the Roadrunners' inaugural roster, checking in on various occasions during his trips to Tucson to get first-hand looks at the Coyotes' next generation.
"You get to learn what they struggled with, what they did well with, what they liked and what they didn't like," he said of his time with the players last season. "You get a good picture, and that helps you create a new program when you're looking to change things up a little bit, you know the lay of the land and you know what should work and what they'll enjoy, so knowing all of that will help us create a better program down here. "
Part of being a great coach at the developmental level means working well with professionals in their youth stages. With six years experience coaching in both the OHL and AHL, he's made sure to recognize the importance of implementing fun into the players' daily routines.
And with fun, comes energy.
"I like to be upbeat, and you hope that that becomes contagious," he said with a grin. "I'm always looking for new ways to teach things. If [a player] didn't get it one way I'm not going to try it again – that's kind of the definition of insanity in my mind, so I'll usually change things up."
Fun may be a necessity in Van Ryn's coaching approach, but accountability is key - a trait required for someone in his position.
"I usually think of how I can do the job better, as opposed to how [the players] can do their job better," he said. "I'm always looking for ways to make it easier, make it better, make it more fun. Obviously you've got to work hard, and some days are going to be a lot harder than others, but the main goal is that everybody respects each other at the end of the day, and that you know that you've put in the work. And if you do, it usually results in wins, and results in players improving. The main thing is to make this a learning environment, and if you do that so guys aren't scared to fail, it usually means they're having fun."
Van Ryn will take to the ice with the Coyotes' Rookie Camp attendees – eight of whom dressed in games for the Roadrunners last season – when camp commences on September 7 at Gila River Arena.