NEWS & STATS
Hill Continues To Pay Homage In Design, Debut Of New Mask
By: Alexander Kinkopf
September 08, 2017 10:05 AM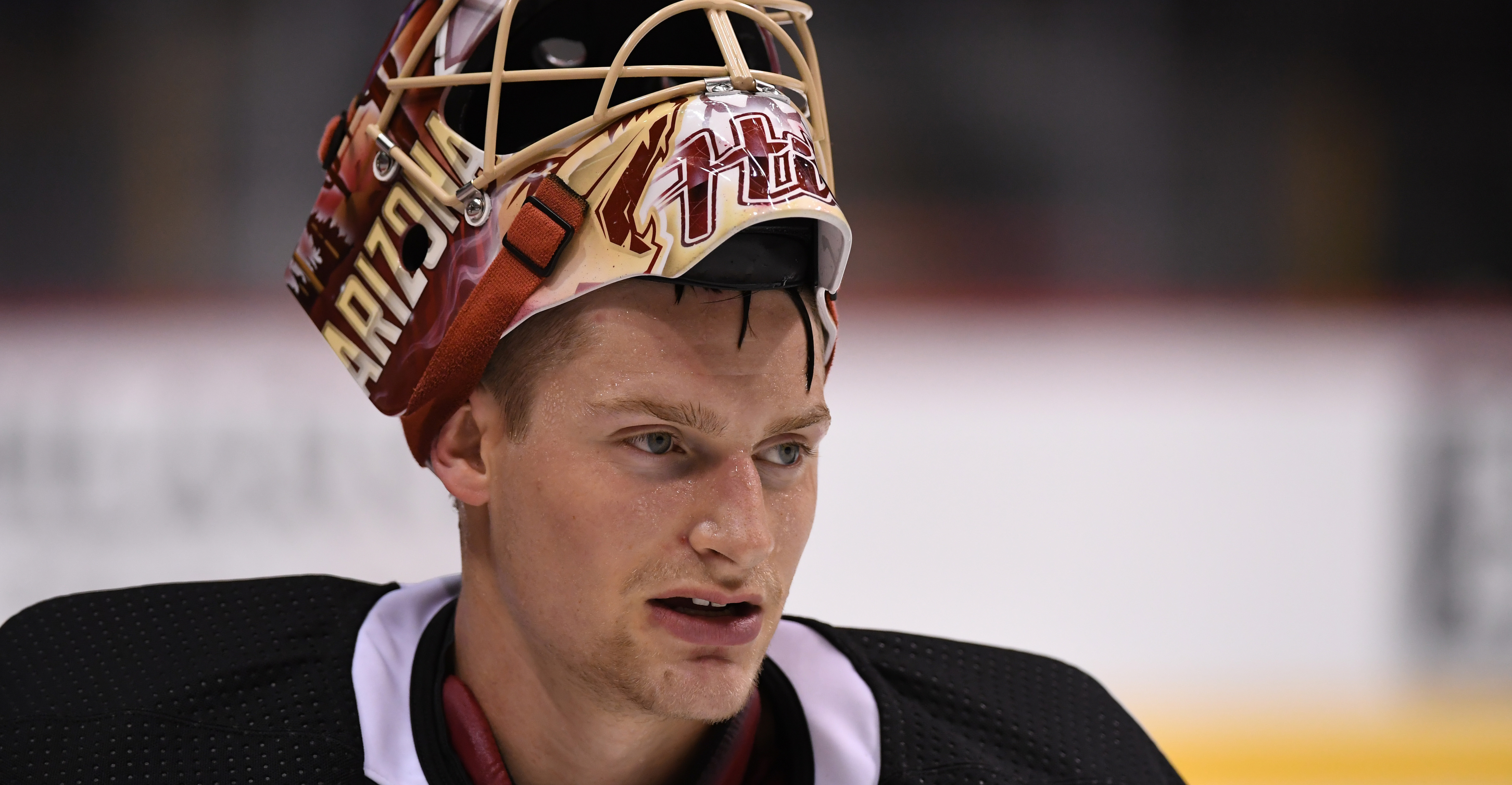 New season, new look.
Goaltender Adin Hill took the ice Thursday afternoon at Gila River Arena as Coyotes Rookie Camp commenced with a pair of on-ice sessions, both of which the 21-year old netminder participated in.
Hill, who appeared in 40 games for the Roadrunners during the 2016-17 season, posting a 16-14-6-0 record with a 3.16 GAA and a .906 SV%, which includes the only shutout in team history, hit the ice in style.
Not to be outdone, unless it's on his own calling, the Calgary native began the process of breaking in a newly designed, freshly painted mask as he turned away shots while facing some of the organization's youngest, brightest prospects ahead of the team's exhibition tournament this weekend in San Jose.
Hill's new mask combines the Coyotes' original 'Kachina' theme with the organization's current 'Sedona Red' color scheme implemented into a desert backdrop.
"I was just doing research on Arizona, trying to come up with a theme for a new bucket, and I found this old, kind of vintage sign online – just a picture of it on Google, and kind of turned it into a mask idea and I think it turned out really well," he said of the design process.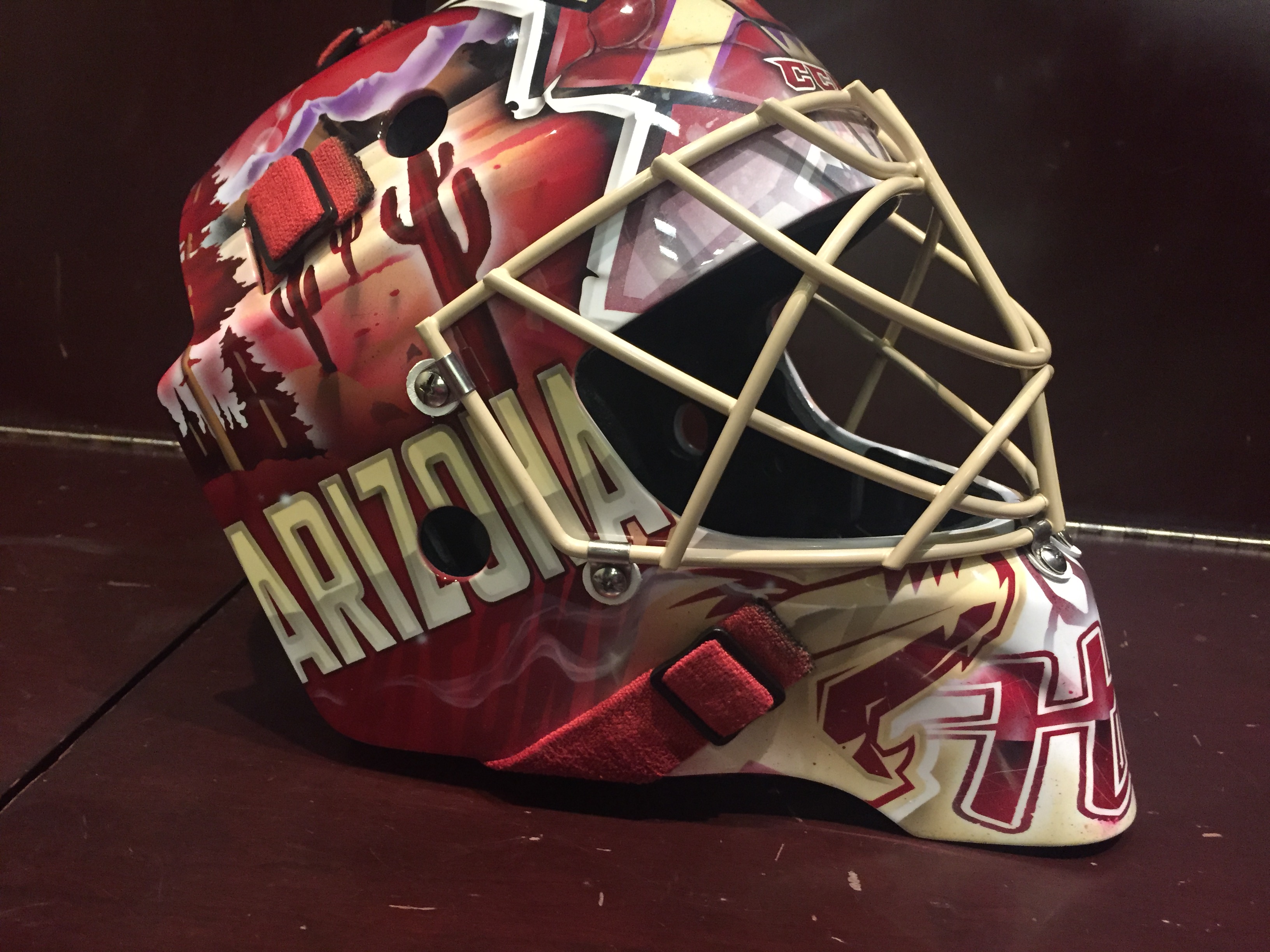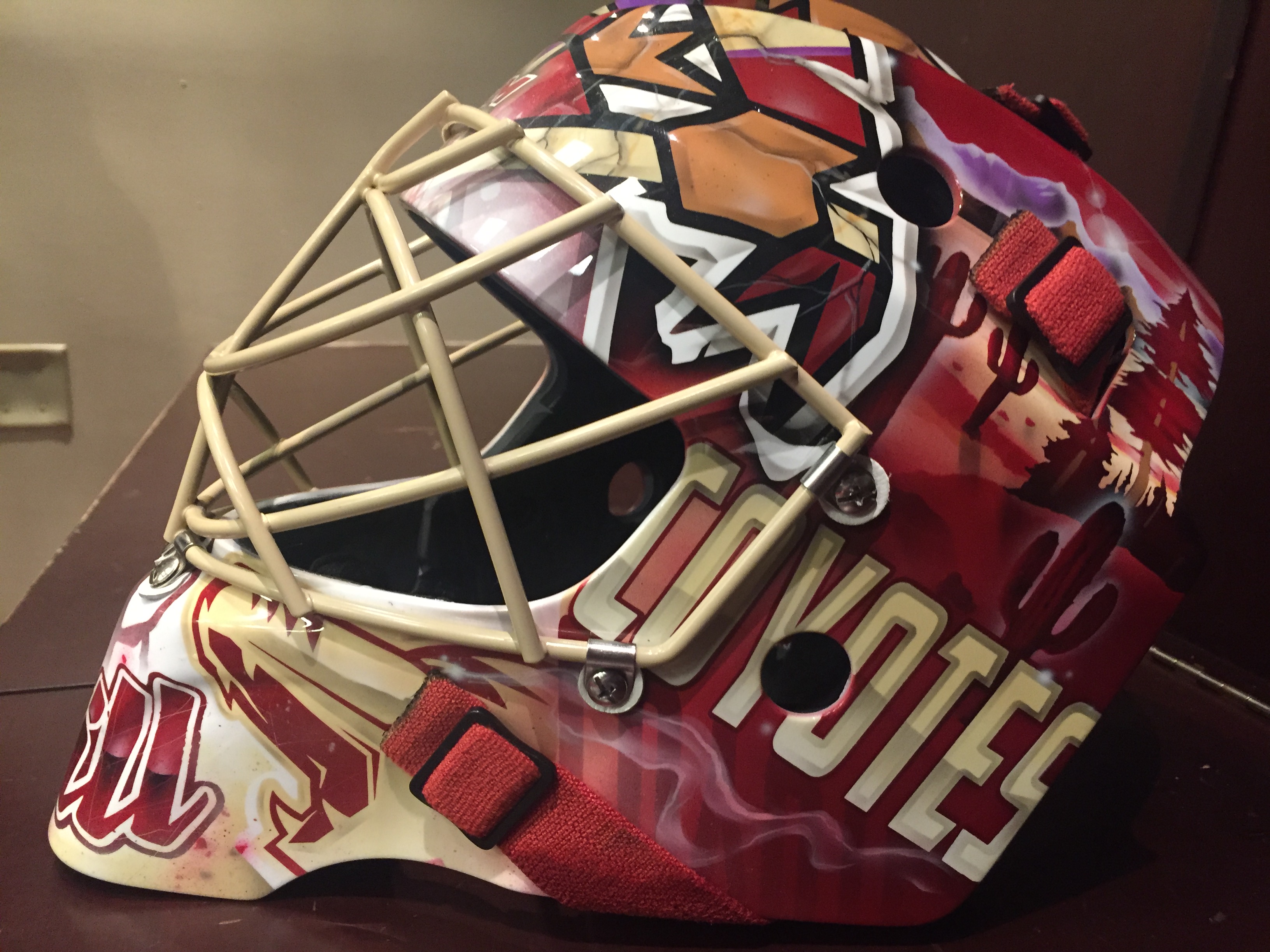 "My painter and I sat down and talked about it for about an hour, Dave Fried out of Calgary, and we came up with a concept and he did an amazing job with the artwork, unbelievable. It came out really well I think, and I'm happy to have it."
Fried, an artist behind a number of goaltenders' masks with his company,
Friedesigns
, based out of Calgary, Alberta, has been detailing Hill's masks since his days in the
WHL
with the
Portland Winterhawks
.
As if there are any hidden messages in his new get-up, Hill continues to pay homage to Mike Maniago, his goaltending mentor during his younger days
who passed away in a car accident
with the letters "M.M" and the number 30 boldly featured on the back of the helmet in a vintage-inspired Arizona license plate.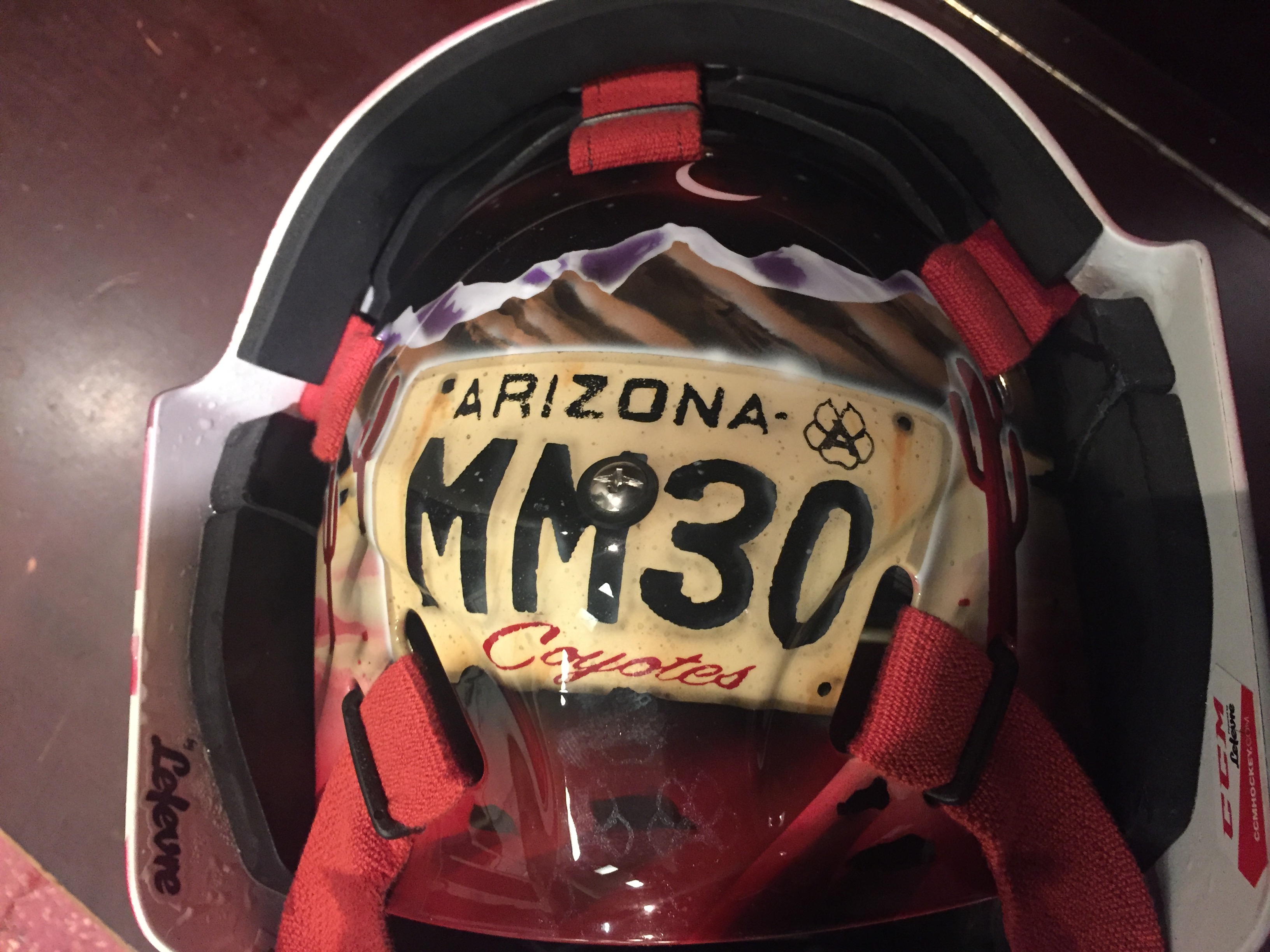 Hill will rotate between two masks this season, the second of which has yet to be designed, color coordinating with the organization's Red/White Home/Away uniform templates.
From head to toe:
Hill, along with his new helmet and pads, will travel with the rest of the Coyotes' Rookie Camp roster to San Jose Friday afternoon for a prospect tournament. The first of the team's three games is scheduled for Saturday night at 7:00 PM against the Anaheim Ducks.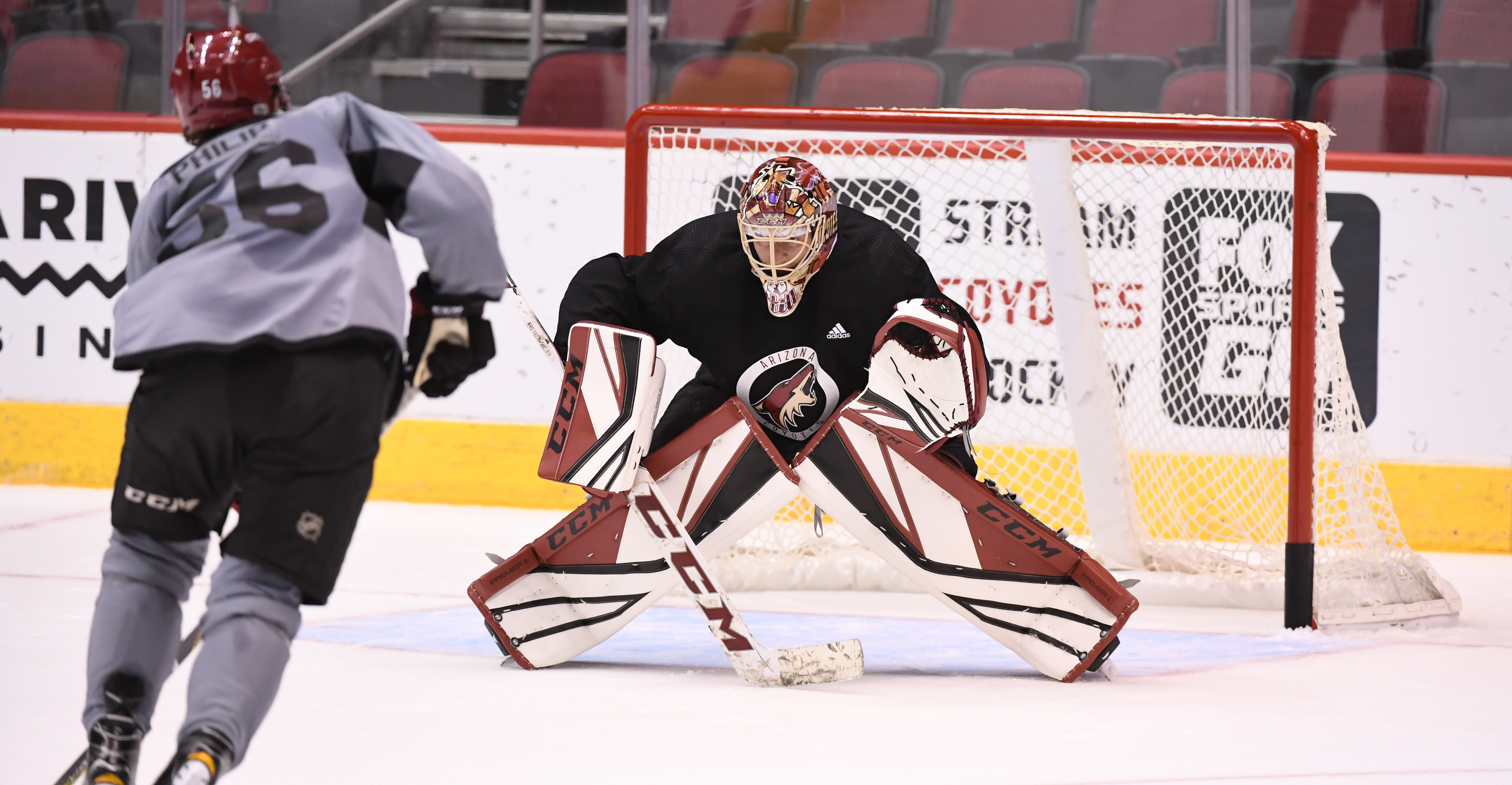 Header/Footer Photos Courtesy: Norm Hall (Arizona Coyotes)