NEWS & STATS
Roadrunners Launch Second Season of Dusty's Kids Club
By: Tucson Roadrunners
September 22, 2017 8:19 AM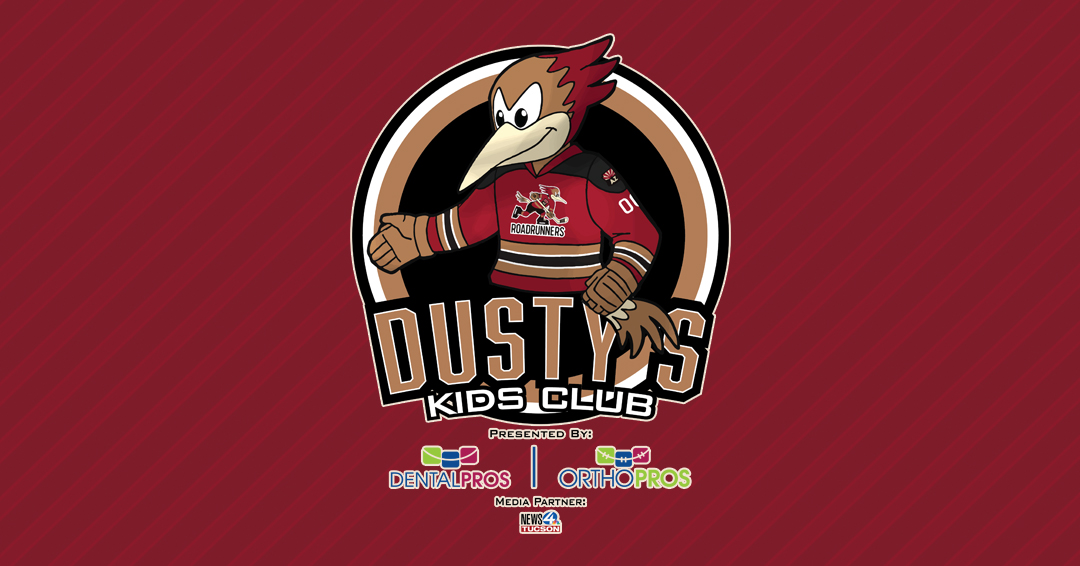 TUCSON, AZ – The Tucson Roadrunners and OrthoPros have joined forces for the 2017-18 season to launch a second season of Dusty's Kids Club.
The club will provide fans 12-years of age and younger an opportunity to be more involved with their support of the Roadrunners. Each member will receive a t-shirt, one FLEX ticket, a drawstring bag, membership card, birthday e-card, and exclusive player events.
"Orthopros is proud to support Dusty's Kids Club and promote healthy smiles throughout our community," said Dr. Kurt Kacer of OrthoPros. "All Dusty Kids Club members are invited to join the OP Kids Club at OrthoPros, where they will receive cool prizes and a chance to take part in fun experiences with the Tucson Roadrunners."
Fans wishing to become members of Dusty's Kids Club can do so by clicking
HERE
. Membership is $25 for new members, $20 for returning members and $15 for children of Season Membership Holders Children.
"OrthoPros provides orthodontic treatment for all ages throughout Tucson. We offer a variety of treatment options for the entire family, including traditional metal braces, Invisalign and UA Block A Braces. In addition to our orthodontic care, we also offer oral surgery and dental cleanings to make your dental care easy and convenient."
Single game tickets
for all 36 Roadrunners home games are on sale now by clicking
HERE
or visiting the
Tucson Convention Center
box office.